3. KEEP CLIMBING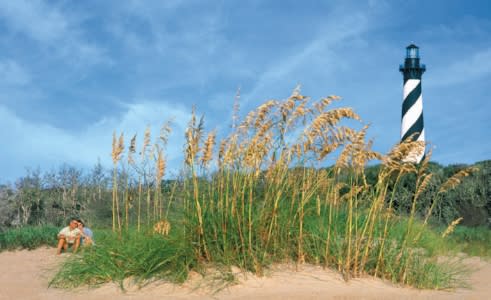 Climb the tallest brick lighthouse in America at Cape Hatteras. The iconic black and white spiral landmark has served as a warning to generations of mariners.
The present lighthouse, officially completed & lit in December 1870, is the second built of three that have been constructed in Buxton. The first Cape Hatteras Lighthouse was built in 1803. It was a sandstone structure 90 feet tall that projected an insufficient light beam using a collection of Argand lamps and reflectors. Sitars to a new height of 150 feet in 1854, and a first order Fresnel lens was installed, the most powerful of its day. During the Civil War in 1861, retreating Confederate soldiers took the Fresnel lamp from the lighthouse, to keep it out of Union hands. Shell damage during the war & structural deterioration prompted the construction of a replacement lighthouse in 1870, the one we enjoy today. The original lighthouse was demolished in 1871.
Ticket sales begin at 9:00 am and climbs begin at 9 am, running every 10 minutes with a limit of 30 visitors per climb. Ticket sales close at 4:25 pm. Ticket holders should arrive at the base of the lighthouse five minutes prior to their ticketed climb time.