Board of Directors
Meet the Board of Directors and view our meeting schedule.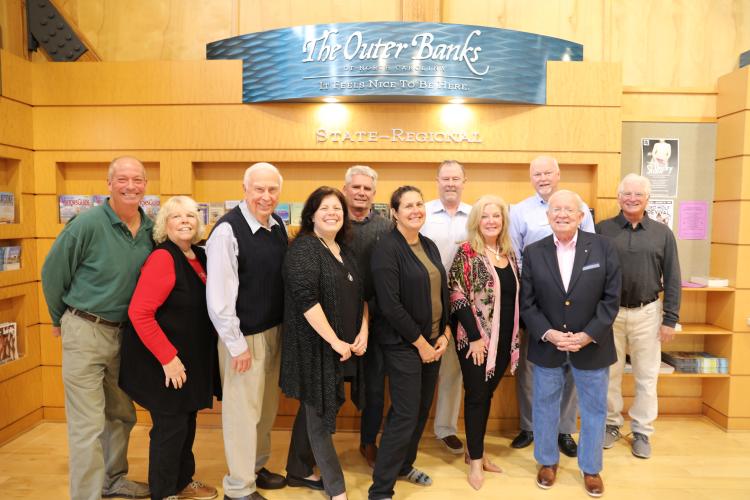 2020 Dare County Tourism Board
Town of Duck - Chuck Burdick
Town of Southern Shores - Councilman Leo Holland
Town of Kitty Hawk - Councilman Jeff Pruitt
Town of Kill Devil Hills - To Be Announced
Town of Nags Head - Commissioner Webb Fuller
Town of Manteo - Mayor Bobby Owens
Dare County Commissioners - Commissioner Ervin Bateman
Outer Banks Chamber of Commerce - Myra Ladd-Bone
Outer Banks Association of Realtors - Doug Brindley
Outer Banks Restaurant Association - Karen Loopman-Davis
Outer Banks Hotel/Motel Association - Jamie Chisholm
Hatteras Island At Large - Pat Weston
Member At Large - Tim Cafferty
2020 Steering Committee
Chair -  Myra Ladd-Bone
Vice Chair -  Jeff Pruitt
Secretary -  Webb Fuller
Treasurer -  Pat Weston
Asst. Treasurer -  Ervin Bateman
Personnel Committee Chair - Tim Cafferty
Unless otherwise noted, The Dare County Tourism Board meets the 3rd Thursday of each month at 9:00 a.m., in the Curtis H. Creech Memorial Boardroom, at Outer Banks Visitors Bureau Administrative Offices, Manteo, NC 27954.  
In order to follow COVID-19 distancing guidelines if you wish to attend in person, or to submit written comments, please email the Board Clerk, Amy Wood, at wood@outerbanks.org.  
The next meeting of the Dare County Tourism Board will be Thursday, December 17, 2020 at 9:00 a.m. 
Agendas and Minutes
2020
2019
2018
July (No Meeting)
February | Video Recap
2017
2016
2015
2014