Board of Directors
Meet the Board of Directors and view our meeting schedule.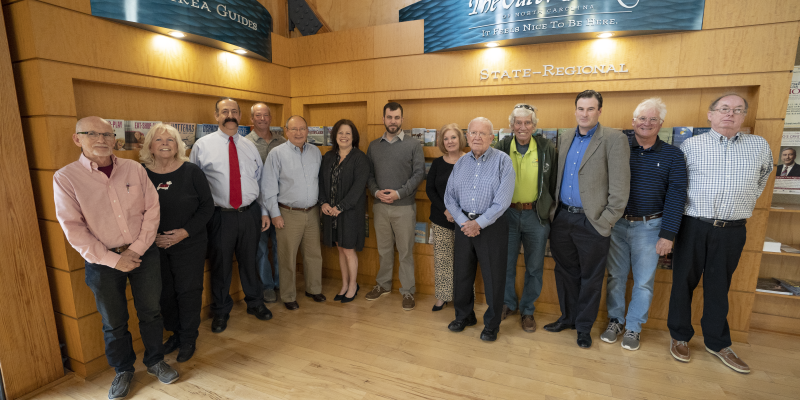 2019 Dare County Tourism Board
Town of Duck - Councilman Chuck Burdick
Town of Southern Shores - Mayor Pro Tem Chris Nason
Town of Kitty Hawk - Councilman Jeff Pruitt
Town of Kill Devil Hills - Commissioner Mike Hogan
Town of Nags Head - Commissioner Webb Fuller
Town of Manteo - Mayor Bobby Owens
Dare County Commissioners - Commissioner Wally Overman
Outer Banks Chamber of Commerce - Myra Ladd-Bone
Outer Banks Association of Realtors - David Pergerson
Dare County Restaurant Association - Bambos Charalambous
Outer Banks Hotel/Motel Association - Jamie Chisholm
Hatteras Island At Large - Pat Weston
Member At Large - George Banks III
2019 Steering Committee
Chair -  Wally Overman
Vice Chair -  Myra Ladd-Bone
Secretary -  Mike Hogan
Treasurer -  Pat Weston
Asst. Treasurer -  Bambos Charalambous
Personnel Committee Chair - Chris Nason
The Dare County Tourism Board meets the 3rd Thursday of each month, unless otherwise noted below.
The next meeting of the Dare County Tourism Board is Thursday, September 19, 2019 at 9:00 a.m., in the Curtis H. Creech Memorial Boardroom, Outer Banks Visitors Bureau Administrative Offices, Manteo, NC 27954.
Agendas and Minutes
2019
2018
July (No Meeting)
February | Video Recap
2017
2016
2015
2014