Like many travelers, when you come to the Outer Banks, you've probably got the beach on your mind. Sun. Sand. Waves. Sunrise strolls to start your day and afternoons spent working on your tan. But there's more to do in North Carolina's Outer Banks than bask on the beach. Fun fact: Dare County is the largest county out of one hundred in North Carolina! That's right, we've got 1,562 square miles (we're bigger than Rhode Island!) of woods, wilderness, wetlands, waters, islands, and, yes, beaches to explore.
When you're ready to venture out beyond that gorgeous strip of sand we all call the Outer Banks, there are secrets to uncover on Roanoke Island, wildlife to watch and kayak trails to paddle in the Alligator Wilderness National Wildlife Refuge, and new favorite places across the county. Read on to discover the best of Roanoke Island and the NC mainland, then get outside and enjoy yourself.
Getting Wild (Life)
Birdwatchers can get a casual look at shorebirds and gulls on the beach and see a dozen species of waterfowl on Pea Island, but cross the William B. Umstead Bridge at the north end of Roanoke Island around dusk and you'll be in for a treat. Here, thousands of Purple Martins migrate every summer to late fall to roost and raise their young on the bridge, and at dusk they take to the sky. There are so many Martins in the air at once, they show up on local weather radar, making them more than a flock of birds, they're a storm of birds.
A great place to watch the Purple Martins is from the little fishing pier and gazebo on the mainland side of the Umstead Bridge, in Mann's Harbor. On the north side of the bridge, a boat launch, dock and gazebo give anglers ample space to fish, but photographers, bird watchers, and artists will find the location just as inspiring.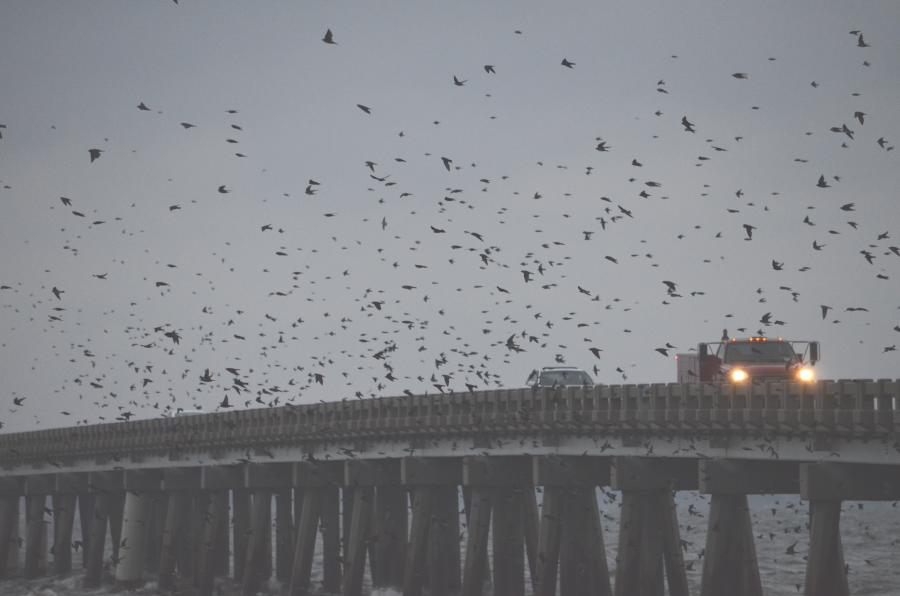 From here, continue on to the Alligator River National Wildlife Refuge where you'll find even more birding opportunities, and the chance to see black bears, white-tailed deer, alligators, and maybe even a red wolf or two. Private guides can take you birding, visiting quiet corners of Alligator River to spot songbirds, raptors and scavenging birds, and, if you're lucky, the elusive red-cockaded woodpecker.
While you're in Alligator River, keep your eyes peeled for black bears and white-tailed deer; red wolves live here too – they're rare sights (more on them in a moment) – and if you're observant, you might spot sign of the wolves. Along Wildlife Drive, you stand a good chance of seeing a bear on your own, especially in spring and early summer when mama bear is are out with her cubs. But if you don't feel like driving, join a tour. National Wildlife Refuge staff lead tours on the wildlife access roads and logging roads within Alligator River, and it's a perfect rustic experience where you'll learn a bit of history and a bit about the environments here as you go. Outer Banks Adventures also lead wildlife tours, but they've converted an old school bus into a rolling wildlife viewing station packed with creature comforts.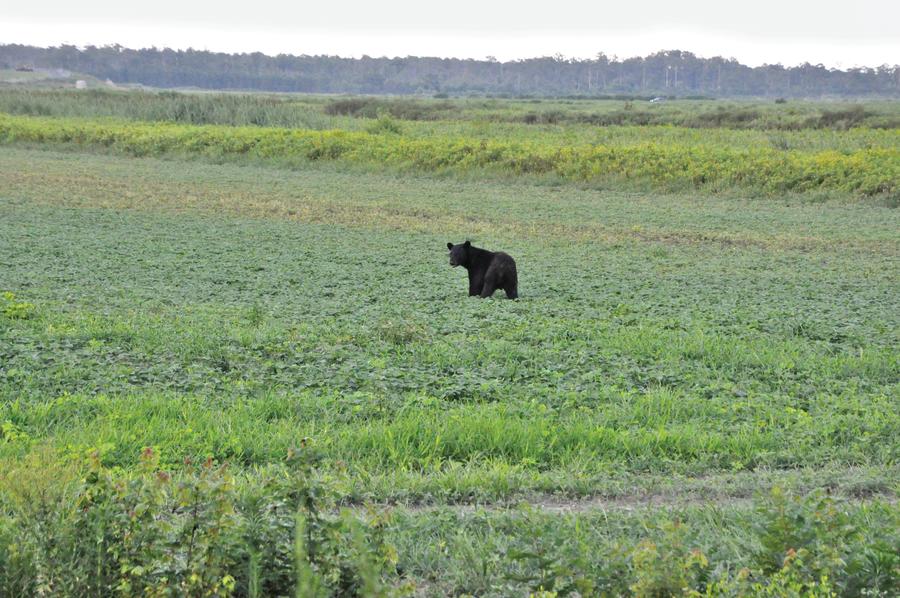 Now, about those red wolves. These beautiful animals are the world's most endangered wolf, and fewer than 400 live in protected facilities and in the wild. Only 20 or so roam Alligator River, and if you want to look – or rather, listen – for them, tours held throughout the year do just that. Meet at the Creef Cut Wildlife Trail parking lot and someone from the Wildlife Service will tell you a bit about the wolves before you head deep into the refuge to listen for their distinctive yips and howls and look for signs like pawprints.
Go Out and Play
Alligator River National Wildlife Refuge has more to offer than just wildlife watching. Hunters come in for whitetail deer season and to hunt small game or to try and bag some waterfowl, and anglers wet a line in the waterways and along the shores year-round, but the paddle trails draw new adventurers every day. Milltail Creek is the starting point for 24.5 miles of paddle trails that lead deeper into the Wildlife Reserve, to Sawyer Lake, and out to the Alligator River. Following these trails is easy – they're all clearly marked – so if you brought your kayak or canoe, paddle on. But if you'd rather have a guide or if you need to rent a boat for the day, several outfitters (like Kitty Hawk Kites, Coastal Kayak, and Outer Banks Kayak Adventure) lead trips along these blackwater creeks, mixing in local lore, natural history, and some fantastic photo opportunities along the way.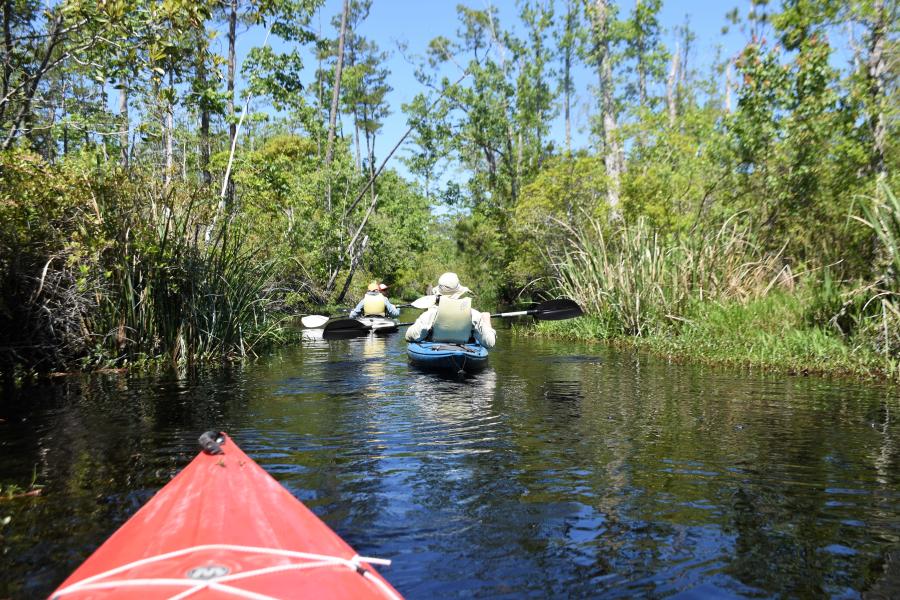 You might have noticed Roanoke Island isn't the only island around. If you want to explore these sandbars, spoil islands, and hummocks, you can paddle out on your kayak or standup paddleboard, head over on your own power boat or sailboat, or do it by airboat. Chances are, you didn't bring an airboat with you, but you can still make the breezy trip with Outer Banks Adventures. They'll tailor your trip to your specifications, so if you want a deserted isle picnic, an eco-tour, some primo shelling and artifact hunting, or if you're a photographer looking for a new angle on the Outer Banks, they'll take care of you.
If you brought your own boat, there are dozens of wildlife ramps and marinas where you can put in. Some marinas may have space available where you can dock overnight, but if that's the plan, be sure to call ahead and reserve a spot. Sailing charters, sunset cruises, and dolphin tours leave from the marina in downtown Manteo and from other marinas around, meaning it's a matter of simply making a reservation if you want to spend some time on the high seas.
Fresh Catch
Seafood is a way of life here and has been for generations. Families have made their living hauling nets, casting lines, and catching everything from blue crabs to yellowfin tuna, and you'll find a local catch on most menus and tables in the county. One must-stop to get your seafood fix is O'Neal's Sea Harvest in Wanchese (conveniently near several charter boats). Out back, they run a wholesale fishing operation, connecting restaurants and shops with fishermen and their fresh catch, but up front, guests like us can grab something to cook up for diner or get a bite to eat right here. Their selection of freshly caught fish, shellfish and crabs is second to none, and the best part about it is that fresh fish in the case is the same as they use in the kitchen. Grab a fried fish platter, a softshell crab sandwich, a salad topped with fried oysters or blackened scallops, or get a pound of perfectly seasoned shrimp to snack on while you wait for your order.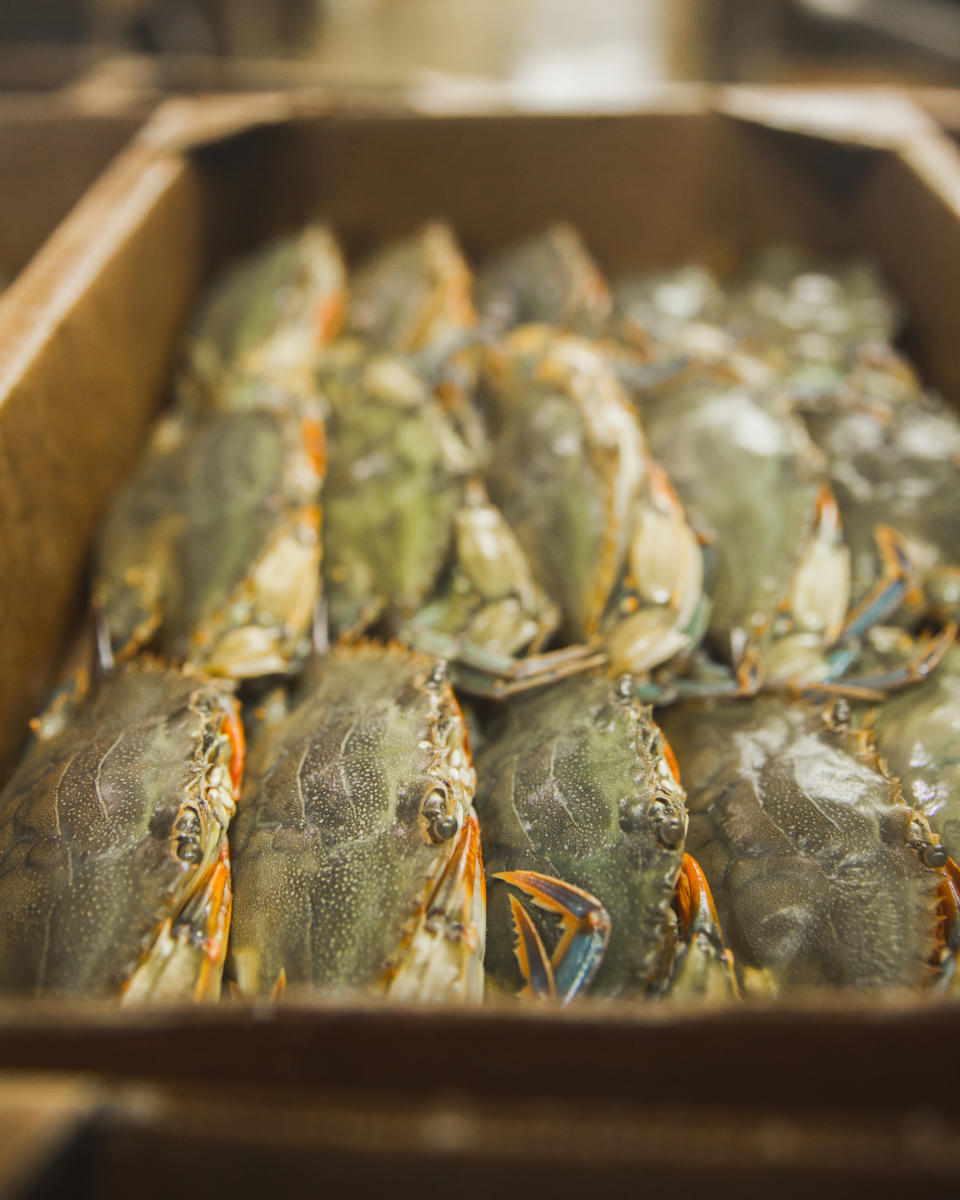 Those charter fishing boats do more than take you out with a rod and reel, some of them specialize in shrimping and crabbing. Join OBX Crabbing and Shrimping Charters where Captain Marc Mitchum will take your group out on a shrimp boat for a day of dropping the nets empty and hauling them in full. Get hands on and help sort the shrimp, crabs, fish, and other sea creatures, keeping anything that's in season and of legal size. What will you do with all that shrimp? For sure you'll freeze some for a later dinner, but the rest you should steam up for a feast tonight. Got questions? Captain Marc and his crew know more than just catching shrimp, they know how to cook them too, so don't be shy, ask how they'd cook up a pot of shrimp.
On the Dare County mainland, a short drive across the Virginia Dare Memorial Bridge, Outland Seafood Market has cases packed with fresh fish, but they also offer in-house cooking for your shrimp and crabs. They'll season and steam your shrimp and crab (even if you bring them in from a day with Captain Marc), so within minutes you can walk out the door with dinner (and leftovers) in hand. Next door is White's Gas and Grill, a gas station with a supply of those last-minute hunting and fishing supplies you may have forgotten, and a great little grill with burgers, grilled cheese, barbecue, and fried fish sandwiches. You'll see many visitors swop by White's and Outland as their last stop from a trip to the Outer Banks (and, honestly, what's better than arriving home with a cooler full of fresh seafood or ready-to-eat shrimp?), but stopping in for lunch and some cooked-on-the-spot dinner when you arrive is a winning idea on just about any trip to the Outer Banks.
Hands on History
On the Manteo waterfront, check out he Roanoke Marshes Lighthouse, a replica of the lighthouses that once dotted the marshes here, marking safe passage for fishermen and recreational boats. Inside the lighthouse and the nearby George Washington Creef Boathouse, home to the Roanoke Island Maritime Museum, you'll find exhibits detailing the history of boatbuilding on the outer banks. Warren O'Neal's contemporary fishing and pleasure boat designs, as well as George Washington Creef's historic shad boat design, are on display, along with tools, drawings, models, historic photos and more. The fishing fleets around here are packed with designs from O'Neal and from Paul Mann of Mann's Harbor, and a keen eye might catch new designs on the water along with historic hulls.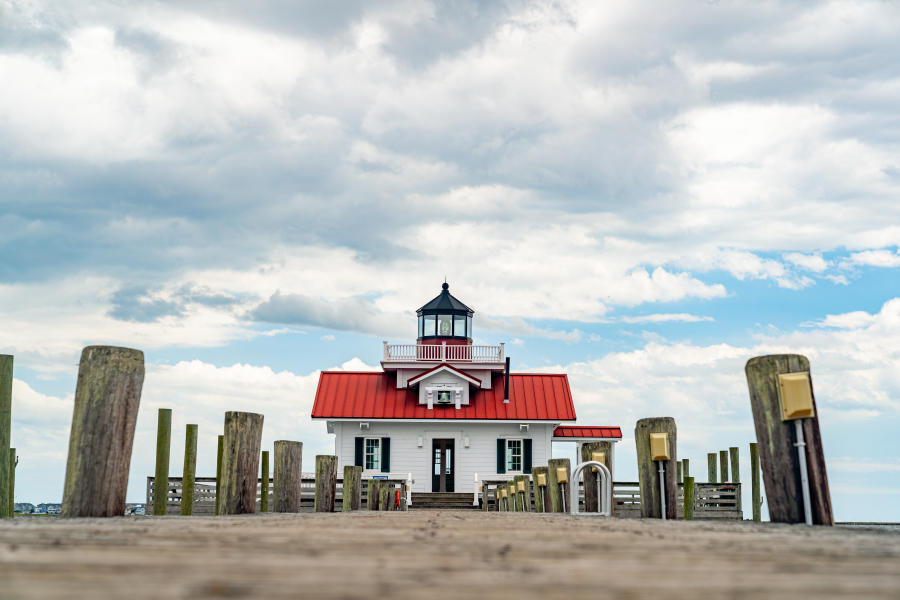 Across Shallowbag Bay from Manteo, there's another piece of boating history: Elizabeth II, a re-creation of the 16th century ship that carried colonists and explorers to Roanoke Island. Costumed interpreters tell visitors about life on the ship, the trip to the New World and the dangers of the trans-Atlantic passage, and all the nuances of the Elizabeth II. One odd thing you'll notice is that there's no ship's wheel. Be sure to ask the sailors on board why.
The Elizabeth II experience is part of Roanoke Island Festival Park, where several festivals and fairs take place throughout the year, and where more history from the 16th century is on display. Artisans demonstrate blacksmithing and carpentry skills similar to what the Roanoke Colonists experienced back in the 1580s. The Adventure Museum adds depth to a visit here thanks to interactive displays on native tribes, colonists, the Civil War and Freedmen's Colony, the US Life-Saving Service, boatbuilding, and contemporary history.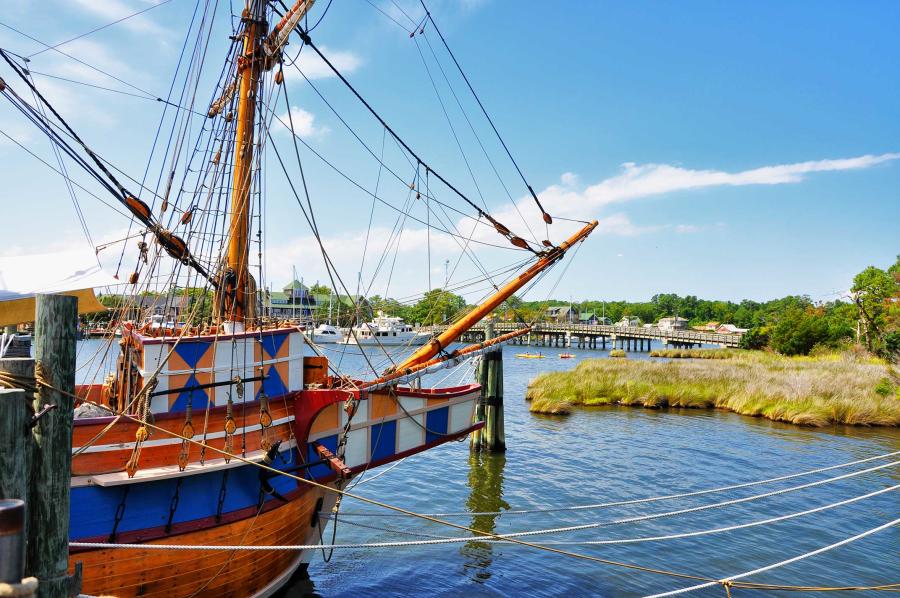 Hop in your car – or take a bike on the 7 miles of bike trails that traverse Roanoke Island – and head north where you'll find Island Farm, the Mothervine, and Fort Raleigh State Historic Site, the place where one of the earliest attempts to establish a colony met a mysterious end.
The Mothervine – a gnarled, twisted grapevine that's been producing grapes since 1584 – is the oldest cultivated grape vine in the United States. Rather than making a red or green grape like you might find at the grocery store, or a red or white wine grape, the Mothervine produces Muscadine grapes. These sweet bites are grapey through and through, and that translates to a sweet and unusual wine, but also juice and extracts packed with nutrients. Some say the Mothervine makes some age-defying fruit, a fine claim for a grapevine rapidly approaching its 450th birthday, but we'll let you test that out, which you can do through non-alcoholic juice and extracts from the Mothervine's fruit.
Not far away, Island Farm shows you what life was like on Roanoke Island in the 1850s. Home to generations of the Etheridge family, Island Farm's collection of buildings – including the original home, barns, and outbuildings – have plenty of stories to tell, but your best bet to hear a tale is to ask one of the costumed interpreters. They're steeped in the stories of this place, from African American history to the trials of island life centuries ago leading up to the Civil War. Wander through the house, talk with the blacksmith as he makes something useful for the farm, and spend a little time with the animals. Their livestock includes cows, sheep, and Banker Ponies, the famed wild horses of the Outer Banks. Much like when the Etheridge family lived here, there are a pair of wild horses calling the farm home. They don't work much these days, but they're a great way to learn about the wild herd and their history. You can't miss the windmill at Island Farm. A windmill? Seems out of place, doesn't it? But it's not. Windmills were a common sight on the Outer Banks for years as the resourceful folks here used wind power to turn grist mills to grind corn and other grains. The windmill here shows the design typical to the Outer Banks, and on some days you might even see the sails whirling round and round.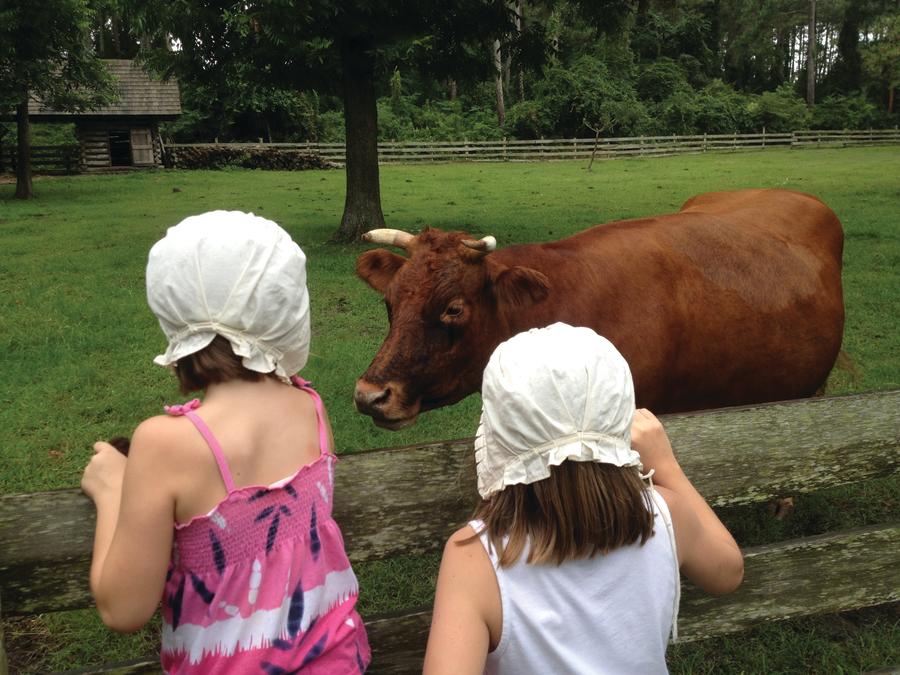 Another thing you can't miss at Island Farm is the name Etheridge. The prominent Etheridge family helped build the Outer Banks (and many descendants still live here), and they served in the U.S. Life Saving Service, helped the Wright Brothers, and found themselves involved in every monumental moment that happened here. Captain Richard Etheridge was born enslaved, a suspected son of one of the Etheridge patriarchs, and went on to great things, becoming the first African-American to command a lifesaving crew. Captain Etheridge's all-Black crew – another first and a rarity in post-Civil War America – was stationed on Pea Island, a short drive away, and they responded to dozens of ships in distress, making countless rescues along the treacherous coast here. They'll tell you a bit about him at Island Farm, and you can see his gravesite and memorial at the North Carolina Aquarium at Roanoke Island, and in the fantastic book, Fire on the Beach.
The North Carolina Aquarium at Roanoke Island is a can't-miss stop. Exhibits and huge aquariums tell the story of the waters as they make their way to the Atlantic Ocean, from the inland creeks and rivers to the marshes and sounds and beyond. River otters, alligators and other inland critters are the stars in one part of the Aquarium while sea jellies, sharks, octopus, and a hundred other fish species fill habitats throughout the facility. Plenty of kids programs and an interactive touch tank keep things interesting for the youngest visitors.
Outside the Aquarium you'll find Etheridge interred in a small cemetery and memorial, a fitting place for a man born enslaved and who had such an impact on lives Black and White along this stretch of coast. The Aquarium and nearby Dare County Airport are built on the site of the Roanoke Island Freedmen's Colony. A number of enslaved African Americans lived on the Outer Banks, and when the Civil War reached this part of the state, the island quickly fell from traitorous Confederate hands into Union control. Union forces quickly established a Freedman's Colony, a place where these once-enslaved individuals got their first taste of liberation. By 1865 nearly 4,000 people – men, women, and children – lived in the colony where they farmed and fished for food, and were free to worship, attend school, and live their lives. As the Civil War drew to a close, many Freedmen Colonies were dissolved, this one included, but scholars and historians are beginning to tell their stories in full.
At the Fort Raleigh National Historic Site you can hear more about the Freedmen's Colony here, but you'll also have the opportunity to learn about one of the nation's most enduring mysteries: The Lost Colony. In 1587, a handful of English colonists attempted to establish a permanent settlement nearby, but the Roanoke Colony simply disappeared. Before they vanished, they welcomed Virginia Dare into the world, and as the first English child born in the New World, she was really something to celebrate. Despite many attempts to resupply the colony and deliver more colonists to Roanoke Island, ships didn't arrive from England until 1590. When they arrived, they found an empty colony. The fields were overgrown, the cabins and homes empty, the garrison unmanned. But there was no sign of war or disease. The only clue was a single word carved into a wooden post: Croatoan. Did it refer to a place nearby? Maybe a native tribe or individual? Something else? No one knows. To this day, the fate of the Lost Colony is up for debate, and at Fort Raleigh you can hear about the many theories surrounding their fate.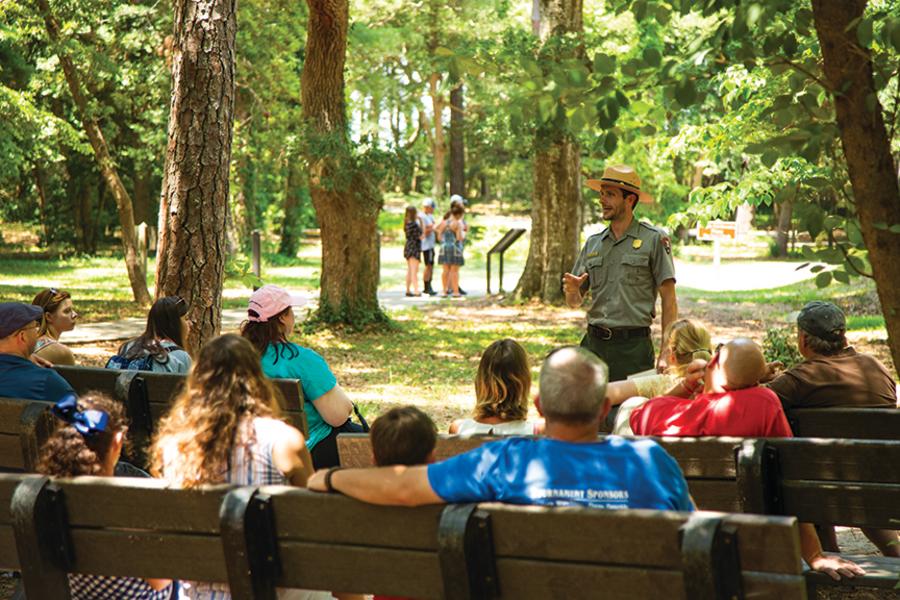 Only steps away from Fort Raleigh you'll find a sound side amphitheater where the nation's oldest and longest-running outdoor drama is performed each summer. The Lost Colony premiered in 1937 and has run – with few exceptions – every summer since. Telling the story of the Roanoke Colony in the very place they lived creates a powerful connection to the story and to this slice of history.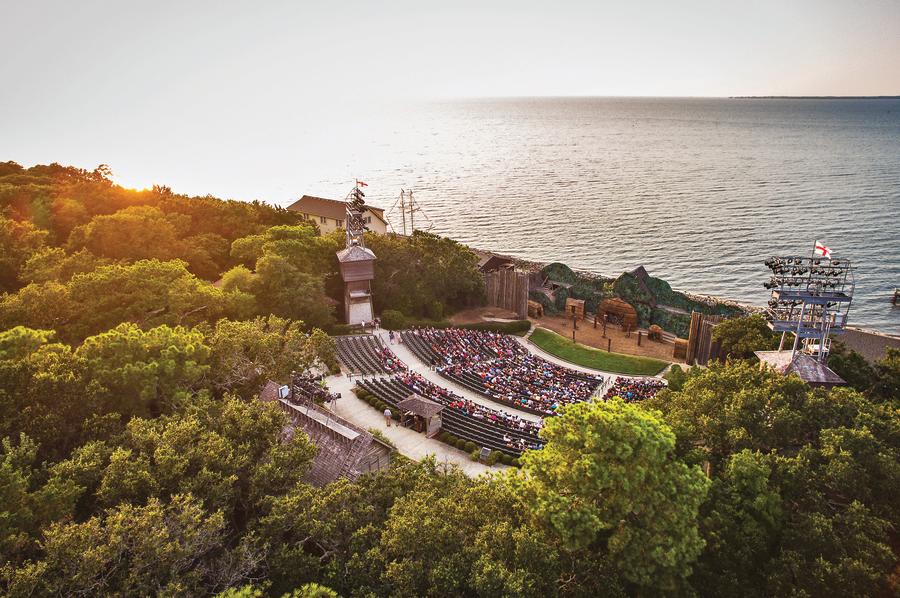 Next door, Elizabethan Gardens pays homage to the Roanoke Colony and Virginia Dare, as well as the traditions and times through 10 acres of manicured gardens and flower beds. English garden traditions – many dating back to the 16th century – are on display and tucked away down a tree-shaded lane stands a statue of Virginia Dare, or, rather, an artist's interpretation of Virginia Dare as a young woman. The symmetrical sunken garden at the center of it all gives visitors a sense of the English aesthetic, and on the two grand lawns, you can gaze out over the sound or enjoy the shadings of giant live oaks, some of which might have been saplings around the time Virginia Dare was born.