Nags Head, NC
Nags Head is the heart of vacationing on the Outer Banks and has been for more than a century. Drawn by ocean breezes, our sunny shores, and the curious nature of the Outer Banks, generations of visitors have fallen in love with this place and come back time and time again, often with friends and family in tow, folks they know will see the Outer Banks the way they (and we) do: the closest thing to paradise this side of heaven.
Among the most recognizable of the Northern Outer Banks beach towns – thanks in part to the colossal sand dunes in Jockey's Ridge State Park – Nags Head also happens to be filled with all the things a vacationer needs. This town is packed with beach houses, seaside motels, and hotels with a view; there are boutiques, surf shops, an outlet mall, and grocery stores; restaurants serving everything from fine dining feasts to barbecue to casual bites, but always exceptional seafood; and there are fishing piers, parks, and a surprising array of things to do.
Bordered to the south by Oregon Inlet and the Cape Hatteras National Seashore, to the west by Roanoke Sound, and to the north by the town of Kill Devil Hills, Nags Head sits at a wide point on the Outer Banks, so there's plenty of room for all this getaway goodness.
But that name, Nags Head, it's an odd one; where did it come from? Local legend says it came about in the early 1800s when this stretch of coast was earning the nickname The Graveyard of the Atlantic (there are more than a thousand shipwrecks off our shores, so it's a well-deserved title) thanks to the hidden shoals and sandbars offshore. Some nefarious characters are said to have tied lanterns around the necks of their old farm horses and led these nags along the dune ridges in what is now Jockey's Ridge State Park. The swaying and rocking lights looked like lanterns hung from the topmasts of ships safely in port, and seeing these lights, ships at sea would head closer to safe waters. That's when they'd be shipwrecked by bottoming out in the shallows during the dark hours of the night, erroneously straying too close to the beach and these land-based pirates were able to salvage wood and cargo from the wrecks. And Nags Head was born.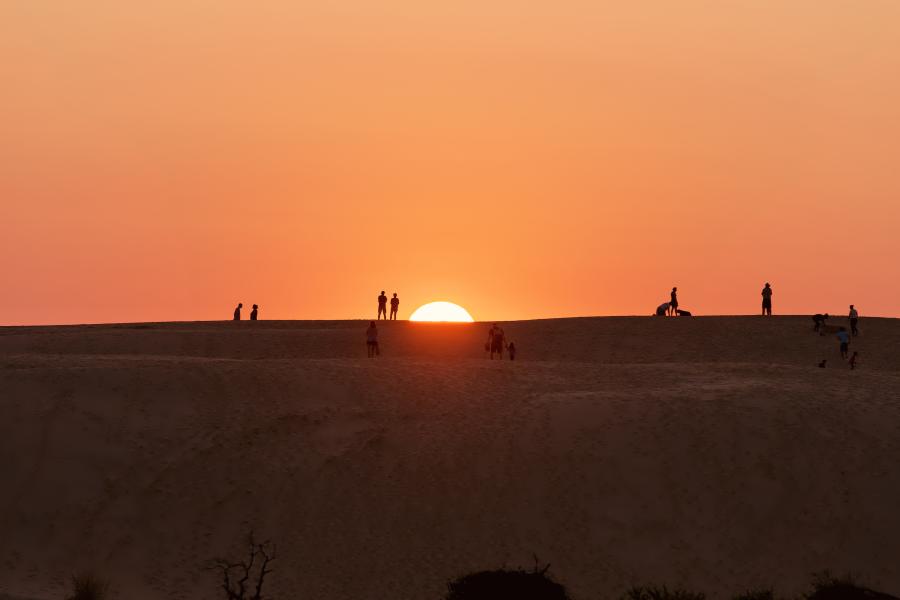 Thankfully we don't have to worry about these lantern-loving scalawags today and instead we can go to Jockey's Ridge to fly kites, take in the sunrise and sunset, go sandboarding (think sledding or snowboarding, but on sand), and even try our hand at hang gliding (if the Wright Brothers can take flight on the Outer Banks, why can't you?).
That's not the only sight in Nags Head. Longtime visitors will remember Jennette's Pier as a long wooden pier where the fishing was fine and the breeze was a steady reminder that you're on the Outer Banks. Seasons of storms took their toll on the original Jennette's Pier, built-in 1939, and one final storm knocked 540 feet off the end of the pier. Fortunately, the new owners – the North Carolina Aquariums – found this to be the perfect reason to rebuild the pier and expand the original pier house to include an aquarium and exhibition space on the ecology of the Outer Banks. Now a LEED Platinum concrete pier extends out 1,000 feet over the Atlantic, and wind turbines help power this green facility. Anglers and sightseers still come, ready to haul in a record fish (or try to) and get a look at the beauty of the Outer Banks.
If you miss the nostalgia of the wooden piers, head to the extreme south end of Nags Head and you'll find Outer Banks Fishing Pier. It's got that perfect blend of weather-worn wooden planks and rails, complete with a gentle rocking with the biggest waves and all the curves you'd expect to find in a pier like this.
Lifeguards and Ocean Rescue personnel monitor and patrol much of the beach in Nags Head – beach access is open to the public as well as locals and renters (some oceanfront and ocean view rentals have private accesses to the beach).
Across the street from Jennette's Pier, you'll find one of the oldest restaurants on the Outer Banks: Sam and Omie's. Sam and Omie's opened in the mid-1950s after the owner and his brother found success in the fledgling charter fishing industry. Several iterations -and a couple of owners later – and we have the charming seaside shack that is Sam and Omie's, a landmark that just happens to serve some excellent meals.
That's just one of the restaurants you'll find in Nags Head. That's just one of the restaurants on the Outer Banks that can lay claim to serving generations of locals and visitors. Another is Owen's Restaurant. Owen's has the distinguishing honor of being North Carolina's oldest, same-family, same-location restaurant; they've been at it for 75 years and counting. At Owen's, you'll get a true flavor of the Outer Banks, with family recipes – like the crab cakes – unchanged since the restaurant opened in 1946. They source every bit of food that they can from nearby fisheries and fields, so it tastes like home. And it feels like home; check out the family heirlooms on display in the restaurant, it's like an Outer Banks time capsule.
One look around and you'll see plenty of other places dishing up delicious bites of the Banks. Basnight's Lone Cedar, on the causeway between Nags Head and Roanoke Island, has garnered recognition for their seafood and views. You'll find exceptional seafood dishes at spots like Tortugas' Lie, Tale of the Whale, Miller's Waterfront Restaurant, and just about every place you walk into. It's not just coastal-style seafood on the Outer Banks. Single Fin serves Thai and sushi, Woo Casa Kitchen keeps it healthy and tasty, Sooey's BBQ & Rib Shack delights with salt and smoke, and at breakfast joints like Grits Grill and The Dunes they serve up delicious dishes all day. Add in the locally-owned coffee shops, the candy stores, and fudge shops, and the ice cream, donuts, and other spots selling sweet treats, and you're covered for every meal and snack imaginable.
Staying for a few days and need supplies? Nags Head has the largest collection of grocery stores including The Fresh Market and FoodLion, local spots like Cahoon's Market, and seafood markets like Austin Fish Company, Greentail's Seafood Market and Kitchen, and Whalebone Seafood.
You'll also find The Outer Banks Hospital and Sound Veterinary Hospital should the need arise for you or your furry friends.
The ocean and Sound are lined with rental houses, B&Bs and Inns, and hotels and motels that deliver charm and comfort aplenty. When you travel, do you want that authentic, locally-owned experience? Or are you a loyalty card power user and do all your travel on points, miles, and earned rewards? About half of our hotels are mom-and-pop operations, many of them updated properties that have served Outer Banks visitors for decades. The other half are brand-name hotels that deliver familiar comforts right on our beautiful shores. So, if you want that heritage experience and a touch of yesteryear charm, or if you want the ease of cashing in your nights and using those upgrades you've been saving, we've got you covered.
For many visitors, Nags Head is the first of our beach towns they encounter, arriving here along US 64. It makes for an ideal base camp for exploring the beaches and towns on the northern end of the Outer Banks, but also for exploring the long strip of sand to our south, Cape Hatteras National Seashore, and the villages there, and Roanoke Island to the west.