Duck, the northernmost town on the Outer Banks, earned its name at the turn of the 20th century thanks to the popularity of duck hunting in the Currituck and Albemarle Sounds. Back then, ladies' hats were all the rage and Duck had a brief flirtation with fame as it was one of the largest suppliers of colorful duck feathers for those hats, which is just one more reason it's got the perfect name. Hunters still frequent these marshes and the low island in the Sounds, and there are guides on the Outer Banks who will take you out for a day of trying to bag a few birds, but most visitors to Duck today are there for the quiet, residential feel of this town. The seven-mile stretch of sand here is limited to residents and visitors staying in the rental homes and at the hotels here. Simpler is better.
The most notable place to say is the Sanderling Resort, a luxury oceanfront property with ocean- and sound-view rooms and suites, great on-site dining, and plenty of places to lounge away the day. Their spa is renowned on the Outer Banks, and if fitness is your thing, they have a gym and tennis courts, and a mixed-use bike and walking path that goes right by the resort.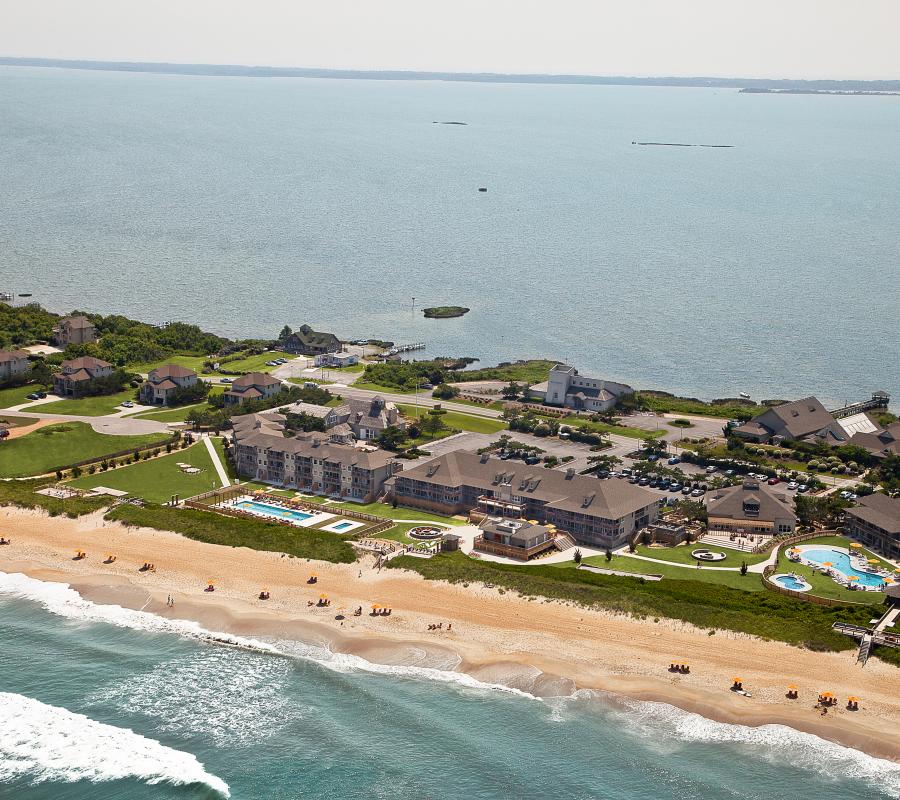 Even though the Outer Banks are quite narrow in much of Duck – from the top floor of the Sanderling you can see the ocean and the Sound without turning your head – there's a lot here. And that surprises some long-time Outer Banks visitors. Many of them remember when the pavement literally ended in Duck and to dive past town hall meant following hardpacked tracks through the sand.
The town maintains a one-mile boardwalk that connects shopping centers and restaurants while giving visitors plenty of opportunities to sit and admire the view of the Sound. It's easy to hop off the boardwalk to do a little shopping or to duck into a restaurant for a meal or a drink while you take in the sights and do a little people-watching.
Dining options range from elegant to super casual. Kimball's Kitchen, in the Sanderling Resort, and Aqua Restaurant are two excellent fine-dining options; their menus make use of the freshest seafood and produce available and every dish wows. Blue Point gets creative with their treatment of local seafood, and they serve it up in a lovely setting. There are some great pizza spots in Duck, so if you're after a slice or a pie (or two) to feed your crew, you have options here. Coffee shops, bakeries and breakfast spots are plentiful here, as are casual places like Cookshack Fried Chicken, Coastal Cantina, and Duck Duck Burger.
If there is one absolute can't miss place to grab a bite in Duck, it's Duck Donuts. You'll spot Duck Donuts locations throughout the Outer Banks (and at many locations inland), but the OG spot is right here. Duck Donuts are made-to-order, custom-topped, vanilla cake donuts served piping hot and as fresh as it gets. Toppings like crumbled Oreo cookies, cinnamon and sugar, graham crackers, even bacon make each one unique and, trust us, it's easy to put down two or three or even four of these delicious donuts.
Shopping in Duck gets away from the big-box beach stores and stays local. Yeah, you'll find plenty of t-shirts and souvenirs but aside from beach day basics, you'll find bookstores with thoughtful selections of local-interest books and bestsellers, boutiques with everything from yoga gear to resortwear, gift shops and galleries packed with things from local artists and artisans, and several great fish markets.
If you're staying in Duck, you'll need to make a trip to Kitty Hawk or Kill Devil Hills for your initial grocery runs as the grocers there are larger and carry a wider selection, but for those snacks and "forgot that at the store" items, you'll find a couple of places to pick up what you need.
Staying in Duck is much more akin to living in the Outer Banks, even if you're here for a week or less, so for folks considering making the move from wherever you are to right here, spending time in Duck and getting to know a few locals will give you a good idea of what things will be like when your new address ends in OBX.