For those who love the finer tastes in life, we've developed an OBX Beer, Wine, & Spirits Trail stretching from our Northern Beaches, to Roanoke Island & Dare Mainland, and south to Hatteras Island. This tasty trek will help you experience the rich, local tradition of beer, wine, and spirits. Visit here for a full list of Outer Banks
bars and restaurants
. Please enjoy the trail responsibly, take advantage of local cabs, Ubers, or the 
OBX Party Bus
.
Northern Beaches
A cool water excursion taking you from the chic town of Duck on the Outer Banks across Currituck Sound for a wine tasting and 4x4 safari tour of Sanctuary Vineyards on the mainland. 33 acres of viniferous grapes. Learn the vine-to-glass process, smell the French oak barrels and meet the master winemakers amid a setting with rich waterfowl and farming heritage. Sanctuary Vineyards produces over 7,000 cases of wine seasonally and has won over 100 accolades for their award winning wines. 
TRiO is an exciting retail and tasting destination with an inviting yet cosmopolitan vibe. They're all about simple pleasures, authentic flavors and good times.  A place to feed your passion – for wine, beer, cheese, casually inventive food and more.  Comprised of both a gourmet wine, beer and cheese market as well as a restaurant with a wine bar and tap house, TRiO offers the best of the worlds of wine, beer and cheese for your enjoyment on premise or in the comfort of your home.
Tap That OBX serves brews, bourbon, and tequila. Featuring a cigar lounge, game room and a good time.
Hop in to pick up bottles of wine or brews in their huge market selection of over 2,000 wines and 500 beers. Or stop and have a sample from their wine tasting machines and 6 beer taps. 
Known as the first wind powered brewery in America, the Brewing Station offers high quality and esoteric menu items, without reaching the stratospheric menu prices of other local gourmet destinations. But at its heart and soul the Brewing Station is about the beer. Brewmaster Scott Meyer's creations run the gamut — lighter pilsners, ales, IPAs, heavier stouts. The brews are recognized around the country for their quality, and aficionados make it a point to add the Brewing Station to their itinerary. The Brewing Station has made a difference on many levels on the Outer Banks — a world-class brew pub, superior food, engaging bands, alternative energy and promoting social issues.
A new brewery and tasting room located on the beach road in Kill Devil Hills. A sweet little beach beer bar bodega at 1802 South Virginia Dare TrailKill Devil Hills, NC 27948 with live music and beach inspired brews.
The first Growler Shop on the Outer Banks, Buffalo City Jug Shop picked their name as a tribute to Buffalo City, a community with a long history of logging and moonshining, once nestled in East Lake Township, just 30 miles west of the Outer Banks. Today, they aim to capture the nostalgia of 1920's America, with a tribute to moonshine production. Choose from 24 rotating taps to satisfy your taste for craft brews and fill a growler from their selection of specialty beer. A full selection of bottled beer and wine is also available.
A family friendly bar & restaurant where you can grab lunch or dinner while looking over the Atlantic Ocean. They have 33 craft draft brews with a large selection of bottle and can beers. Wine and Sake Cocktails are also available choices.  Be sure to check out the Fishheads' beer, PIER JUMPER, that they collaborated with Coronado Brewing Company, San Diego CA.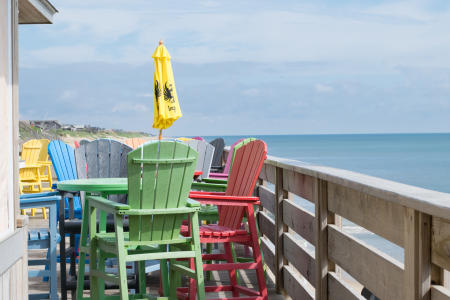 Roanoke Island & Dare Mainland
The four owners all met years ago working at a local brewery in Kill Devil Hills and became fast friends over their shared love for good beer and rum. Over the course of many sessions spent sipping rum and talking shop, they came to the conclusion that starting a craft distillery on the Outer Banks made a lot of sense. Adam Ball and Kelly Bray worked at the area's local breweries for many years, while Matt Newsome and Scott Smith have more than 20 years of bar tending experience on the OBX. Their story perfectly ties in with the more than 1,000 shipwrecks along the Outer Banks' Graveyard of the Atlantic with wreckage containing barrels of rum.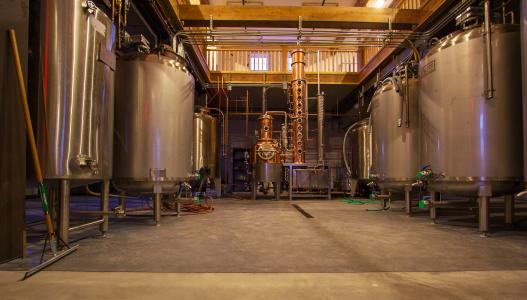 One of the newest micro-brewery in North Carolina with outdoor seating and pets welcome outside. The Lost Colony Brewery and Cafe in downtown Manteo specializes in British and Irish style beers. They use Marris Otter malt as their base and then add various combinations of Black Patent, Brown malt, Crystal malt, and Roasted Barley depending on the individual beer. Hop varieties include Fuggles, East Kent Golding and Challenger. Our brewery in Stumpy Point is housed in a 10,000 square foot former boat shop, capable of producing 1,000 gallons of beer at a time.
The Mothervine is America's Oldest Cultivated Grapevine, circa 1584, in Manteo on Roanoke Island. The Mothervine Company creates high quality, American-made products using the Muscadine, nature's richest source of polyphenolic antioxidants. The Mother Vine is the oldest cultivated grapevine in America, 430+ years old and it lives in Manteo, NC on Roanoke Island…part of the Outer Banks. Its lore can be woven into that first attempted settlement associated with The Lost Colony and beyond.
The Lost Colony Wine & Culinary Festival
takes place April 8-9, 2022 and pairs the mystery associated with the first attempted English colony in America circa 1587, as portrayed in The Lost Colony Outdoor Drama, with Francis Ford Coppolla's new Virginia Dare Winery line of tribute wines.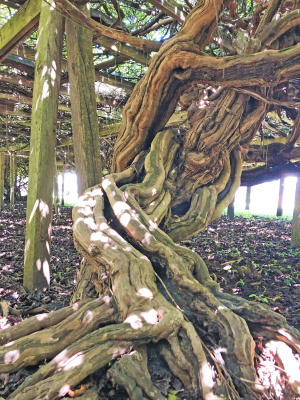 Hatteras Island
When heading south, you'll find Lighthouse Sports Bar who took it upon themselves to sample hundreds, even thousands, of the finest beers in the land to bring you one of the finest selections of great local North Carolina beers and ciders. They offer a full bar, with tons of beers and wine along with the entertainment of pool tables, darts, live music and more. Open for brunch, lunch, happy hour & dinner with late night food.  
*BONUS Beer, Wine, & Spirits Trail Extension: If you wish to make a day trip south of Hatteras Island, hop on a car or passenger ferry to uncover Ocracoke Island's very own craft brewery, 1718 Brewery.