Kill Devil Hills, NC
Abutting Nags Head is Kill Devil Hills, the geographic center of the Outer Banks. Kill Devil Hills extends north a few miles to Kitty Hawk, but in those few miles, this town really packs it in. It's the largest town by population on the Outer Banks, but it's still a sleepy seaside town at heart, and all 7,500 residents would agree. Beach houses and hotels, restaurants and shopping, and the site of one of the most important pieces of human history: the place where man first took flight. The Wright Brothers National Memorial stands on a high hill overlooking the ocean, the sound, and the field where Orville and Wilbur Wright – with help from a dozen locals – sent the Wright Flyer on its inaugural set of flights.
As with Nags Head and most of our beach towns, Kill Devil Hills has an odd name. The stories on Kill Devil Hills are varied and it's likely that each one contains a pinch of truth. One tale says the name came from some exceptionally strong rum that washed up or was liberated from a shipwreck; this rum was strong enough to "kill the devil," hence the name. Another says this rum was possibly just moonshine distilled in the wooded dunes – the hills – in town and that this batch of homemade hooch was strong enough to kill the devil. Some even say it's the wind – a steady breeze in the best conditions, an outright gale at certain times of the year – that gave the devil a devil of a time. Wherever it came from, we can all agree that Kill Devil Hills is a distinct and memorable name.
That breeze is what drew the Wright Brothers here. Their curious scientific minds had been working on the problem of gliders and powered flight for some time when they started to visit the Outer Banks. Drawn by our consistent wind and the relative isolation where they could conduct their experiments unbothered by crowds, they made several trips to Kill Devil Hills to try to master the air. It finally worked, and with the help of several Outer Bankers, they made history with the first powered flight on December 17, 1903. The visitors center at the Wright Brothers National Memorial shows a replica of their powered glider, and through displays, videos and artifacts, you can learn more of their story. But the best is walking out into the field and tracing the steps of those first four flights – each one longer and under more pilot control than the one before – before heading to the top of the hill and the monument (and views) there.
Many aviation enthusiasts like to fly into the First Flight Airstrip, just behind the Wright Brothers National Memorial, rather than drive to the Outer Banks. And other aviation enthusiasts will hop in a sightseeing plane or even join a pilot and strap themselves to a hang glider that'll be towed thousands of feet into the air and released, giving a brave few visitors the view of a lifetime.
While they were in town, the Wright brothers doubtless ate their fair share of seafood. You can shop for your own at the groceries and fish markets in Kill Devil Hills, or you can go over to the Avalon Fishing Pier and fish for your supper. The Avalon Fishing Pier is one of the few wooden piers still standing on the North Carolina coast, and it's been here since 1958. Through its long life, it's seen tens of thousands of fish caught, and if you're here at the right time, you just might get your name in the record books with what you reel in.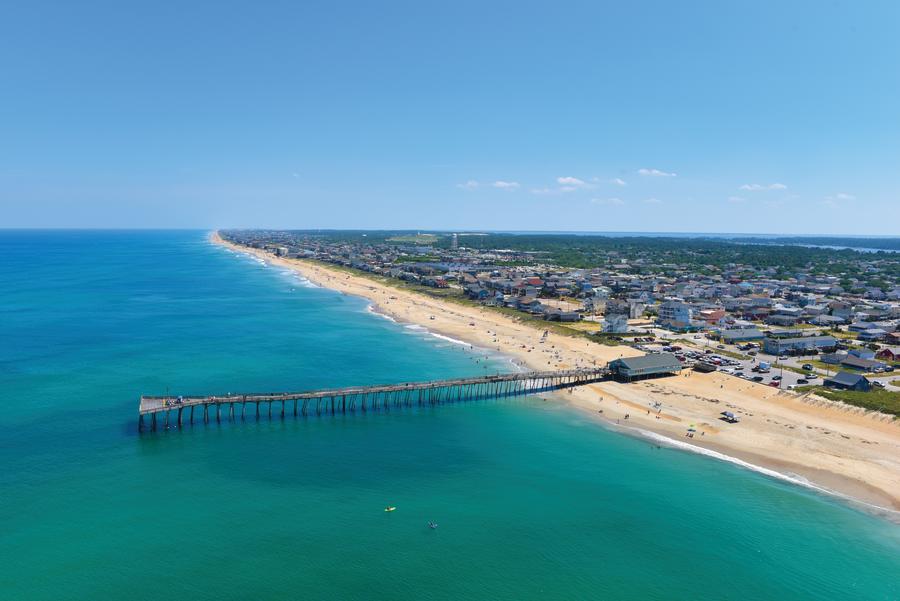 From the Avalon Fishing Pier, you can see the shore stretching away to the north and south. The beaches in Kill Devil Hills are all accessible to the public, and many beach houses, hotels, and motels have private boardwalks leading to the sand. Lifeguards and the town's Ocean Rescue squad patrol the beaches throughout the high season. 
Kill Devil Hills has more dunes than what you can spot by the shore. In the Run Hill State Natural Area, 123 acres of dunes and scrubby patches of forest to explore. Some folks think of it as a miniature Jockey's Ridge, except Jockey's Ridge, for all its height, doesn't have views of the Wright Brothers Memorial. Hiking and exploring here gets interesting because there's no visitors center and no marked trails, instead, you just head to the dunes and wander at your leisure. You're free to go wherever you'd like here, but we recommend heading west, to the banks of the Roanoke Sound, and taking in the sunset; it's one of the few places you'll get those gorgeous sunset-on-the-Sound views along this stretch of the Outer Banks. To find Run Hill State Natural Area, make your way to First In Flight Middle School where you'll see the dunes behind the school building; just start hiking and you'll be there in a jif.
Visitors won't have a hard time finding a place to say. Beachside motels, a few high-rise hotels, and more beach houses than one can count offer up plenty of places to make camp for a weekend, a week, or longer. Major grocery chains – like Harris Teeter and Publix – offer up grocery shopping, and if you're in the mood for souvenirs, surfwear and surfing gear, local art, or something tasty, the boutiques and shops in Kill Devil Hills deliver.
Dining in Kill Devil Hills is all about variety. Outer Banks Brewing Station brews a great lineup of beers that go with their OBX-seafood-meets-international-flavors menu. Beachside Bistro keeps it seafood-centered with exceptional fresh fish. Colington Café serves contemporary coastal cuisine and has been written up by Our State, Southern Living and other notable publications. Mama Kwan's dishes are focused on bringing together dishes from the Pacific Rim with Outer Banks seafood to spectacular results. At places like Pigman's Bar-B-Que, Two Roads Tavern, and OBX Tortilleria Panderia y Taqueria you can keep it casual and get a delicious, filling meal. And that barely scratches the surface of what you can get to eat in Kill Devil Hills; there's also pizza, great breakfast joints, ice cream and sweet treats, and more.