Salty air and cool breeze come standard at any beach town, but there isn't anywhere quite like the Tri-villages on Hatteras Island. Located on the northernmost end of our stretch of beach, you'll find rich history, natural features, and ocean culture blend together unlike anywhere else. Below you'll find our top recommendations from local Outer Banks folks who live and work in the towns of Rodanthe, Salvo, and Waves:
1. Close to the Sound, Close to the Sea
The tri-villages thin geography brings the Atlantic Ocean and Pamlico Sound closer together and closer to you with only a short walk between the two. You'll be able to brag to your friends back home how you walked from one side of an island to another.
---
2. Rain-or-Shine Boat Drills at the Chicamacomico Life-Saving Station
The Chicamacomico Life-Saving Station is the most intact station left from the early days of the Coast Guard where brave men rescued endangered sailors. Today, the station is a museum and memorial to those men. Reenactments of Breeches Buoy and Apparatus Drill take place during most Thursdays May-September to bring you into the world of the early surfmen. The best things aren't always easy to find, so you won't want to miss this hidden gem.
---
3. Prime Location for Day Trips North or South
The Tri-villages are a central location for day trippers seeking something new each day. Maybe a visit to the Graveyard of the Atlantic Museum and a ferry ride to Ocracoke one day, or perhaps a visit to Jockey's Ridge the next!
---
4. A Multi-use sidewalk path stretches across the whole town
The sidewalk from one end of the tri-villages to the other is unmatched on Hatteras Island. However, different than most sidewalks are the bridges. The tri-village sidewalks bridge over portions of the Pamlico with benches that give you breathtaking views. It's length opens the opportunity for long bike rides and sunset strolls. Take this opportunity to take a loved one and go on a self-guided discovery with your furry companion.
---
5. If watersports are your game, you'll be glad you came.
Real Watersports is the hub of surf culture in the Tri-villages. Learn about everything watersports at this one-stop shop with all the gear you need for surfing, styling, kiteboarding, and more. Real offers tons of adventurous lessons and tours including kiteboarding, foiling, and surfing. Already a watersports pro? Outer Beaches has a wide variety of homes with direct sound access or you can stay just a short walk away from your lessons!
Here are some beach safety tips for when you go out!
Beach Safety Tips for the Whole Family
---
6. Devour delicious food with a side of gorgeous sound views.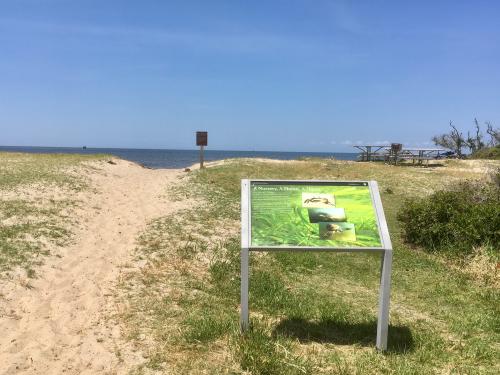 Photo via National Park Service - Cape Hatteras National Seashore
The soundside shores aren't always empty, so when you need some alone time with the family but still want to enjoy the sound where do you go? The Salvo Day Use Area is a secret spot on Hatteras Island. This small location with picnic friendly areas, shallow water, and soundside access is the perfect spot for anyone who wants a quiet retreat. If you want to stay close to the recluse's paradise, we have you covered.
---
7. Pelicans, Plovers, and Pintails, oh my!
Our National Seashore is a protected natural habitat which houses many species of birds, and Pea Island is a fantastic place to spot them. Just north of the Tri-villages, Pea Island provides a safe opportunity to admire nature's beauty. Make sure to research your bird species and see how many you can find!
---
8. These curves were made for surfing!
The S-Curves are a prime surfing location where locals and visitors alike go to shred waves and quickly erase that pesky farmer's tan. Whether you vibe with a board or watch from the Cape Hatteras National Seashore, it's a good time for everyone.
---
9. Hatteras Island's Hollywood Home
The Inn at Rodanthe, perhaps the most famous house on Hatteras Island, resides in the Tri-villages. This beautiful house was once on the fringes of the ocean and was featured in the movie based Nicholas Sparks novel, Nights in Rodanthe. Now booking through Outer Beaches, you have the chance to create your own magic here.
What makes Hatteras Island unique is how each piece complements each other and fits into the whole picture. Rodanthe, Salvo, and Waves cohesively bring their elements of history, culture, and landscape into an experience that is unlike any other. We love the Tri-villages for all that they are and have to offer, be sure to book your stay with us in the Tri-villages if you're looking to share some of that love!