For decades, the Outer Banks of North Carolina (or OBX for short) have been famous for their seafood. Which makes sense. They're situated in the ocean, after all, on the very edge of the Atlantic, sheltering mainland USA from the roaring ocean. Yellowfin tuna, wahoo, mahi-mahi, rockfish, flounder, crab, oysters and shrimp are some of the more common catches in the waters that surround the OBX, and as expected, that means lots of seafood restaurants and lots of seafood markets. So if you are a pescatarian, well, you're pretty much in culinary heaven on the OBX, because your options are almost endless for every meal - including breakfast.
But perhaps less known is that foodies are increasingly discovering more mouth-watering reasons to travel to the OBX these days. So fear not dear omnivore, because there is something for everyone there. Whether you're looking for a healthy snack, a hearty steak, a hot cocktail, or a heavenly gourmet dinner - the OBX is ready to fulfill all your requests. And to help you out on your OBX foodie adventure, we've compiled a guide to where to eat and drink during a three day getaway.
DAY 1
Breakfast
Start your day off right at this quirky coffee-shop-cum-trinket-store-and-bead-shop in Avon. The selection of really good coffees and beverages is accompanied by bagels and muffins that will get your engines running, and the interior is as lovely as it is wonky. Browse the aisles for postcards, jewelry and - yes - ugly coffee mugs, so you have something to remember this day by. Or even better, make your own bracelets in the "bead-room" while you connect to the free wi-fi.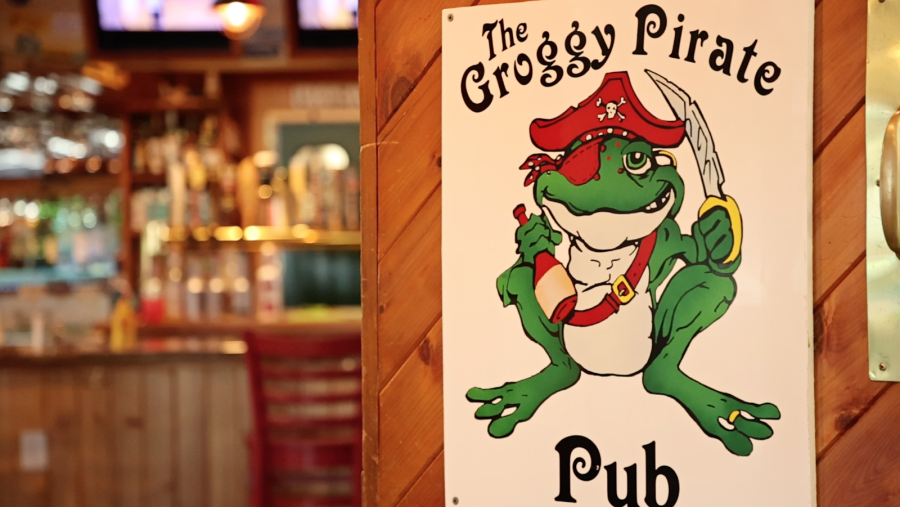 The Froggy Dog in Avon
Lunch
Ok, so this fun pub in Avon has got a lot on it's menu, but you're here for two things: frog legs and oysters. The perfect lunch. The frog-legs come served with BBQ sauce, and it's obviously the most famous dish on the menu. And if you're nervous (but why would you be, dear foodie) about eating frog legs, you should know that they pretty much taste like chicken. The oysters? Well, you're in luck, because at The Froggy Dog, they come plentiful. Local, shucked oysters on the half-shell. Garlic herb oysters. Rockefellers. Order a plate of each, and you'll be ready to explore Hatteras Island some more.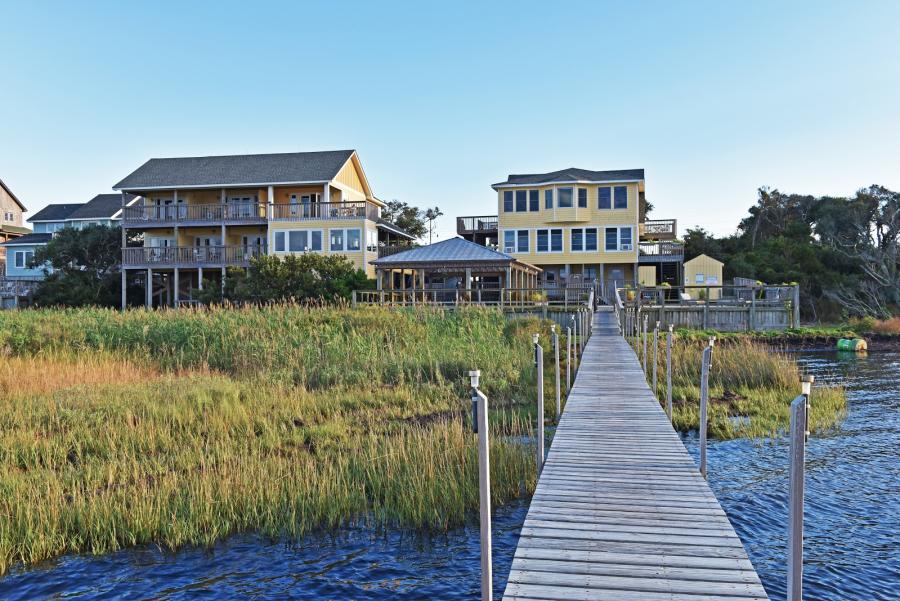 Cafe Pamlico sits on the very edge of the Pamlico Sound and offers gorgeous sunset views
Dinner
Following a quick nap back at the hotel after a full day of exploring Hatteras Island, it's time for some fine-dining along the shoreline. And if you're staying at the adorable Inn on Pamlico Sound, you're in luck - because the restaurant is just downstairs. Cafe Pamlico is routinely considered one of the best meals you can get for dinner on the OBX, and its "beach-casual-fine-dining" vibe sings in perfect harmony with the gorgeous sunset views of the water. Look for the Hereford ribeye steak, catch of the day or vegetarian risotto on the menu, order a glass of Champagne and pat yourself on the back for choosing this restaurant for your first dinner on the OBX. Well done, you.
Cocktails
Turner's High Moon Bar
So you don't want to go to bed after dinner? Head over to Turner's High Moon Bar for some exciting local brews and live music entertainment. The selection of drinks is as strong as the atmosphere is warm. With 21 beers on tap and an extensive liquor list, this is a great late night hang out, and if you get hungry again as the evening progresses - there's a fun pub menu available as well.
Day 2
Breakfast
Ok, so here's what you need to know. The couple behind All Time Coffee Roasting Co. has been small-batch roasting coffee beans sourced from fair-trade coffee farms around the world for years, and Ashley's Espresso Parlour in Kill Devil Hills is the perfect expression of their craft. With all the coffees and coffee drinks you could ever want for, all sustainable, organic, and roasted on site - this will be the perfect start to your day. Maybe you'll want to mix it up and try a cold brew shake with peanut butter and banana, and give yourself some sustenance by accompanying the beverage with a delicious breakfast croissant or muffin.
Lunch
Time for a lunch break as you explore the area around Kill Devil Hill. The Kill Devil grill is a train-car-turned-diner-turned-part-of-the-national-register-of-historic-places (still following?) that will take you back to a simpler time as soon as you walk in the door. And speaking of simple, let's keep this lunch to two things. First, get a pound (at least) of local, steamed shrimp. Peel and just enjoy. Then, you must - repeat - must try their chicken wings. These 3-day smoked wings are legendary, and they are served with their equally legendary sauce.
Dinner
Set in a beautiful Victorian villa in Kill Devil Hills, adjacent to the Wright Brothers National Memorial, The Colington Cafe is one of the best dining destinations on the OBX. The menu is French-inspired, but ventures south in flavors as well. Local seafood shows up across appetizers and mains, combined with a "filet" section that focuses on tender meats, grilled and served with classic French accompaniments like béarnaise and dijon-black-peppercorn sauce. Start out with the she-crab bisque, then some scallops rumaki before moving on to their "grand trio" plate consisting of grilled filet mignon, grilled shrimp and jumbo lump crabmeat served with béarnaise. Chances are you won't be hungry again tonight.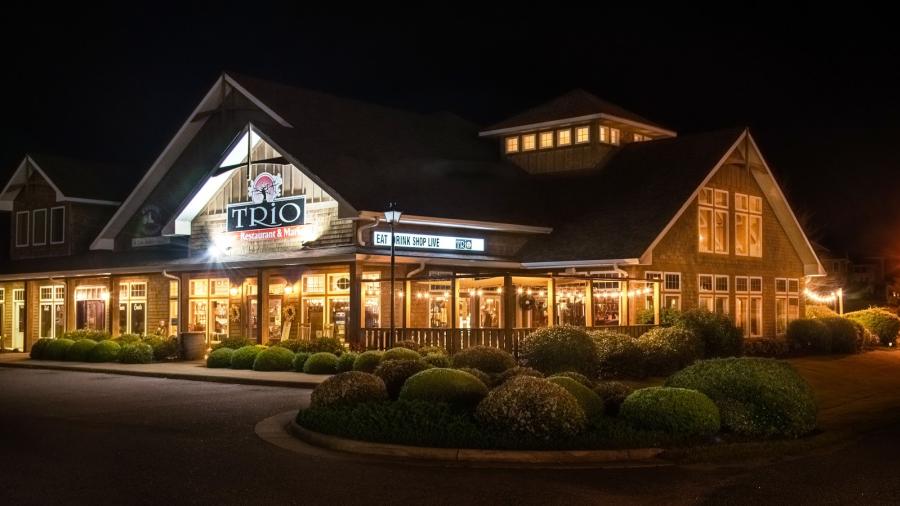 Head to TRIO Restaurant and Market in Kitty Hawk for delicious drinks, charcuterie and cheese.
Drinks after dinner
With 35 wines by the glass and 24 rotating beer taps, you won't run out of drinking options at TRIO Restaurant and Market. This fun retail and tasting destination has a more cosmopolitan vibe than many other places on the OBX. So grab a glass of wine or two, order some cheese and charcuterie, and enjoy the energetic atmosphere.
Day 3
Breakfast
Treehouse Coffee Co. and Rope Ladder Kitchen and Biscuits
Serving local roasts, Treehouse offers fantastic pour-overs, cold brew and espresso in the beautiful Scarborough Faire Shopping Village in Duck. But if delicious coffee isn't enough, their adjoining space - Rope Ladder Kitchen serves up a full breakfast menu consisting of homemade biscuits, morning empanadas, crab cake breakfast sandwiches and much more. The menu is extensive, and absolutely mouthwatering. What a perfect start to the day, and if you decide to stay a little longer on the OBX - well, you might just find yourself coming back again and again.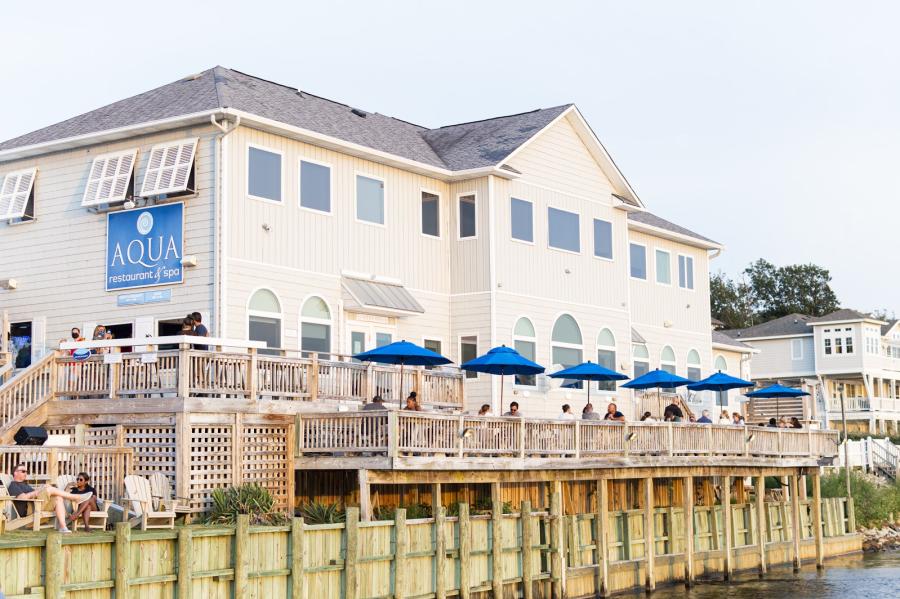 Who wouldn't get excited about indulging in a fresh lunch on the deck at AQUA Restaurant?
Lunch
By now, you probably want to get something on the lighter side for lunch, and why not in an absolutely gorgeous setting? Right on the waterfront in Duck, clinging to the water's edge, you'll find AQUA Restaurant where Executive Chef Cory Bryant creates fresh, vibrant and colorful dishes from the best local ingredients. Try the smoked Baba Ganoush, served with watermelon radishes and Aleppo pepper flakes. Or the Gathering Salad, featuring arugula, watercress, shaved fennel, sliced strawberries, toasted sunflower seeds, goat cheese and tossed in a mulberry vinaigrette. And if you're looking for something a little bigger, but still fresh, order the poke bowl, with marinated sashimi tuna, jasmine rice, shaved marinated cucumber salad, julienned carrots, scallions, edamame, seaweed salad, Bangin' Sauce, unagi sauce, nori and crispy onions.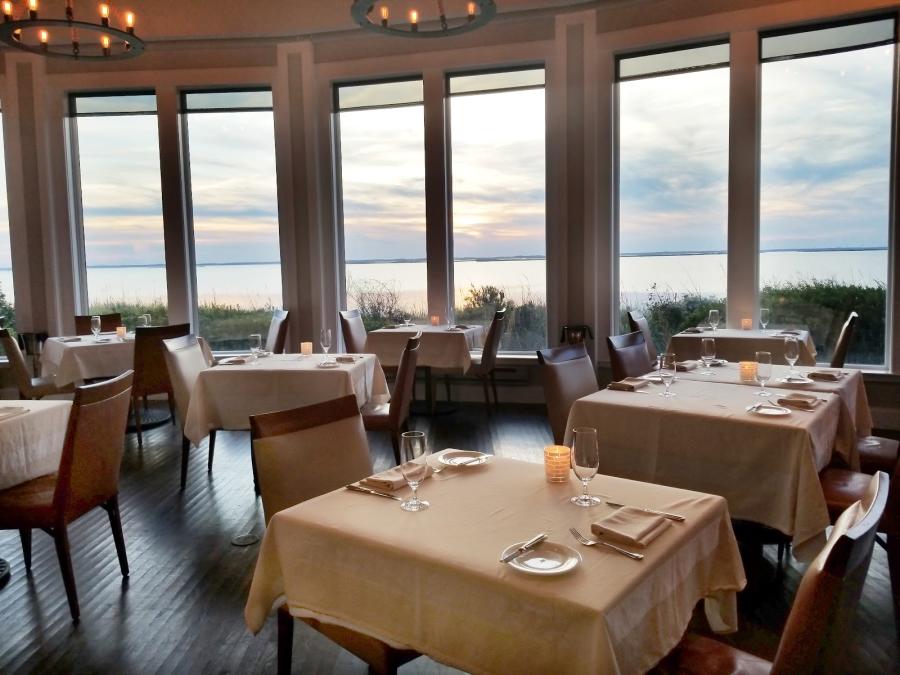 Kimball's Kitchen in Duck
Dinner
Since this is your last evening of this foodie trip, maybe it's time to get a little bit more formal to celebrate. But just a little. So ditch those shorts, put on a nice shirt and head over to Kimball's Kitchen, located on the grounds of the beautiful Sanderling Resort in Duck. Focusing on freshly caught local seafood, certified Angus beef, handmade pasta and an extensive selection of local oysters, Kimball's Kitchen is classy and upscale, but certainly not stuffy. This is high end cooking, featuring the best products available, presented beautifully. Oh, and did we mention the wine list? It's a Wine Spectator award winner.
Post Dinner Drinks
Time to wind down with a couple of cocktails after dinner. Head on over to NC Coast Grill and Bar and pretend that you are a local by ordering the "I'm not a tourist, I have a house in Duck" cocktail. Because by now, you will definitely feel like the OBX is as much part of you as you are of the OBX. And as the sun sets over the water, some live music in the background, chances are you'll already be planning your next visit to this magical destination.
Other places to check out:
Bros Sandwich Shack, Avon - awesome burgers and sandwiches
Hatteras Sol Waterside Grill, Hatteras - breathtaking views, delicious food
Outer Banks Brewing Station, Kill Devil Hills - killer brewpub
The Thai Room, Kill Devil Hills - great Thai food
Tortuga's Lie, Nags Head - badass Caribbean food
Waveriders, Nags Head - healthy food, delicious brews