While the Outer Banks of North Carolina have long been famous for their seemingly endless beaches, historical sights, and fresh seafood - did you know that, increasingly, restaurants, bars, and hotels on the OBX are stepping up their wine game as well? From humble wine bars to ambitious gourmet restaurants, and much in between, there are plenty of fantastic pit stops worthy of a visit scattered across the three main islands that make up most of the OBX. But on a wide-stretched array of islands like the OBX, where should you steer your wine interest this Fall and Holiday season? Not to worry, we've got you covered. Let's take a look at some of our favorites, so you can start planning.
The market at TRIO in Kitty Hawk
With more than 100 wines by the glass, there's no denying that TRIO is one of the leaders when it comes to great wine offerings on the OBX. This restaurant/wine bar is also a retail market with a cosmopolitan vibe that sets it apart from many other dining destinations in the area. Their wine list is extensive, exciting and covers everything from big California Cabernets to natural wines from Spain, Mexico and Macedonia. And if you get a little overwhelmed by the sheer amount of choices, you can always let the staff pick for you - or go with one of the pre-curated themed flights that cover specific regions, grapes or styles of wine. If you are looking for some food to go with all that amazing wine, TRIO excels in the art of cheese-boards and charcuterie, where a rotating selection from the restaurant's cheesemonger can be paired with your libation of choice. And if you are looking for something a little bigger, the rest of their menu offers plenty of comforting options and paninis.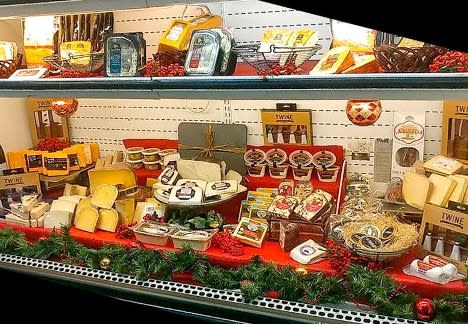 Tommy's Natural Foods Market & Wine Shop in Duck
Tommy's Natural Foods Market & Wine Shop
A small-town grocery with a global conscience is the slogan that Tommy's Natural Foods Market & Wine Shop has labeled themselves with, and who are we to argue with that? As a purveyor of local and North Carolina groceries, with the largest selection of wines and craft beers in Duck, Tommy's Natural Foods Market is a great place to go for both delicious sips and the ingredients that pair with them. Browse their famous grass-fed beef section, pick out some fresh local seafood, and why not some of their lovely cheese and charcuterie items to boot?
For the wine, Tommy's has a great selection of more traditional brands and labels, but they are also deep into the organic movement and offer exciting options for anyone who's looking for sustainable and natural alternatives. This is a place to browse the selection of local North Carolina sips or get adventurous with wines from across the country and around the world - which makes it just a good pit-stop to pick up some bottles of interesting wine for your Friday night dinner (and the steak that goes with it!).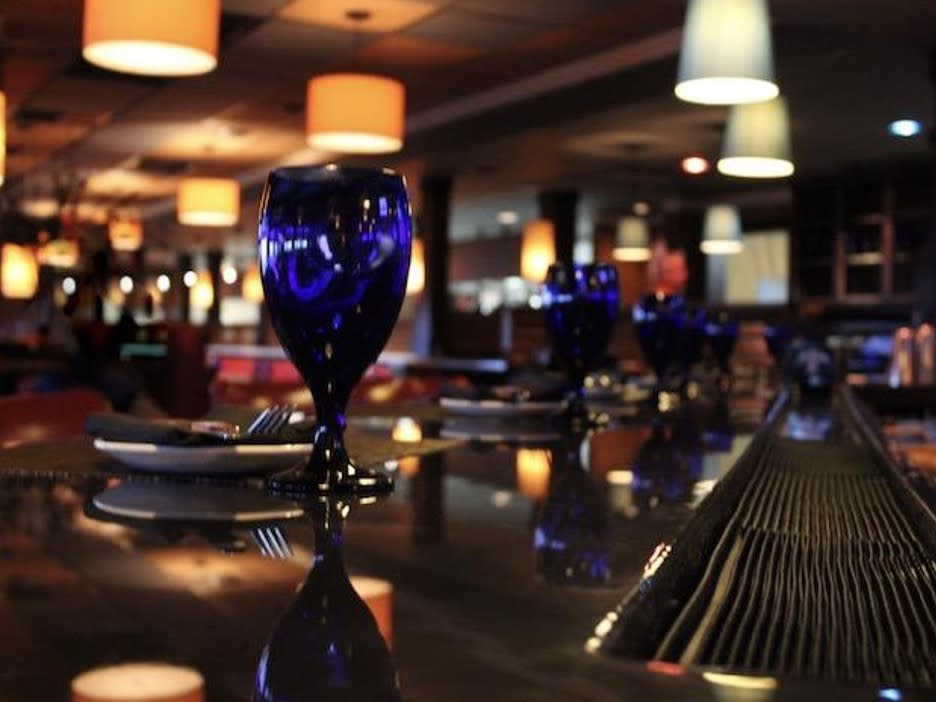 The Blue Point in Duck
The Blue Point is located about a minute's walk from Tommy's Natural Food & Wine Store, so if you're not inclined to cook yourself, you're in luck. The Blue Point has long been a staple of the finer dining establishments across the OBX, and its creative cuisine will lure even the most discerning foodie in. Tantalizing flavors from across the globe marry exquisitely with classic Southern Hospitality, and the unique decor lends warmth to the already friendly atmosphere. The wine list, curated by sommelier Simon Kaufman, is one of our favorites on the OBX. Here, among the 25 or so wines they serve by the glass, you'll always find something that will accompany your food perfectly. And if you dig deeper into the even more extensive by-the-bottle list, there really is something for every taste and every wallet to be explored. It also isn't unusual for The Blue Point to host wine dinners and other events where wine is the main character. And if you are looking for something a little livelier after dinner, make sure to check out the backBAR, where you'll be able to enjoy cocktails and conversations as the sun sets over the Currituck Sound.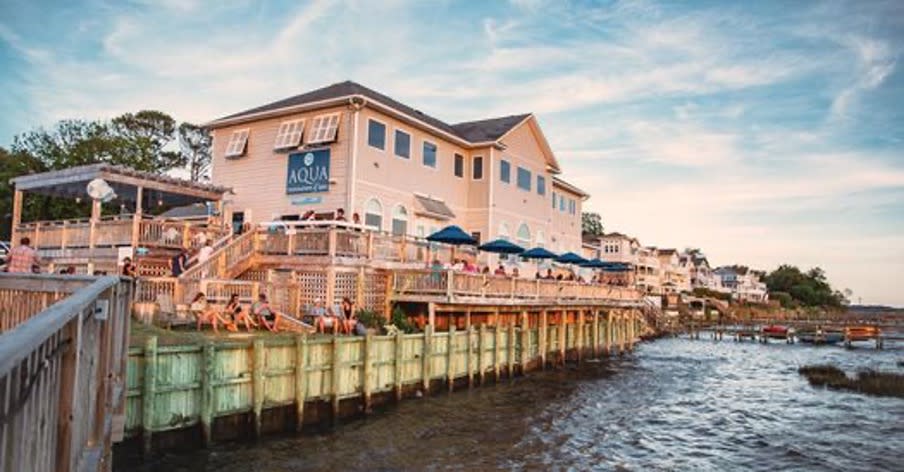 The stunning waterfront location at Aqua Restaurant in Duck
Whether you come to Aqua Restaurant in Duck for the waterfront setting, the gorgeous sunsets from the deck, or the health-forward cuisine whipped up by Executive Chef Corey Bryant - all of it is impeccably paired with an exciting wine list that will keep you coming back again and again. Aqua serves 20+ by-the-glass wines, and their extended wine list features both some of the best local NC wines as well as a great selection of sparklers. There's also a ton of options from around the world to be explored at Aqua. From California and Oregon to Australia, Italy, Germany, and France - their list checks all the boxes of both big and small, classic and unexpected. And if you are looking for some grub with your vino, you are definitely in the right place. Aqua's cuisine is eclectic, exciting, and vibrant. Try the babaganoush, the bangin' shrimp or the catch of the day served with a sauté of grilled corn, butter beans, crowder peas, confit tomatoes, grilled baby artichoke, chanterelle mushrooms, smoked pork belly, and Swiss chard. Cheers!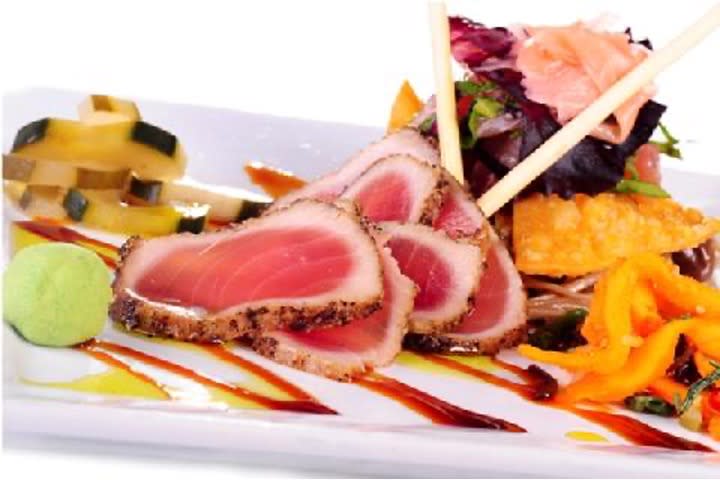 The pepper crusted rare tuna sashimi at Ocean Boulevard Bistro and Martini Bar
Ocean Boulevard Bistro and Martini Bar
Ok, so the name clearly suggests that you should be drinking Martinis at Ocean Boulevard in Kitty Hawk. And we're not going to argue with that. The martini bar is worth a visit just in and of itself, and you'll always find something new being shaken, stirred, and poured by the competent mixologists. However, we'd be remiss if we didn't tell you that there's much more than martinis to Ocean Boulevard. Starting with the food menu, which is stacked with goodness. From exciting appetizers like fried chicken liver or pepper-seared rare tuna sashimi to larger plates like grilled heritage breed pork chops presented saltimbocca style, there's really something for every palate to be discovered at the restaurant. And then, there's the wine menu. One of the most extensive on the OBX, the list is a treasure trove of both the classic and the whimsical from around the globe. And if you feel like diving ever deeper, they also have a reserve- and unique bottles list that will entice you to come back for more as often as you possibly can.
Casual fine dining and fine wines at Café Pamlico
The Inn on Pamlico Sound is a wonderful place to spend a couple of days (or more) while you are visiting the Outer Banks. This charming boutique hotel on the waterfront in Buxton is a premium destination for a weekend getaway, destination wedding, or Holiday celebration, and their restaurant is one of its best features. Café Pamlico is a "casual fine-dining" restaurant that elevates North Carolina comfort food to new and elegant levels, and the California leaning wine list backs up the ambitions of the kitchen in an excellent way. And following your meal, why not bring a bottle of wine back up to your room at the inn?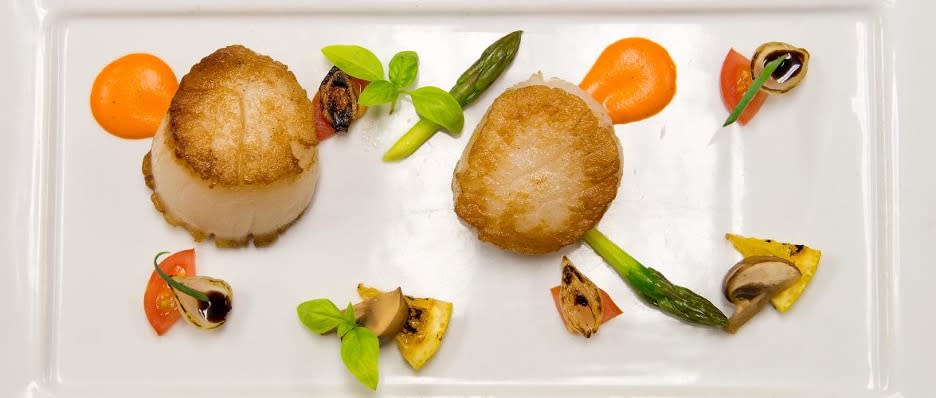 Seared scallops from The Paper Canoe
Another lovely waterfront dining option on the OBX is The Paper Canoe in Duck. The restaurant serves up vibrant locally caught seafood, creative wood-fired pizzas, and more than 10 craft beers on tap in a cozy and comfy environment. But as you know, we're here mainly for the wine list, and The Paper Canoe does not disappoint. The wines are all selected to pair perfectly with the food that comes out of the kitchen, and the pricing is more than reasonable.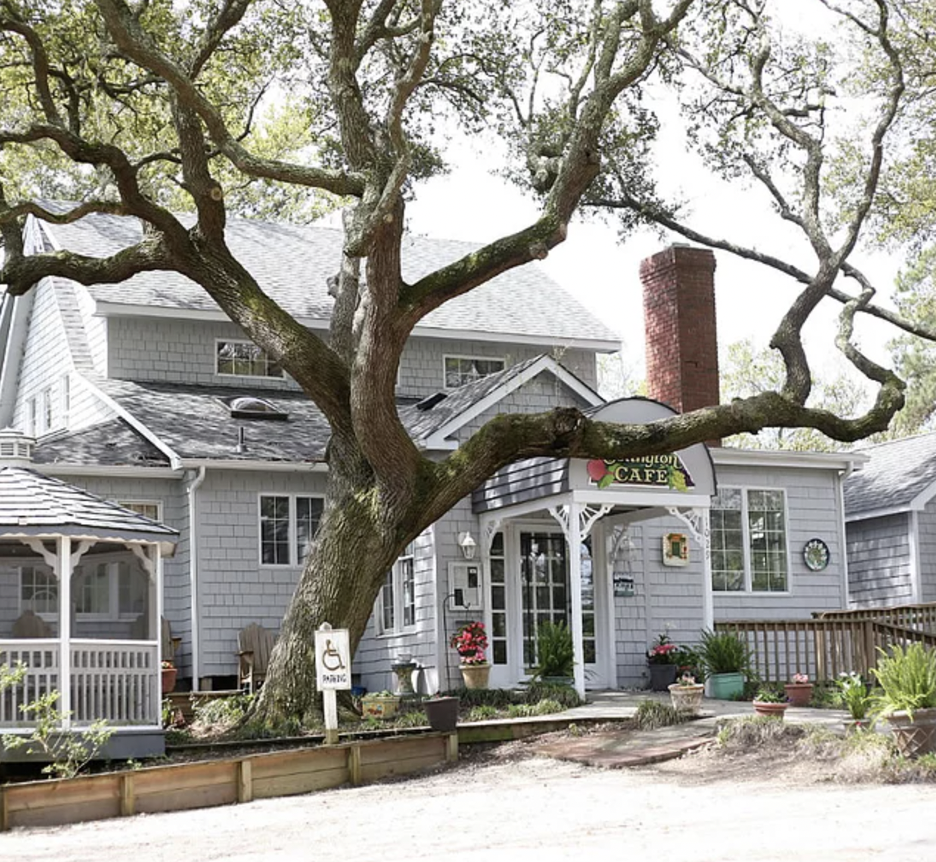 Set in a beautiful Victorian villa in Kill Devil Hills, adjacent to the Wright Brothers National Memorial, The Colington Cafe is one of the best dining destinations on the OBX. The menu is French-inspired, but ventures south in flavors as well. Local seafood shows up across appetizers and mains, combined with a "filet" section that focuses on tender meats, grilled and served with classic French accompaniments like béarnaise and dijon-black-peppercorn sauce. And while there are certainly more than a couple of great French wines on the wine list, you'll find a broad selection of grapes, terroirs, and styles represented at The Colington Café. The by-the-glass selection is more than reasonably priced and features a lovely group of Californian and French favorites. It's not by chance that this is one of the major dining destinations in the Outer Banks of North Carolina.
Now to round this roundup off, wouldn't it be fitting to talk a little bit about an actual vineyard as well? In Currituck County, on the northernmost tip of the OBX, just across the bridge on the mainland,, you'll find the picturesque Sanctuary Vineyards. Growing European vines on 30 acres of coastal sands, the Wright family has been a staple of the local community for seven generations, and they have been making wine for the last two decades. The cool ocean breezes and sandy soils create exciting wines that cover multiple grape varieties and styles, so you'll be able to find a favorite among their portfolio for sure. The winery offers both complimentary and paid tastings, and anyone who is interested in understanding the local OBX terroir should definitely make sure Sanctuary is a stop on their exploration of the islands.
For more great beverage-centric travel planning on the OBX, check out the Outer Banks Visitors Bureau's Beer, Wine and Spirits Trail.