The Outer Banks holds special meaning for us. It's where we met in 1992, fell in love, started our publishing business, built a house, got married, and a decade later returned to renew our vows oceanside. There's no better place to embrace your romantic side than along these windswept, barrier islands where romantic spots are plentiful.
A few ideas:
1. Ubiquitous OBX beaches. 
Walking hand in hand in the surf and sand is a must. Savor that first feel of warm sand under bare feet, the sun on your skin, and yes, the notorious OBX wind.
Our go-to, shared activity is beachcombing for that perfect shell or elusive beach glass as waves lap or splash depending on the weather. Tune in to nature's melody: the waves a background rhythm to the squawk of greedy gulls and the flurry of flapping wings. Don't forget to look up occasionally or you might miss a passing pod of dolphins, a squadron of pelicans, or the to-and-fro dance of sandpipers at water's edge. We've even spotted whales offshore in shoulder season.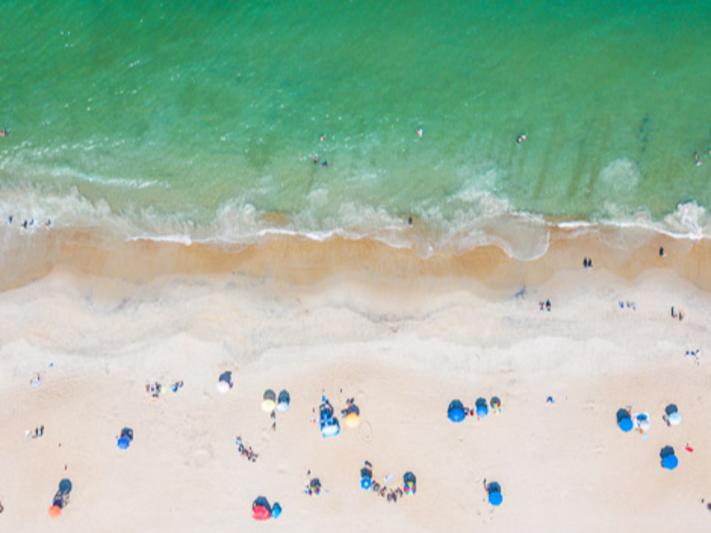 2. Sunrise, sunset, starry skies.
With the Outer Banks positioned between a wide ocean and calm sounds and bays, catching the perfect sunrise or sunset is easy. Jockey's Ridge is great for both.
Come nightfall, stretch out on a blanket and get lost in the constellations. One memorable evening as we walked along Coquina Beach the sand glowed neon green outlining each of our footprints, thanks to bioluminescent plankton brought ashore by waves. Consider sampling the water after dark, even if just ankle deep. Sitting in shallow surf can be fun, but the truly daring might partake of a swim after dark.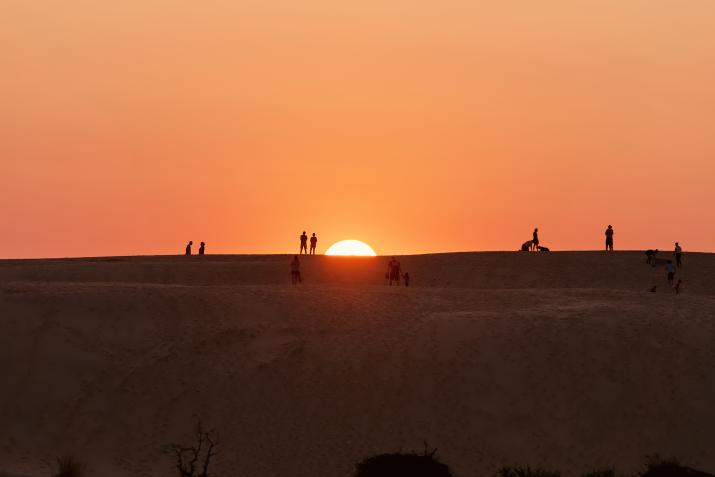 3. Lighthouses, of course. 
These shoreline sentinels not only project their beams of light to protect mariners, but signal romantics to shine their love on each other. Each structure here is unique; all reminders of a time of courageous surfmen fighting frightening seas that earned the area the nickname "Graveyard of the Atlantic." Explore the topic more closely at Chicamacomico Life-Saving Station Historic Site in Rodanthe.
Since these five beacons are quite a distance apart, you may opt for your top one or two this time and save the rest for that return trip:
• Bodie Island Lighthouse south of Whalebone Junction in south Nags Head requires tickets purchased on the day you climb, not in advance;
• Cape Hatteras Lighthouse with its black and white candy-cane stripes is temporarily closed to climbers. Check their website for updated info.
• The Roanoke Marshes Lighthouse on the Manteo Waterfront, a replica of a river lighthouse, allows guests inside.
• Southernmost Ocracoke Island Lighthouse, the shortest at 65 feet, is not open to climbing, but there's a cool ferry ride to reach it from Hatteras Village for the day.
• The brick Currituck Beach Lighthouse, easily accessed in historic Corolla Village, is only $10 to climb its 220 steps and is a nice day trip from the Northern Beaches.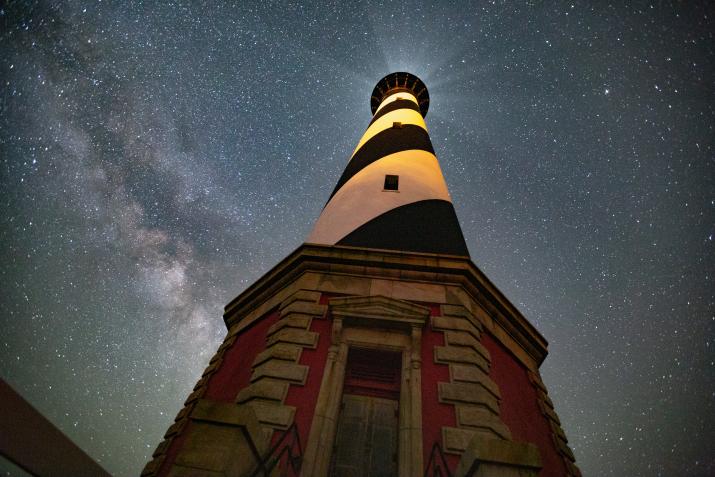 4. Cozy up to history. 
The Lost Colony is a great date-night outing that's been going on for more than 80 years. This dramatic story of the ill-fated first English settlement in North America ends with the still unanswered mystery of how they disappeared.
More uplifting (pun intended) is the romantic notion that a pair of Ohio Brothers brought to these shores: that man could fly. We recently found the updated displays at the remodeled Wright Brothers National Memorial Visitor Center worth seeing, as is the climb to the 60-foot memorial atop Kill Devil Hill. Sit a moment with your sweetie taking in the view and thinking how their audacious feat drastically changed the world.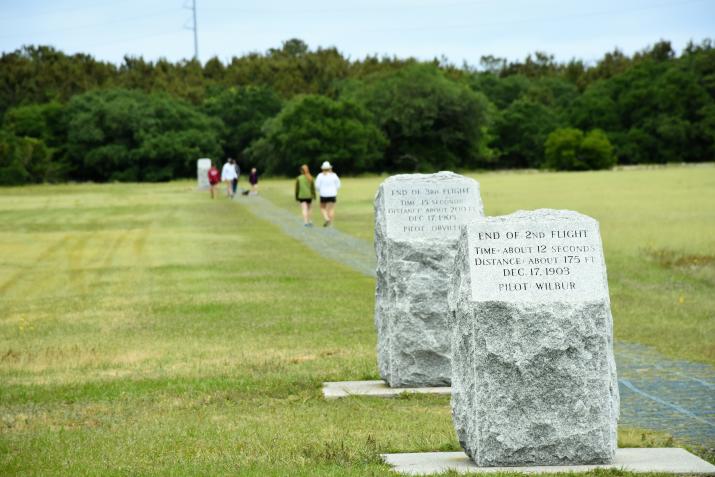 5. Embrace your inner child. 
Jockey's Ridge for us still evokes childhood memories of the hot and tiring climb up only to result in squeal-inducing rolls down the other side and jumping into the sound's cooling waters. Today it's an expanded playground where couples can bond over hang gliding, kite flying and more. Other spots offer more bonding over windsurfing (especially at "Canadian Hole"), kayaking, biking, horseback riding and even skydiving.
Romantic is a broad stroke of the brush and, much like love, is in the eye of the beholder. People can be romantic. So can a place. Embrace each other as you make the most of your Outer Banks adventure together.