Fall is the best time for events on the Outer Banks. Check out a few large events happening August through November, for a full list visit our events page.
New World Festival of the Arts - August 11 & 12
New World Festival of the Arts will be held on the Manteo waterfront on Wednesday, August 11 and Thursday, August 12. Established in 1981 by Edward Greene, the New World Festival of the Arts is the longest-running outdoor art show on the Outer Banks. The family-oriented event showcases current trends by a diverse group of East Coast artists and acquaints guests with the historic Town of Manteo. 
Michael Franti & Spearhead - August 18
We're bringing back live music to the Outer Banks this summer on the outside pavilion stage at Roanoke Island Festival Park.  A beautiful, intimate, scenic venue in Manteo, NC. Join us for an evening with Michael Franti; a globally recognized musician, humanitarian, activist and award-winning filmmaker revered for his high-energy live shows, inspiring music, devotion to health and wellness, worldwide philanthropic efforts and the power of optimism. For more information visit: https://vusicfest.com/ 

National Aviation Day - August 19
National Aviation Day is celebrated on August 19th. The First Flight Society National Aviation Day Celebration is normally held at Dare County Regional Airport. The event runs from 10 AM-4PM and consists of Airplane Displays, Exhibitors, and Food Trucks.
In 2021 one of the highlights will be Warbird rides! To combine the First Flight Society observation of National Aviation Day and the mission of the Commemorative Air Force, the Capital Wing will bring the queen of its fleet, a TBM-3E Avenger named "Doris Mae" on August 19th and 20th and provide warbird rides to the public. Advance purchases of rides in the TBM can be made online at Warbird Rides
OBX Wedding Fest - August 29
The OBX Wedding Fest is a casual wedding planning event where engaged couples have the opportunity to meet with vendors of all types during one of the most beautiful times of the year.
OBX Wedding Fest will take place at THREE locations brimming with vendors to help you knock out all the details of planning! Meet and mingle with vendors, sample cuisine + sweet treats, take advantage of booking discounts, win $250 towards your wedding, and more.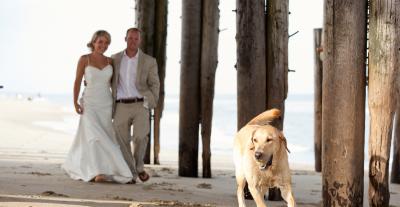 WRV Outer Banks Pro - September 3-6
More details to come.  The Wave Riding Vehicles Outer Banks Pro found its home in 2009 with the completion of the new Jennette's Pier in Nags Head. The pier's stellar views and its ample parking both add to what has become the most core surf contest on the east coast. Its eco-conscious design supports ocean ecosystem conservation and awareness. The WRV Outer Banks Pro is an official WSL QS1000 event drawing top-rated surfers from around the globe to the unique coastline of the Outer Banks of North Carolina. We look forward to a great contest with a smoking swell. 
Kayak Fishing Tournament - September 18 & 19
Kayak fishing enthusiasts are invited to participate in this dawn-to-dusk catch and release tournament on the Outer Banks. The entry fee of $50 includes a captain's cookout and awards ceremony following the event. Compete for major prizes! The tournament is a slam format targeting: Flounder, Speckled Trout, and Red Drum. Prizes are awarded for each species division as well as the overall slam division for tournament champion. 
OBX Jeep Invasion - September 24 & 25
Bringing together Jeep-minded people for fun, adventure and giving back to our beach community. CAT 5 Jeepers and Dare County Motorsports Charity Group are very excited to be hosting the Inaugural OBX Jeep Invasion at the Soundside Event Site in Nags Head on September 24th and 25th.
We are raising funds to support the Annual Toy Run, which donates funds and toys to the Dare County Center to ensure that all of the less fortunate children of Dare County will have a wonderful Christmas. Last year we were able to gift toys for over 600 children including 100 bicycles. The event will include a Poker Run, Scavenger Hunt, Show & Shine, The Toy Run, raffles, live bands, vendors, food trucks and lots of fun! So come down and hang out at the beach for a good cause and a little bit of Jeep fun!

Outer Banks Seafood Festival - October 16
Outer Banks Seafood Festival is a fun and educational experience promoting, honoring and celebrating the area's seafood heritage and community. The festival offers opportunities to meet Outer Banks watermen and see the tools of their trade, including boats, crab pots and pound nets. You'll find educational booths, live music, an arts and crafts village and, best of all, the chance to eat fresh, local seafood from more than a dozen restaurants. View our Outer Banks Seafood Festival video.
Bluegrass Island Festival - October 21-23
Music lovers from all over the world flock to the Outer Banks for this tradition that adds a roster of acclaimed bands with one of the most beautiful venues anywhere. The Outer Banks Bluegrass Island Festival has quickly become one of the most highly anticipated events of the year, and this year's event is no exception, with a number of regionally and nationally famous bands set to take the stage. The festival is held at the stunning Roanoke Island Festival Park, which overlooks miles of pristine sound waters.
OBX Wind Competition - October 30-November 6
Head to Hatteras Island for one of the biggest windsurfing events in the country with the annual OBX-Wind Competition. Held on multiple days during one of the prime local seasons for wind-based watersports, this incredible series of events will entice windsurfers of all skill levels to meet and mingle with their colleagues, have some fun on the water, and enjoy a race or two that is truly challenging, engaging, and which can only be found on the Outer Banks.
Outer Banks Half Marathon Weekend -  November 6 & 7
The TowneBank Outer Banks Marathon follows its way through the natural beauty that is North Carolina's Outer Banks. Come run with us and cover some spectacular ground! After finishing the Outer Banks Half Marathon, you will have run one of the most beautiful parts of the East Coast – but don't take our word for it – come see for yourself!