Fall is the best time for events on the Outer Banks. Check out a few large events happening in November, for a full list visit our EVENTS PAGE.
Whether you plan to run, walk, cheer or volunteer; we want to see you the weekend of November 8-10th!  This is the 14th year of the Outer Banks Marathon Weekend.  Brought to us by The Outer Banks Visitor's Bureau, TowneBank and Surf Pediatrics and Medicine, we will welcome runners from near and far. This family-friendly, Star-Spangled Saturday Events include an 8K, 5K , and Fun Run at the First Flight Infield. On Sunday, celebrate the beauty of the Outer Banks in Fall, run from Kitty Hawk or Nags Head and gather in Historic Downtown Manteo to celebrate the accomplishments of a point to point journey! No matter where you decide to book your stay here on the Outer Banks, our awesome Accommodations Partners will not disappoint! Most of these properties have hosted athletes and families here for Outer Banks running events for years and know how to cater to your needs. Things to consider are: Is it important to me to be near the Start Line or Finish Line? Do I want a resort hotel with a restaurant onsite? Is early-morning breakfast critical to me? View ALL accommodations here or visit special deals from a participating business. Supporting our athletes through a great event, and ultimately our beneficiaries- depends on a great deal of community support.  It is a true honor to have the collaboration we see make this happen.  The Dare Education Foundation and The Outer Banks Relief Foundation make amazing things happen with the dollars raised. See you at the races!  More info and registration for volunteers and runners at obxse.com. (Header & below image provided by Jenny Ash at Outer Banks Sporting Events)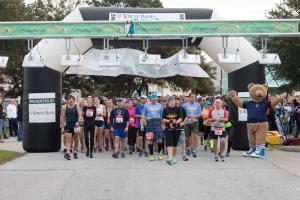 Veteran's Week - November 1-11
The 7th annual Outer Banks Veterans Week will be held November 1-11, 2019. OBX Veterans Week is an annual event celebrating veterans and their families through the arts. Outer Banks Veterans Week hosts numerous veteran celebrations from Corolla to Hatteras and everywhere in between. A directory of ceremonies and special events for veterans and active duty service members can be found here. Country music artists Keith Anderson and Ray Scott will be traveling from Nashville, Tennessee to the Outer Banks to perform at the Outer Banks Veterans Concert on Thursday, November 7 at Secret Island Tavern in Kill Devil Hills at 7:30pm. Tickets are $15 for general admission and $10 for veterans, active-duty military and their family members.​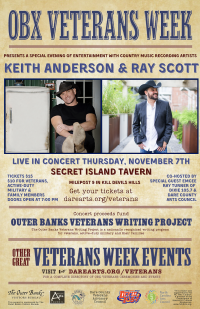 1st Annual Outer Banks Surf Fishing Heritage Celebration - November 2
On November 2, 2019, Cape Hatteras National Seashore, along with partner organizations, will celebrate the area's strong surf fishing history at the 1st annual Cape Hatteras Surf Fishing Heritage Celebration. The free event will be held at the Fessenden Center in Buxton, North Carolina. To celebrate the past, present, and future of surf fishing at Cape Hatteras National Seashore, a full day of talks and presentations on a variety of surf fishing-related topics will be offered at the Cape Hatteras Surf Fishing Heritage Celebration. The event will include presentations on the history of surf fishing at the seashore, casting demonstrations, evolution of beach buggies, rod building, and more. Cape Hatteras National Seashore is currently planning the event with help from the Cape Hatteras Anglers Club, North Carolina Beach Buggy Association, Outer Banks Forever, Outer Banks History Center, and Outer Banks Preservation Association.More details about the Cape Hatteras Surf Fishing Heritage Celebration will be announced at a later date via news release and on Cape Hatteras National Seashore's Facebook page.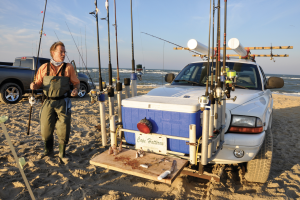 Join us for the Outer Banks Food Truck Showdown on Sunday, November 24 from 11:30am to 3:30pm. Our event is guaranteed to be a tummy-tempting, toe-tapping good time as food trucks, breweries and musicians show off their talents at the Soundside Event Site in Nags Head. Place your vote for the tastiest truck and see who drives off with the Showdown Champion Belt. Visit our Facebook Page for up-to-date info. Stay tuned... live music lineup is coming soon! Admission to the event, parking and live music performances are free! Just bring money to sample all the delicious food trucks' offerings + beverages. Outside food and beverages are not allowed. We hope to see you there-It's a trucktastic good time!