With more than a month remaining in the nesting season, Cape Hatteras National Seashore has already broken its nesting record of 325 nests set in 2016! As of July 22, the National Park Service has identified over 350 sea turtle nests on Cape Hatteras. This puts Hatteras on pace for a banner nesting year and provides residents and visitors with plenty of exciting opportunities to experience excavations or even hatches (often referred to as "boils".) Most of the nesting sea turtles are loggerheads, with a few green turtles and an occasional Kemp's Ridley. Read more about the 5 Types of OBX Sea Turtles.
The first of the nests began hatching in early July. Sea turtle nests typically incubate for between 50-60 days. Earlier nests tend to incubate for longer. Additional variables such as temperature and weather can also affect the length of time the nest will take to hatch. Interestingly, the temperature of the sand actually determines the sex of the hatchlings. With the Cape Hatteras National Seashore at the very northern end of the typical sea turtle nesting region, we tend to produce a greater male population of turtles because of the cooler sand temperatures. Warmer sand will produce more females.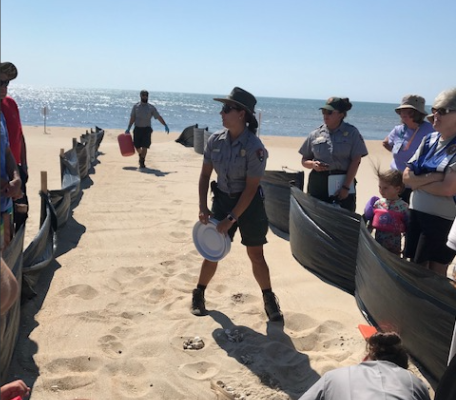 (Nest excavation from July 2019 in Avon, NC.)
Most nests do not disrupt activity on the beach; beachgoers just need to be mindful of marked-off areas and observe the restricted area around the nest, which expands near the end of its incubation period. It is through these awareness efforts that the National Park Service have been able to protect and encourage the nesting cycle of sea turtles on Cape Hatteras National Seashore. The task is paramount to the recovery of endangered turtle species; it is estimated that only 1 in 1,000 sea turtles will reach maturity, which is about 30 years old.
Visitors to the Outer Banks beaches can assist in these efforts by respecting beach laws and understanding how your activities may affect the ability for turtles to nest and hatch successfully. When vacationing, it is critical that you:
Remove all items from the beach at the end of the day so as not to confuse or deter nesting females
Avoid contact with nesting turtles and keep a generous distance away
Report any sightings of turtles on the beach to: 252-216-6892
Extinguish all fires completely with water
Be sure exterior lights near the oceanfront are turned off when not absolutely necessary
Turtle hatchlings are guided by light once they emerge from the sand. They generally move toward the reflection of the moon and stars and this is how they find their way to the ocean. Light pollution from flashlights, exterior property lighting, cell phones and beach fires can disorient turtles, seriously threatening their ability to reach the water. For this reason, many oceanfront and oceanview rental properties encourage renters to keep the outside lights off. Some owners are also exploring ways to incorporate turtle-friendly lighting to their homes.
Recently, the Hatteras Island Ocean Center in Hatteras, NC obtained a grant that allowed them to purchase turtle-friendly exterior lighting as part of a pilot project. The center contacted Hatteras Realty, who identified an oceanfront home in Avon that was visible from two sea turtle nests on the beach in front of the home.  Hatteras Realty worked with the owner and the Ocean Center to have the special lighting installed successfully.  The first of the two nests hatched 111 hatchlings, with 106 believed to have made their way safely to the water and an additional 3 live hatchlings discovered during the excavation. The second nest will hatch later this summer. This just one example of how owners and guests can take measures to assist in the very fragile nesting process.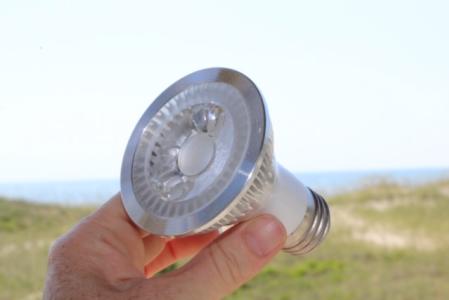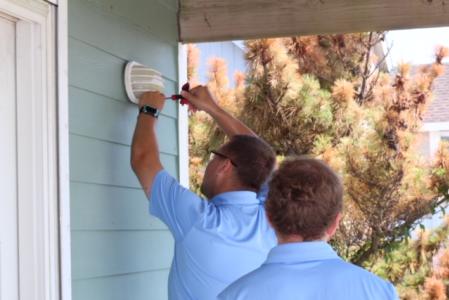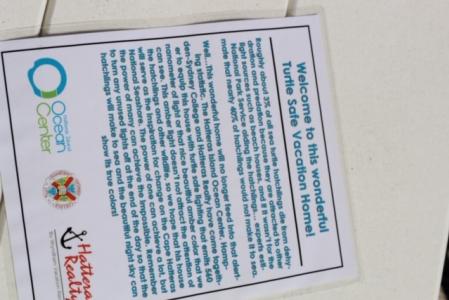 (Turtle-friendly bulb example, bulb installation, and letter to guests in this home explaining about the lighting and the importance of keeping exterior lights off.)
A sea turtle excavation typically takes place a few days after the nest boils. Members of the National Park Service will dig down into the sand until they find the nest – usually around 18 inches down. Then they remove each hatched egg and count them to determine how many turtles hatched. They may also discover unhatched eggs, live hatchlings who have not emerged, or possibly deceased hatchlings or undeveloped eggs. This process allows agencies to fairly accurately track nesting activity along the coast.
While nest boils are typically a little bit difficult to predict and often happen late at night, nest excavations are a really interesting and exciting way for families to learn about sea turtles nesting activity. If you are interested in watching a sea turtle nest excavation, you may contact the Sea Turtle Excavation Hotline via NPS at 252-475-9629 anytime between July and September. It is exciting and encouraging to have rental companies, owners, residents and guests actively participating in the nesting cycle on the Outer Banks! July, August and September will be wonderful times to visit the Outer Banks and potentially experience sea turtle activity!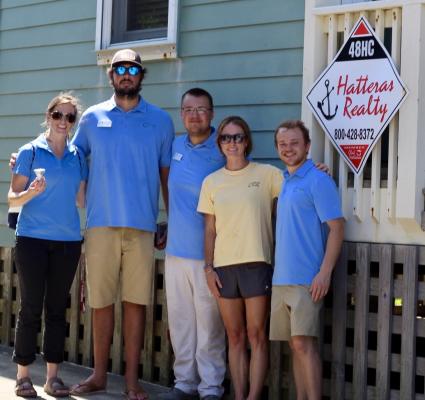 (Hatteras Island Ocean Center and the Hatteras Realty teams.)