Retired chief of police Francis D'Ambra has his own theory about the fate of the Lost Colony that vanished on Roanoke Island 400 years ago, but he's coy about revealing it. He's given the cold case considerable thought. D'Ambra knows the island's history inside and out — and happily shares it on a historical walking tour around Manteo. As he guided our group along the streets and waterfront, D'Ambra brought the town's rambunctious history alive with photos and lively tales of fires, floods, moonshine, and Mayberry.
"There is nowhere else in America where you can go to visit, where in every era from the late 16th century to modern times, you find a first that has happened within 10 miles of Manteo. That's truly remarkable!" D'Ambra said. "Dare County, in so many ways, really is the land of beginnings."
Later, as our group settled around pretzels the size of dinner plates at the Lost Colony Tavern, D'Ambra finally shared his theory of what happened to the Lost Colony and Virginia Dare, the first English child born in America. That's when it hit me. Without even trying, we had engaged in mindful travel, supporting the destination's community and forging connections with the local people, their history, and culture. It was a privilege to hear D'Ambra's perspective on the place he called home, and that kind of connection makes travel richer and experiences more meaningful. It also creates memories worth sharing.
Mindful travel can be both delicious and fun in a place as friendly and relaxed as the Outer Banks. It's as simple as choosing a family-owned restaurant for dinner or getting a fishing lesson from the veterans on Jennette's Pier. Here are five ways for visitors to practice mindful travel while having one unforgettable experience in the Outer Banks.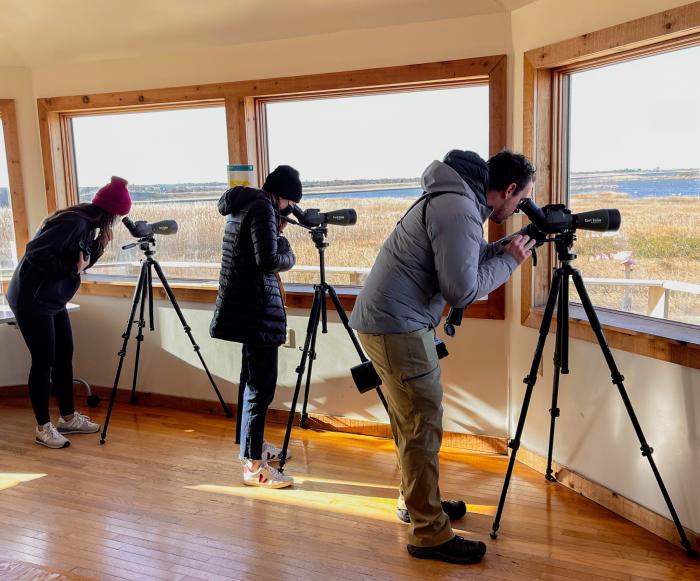 1. Engage with the community
One of the best ways to connect with the Outer Banks community is with a tour, class, or other experience that gets you out and about. If you're a bird watcher, join a birdwatching tour. Like to fish? Join the local fishermen casting a line into the Atlantic on Jennette's Pier in Nag's Head. The Pier House at the head of the pier rents or sells everything you need to spend a few hours fishing for whatever is in season: king mackerel, bluefish, black drum, Mahi Mahi, flounder, trout, puffers, rays, and many more. New to fishing? The Pier offers classes for adults and families alike.
Other opportunities to make connections and experience local culture abound. Hang out with the surfers at Kitty Hawk and Kill Devil Hills, or take a surfing lesson. Head for deeper waters on a fishing charter. Take a dolphin-watching tour. Chat with farmers at the farmers market while you shop for a picnic lunch, or spend the day at one of the many festivals happening throughout the year. Look for local events and join in the fun, or find your own adventure with an activity that interests you.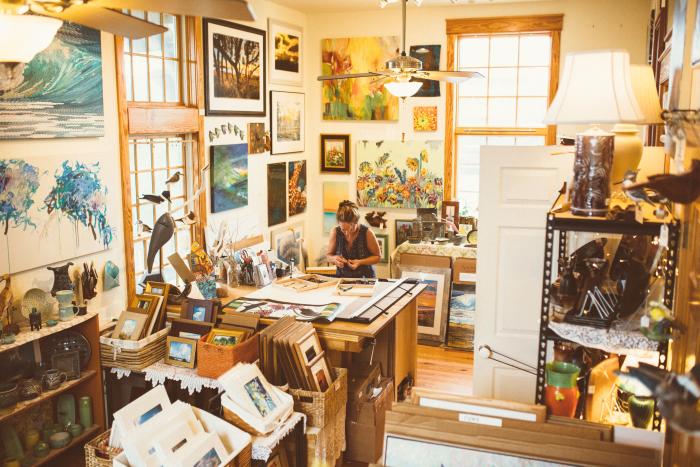 2. Discover local artists
For a cultural connection, seek out the local artists and artisans on the Outer Banks. From paintings to pottery and woodworking to jewelry, local artisans showcase their creations at galleries, craft fairs, festivals, and other events.
One gallery that offers the creations of more than 40 local artists is the KDH Cooperative Gallery & Studios in Kill Devil Hills. Some artists in the co-op also teach workshops and classes. You'll find more galleries to browse in downtown Manteo, the Gallery Arts District in Nags Head, and scattered among the other Outer Banks towns. As for festivals, don't miss the 'New World Festival of the Arts' in August or the music and art festival 'Rock the Cape on Hatteras Island' in late May and early June.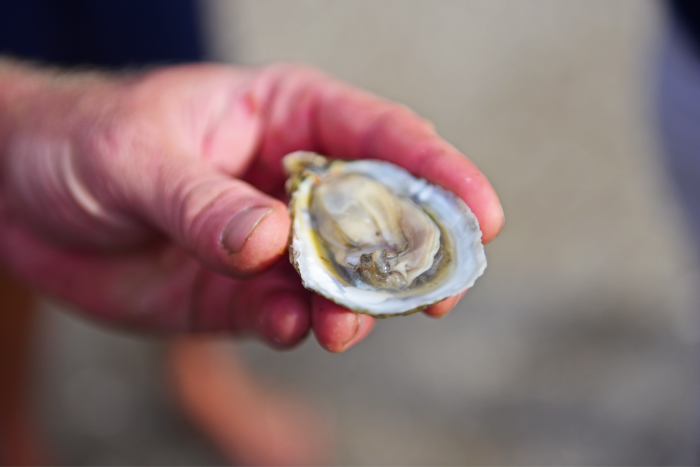 3. Eat Like a Local
It's always a good idea to ask locals for recommendations on the freshest seafood and tastiest fare. Many of the unique establishments in the Outer Banks are locally owned, so getting a great meal also helps support the community. With so many restaurants, picking a place to eat can be overwhelming. Here are a few to try:
Duck Donuts in Duck: This legendary favorite serves up fresh, custom donuts. If you want donuts for breakfast, order in advance.

NC Coast Grill & Bar: Local seafood and regional produce are the stars of the chef-driven menu. Take advantage of the sunset views at this waterfront restaurant in Duck.

Sugar Creek Restaurant: Local seafood shines at this family-owned restaurant with stunning sunset views.

Tortuga's Lie: A family-owned favorite of the locals, this restaurant in Nags Head serves fresh, Caribbean-inspired fare.

Lost Colony Tavern: Located in Manteo, this British-themed restaurant gets its seafood from the waters around Roanoke Island.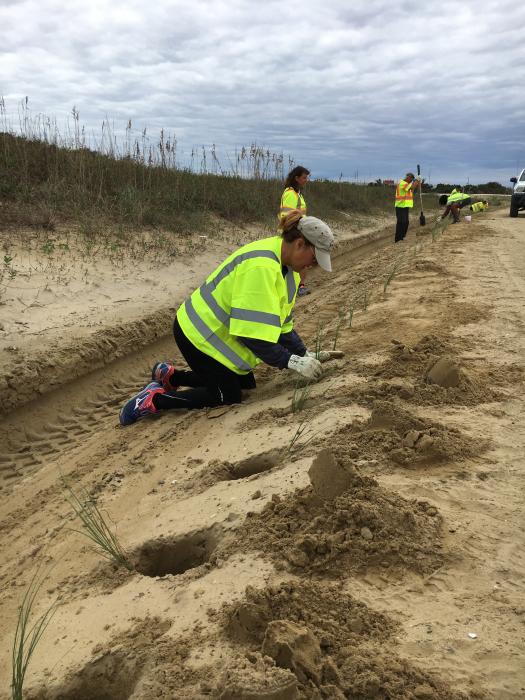 4. Volunteer
Volunteering while on vacation is a great way to give back to the local community. It doesn't have to be a big time commitment — even an afternoon volunteering alone or as a family can help non-profit organizations. If you love pets, consider walking dogs for the Outer Banks SPCA on Roanoke Island. The Beach Food Pantry in Kitty Hawk also appreciates volunteers. Festivals often need volunteers to help the events run smoothly. Look for organized beach clean-up days, or if you'd rather give back on your own schedule, take a garbage bag down to the beach and collect trash and debris. View a full list of our non-profit partners here.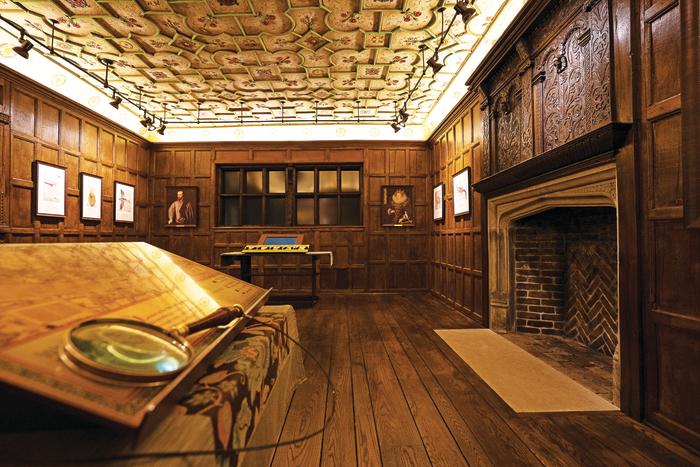 5. Dive into history
The Outer Banks boasts a long list of firsts, from the first English colony in the New World to Orville and Wilbur Wright's first powered flight at Kitty Hawk. Several sites and museums offer a glimpse of this storied past.
For the mystery of the Lost Colony and the area's early history, head to Roanoke Island. One of the most entertaining ways to get an overview of the area's history is on the candlelit Manteo Historic Walking Tour, led by D'Ambra, Manteo's retired police chief. "A lot of visitors on historical walking tours are looking for a cultural experience so they can learn history and take something home with them," D'Ambra said. He makes Mother Vine Muscadine Preserves available to guests after the tour. Sir Richard Grenville is credited with planting the vine in 1585, making it the oldest cultivated grapevine in America. "When you think about the historical significance of this very special place, it is really quite important," he said. "If you are a patriotic person, it makes the heart swell to think of all the things that have happened within 10 miles of Roanoke Island."
Fort Raleigh National Historic Site details what archaeologists have uncovered about the Roanoke Colony. Artifacts and information fill a small museum near reconstructed earthworks and the outdoor theater where The Lost Colony is performed throughout the summer. Go hands-on at the Settlers Site, American Indian Town, and the Elizabeth II sailing ship at Roanoke Island Festival Park.
Farm life in the mid-1800s is presented at Island Farm on Roanoke Island. Costumed interpreters at this living history site demonstrate daily tasks, such as blacksmithing, weaving, and feeding the animals. In Kill Devil Hills, the Wright Brothers National Memorial presents a tale of perseverance that led to the first powered flight in 1903. Several lighthouses and maritime museums, including the free-admission Graveyard of the Atlantic Museum, illustrate the sea-faring history of the Outer Banks.
However you choose to practice mindful travel, learn a bit of history and support local entrepreneurs, you'll likely make memories of the Outer Banks you won't soon forget. "People really feel a connection to this special place. It really is a land of beginnings, and they feel a part of it," D'Ambra said. "Everyone who has come and visited becomes part of that history and will forever be part of the Outer Banks."