I first learned of 
The Outer Banks
 (OBX) of North Carolina decades ago from a 
Backpacker Magazine
 article. I don't remember exactly what piqued my interest at that time, but it put OBX on my radar. Perhaps it was because no one I knew at home in the Midwest had been to OBX. But the more I learned about the region over the years, the more determined I became to visit one day.
That day came earlier this year when I made my first-ever trip to The Outer Banks. It far exceeded my expectations. But at this point in my life, what was most apparent to me, is how absolutely perfect OBX is as a family beach vacation destination. This certainly wasn't on my mind 20 years ago when I first read that Backpacker article. And now here I am writing about beach vacation destinations. It surprises even me because I've never been a "beach person". But here's the thing about OBX: what makes it so dynamic is that it isn't even all about the beaches. OBX offers such a diverse range of activities and attractions to appeal to just about every member of the family.
BACKGROUND STORY OF THE OUTER BANKS
For those who may not know, The Outer Banks is a chain of barrier islands off the coast of North Carolina. The string of islands and spits stretches approximately 200 miles with Currituck, Albemarle, and Pamlico Sounds on one side, the Atlantic Ocean on the other.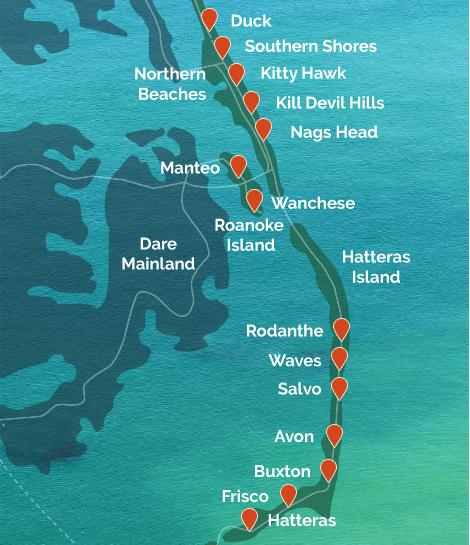 The geography of the land is as diverse as the OBX towns and villages. Each has its own personality and it's easy for visitors to enjoy varied experiences across the OBX thanks to well-connected bridges and a ferry system. That is if that's the type of vacation your family wants to have. Otherwise, staying put in one town or village for the duration of your vacation is perfectly acceptable, too.
The Outer Banks also holds a great deal of historical significance. There is evidence that the islands were inhabited for more than 1,000 years before European settlers arrived. Probably the best-known historical account, at least to American schoolchildren, is the story of The Roanoke Colony, or The Lost Colony. English settlers arrived on Roanoke Island (in present-day Dare County, North Carolina) in 1587. John White, the governor of the new colony, soon returned to England to gather additional supplies. Because of the naval war with Spain, White was unable to return to Roanoke Island for a few years. White eventually arrived back to Roanoke Island in 1590 to a deserted settlement. There was no trace of any of the colonists, including his 3-year-old granddaughter, Virginia Dare, who was the first English child born in the Americas. What exactly happened to The Roanoke Colony still remains a mystery. In more recent history, OBX has also been the site of the Wright Brothers' first flight. On December 17, 1903, brothers Orville and Wilbur Wright accomplished the first-ever controlled, sustained flight of a powered, heavier-than-air aircraft in Kitty Hawk, North Carolina, on The Outer Banks.
THINGS TO DO IN THE OUTER BANKS
The rich history of the OBX and the abundance of beaches add to the range of things to do and see on your OBX family beach vacation. Following is a more detailed look at what OBX has to offer.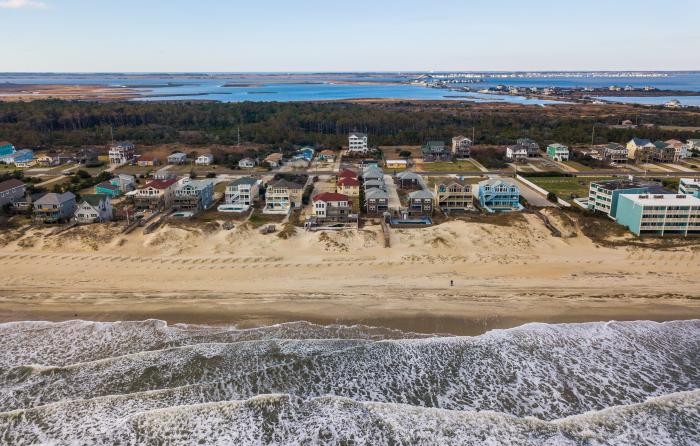 Beaches. The key word here, again, is diversity. The beaches of The Outer Banks can be quite different from one another. There are the beaches with the big waves on the Atlantic Ocean side and much calmer water along one of the sounds. It really depends on what type of experience your family is looking to have. If it involves a more secluded beach free from development, head to Cape Hatteras National Seashore. Have a windsurfer in the family? Then Candian Hole, just a couple of miles south of Avon, is the beach for you. When you're ready to plan your OBX family beach vacation, be sure to consult the Outer Banks Visitors Bureau website for the most extensive beach information.
Fishing. Yes, being surrounded by all that water can mean only one thing: fishing. And excellent, year-round sportfishing at that. Depending on the season, anglers have the option of offshore and inshore charter fishing; fly fishing; pier fishing; and more. Sadly, I didn't get to do any fishing on my first trip to OBX. The family and I are headed back down there later this year, though, and I will definitely be out on the water at some point!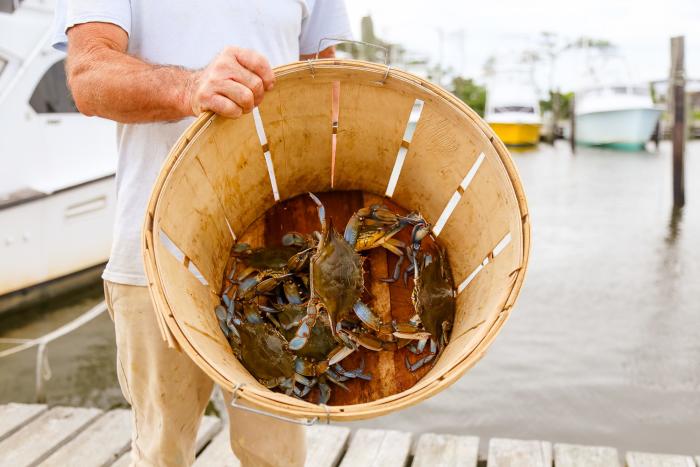 Crabbing and shrimping. Not quite fishing and definitely deserving of its own mention, time on the water with Captain Marc Mitchum is guaranteed to be a crowd pleaser! Captain Marc runs OBX Crabbing & Shrimping out of Wanchese, offering 2-hour and 4-hour charters for up to 6 people. The experience is suitable for all ages and interest levels, whether you want to get in-depth information about the crabbing and shrimping industry, or you just want to watch the kids delight in pulling in the crab pots. Basically, you can choose to be a participant or a spectator. Either way, it is an enjoyable boat ride on Roanoke Sound and you get to keep whatever you catch (all shrimp, crabs, & legal finfish).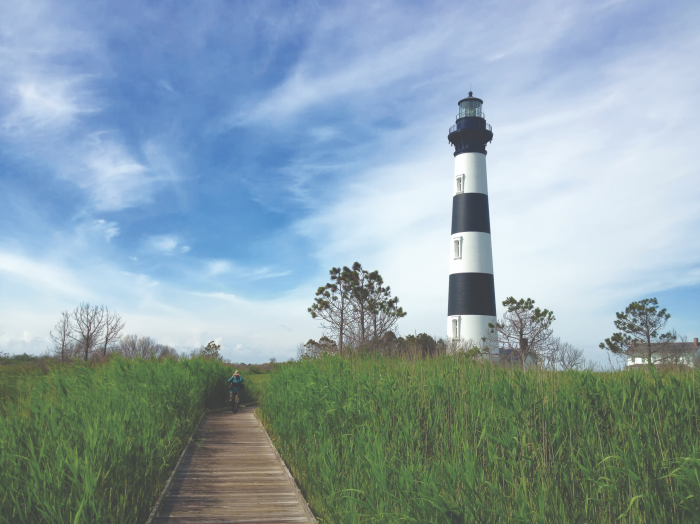 Lighthouses. OBX is home to 4 historic lighthouses: Cape Hatteras (the tallest lighthouse in America); Bodie Island Lighthouse; Ocracoke Light Station (the second oldest operating lighthouse in America);  and Currituck Beach Lighthouse. There is a 5th OBX lighthouse, Roanoke Marshes, in downtown Manteo. It is a replica of an old screwpile lighthouse that once guided the way for sailors through the nearby marshy wetlands.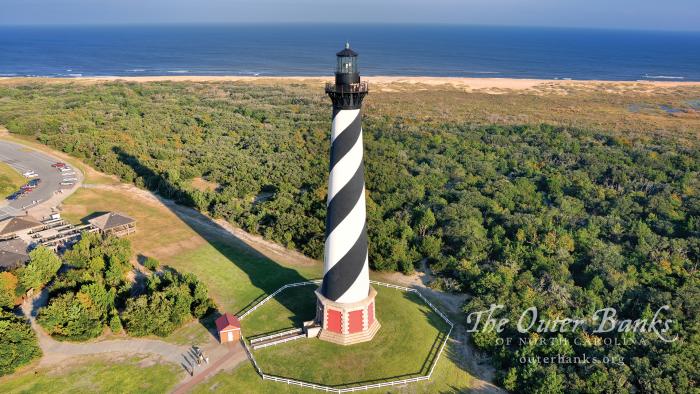 Visitors may take part in self-guided climbs to the top of either or both Cape Hatteras and Bodie Island Lighthouses. Be advised that the climbs are strenuous; there are no elevators and the stairways can get hot and crowded. There are 257 steps to the top of Cape Hatteras Lighthouse and just over 200 steps at Bodie Island Lighthouse. If physically capable of handling the climbs, I definitely recommend it as the views from the top are incomparable. Timed ticket entry is required for both lighthouses.
Currituck Beach Lighthouse is operated by the non-profit Outer Banks Conservationists, Inc. (OBC). OBC has spent 3 decades and more than $1 million to repair and maintain Currituck Beach Lighthouse, which this year is celebrating its 143rd birthday. Visitors may climb the 220 steps to the top for more stunning views of OBX.
While climbing to the top is not possible, visitors are welcome at both Ocracoke Light Station and Roanoke Marshes Lighthouse.
Historical sites. OBX history runs more deeply than the two significant events I mentioned earlier, but those are still excellent places to start. Fort Raleigh National Historic Sitepreserves the site of England's first New World settlements while also preserving "the cultural heritage of the Native Americans, European Americans and African Americans who have lived on Roanoke Island." Fort Raleigh is also home to "The Lost Colony" outdoor theater production. In its 81st year, the historical drama brings the story of the Roanoke Colony to life with elaborate set designs and a cast of more than 80 actors.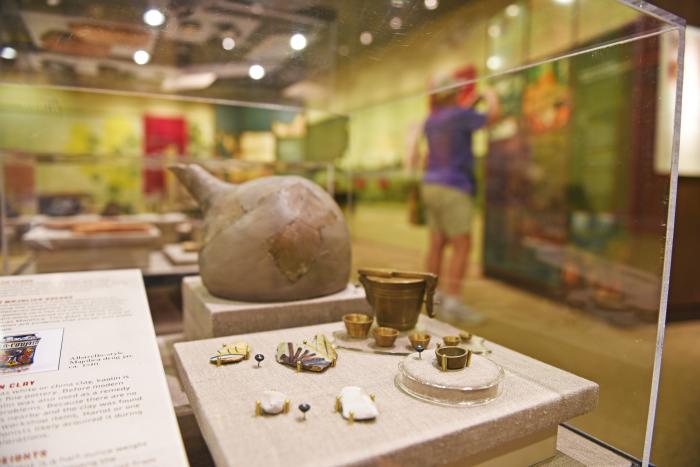 At Wright Brothers National Memorial, visitors can see exactly where that historic first flight took place. Learn more about the Wright Brothers and their lives by visiting the reconstructed camp buildings, where they lived and worked while at Kitty Hawk. Also, just by being there, visitors can experience the constant wind at Kitty Hawk to understand why Orville and Wilbur selected that site for their historic flight.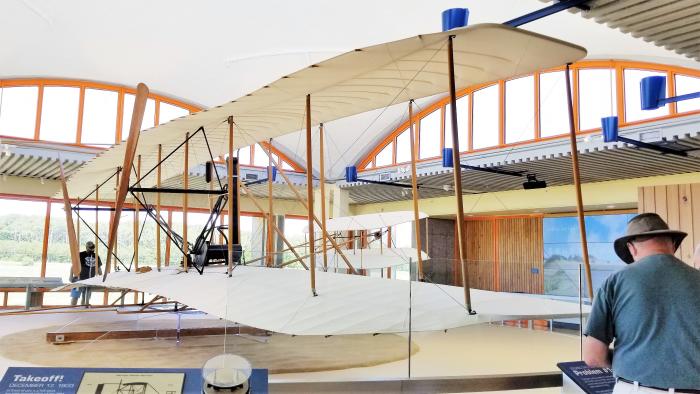 WHERE TO STAY IN THE OUTER BANKS
Your accommodations in OBX is as much a part of your overall OBX experience as what you do while there. The range of lodging options makes an OBX vacation more attainable for families of all sizes and spending limits. While there are some hotels and resorts in OBX, it's the vacation rentals that are most prominent. Options range from modest condos to palatial homes, some as large as 16 bedrooms. Those larger properties will have larger price tags, naturally, but if you get a bunch of families together – or a big group of your own family members – and split the cost, it is way more manageable. Personally, it's this aspect of OBX that makes it most special to me. I fully appreciate any place that makes family travel, whether it's with my small clan or a multi-generational production, possible and convenient.
The homes themselves are destinations all on their own. Generally speaking, they offer all the comforts of home and then some. Many have private swimming pools and beach access, whether it's on the Atlantic side or the sound side. They may also have hot tubs, multiple decks, and entertainment options like board games, poker table, billiards, and maybe even an extraordinary extra like an in-home movie theater! Despite there being so much to do in OBX, you may never want to leave the luxuries of your vacation rental.
I've only scratched the surface here on what makes The Outer Banks the ideal family beach vacation destination. I mean, I didn't even get to where to eat and drink! Until I do, check out my colleagues' articles for dining recommendations: