Nestled off the coast of North Carolina, the Outer Banks are a series of barrier islands stretching more than 175 miles south of the Virginian border. Known for its pristine beaches, unique wildlife, historical significance and a general sense of privacy and seclusion, the Outer Banks have long since been a coveted destination for people from both North Carolina and all across the country.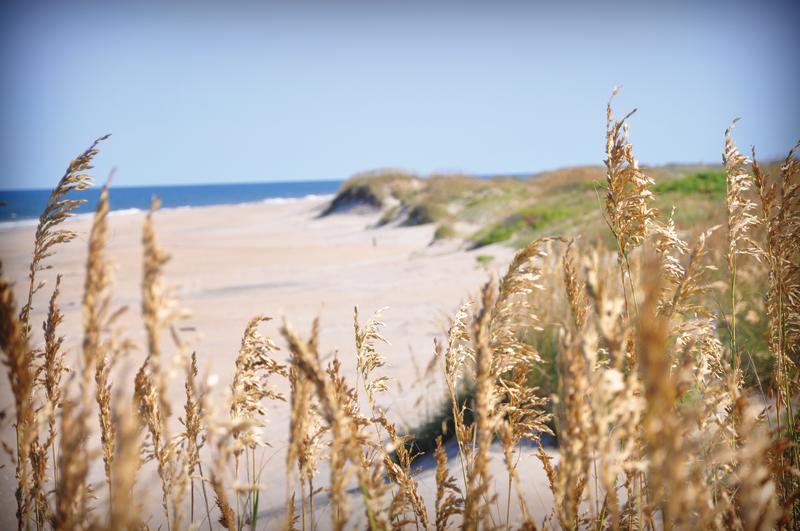 While it's no surprise that the string of islands is renowned for its seafood, restaurants like High Cotton and the infamous Duck Donuts have helped establish the area as a hotbed for the prototypical southern comfort food that is so easy to indulge in, especially while on vacation. But what if you're trying to fight the culinary temptations that come with traveling? Are there any healthy restaurants in the Outer Banks that can accommodate the growing list of dietary restrictions that exist these days?
A decade ago the simple answer may have been no. However, the past 5 or 10 years have seen an emergence of healthy options popping up all across the Outer Banks. Here are 10 restaurants, cafes, breweries and shops that are serving up some of the healthiest options the Outer Banks has to offer.
First on the list is Mom's Sweet Shop in Kill Devil Hills. Despite the name, Mom's might be home to the healthiest food in the Outer Banks. All of their acai bowls are made with pure, organic acai and can be swapped for organic pitaya (dragonfruit) at no extra charge. Mom's also offers an extensive variety of vegan and dairy-free smoothies that are packed with an array of supplements, superfoods and other add-ons like CBD and bee pollen. True to its name, Mom's Sweet Shop manages to create options that are just as tasty as they are nutritious and honestly might have the best acai bowls and smoothies in the entire state.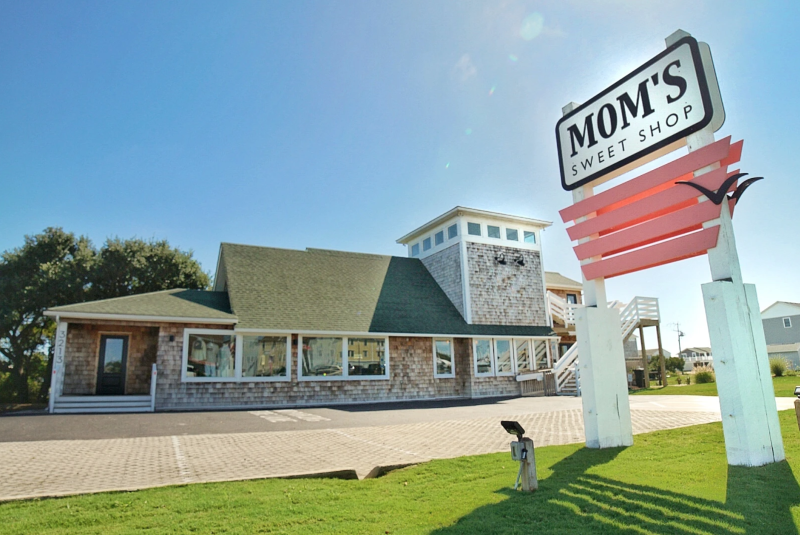 Mom's Sweet Shop, image from sweetstuffinside.com
Although it tops our list, Mom's isn't solely focused on healthy food. They've also got an assortment of soft-serve ice cream, milkshakes, truffles and candy when you're in the mood for a cheat day. The experience also goes beyond the food with a storefront that carries a blend of modern and vintage clothing and two luxury vacation rentals.
Less than a two-minute drive down the road from Mom's is The Spot's Kitty Hawk location. The other dedicated smoothie and acai bowl option on the list, The Spot has a second location in Nags Head that's only five minutes from Jockey's Ridge State Park. While they aren't nearly as ingredient-conscious as Mom's, The Spot's Nag's Head location is still a healthy, refreshing escape from the sun after exploring the great sand dunes at Jockey's Ridge.
If you're looking for delicious smoothies and acai bowls, but also want a little more variety on the menu, Outer Bean Cafe might be the place for you. A staple of the Kitty Hawk community, the cafe has been serving vegetarian and vegan-friendly dishes for breakfast and lunch for years now. Locals gravitate towards their hearty salads and sandwiches, as well as their nutrient-rich fresh-pressed juices. They even offer three-day and week-long juice and smoothie-based detoxes.
Similar to Outer Bean, Freshfit Cafe in Nags Head also offers a wonderful variety of delicious nutrition-focused options for breakfast and lunch that are designed to help you meet your fitness goals. Freshfit's menu sources ingredients like local seafood and seasonal fruits and vegetables to deliver everything from smoothies, juices, detox drinks, and organic coffee to wraps, sandwiches, salads, power bowls, pancakes, breakfast platters and tofu scrambles. With such a plethora of options, it's no surprise that the kitchen can easily accommodate vegetarian, vegan and gluten-free diets. Their espresso overnight oats, pancakes (gluten-free & vegan options available) and shrimp toast with feta cheese and balsamic drizzle are delicious breakfast options while they build your own protein bowls and varietal salads with fresh seafood are our go tos for lunch.

Fresh Fit Cafe, Nags Head
If salads are what you're after, then look no further than the Salad Bowl in Kitty Hawk. As their name suggests, they offer a variety of signature salads and a rotating monthly salad, as well as the ability to build your own salad bowl. In addition to leafy greens, the Salad Bowl's menu also features plenty of healthy juices, smoothies and wraps to choose from and sources ingredients from local and/or organic farmers when possible.
Bad Bean Baja Grill is far from the typical healthy food stop. A unique blend of Latin American, Coastal Carolinian, Tex-Mex and Asian culinary influences, this multicultural fusion restaurant is unlike any other in the Outer Banks. Focused on delivering flavor first, the chef incorporates plenty of guilt-free and vegetarian-friendly options, such as black bean quinoa burgers and marinated grilled tofu, that have health-conscious foodies flocking to Kitty Hawk.
Another potentially unexpected option on the list, the Outer Banks Brewing Station is another go-to for healthy food in Kill Devil Hills. While it certainly has its fair share of comfort food and craft beer, the Brewing Station also rotates a variety of vegan and vegetarian specials and even bolsters a dedicated gluten-free menu. Given the recent national food supply chain challenges that came about from the pandemic, they've also committed to getting creative with local sources of seafood and other ingredients to create uniquely tantalizing plates like the Tuna Brewdah Bowl that's made with fresh local seared tuna over Asian noodle salad with edamame, Tokyo collards, roasted red pepper salad & miso roasted sweet potatoes.
Red Sky Cafe in Duck, NC is another restaurant committed to incorporating locally sourced ingredients. In fact, they've been cooking with seafood, poultry, beef, duck and other ingredients directly from the Outer Banks for over 15 years now. The owner and chef, Wes Stepp, is also the author of the Tastefully Fit recipe book and takes pride in transforming traditional southern and seafood plates into healthy, hearty portions that satisfy foodies and picky eaters alike. These healthy dishes have become so popular amongst locals that they even hire Wes and Chefs on Call team for in-home private dining and catered events.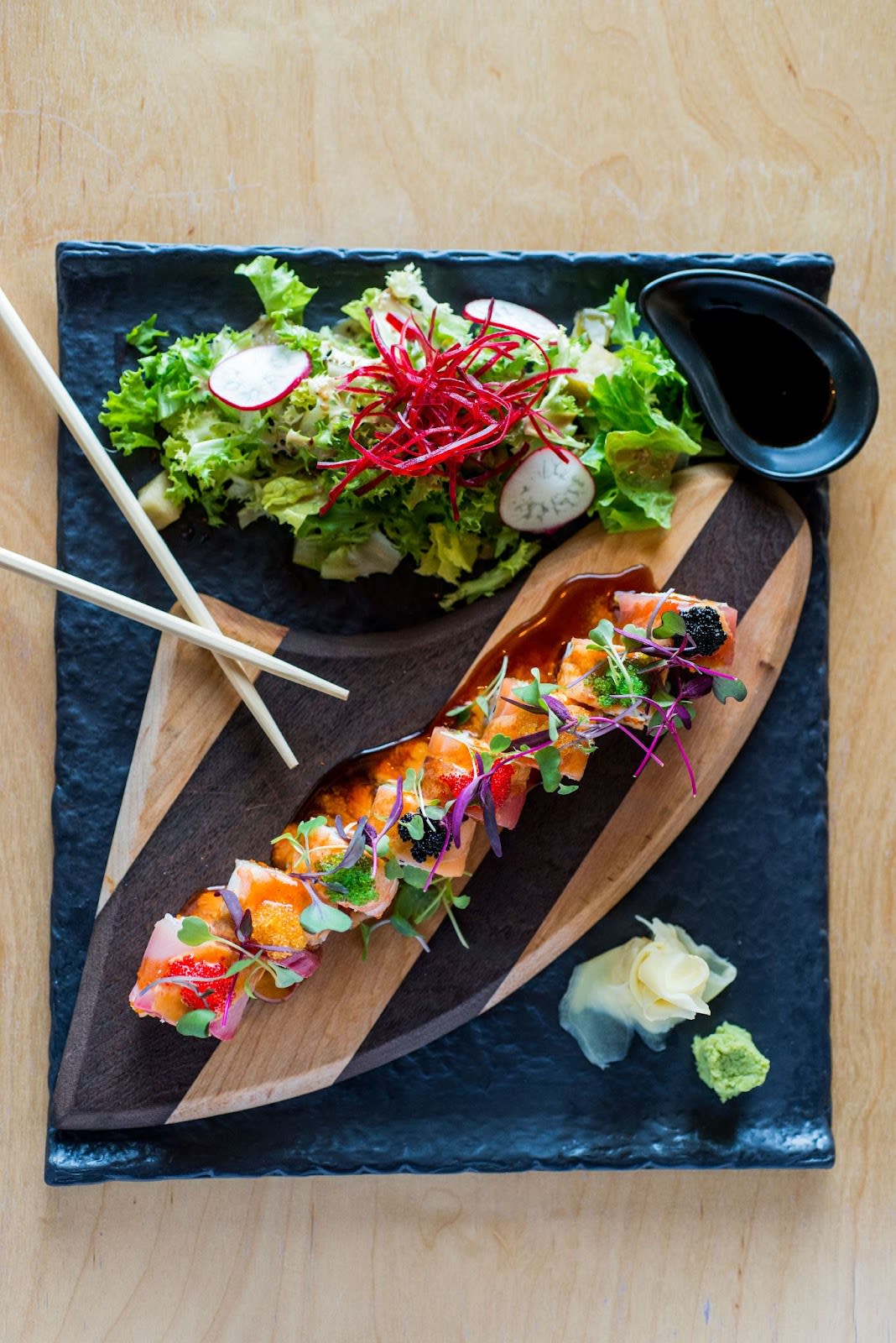 Single Fin, Nags Head
Another culinary artist known for his personal chef services, Pok Choeichom, better known as Chef Pok, is the chef-owner of both Single Fin in Nags Head and Pok's Art in Kitty Hawk. Single Fin was the first Thai-Sushi hybrid restaurant in the Outer Banks and is home to an incredible assortment of tastefully simple and wildly extravagant sushi rolls, nigiri and sashimi.
The Avenue Waterfront Grille in downtown Manteo doesn't have the robust sushi menu that Single Fin offers, but its Tuna Sushi Style is certainly a crowd favorite. This sushi-inspired plate is constructed with perfectly seared tuna that can be substituted for crispy tofu, a jasmine rice cake, seaweed salad and wasabi cream sauce. The Avenue Grille was one of the first restaurants in the area to creatively accommodate dietary restrictions and the Tuna Sushi Style is just one of the many dishes that can be modified with substitutions for vegan, vegetarian and/or gluten-free patrons. As you may have guessed from the name, dining here also involves a spectacular waterfront view that also makes it incredibly easy for the chef to incorporate a diverse selection of fresh seafood from their own backyard.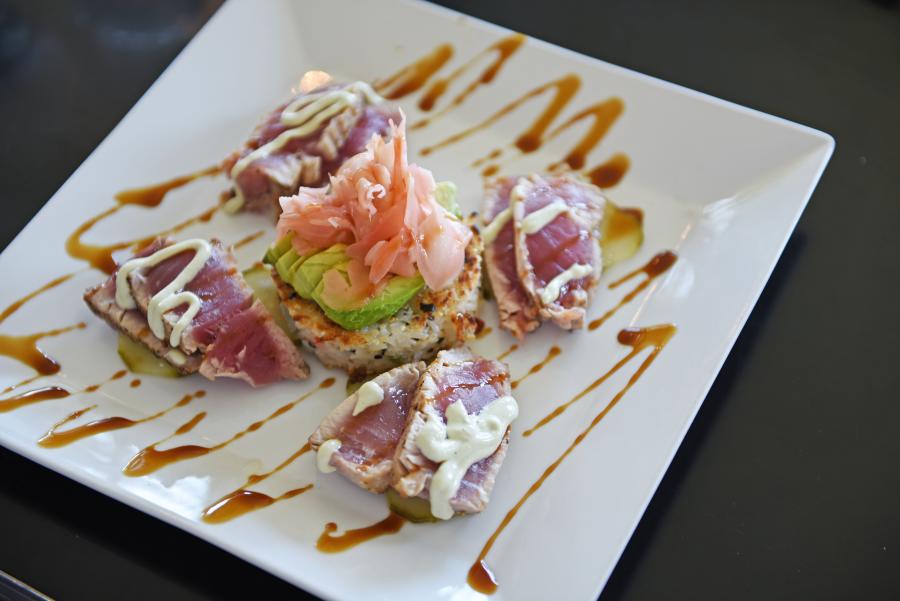 Avenue Grill, Manteo
Last on the list, The Paper Canoe is a mainstay in Duck that also prides itself in offering a memorable dining experience with an incredible waterfront view and locally caught seafood from the Outer Banks. Owner and restaurateur Tommy Karole handpicks the catches of the day that will be featured in dishes like the Chef's Whim, a menu item that changes daily based on locally sourced ingredients. While some of the sides lean more towards decadence than the health food end of the spectrum, there are gluten-free options at every stage of the meal. Make a reservation for sunset well in advance for one of the finest dining experiences the Outer Banks has to offer.
It's also worth noting that Karole recently opened a new elevated comfort food culinary concept in Kitty Hawk called The Pony and the Boat that's certainly not focused on healthy food, but is probably still good for the soul.