I used to think wild horses couldn't drag me away from the golf course. Or the sight and sounds of the ocean. Though that's never been the case with the burning hunger
a round of golf
can produce.
But things have changed. As a devoted visitor to the Outer Banks of North Carolina, it didn't take long for me to learn that the descendants of Spanish Mustangs survived 16th century shipwrecks. They swam ashore and have roamed the white sandy beaches ever since. An adventure horse tour across these creatures' natural dune and seaside habitats, consequently, has had a way of occasionally enticing me away from the sea of green fairways along the Northern banks.
Then, of course, there's the beach. There's nothing quite as soothing as digging one's toes (sans the wedge) into the soft sand while the pounding surf slows – at the very spot where every wave's long journey across the Atlantic Ocean comes to an end and the sea retreats into itself. The one great temptation, however, that has always acted as a magnetic pull away from the fairway has been the primal craving for some grub.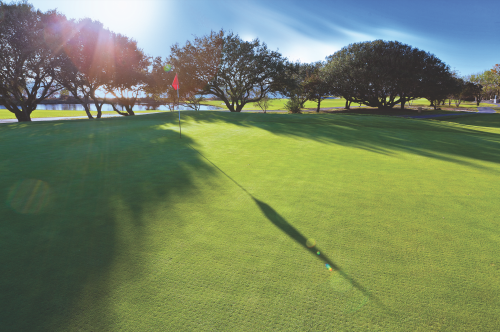 Reasons to Dig In
Golf, it has been said, is a whole different bag of shag balls. And because of that it has its own unique way of developing a scandalous hunger – especially that played along the coast. Maybe it's the fresh salt air. Or the time spent lining up putts. Or hacking out of waste bunkers. There's just something about the four hours spent with good companions playing a game that we all love. While a hot dog and a pack of orange-colored peanut butter crackers at the turn can usually contain those hunger pangs for a while, it's not until you have packed up your sticks, stuffed them in the trunk and headed for your favorite après golf destination that some real savory pleasures unfold.
When my group pulls out the stops and heads for OBX, we like to experience a variety of restaurant options over the course of several days and rounds. No matter what the score, we rarely have to travel very far to score the perfect meal.
But barbeque and creatures from the sea aren't the only treasures to be found along the northern Outer Banks. And, of course, a few southerly excursions to places along the beach like Kitty Hawk and even into Nags Head (home of the Nags Head Golf Links) are also in play. Here is a rundown of some of my and my golf buddies' favorite places to refuel the body after a day of traversing OBX's choice fairways and greens.
First Off the Tee
For those planning an early day on the links, you may want to start your day by "ducking" into Duck Donuts. Founded in 2006 in Duck and expanded across the country, including five OBX locations, the shop was the first to provide customizable, made-to-order doughnuts to the folks along OBX. With several shops now located up and down strip, your foursome is never far away from a doughy delight.
Golfers going the distance on a multiple-course golf trip and looking for another more traditional breakfast hangout, at least one visit must be made to Stack'em High Pancakes and So Forth. The iconic establishment opened its first location in Kill Devil Hills in 1981 and then a second followed in Kitty Hawk in 1985.
For linksters in a rush, Bob's Grill in Kill Devil Hills has been getting players to their tee times since the 1990s with its slogan "Eat and Get the Hell Out."  Specializing in plate-sized pancakes and fresh-made hash browns for breakfast and seafood burritos and Angus beef burgers for later players, Bob's will get you moving.
Afternoon Delights
Those that run with afternoon tee times, a great place to get into the swing of things is at John's Drive In, established in 1977 in Kitty Hawk by a family from Pittsburgh, Pennsylvania. The opening was the start of an Outer Banks tradition known as the "Dolphin" as the owners serve fresh tuna and dolphin and accented with homemade tartar sauce and freshly made cocktail sauce, among other tasty treats.
One of the truly iconic names to be found anywhere along OBX is Sam and Omie's, a Nag's Head mainstay since 1937. The restaurant, which offers a meaty menu including omelets, hamburgers, club sandwiches, prime rib and seafood, provides a "barefoot and beachy" atmosphere, all started by a couple of fishermen (and likely would-be golfers had there been a course or two in OBX back then).
Running late and really pressed for time?  Two notable "grab and go" options in the region are a pit stop at Dairy Queen (yes, the Queen) near the site of the Wright Brothers Memorial in Kill Devil Hills and various locations of Brew Thru – the Outer Banks' original beverage and snack, stay-in-your-car phenomenon that began back in the 1970s and remains a staple today.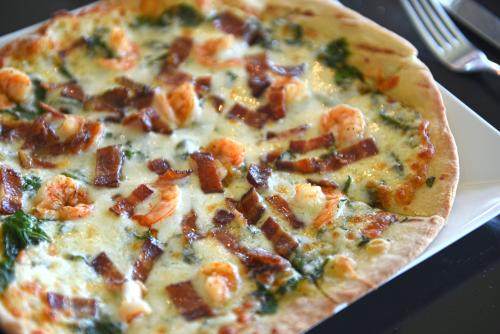 True Apres Golf
The main course, off the course of course, is the one you hope to consume sometime during the dinner hour. For golfers, the dinner hour can be a fluctuating block of time in the evening – most likely the one closest to the moment the last putt has been holed. "Hats off, lets go eat." It is during these times that the most delectable tastes OBX has to offer really come out to play.
Two of the most widely recognized names ever concocted along the Outer Banks are Awful Arthur's Oyster Bar in Kill Devil Hills and Dirty Dicks Crab House now in Nags Head. There's something to be said about being first and Awful Arthur's Oyster Bar claims the distinction of being the first one of its kind to open on the Outer Banks. Known for its catchy name and logo, it also legendary for its fresh, delicious seafood and casual and friendly atmosphere. Complete with an ocean view from its lounge, the establishment that refutes its own name has been dubbed one of the nation's greatest oyster bars thanks in large part to its coastal vibe and seafood delights.
With a risqué slogan like "I Got My Crabs at Dirty Dicks," it's only natural that the aforementioned restaurant has become a favorite of golfers from all over. Founded as an answer to famed crab houses up north in Virginia and Maryland, Dirty Dick's new Nags Head location is allowing visiting golfers more space to spread out their all-you-can-eat crabs and crab legs and go to town. So for great, fresh seafood, head for the place with the funny name and flair for excitement.
Other great food stop names along the coast in OBX are The Black Pelican, Hurricane Mo's Beachside Bar & Grill, The Bonzer Shack, Tortuga's Lie, Art's Place Bar & Grille, Mako's Beach Grille & Bar and La Fogata. The Black Pelican in Kitty Hawk is one of the first year-round restaurants on the Outer Banks and offers a spectacular ocean view. The building it sits in originally served as a historic life-saving station built in the late 1800s. Fresh seafood, steaks, vegetarian dishes, sandwiches and wood oven pizzas are some of the items offered on its menu. Hurricane Mo's Beachside Bar & Grill, also located in Kitty Hawk, features local seafood, steaks, pasta, sandwiches and more. Like so many other establishments around town, it is also a popular spot for those in search of daily lunch specials.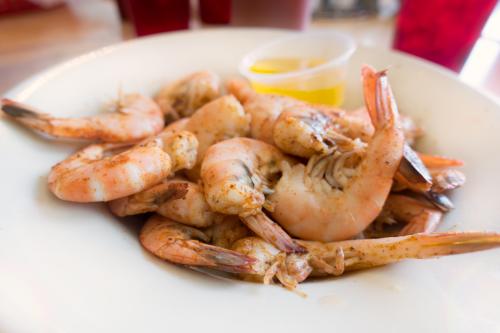 The Bonzer Shack in Kill Devil Hills, meanwhile, claims to the most laid-back beach grill on the Outer Banks and that can be most welcome after an especially tough day on the course. Here you can drown your misery with a splash of water as it is themed after the surfer crowd. The Shack features bistro quality coastal comfort food including a range of clever appetizers including the locally famous 'Hippy Dip' and wings roasted in house daily.
Tortuga's Lie, nestled among the dunes in Nags Head, is another well-balanced eatery featuring everything from seafood treasures to burgers and more. Art's Place in Kitty Hawk, meanwhile, claims to have the best burger in town and who am I to disagree, especially when the sign says "Local's Welcome, Tourists Tolerated … sometimes." Helping to round out a legendary group is Mako's.  Another Kill Devil Hills classic with a catchy name, this place is where you can find a little bit of everything. Of course OBX is not all about just seafood, burgers and barbeque. La Fogata in Kitty Hawk is our place to hit when looking for authentic Mexican food.
After, After Golf
Like any beach town worth its salt (pardon the pun), OBX also has its share of sweet-tooth connections for post-meal enjoyment. One place in particular that we have stumbled upon during our time playing Nags Head Golf Links is Booty Treats Ice Cream & Shave Ice located to the south. This uniquely crafted "parlor" offers authentic Hawaiian Shave Ice, old-fashioned malts, milkshakes and sundaes (though none of us, even the low handicappers in our group, have dared tried Booty's "Junk In the Trunk Sundae" as of yet).
In all, the Outer Banks of North Carolina is as quality a golf/food destination that there is to be found anywhere. So if you are interested in a true tee-to-green then feed adventure, there's no better place to head to than to this seaside sanctuary that is always a shag bag full of fun and fuel.