I'll always remember Chef Wes Stepp's warm welcome as I sat down for dinner at his NC Coast Grill & Bar on the waterfront in Duck, North Carolina – as warm as the splendid sunset I enjoyed moments prior from the restaurant's patio.
The coastal décor and view into the open kitchen create a casual atmosphere. I loved observing the meal preparation. While we were perusing the menu, my attentive waiter took drink orders; with an extensive beer and wine list, you will surely find one that suits you. Chef Stepp, who also owns the restaurant, took the time to talk personally with each guest in my party. His passion for people and cooking generously poured out, making this a special visit even beyond the delicious food. "Food has marked the best times in my life," I remember Chef Stepp said. "I associate food with feelings. I can't eat boring food."
Guests certainly won't be bored experiencing NC Coast Grill & Bar's "Chef's Board." It's an artful display consisting of the chef's favorite entrees and appetizers served on a rustic wooden board. It required three employees, including Chef Stepp, to land the 8-foot Board on my table for our party of 11. Audible gasps could be heard throughout the dining room during its harrowing delivery. I felt like a VIP when it arrived as I'd never seen anything like it. The Board can be customized for smaller groups as well. The Chef's Board concept was created by Stepp. It's not just a meal, it's an event. "That is my favorite way to eat, tapas style," he said. I completely agree.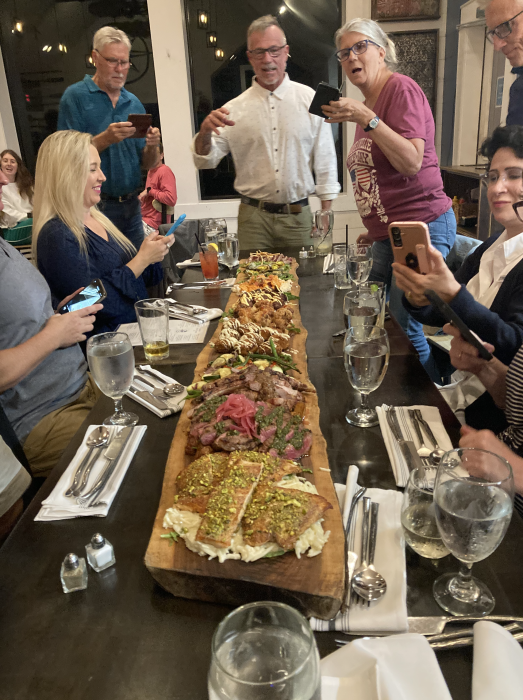 Sharing numerous small dishes with unusual flavors was fun. If you don't like cauliflower, you will like it the way NC Coast prepares it. I sampled Scottish salmon, scallops, shrimp, and pork shanks (a Southern version of chicken wings). There were fried oysters with pimento cheese and seared rare tuna. Those were among the highlights presented on our Chef's Board masterpiece. I asked Chef Stepp about the journey which brought him to the Outer Banks from his childhood home in West Virginia. His biggest influences in cooking were his grandmother and mother.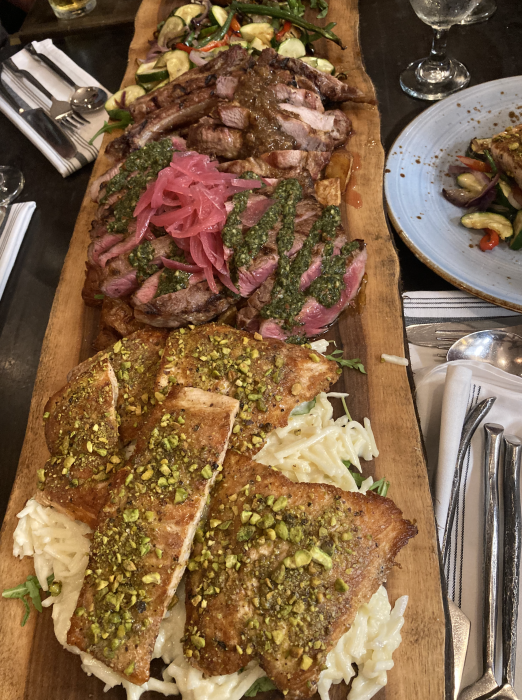 "I kept cooking in different restaurants and in college fell in love with the business," he recalls. "I came to the Outer Banks in the summertime. I got a job offer at Kelly's Restaurant. I started at the bottom and worked my way up. I became head chef in about three or four years." It was fascinating to learn that his cooking evolved just like his life has. He began preparing classic dishes, not very healthy, but as he evolved personally – eventually picking up competitive bodybuilding – his cooking transformed. He now incorporates healthy dishes on the menu to support clean eating. Chef Stepp traveled the country looking for new flavors, spices, and dishes. He was particularly taken with Korean food. This expanded his palate. He has melded these experiences into his own recipes, infusing the restaurant's locally sourced produce and seafood with globally-inspired cuisine.
Take Bubble and Squeak as an example. Unfamiliar to most diners in the States, in England, Bubble and Squeak is as common as peanut butter and jelly here. The dish consists of pot roast leftovers. The potatoes, carrots, and cabbage are taken out of the leftover pot roast, chopped up, and fried in a cast iron skillet. The potatoes are the "bubble," and the cabbage is the "squeak" because of the sound it makes while cooking in the skillet. In the South, it's called hash. Chef Stepp's take on this dish is crab cake bubble and squeak. It is pan-fried North Carolina crab cakes served on an English version of hash. If you are from England and come to NC Coast, you will see this old friend on the menu. If you have not experienced this dish yet, you will meet a new friend. Playing off the flavors of New Orleans, beignets are the one dessert on the NC Coast menu. These warm, powdered sugar-covered pillows of heaven are a huge hit. I couldn't eat just one. "The restaurant business is a hospitality business," Chef Stepp explained. "The locals know that we are always hospitable and love our community. I've been in the restaurant business in OBX for 30 years. I love the area."
Chef Stepp prides himself not only on serving delectable food but in providing an unforgettable experience and making personal connections. That certainly was true for me. When visiting the Outer Banks, NC Coast must be on your dining list. It's more than a restaurant. It's a culinary event tantalizing all the senses while creating a lasting memory.