Kitty Hawk Kites Nags Head
The activities are endless in Nags Head! Head to this location to book your Nags Head, Kitty Hawk, and Kill Devil Hills activities. 
Check out these local excursions:
Learn how to launch, fly, and land your own hang glider on the soft sands of Jockey's Ridge State Park, or fly 2000 ft above the Outer Banks with a certified instructor! Hang gliding lessons are available year round.
Come explore some of our favorite places on the Outer Banks with us, including the Kitty Hawk Maritime Forest Tour and the Alligator River! We offer guided tours at multiple locations throughout the Outer Banks, great fun for beginner and experienced paddlers!
This exciting and thrilling new water sport is guaranteed to get your heart pounding, yet it is easy enough for almost anyone to learn! Kiteboarding, a synergy of wind and water forces, takes harnessing the wind to the extreme! Come visit Waves Village: The Hatteras Kiteboarding Resort, the premier kiteboarding resort in North America!
Join us on a unique eco-tour to search for wild Atlantic Bottlenose dolphins and view the wildlife of the Outer Banks! These tours are lead by biologists from the Outer Banks Center for Dolphin research. Come learn about their research and discoveries, while watching the bottlenose dolphins play in their natural habitat!
Experience the Outer Banks from a birds eye view, while enjoying a peaceful parasailing ride above the sound. Single, double, and triple flights available!
Come sail away with us! Enjoy a trip around the sound aboard a 41 ft Ketch sailboat. Daytime and Sunset tours are available!
Take a memorable trip across the Currituck Sound from Duck, NC to Sanctuary Vineyards in Jarvisburg, NC! Once you arrive at the vineyard, you'll have the opportunity to taste and sample fine locally grown and bottled NC wine, before venturing back across the sound to Duck.
Spend a couple hours or a half day with Captain Randy Graham on the Roanoke Sound. Whether you want to Fish, Crab, Tube, search for Dolphins or go find your own island for a few hours, this trip will be fun for you and your family.
Kitty Hawk Kites offers both in-shore and off-shore Chartered Fishing. Our captains and guides are some of the most experienced and professional in the business and provide memorable experiences for you and the crew.
Hobie Kayaks revolutionized the kayaking and fishing industries with the incredible MirageDrive pedal propulsion system, which enables you to navigate your kayak hands free. We will fish for Drum, Speckled Trout, flounder and many other species of fish. Beginners and experienced anglers are sure to enjoy this experience!
Bring the family for a fun day on the water! Go fishing, swimming or exploring with one of our easy to operate pontoon boat rentals. We have 12 passenger and 16 passenger boats available.
Make your Outer Banks vacation extraordinary this year with the ride of a lifetime on our Yamaha jet skis. Interested in more than just a joy ride? Break free from the boundaries of the rental area on one of our Jet Ski Tours! 
Blast off with Kitty Hawk Kites this summer! Whether you want to learn to fly the JetPak or a Flyboard, our lessons will get your heart pumping and your adrenaline racing.
Whether you're a first timer or coming back for a second or third time, our instructors will help teach you the skills you need to be shredding in no time. Private and group lessons available in four locations!
Kitty Hawk is known for being First in Flight, and there's no better way to experience the Outer Banks than from the sky! Fly above Jockey's Ridge in a World War II WACO Bi Plane or take a light house tour in a 3-passenger Cessna or Helicopter.
Explore the Buxton Woods Coastal Reserve and the Cape Hatteras National Seashore on Hatteras Island by Horseback – you will see the natural beauty of Hatteras Island from a completely different perspective!
Your personal guide will take you into the habitat preserved as a sanctuary for the wild horses of Corolla and on to another private preserve. The horses roam freely and are also sighted running along the beach and playing in the surf. What a sight it is!
Combing the wilds of the back country with the latest in technology of the 21st century, our Off-Road Segway Safari is with out a doubt one of the coolest things that you can do while on vacation along the Outer Banks
Come tour North Carolina's oldest Micro Brewery while enjoying tasty beer and sausage samples! Root beer samples are available for under 21 and those who prefer non-alcoholic options. 
Who is the guilty party? Try to solve a comedy mystery during a four course dinner that is served by crazy characters – you guess whodunit! 
Don't miss your opportunity to experience one of the top attractions in the Outer Banks. The Lost Colony is widely acknowledged as the precursor to the modern American Broadway Musical
Your guide will lead you through the streets of downtown Manteo by lantern, telling the spooky stories that make the Outer Banks one of the most haunted beaches in America!
Take a guided drive to explore the ecological majesty of one the most impressive wildlife corridors on the East Coast – the Alligator River National Wildlife Refuge. On this 1.5 hour tour, we will drive through the refuge searching for black bears, turkeys, owls, birds, alligators, deer, and other native wildlife of the area.
Experience the new Kitty Hawk Kites Adventure Tower at Waves Village Watersports Resort in Rodanthe, NC … the first of it's kind on Hatteras Island! Our unique tower creates a safe and interactive atmosphere that features 3 levels and 15 climbing elements that will challenge kids and adults, both mentally and physically.
For information on available activities, stop by our headquarters in the Jockey's Ridge Crossing shopping center at milepost 12.5. Reservations can be made there, at our online reservations center or by calling 1.877.FLY.THIS.
With more than 15 locations from Corolla to Ocracoke, Kitty Hawk Kites is the largest retailer of kites, toys, flags and wind art on the Outer Banks. You'll also find a leading selection of quality resort apparel, footwear, t-shirts, sweatshirts, sunglasses, gifts, recreation equipment, beach gear and more. The selection of Outer Banks apparel and hats can't be beat! Find a store near you with Kitty Hawk Kites' location finder, or get right to shopping online.

From the entire team at Kitty Hawk Kites, we can't wait to welcome all of our customers back. We are taking many steps to protect the safety of all guests. In our retail stores, we are limiting occupancy to facilitate social distancing and providing appropriate spacing at checkout areas. We are also installing protective shields at registers and offering customers the opportunity to receive their receipt electronically. All high-touch areas will be cleaned regularly and often with disinfecting cleaners and we will provide hand sanitizer at numerous locations around each store. At our recreation centers, we are moving much of our check-in, waiver, and orientation processes to a virtual format. We will practice social distancing at each of our recreation centers, and all rental equipment and gear will be cleaned and sanitized after each use.
What's Nearby
General
Work w/Motorcoach Groups in Senior/Student Markets:
Events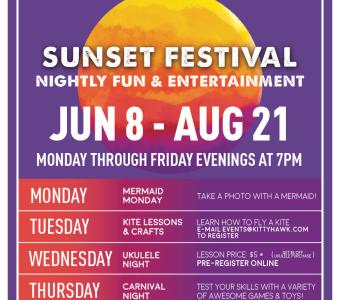 Join us for the FREE… more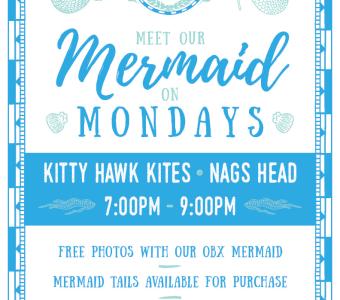 Join us for the FREE href="https://www.kittyhawk.com/event/sunset-festival/"… more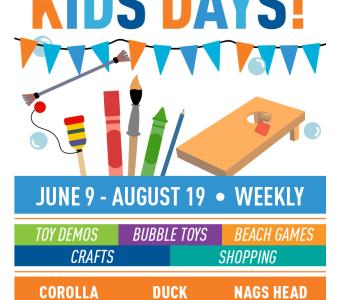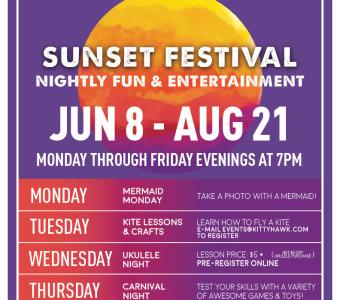 Join us for the FREE… more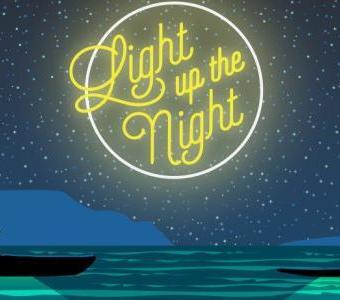 Join Kitty Hawk Kites at Waves… more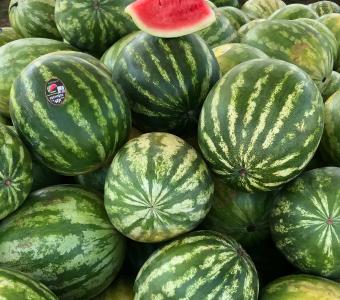 Celebrate summer with Kitty Hawk Kites and Food Lion to support the Outer Banks… more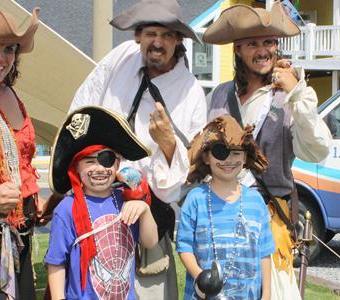 Ahoy Mateys! Get ready for a swashbucklin' good time as Kitty Hawk Kites hosts… more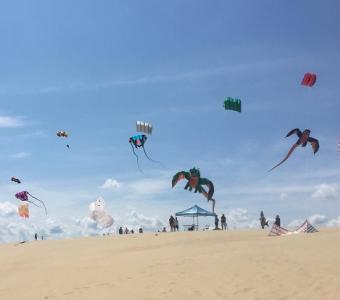 Come out and join us for two days of kite flying fun for the whole family.… more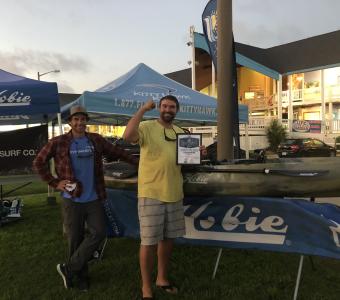 Hosted by Kitty Hawk Surf Company and presented by… more
NEW 2020 DATES: SEPTEMBER 25 - 27 Due to COVID -19, we… more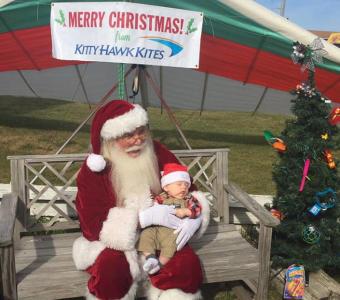 Come spread the holiday cheer with Kitty Hawk Kites crew. Free visit and… more
Special Offers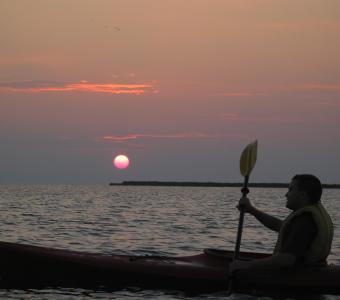 Save $10 PER PERSON on groups of 4+ people this summer with Kitty Hawk Kites!