Our national parks protect much of what we love most about being here. The diverse stories our parks preserve have shaped not only our local community, but also our nation and our world. From the Carolina Algonquian peoples, to the first European settlers, to the Freedmen's Colony, to the first African American lifesaving service, to the Wright brothers' first heavier-than-air powered flight and beyond – we all have many lessons to learn from our Outer Banks community and our Outer Banks national parks.
Known for its stunning and ever-changing shoreline, America's first national seashore welcomes millions of visitors annually. Many visitors return year after year to the pristine beauty of these barrier islands to create a lifetime of memories. Here, along the 70-mile expanse of beach, marshes, sand dunes and woodlands, visitors can enjoy hiking, swimming, fishing, boating, surfing, kite flying, lighthouse climbing and more.
The mystery of the disappearance of the first attempted English settlement in the "New World" remains unsolved. Visitors to the park can observe the reconstructed earthen fort, learn more about Roanoke Island's first inhabitants, the Carolina Algonquian peoples, and see the First Light of Freedom Monument, which honors the freed African Americans who found refuge on Roanoke Island during and after the Civil War, creating the Freedmen's Colony.
The first national memorial developed on the Outer Banks celebrates the ingenuity, determination and courage of Orville and Wilbur Wright, two brothers from Dayton, Ohio. The brothers' keen imaginations, combined with their practical experience in their bicycle shop in their home state, helped them to complete the first successful heavier-than-air powered flight over the sands of Kitty Hawk, North Carolina, on December 17, 1903. Visitors to the national memorial can view reproductions of the 1903 camp buildings, see a replica of the 1903 flyer and enjoy the newly remodeled Visitor Center.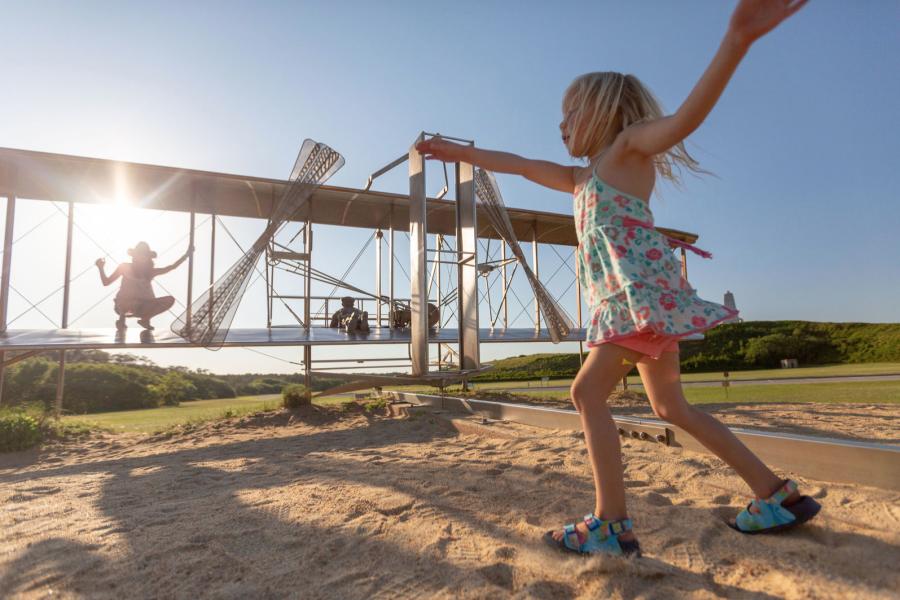 Planning & Preparing for Your Visit: Know Before You Go
During the peak summer season (Memorial Day – Labor Day), our national parks and their Visitor Centers are busiest during the afternoons, especially from 12 p.m.– 2 p.m. During the spring, fall and winter seasons, our national parks experience steady visitation but are often less crowded than they are during the summer months. Ranger programs are offered on a regular basis throughout the summer, but program schedules vary during the spring, fall and winter. All our national parks are open daily, except for Christmas Day. For more detailed information on operating hours for park Visitor Centers and campground seasons, click the following links: 
Cape Hatteras National Seashore
, 
Fort Raleigh National Historic Site
, 
Wright Brothers National Memorial
.
If you are planning to spend time at Cape Hatteras National Seashore, make sure to follow these beach and ocean safety tips:
Pack it in, pack it out. Take all trash and fishing and beach equipment with you when you leave the beach. To learn more about how you can help keep our beaches and ocean clean, click here.

Recycle your fishing line. Discard used fishing line in designated recycling receptacles.

If you dig a hole, fill it in. Holes along the beach pose hazards to beachgoers, ocean rescue personnel, park rangers on patrol and nesting sea turtles.

Avoid sunburn. Wear sunscreen and UV-protective clothing and limit outside time during peak UV light hours of 10 a.m.— 4 p.m.
If in doubt, don't go out. Sign up for daily beach and ocean conditions updates by texting OBXBeachConditions to 77295. Standard message and data rates may apply.

Use floatation. Always enter the ocean with something that floats, like a boogie board, innertube or lifejacket.

Never turn your back on the ocean! The waters of the Outer Banks are known for being extremely rough and present hazards like shore break, high surf and rip currents. Stay vigilant, even if you are walking, running, building a sandcastle or fishing.

Help kids play safely. Ensure that children are always supervised by an adult when they are near the ocean.

Buddy up! Never swim alone, no matter your age. If red "No Swimming" flags are posted on the beach, do not enter the ocean.

Float don't fight. If you are caught in a rip current, float instead of fighting it and then swim parallel to shore and yell for help if you're able.
We also highly recommend that you only swim in lifeguarded areas at Cape Hatteras National Seashore which include Coquina Beach Access, Cape Hatteras Lighthouse Beach Access, Frisco Beach Access, and Ocracoke Beach Access. These beaches will be lifeguarded from May 31 through September 6, 9 a.m.—5 p.m. daily. More safety information for Cape Hatteras National Seashore is available
here
.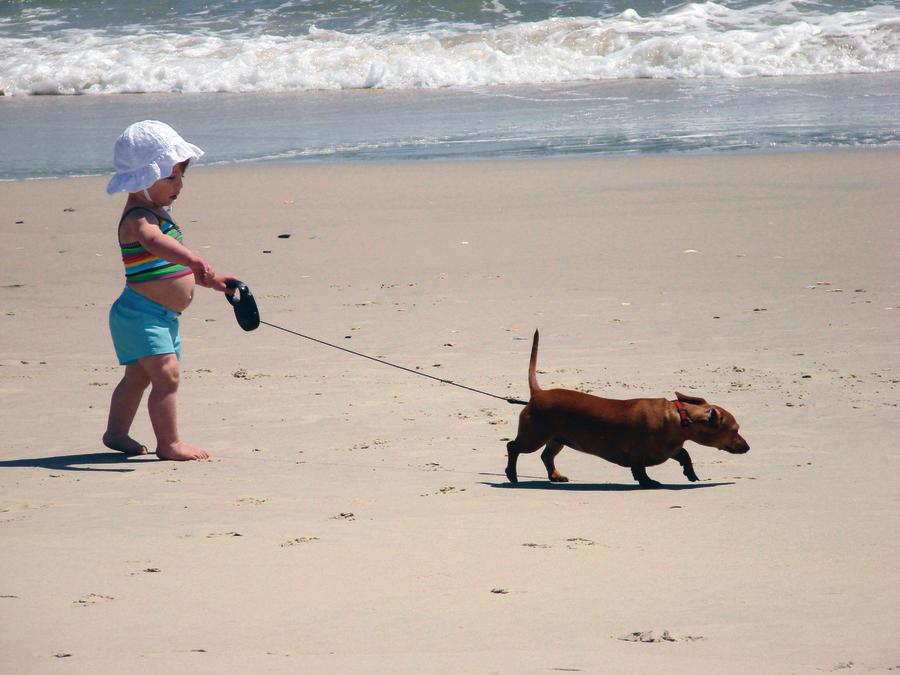 Visiting with Your Pets
Your pets are welcome on the grounds of our national parks! While there are a few restrictions,
service dogs
are welcome in all national park facilities. Additionally, your pets must be kept on a six-foot-long leash or shorter at all times. Never leave your pet unattended. Before you bring your furry friend to visit, here's what you need to know:
Remember to follow the four B.A.R.K Ranger principles:
Bag your pet's waste.

Always keep your pet on a leash.

Respect wildlife.

Know where you can go.
Pets at Cape Hatteras National Seashore: Pets are prohibited within any resource closure, and pets are not allowed on designated swimming beaches. If your pet is a horse, that's okay, too! You may ride horses anywhere vehicles are permitted to drive, except in campgrounds. Horseback riders are required to use Off-Road Vehicle (ORV) ramps when entering and exiting the beach.
Pets at Fort Raleigh National Historic Site: You and your pets can enjoy the 0.3-mile Thomas Hariot Loop Trail through Roanoke Island's maritime forest to the sandy shores of Albemarle Sound, as well as explore the maritime forest along the 1.25-mile Freedom Trail that ends with views of the Croatan Sound on the western edge of the park. Return by the trail or use the bike path along Highway 64 for a loop back to the visitor center of 2.5 miles.
Pets at Wright Brothers National Memorial: Your pets are welcome throughout the park grounds!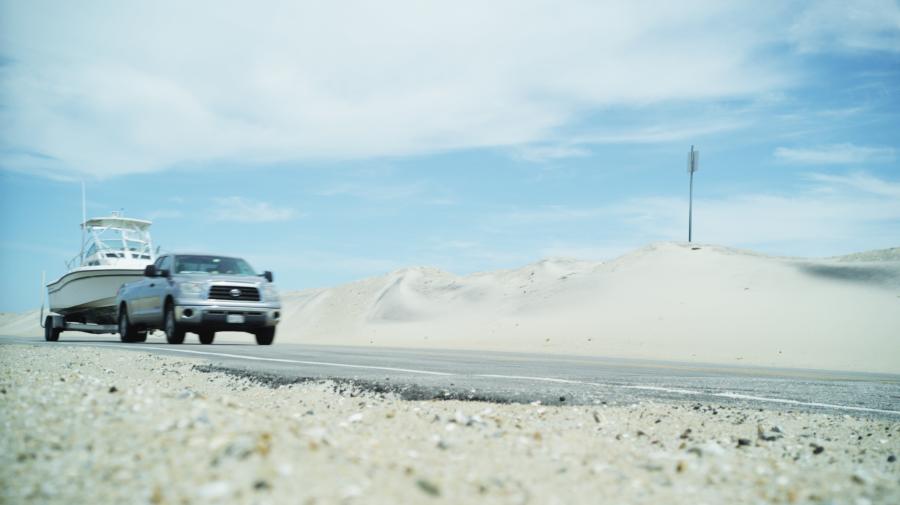 Explore Our National Parks Thoughtfully & Safely
We are fortunate to have three unique national parks that help us preserve the history, culture and environment of the Outer Banks. Whether you are planning to visit our national parks for the first time or are a regular visitor, we encourage you to explore our national parks thoughtfully and safely. Practice the principles of
#RecreateResponsibly
:
Know before you go. Check the status of the place you want to visit for closures, fire restrictions and weather conditions.

Plan and prepare. Reservations and permits may be required. Make sure you have the gear you need and a back-up plan.

Build an inclusive outdoors. Be an active part of making the outdoors safe and welcoming for all identities and abilities.

Respect others. There is space for everyone and countless outdoor activities. Be kind to all who use the outdoors and nature differently.

Leave no trace. Respect the land, water, wildlife and Native communities. Follow the seven Leave No Trace principles.

Make it better. We all have a responsibility to sustain the places we love.
Sand Dunes and Sea Oats:
We ask that you are mindful of the beautiful sand dunes and sea oats you see along Cape Hatteras National Seashore, as they preserve the coastline and help protect our local community from ocean overwash. Please refrain from walking on the dunes and/or uprooting the sea oats. (If you want to experience the largest climbable sand dune in the Outer Banks, visit our friends at
Jockey's Ridge State Park
!)
Beach Equipment:
Consider renting beach equipment such as chairs, umbrellas, tents, canopies and boogie boards, surfboards or kiteboards from our friends at
Ocean Atlantic Rentals
or
REAL Watersports
rather than buying and then discarding them later. Unfortunately, much beach equipment is left behind each year, creating an environmental burden, as well as a burden on our national park staff. If you do choose to purchase your own beach equipment and decide not to take it home, you can donate it to one of our local Outer Banks thrift stores. Additionally, opt for reusable food and beverage containers whenever possible.
Wildlife: Admire all wildlife from a safe distance, and do not feed wildlife. If you come across injured, sick, distressed or deceased wildlife, please call the Cape Hatteras National Seashore Stranding Hotline at (252) 216-6892. Do not attempt to assist or move the wildlife. Leave that to the professionals!
For more accessibility and safety information, visit: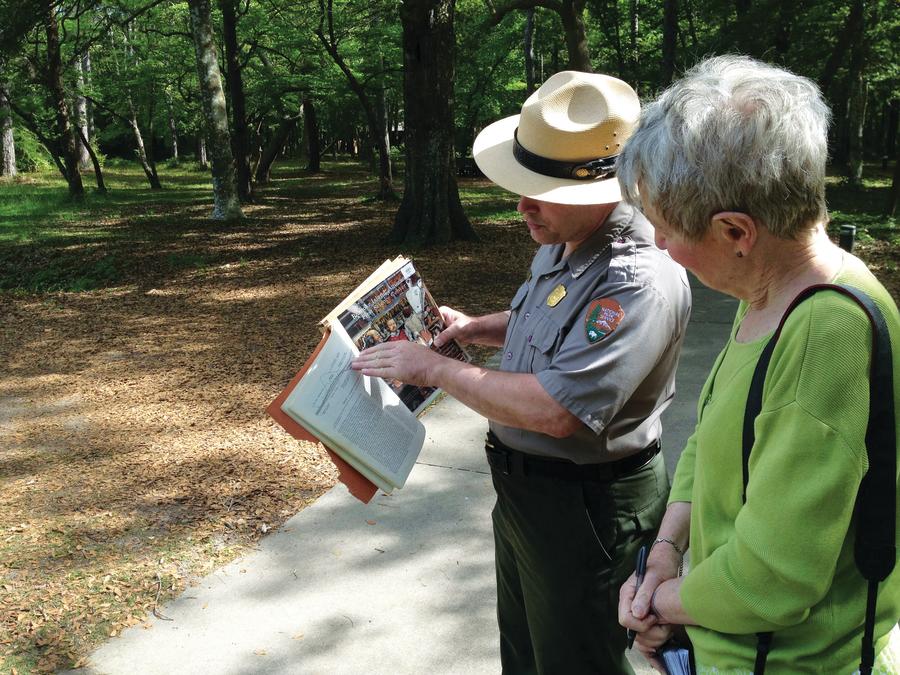 Say "Thank You!"
Our national parks experienced record-breaking visitation in 2021: Nearly 4 million people spent time at Cape Hatteras National Seashore, Fort Raleigh National Historic Site and Wright Brothers National Memorial! Our national park staff and volunteers work diligently to provide you with the margin of excellence you have come to expect while visiting our national parks. They also partner with the following organizations to provide a safe and welcoming experience in our parks:
We encourage you to thank our national park staff, volunteers and partners for helping to protect our parks and park visitors every day!