At last! It is finally time to begin planning the wedding of your dreams on none other than the beautiful Outer Banks of North Carolina! Where do you even begin? 
As you embark on the search for the perfect vendors, it might seem like there is a never-ending list that lies ahead. Maybe you've already made some of the major decisions but need help finalizing the smaller details. During any stage of the wedding planning process, look to our local Outer Banks wedding vendors and professionals located right where you plan to tie the knot.
Outer Banks Wedding Association is proud to host two annual wedding planning expos, the OBX Wedding Fest in late August and the Outer Banks Wedding Weekend in early March. The expos give engaged couples the opportunity to meet with vendors face-to-face and oftentimes save money by taking advantage of expo booking discounts or winning giveaways!
The Outer Banks is composed of more than 100 miles of barrier islands Being such a large stretch of land, it can be hard to choose the right place that fits your needs and each town has different rules and regulations when it comes to getting married on the beach. Before we get into the different permits and regulations for each town, here are some tips to make your planning process a little (or a lot) bit easier.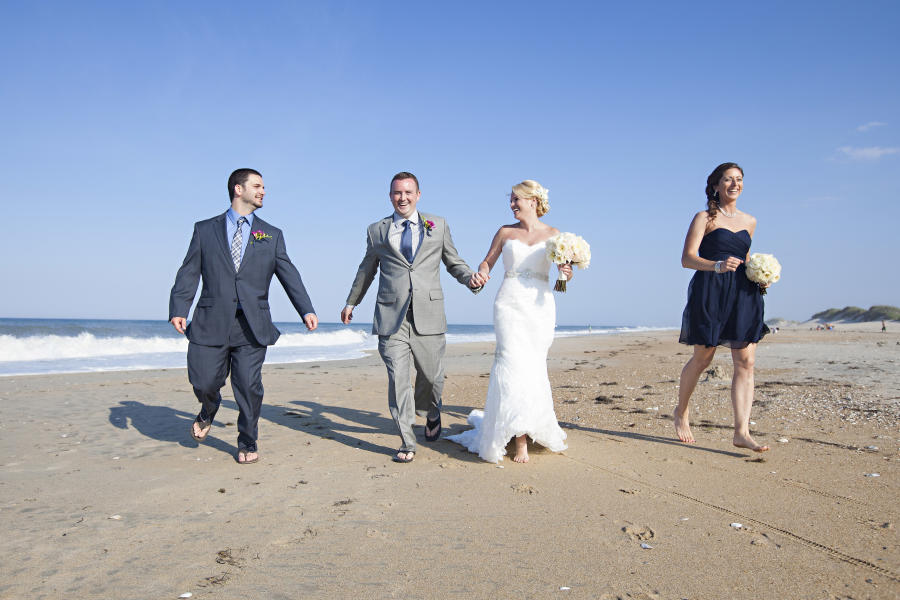 HIRE A PLANNER OR COORDINATOR
By hiring a planner or coordinator, they are already well-versed in what is needed for an Outer Banks wedding, no matter where it is. They will also be able to help obtain the proper permits, coordinate with other vendors and to stay on budget. 
EXPLORE
Since there is so much to see and do on the Outer Banks, it is definitely vital that you are familiar with the area to be sure that you love where you get married! A lot of couples that get married here have been vacationing here for years, but others may not be so lucky. A wonderful opportunity to browse our things to do page and OBX Bucket List.
HIRE AN OFFICIANT
Officiants are great when it comes down to the nitty gritty of actually being LEGALLY married. After you submit your marriage license application, you then have 60 days in the State of North Carolina to get married and sign your Marriage Certificate. An officiant will take care of submitting the signed certificate for you so it is one less thing to worry about after your special day. 
CONSULT YOUR RENTAL AGENCY
If you are planning an event home wedding, be sure to consult them regarding any policies they already have in place. Most require different event insurance fees so it is always helpful to check beforehand!
OBTAINING A MARRIAGE LICENSE
Some couples may choose to be legally married in their home state but still have their wedding ceremony and reception on the Outer Banks. That is totally okay and may even be easier for the couple! If that isn't the route for you, the process of obtaining a marriage license in North Carolina is pretty easy. 
First of all, you do NOT have to be a resident of NC to obtain a marriage license here. You can actually submit your application for a marriage license in any North Carolina county, or in some cases, even online. The entire process takes about 30 minutes and there is a $60 fee. Once issued, the license is good for 60 days. You can obtain your license at either the Dare or Currituck County Register of Deeds, or the Hyde County Courthouse. Remember to bring a Photo I.D., Social Security Card or W2, and a Birth Certificate if under the age of 21. You are required to return the marriage license to the issuing county within 10 days after the marriage ceremony. Information for obtaining marriage licenses by county is below:
Currituck County Register of Deeds

(252) 232-3297
Monday-Friday; 8 a.m. – 4:30 p.m. (excluding holidays)
2801 Caratoke Highway, Suite 300, Currituck, NC 27929
Accepts cash, check or money order made payable to Currituck County Register of Deeds
If you plan to be married by the magistrate after obtaining a license, please call (252) 232-6219
Dare County Register of Deeds

(252) 475-5970
Monday-Friday; 8 a.m. – 4:30 p.m. (excluding holidays)
962 Marshall C Collins Dr, Manteo, NC 27954
Accepts credit, debit, cash, check or money order made payable to the Dare County Register of Deeds. 
Hyde County Courthouse

(252) 926-4182
Monday-Friday; 8:30 a.m. – 5 p.m. (excluding holidays)
30 Oyster Creek Road, Swan Quarter, NC 27885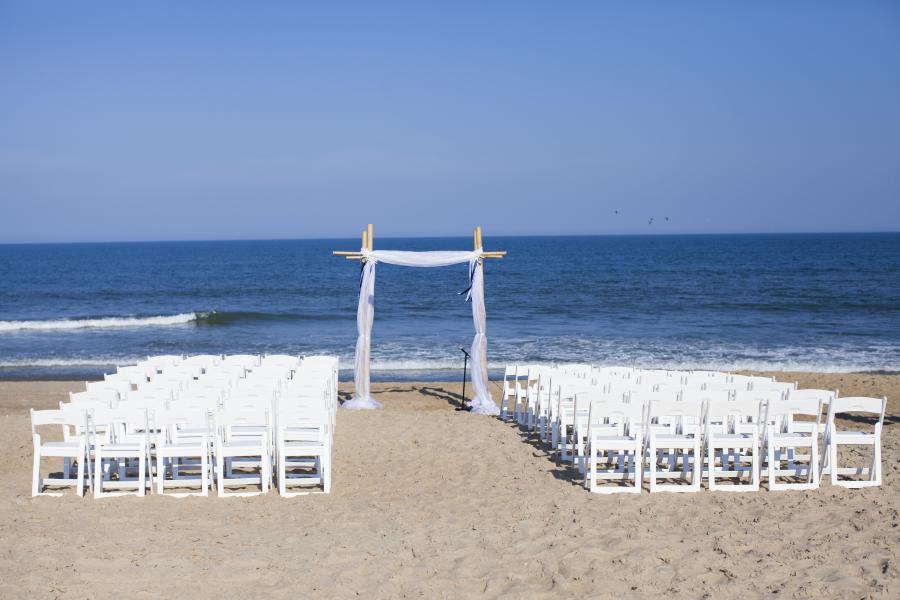 PERMITS & REGULATIONS BY TOWN
So, you're engaged. Or maybe you're just planning your dream wedding while bored during quarantine. We all do it! The Outer Banks is such an insanely beautiful place with so much to offer. Each town here has its own something special which is why people keep coming back year after year. Whether you prefer the ocean or the sound, a private event home or an all-inclusive venue, a large party or an intimate gathering with your closest friends and family, you are sure to find what you're looking for here on the Outer Banks. 
*It is advised to contact the town in which your event will take place for any additional permits or restrictions.
Duck is located right in between Corolla and Southern Shores and is home to a variety of walkable restaurants and businesses. It is also home to the Sanderling Resort, which is the only full-service resort on the Outer Banks. The town does not own or maintain any public beach access locations and does not allow parking along state roads. Most neighborhoods have a private community beach access.
No beach wedding permit is required for events with 49 or fewer guests. If you have more than 49 guests, you are required to register your event with the Town of Duck 30 days prior to the event. 
Contact the Town of Duck at (252) 255-1234 or Visit their Website. 
The 4-square miles of Southern Shores has the small town charm of Corolla and Duck but with close access to Highway 158 and main Outer Banks attractions and stores. The town does not have public parking, but is walkable for many vacation homes.
There is no permit needed for a beach wedding, but there is a Special Events Encroachment Permit if there will be overflow parking at your event home. 
Tent permits are required if: 

The tent is greater than 400 square feet and has sides
The tent is greater than 700 square feet without sides

Contact the Town of Southern Shores at (252) 261-2394 or Visit their Website. 
Kitty Hawk is home to many geographical features from Kitty Hawk Woods, Kitty Hawk Village and the picturesque beaches. The views are beautiful from the sound to the sea and the amount of things to do are endless! 
A $50 Outdoor Gathering Permit is required for events of 50 or more people. 
There is an additional $25 fee for Fire Inspections of tents over 200 square feet. 
Contact the Town of Kitty Hawk at (252) 261-3552 or Visit their Website. 
Whether you want to go for a bike ride down Bay Drive or walk along the beach, Kill Devil Hills has been a tourist favorite for generations. With numerous beach access points and parking, Avalon Pier and the Wright Brothers National Museum and Monument, there is always something to do! 
There are no tents or canopies permitted on the beach in Kill Devil Hills. 
You may set up a tent or canopy at a rental home. To do this, you need a building permit (no fee) from the Fire Marshal. Contact them at (252) 480-4060.
Contact the Town of Kill Devil Hills at (252) 449-5300 or Visit their Website. 
One of the more popular Outer Banks destinations, Nags Head is classically outer banks. Relax on the beach or visit one of the many attractions Nags Head has to offer, Jockey's Ridge State Park being one of the most popular. 
There are no permits required for a beach wedding. 
40 chairs maximum. 
Tents and canopies are only permitted on private property.

If greater than 400 square feet, inspection is required by Nags Head Fire & Rescue. Contact them at (252) 441-5909

Contact the Town of Nags Head at (252) 441-5508 or Visit their Website. 
The historical charm of Manteo will have you drawn in from the moment you arrive! With a sound front downtown, you're surrounded by water and three public options for your wedding: The Roanoke Marshes Lighthouse & Pier, The Waterfront Gazebo and George Washington Creef Memorial Park. 
You will need to submit an application to reserve a space at one of the three locations. Each is available twice a day (4 p.m. – 6 p.m. or 6:30 p.m. – 8:30 p.m.) 
Contact the Town of Manteo at (252) 473-2133 or Visit their Website. 
Cape Hatteras National Seashore
Cape Hatteras National Seashore includes Outer Banks beaches South of Nags Head on Bodie Island, Hatteras Island and Ocracoke Island. It also includes Bodie Island Lighthouse, Cape Hatteras Lighthouse and Ocracoke Island Lighthouse. Beach areas in front of hotels, houses and businesses on Hatteras Island (Rodanthe, Waves, Salvo, Avon, Buxton, Hatteras & Frisco) are all part of Cape Hatteras National Seashore. 
While secluded, there are restrictions due to the fact that it is a National Park. A special use permit is required for all ceremonies and vow renewals. Weddings are permitted on the grounds of the lighthouses between the third Friday in April through Columbus Day. Weddings must occur before 9 a.m. or after 5 p.m. It is important to plan a wedding that has adequate parking for guests. Decor like flowers, garlands, gazebos, rice and birdseed are prohibited. 
Small & simple weddings

Up to 49 Participants
Limited amount of chairs for elderly and disabled
Monitoring is typically not required
$100 Permit Fee

Large weddings & weddings with chairs

Formal chairs and other equipment
50+ participants

Cape Hatteras National Seashore may choose to monitor the event. Fees are $55/hour per Park Ranger.
$200 Permit Fee
Chair set-up is prohibited around lighthouses, sound side beaches, lifeguarded beaches and off road vehicle routes.
Visit the Cape Hatteras National Seashore Website to complete an application and for more Information. Contact the Special Parks Uses Coordinator at (252) 475-9034.
Corolla & Carova 4×4
Located just below Virginia, Carova and Corolla are the northernmost beaches on the Outer Banks. Carova is more commonly referred to as 4-wheel drive beach as you do need it to access the secluded beaches. Corolla is known for it's roaming wild horses, boutique charm and the TRAFFIC! A key thing to keep in mind when planning a weekend wedding during peak season is that there is only one way (as of now) to get there, which is often congested by vacationers coming and going. If you are planning on getting married here, be sure to inform guests who aren't staying in the area that they will need ample time to arrive. 
No beach wedding permit is needed for weddings with under 100 participants.
Tents on private property that are over 400 square feet require a $50 permit.
Tents or canopies over 200 square feet require inspection by a fire marshal. 
Contact the Visitors Center at (252) 453-9612 or Visit the Currituck County Website.