Here's a list of our top "socially distanced" things to do on the Outer Banks.
Hiking the maritime forests
Some of the best hiking can be found at Nags Head Woods Ecological Preserve. Hiking trails are open from dawn to dusk year-round and offer great views of sand dunes, ponds, marshes and history. The Roanoke Trail is a local favorite consisting of a short 1.5 mile round trip. This trail leads you through the woods, past the old Tillett homestead, to the sound. Just before arriving there, you'll find a wooden walkway with benches — a convenient resting place to sit and watch wildlife or the afternoon sunset over the reeds. This trail is dog- and kid-friendly too. Don't miss Buxton Woods and Kitty Hawk Woods as well.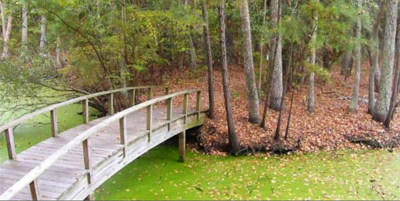 The OBX is perfect for shelling and beach combing. The best time is after a high tide, a storm, in the morning or during the winter months. There is a common "affliction" for those who wander the shores of the Outer Banks. It starts innocently enough, with that first tilt of your head down at the sand below. You are looking for treasure! Although we'd all like to get our hands on a gold doubloon, anything will do. Whether it's an actual piece of sea glass, an intact whelk shell, or even a pretty rock, anything qualifies to beachcombers. Eventually, though, you'll find your first piece of treasure and, in an instant, it will become your mission to find more.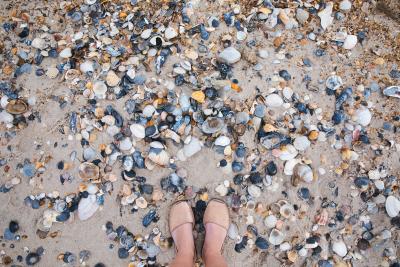 This nighttime activity is a family favorite. Once the sun goes down the real fun starts. Grab a flashlight, head to the beach. Watch the sand as the ghost crabs scurry away from your light. One of many items on our OBX Bucket List.
Adventure — and the sun. This is where North Carolina sees her first sunrises every morning and her grandest sunsets every evening. Here's where to catch the colorful action just above the waves — and where to make some waves of your own. Explore the over 100-mile shoreline to find a slice of heaven all to yourself without the worry of being overcrowded.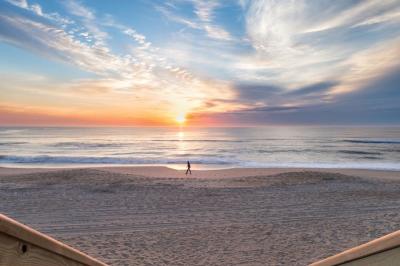 The Outer Banks National Scenic Byway traverses one of the nation's great wild and scenic coastal landscapes encompassing the unique maritime culture of 21 coastal villages. The U.S. Department of Transportation found the traditional maritime culture along the Byway worthy of the National Byway designation in October 2009. The Outer Banks National Scenic Byway is one of only 150 nationally designated byways. The Byway follows the North Carolina coastline as it juts east into the Atlantic Ocean. The Byway stretches over 138 driving miles and 25 ferry-riding miles along barrier islands, Pamlico Sound and two inlets and through coastal villages.

Cape Hatteras National Seashore or Wright Brother's National Memorial Pylon
Stay in the comfort of your own car and drive around Cape Hatteras National Seashore with views of the Cape Hatteras Lighthouse, Pea Island Wildlife Refuge, Coquina Beach and much more. Enter into another National Park Service site and drive around the pylon atop "Big Kill Devil Hill" at the Wright Brothers National Memorial. You can drive your car along the road that circles the hill and parking is located next to the picnic area beside First Flight Airport with public restrooms.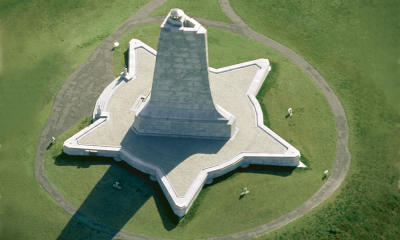 Make your clubs sing in the sun at one of North Carolina's finest year-round public courses. Gentle ocean breezes and the snap of salt air remind you that you're playing your favorite game on an island sandbar, far from the usual greens. You'll find courses complex enough to challenge more experienced players, but inviting enough to try for the first time. Nags Head, Sea Scape or Duck Woods are all premiere golf destinations. 
For disc golf, check out the newer Casey R. Logan Disc Golf Course in Kill Devil Hills.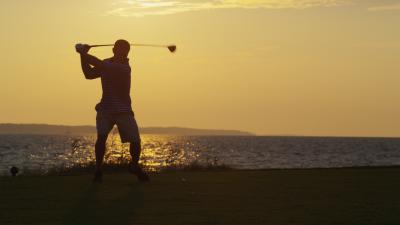 For the surf caster, there are more than 100 miles of accessible beach. Take your 4x4 vehicle for an even more remote experience.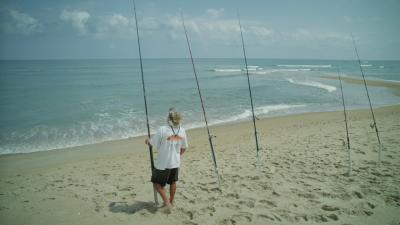 There's just as much sound, bay and estuary water as there is ocean beach on the OBX, making for a maze of salt marsh and open shallows that beckon paddlers. There are guided tours, specialty shops and outfitters, and plenty of public water access for kayaks and canoes on both sides of the barrier islands. Ride Atlantic Ocean waves or slip into serenity on the Pamlico or Roanoke Sounds.
The Outer Banks is shaped by wind and water, so why not take advantage of the magical winds. That can mean grabbing a handheld kite from a local retailer or cruising down south to Hatteras Island and taking a kiteboarding lesson along the famous S-turn or Canadian Hole.
Jockey's Ridge State Park  is known for having the tallest sand dunes on the east coast. What most folks don't know is that this state park also has hiking trails. These paths lead through the dunes, opening up to the sound, with markers and info panels along the way describing the unique ecosystem. Jockey's Ridge is going to be doing rigorous regular cleanings of the bathrooms and heavy touch surfaces at their visitor center. The outdoor bathroom doors will be left open when appropriate to ensure maximum ventilation. They may reduce the number of people allowed into the visitor center at any given time to allow for safe density. Adjacent to Jockey's Ridge is the newly completed boardwalk at the Soundside Road sound beach access. There are 22 actual parking spots, with another 10 or so on average available on the west side of the entrance road leading off Soundside Road into the parking lot.
Walk the NEW NC State Natural Area, Run Hill. It is operated as a satellite of Jockey's Ridge State Park, and monitored by Jockey's Ridge staff. It's about 110 acres. People often park at First Flight Middle School or near the field house just before the disc golf parking.