We love summer. You love summer. But ask just about any local, and they'll tell you that fall is the best time of year on the Outer Banks. Fewer people, pleasant water and air temps. The skies lose their summer haze, and somehow, reveal even more stars. Primetime for fishing, birding, surfing, 4x4 beach driving, and just being. Below are five new passions for you to unlock and explore deeper this upcoming fall on the OBX.
1. Fishing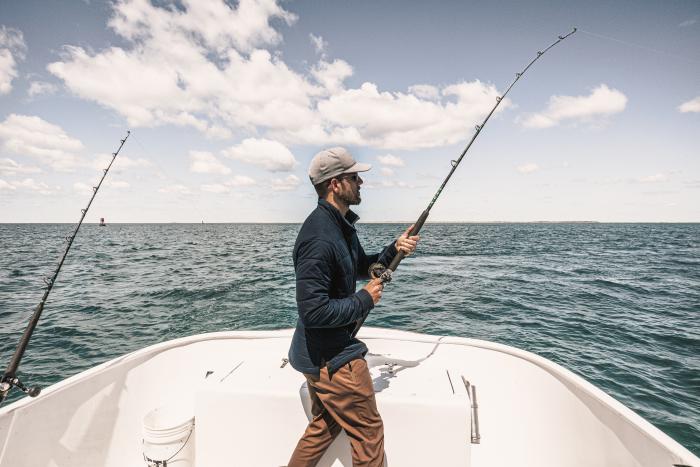 The Outer Banks of North Carolina is a sport fisherman's paradise. The sheer quantity of angling opportunities makes our waters some of the best in the world. So where do you get started? First, decide which type of fishing you'd like to try. Brackish water fishing on the Croatan, Roanoke, and Pamlico Sounds can be very rewarding. Fly fishing has become a popular way to take advantage of the area's rich and bountiful waters. Surf and pier fishing season begins in March and peaks in May and November. We offer more than 100 miles of accessible, pristine shoreline for surfcasting and several piers between Kill Devil Hills to Hatteras to cast a line. Sound and head boat fishing are other great ways to fish from your own boat, or a chartered vessel, expect to catch a variety of fish including spot, flounder, Spanish mackerel and cobia. Let the local experts show you around by booking an offshore or inshore fishing charter here.
A Coastal Recreational Fishing License is required to fish on the Outer Banks. Children under 16 are exempt. An individual does not need a license for charter boat and pier fishing, which are covered by a blanket license. Anglers should know the current marine fisheries regulations, including size and creel limits. For details about the citation program and/or current marine fisheries regulations, visit any Outer Banks bait and tackle shop or pier or call the North Carolina Division of Marine Fisheries at 800-682-2632 (North Carolina only), 252-808-8081 or visit Division of Marine Fisheries website.
Find a full list of what's biting when, live webcams, fishing blog posts & more on our Fishing Page. 
2. Birding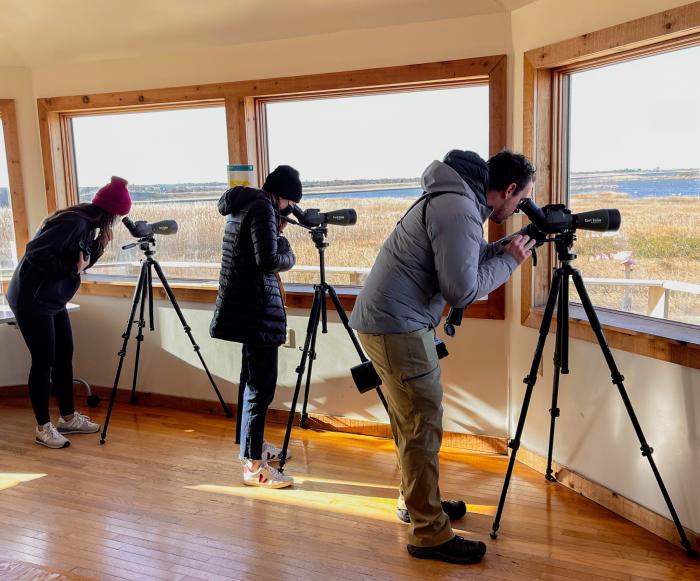 Birds...the original aviators that inspired Orville and Wilbur Wright. The Outer Banks is a haven for nearly 400 species of birds and a sort of heaven for those who enjoy observing them. The Outer Banks of North Carolina is known world-wide for having the best birding opportunities on the East Coast of North America. "Birding the Banks" offers more than just spotting birds as a diversion and adding to one's life list.
The Outer Banks is in the Atlantic Flyway, the major north-south flyway for migrating birds headed from northern locales of Canada, the Arctic and Greenland to South America and even Antarctica.The busiest portion of the flyway covers very little landmass, thus most of it is over or close to water including the Atlantic Ocean and the Gulf of Mexico, however the Outer Banks welcome hundreds of species each migration.
The strip of sand that runs along NC 12 between Oregon Inlet and the village of Rodanthe on Hatteras Island is known as Pea Island National Wildlife Refuge, a U.S. Department of Interior sanctuary that is a favorite among birders visiting the Outer Banks.Bordered on the east by the ocean and the west by Pamlico Sound, Pea Island National Wildlife Refuge spans the 13 northernmost miles of Hatteras Island, despite the name, and runs parallel to Cape Hatteras National Seashore for that length. The wildlife preserve provides critical habitat for a variety of different types of beach-nesting birds, especially in the summer months.
Don't miss one of our biggest birding events, Wings Over Water Wildlife Festival. Wings Over Water Wildlife Festival is one of the premier wildlife festivals in the United States. It is comprised of dozens of birding, paddling, photography, art and natural history trips, tours and programs. Participants come from all over America and the world to enjoy the beautiful scenery and amazing wildlife. The December Wings Over Water Encore is the portion of Wings Over Water held later, often in colder weather. It was instituted especially for birders and photographers, hoping for a better possibility of seeing large flocks of migratory birds and waterfowl.
Find more birding inspired content below:
3. Surfing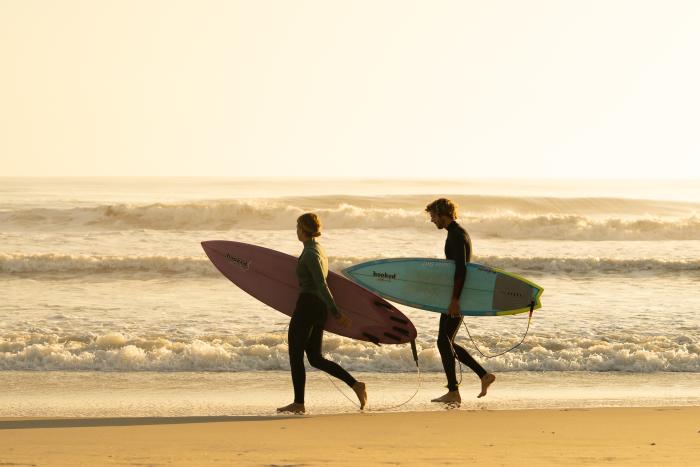 These barrier islands are made up of 409 square miles of water. This makes the area perfect for a variety of water activities including surfing. The Outer Banks of North Carolina have the largest waves on the East Coast of the United States, a reputation known well by surfers the world over. Cape Hatteras is synonymous with big swells and the place on the East Coast to test your mettle and finesse on the water. The unbridled nature of the barrier islands of North Carolina make the Outer Banks the perfect playground for surfers and those who love them. There's no shortage of places to see and be seen when chasing wave action. Even those who don't surf, and just want to watch will be in awe of the power of the sea and the skill of the people who harness it. Bring a board or a camera and come on!
The same geologic and meteorological forces that shaped the dynamic barrier islands tens of thousands of years ago are still at work, twisting and torquing the shoreline.  Bowing way out into the Atlantic Ocean as the Outer Banks do, waves can come from any number of directions with little reduction in energy.  That means huge surf that looks like it was carved from glass can shape into a great weekend of surfing for you at short notice, and that's why surfers from all across America race here each season.
Men and women from Miami to Toronto make the summer, fall, winter and spring migrations to local hotspots like the "S-Turns" on Highway 12 in Rodanthe, or Cape Hatteras and a few lesser known public accesses in Kitty Hawk and Kill Devil Hills where the carving can be just as sweet. Combine an offshore wind with double-overhead conditions, or glassy spitting barrels and you have all the makings of a magazine cover. The word is getting out. We've got contests big and small, some pro, some under-the-radar. 
Our live webcams can help uncover surf breaks down our coastline. We've got a full list of rentals, lessons, and surf shops that can get you dialed in to hang 10.
4. ORV Beach Driving

If you have 4x4, then we have plenty of places without roads to explore, namely miles of untamed beaches. Explore the Seashore's ocean beaches and soundside waters in an off-road vehicle. Beach driving is allowed seasonally on Hatteras Island, Nags Head, and Kill Devil Hills.
To provide for both visitor enjoyment and the protection of park resources, please observe the following regulations and recommendations when using ORVs at the Cape Hatteras National Seashore and northern beach sections of Nags Head and Kill Devil Hills:
Vehicles must have an ORV permit. To drive within the Cape Hatteras National Seashore permits must be obtained at Hatteras Islands' three National Park Service ranger stations. Northern beach driving permits can be picked up at the local town halls or at area tackle shops in Nags Head and Kill Devil Hills. Driving times are thirty minutes prior to sunrise through thirty minutes after sunset daily. 

Night Driving: During the 

sea turtle nesting season

on Hatteras Island, from May 1 to November 15, driving on the Seashore's beaches is prohibited from 9 p.m. to 7 a.m. Some portions of designated ORV routes may reopen to night driving on September 15 if there are no turtle nests in the area.  Contact the park or check the website for permit information. November 16 to April 30 night driving is allowed.

Vehicle must be licensed and registered for highway use. Motorcycles, all-terrain vehicles (ATV's), and utility vehicles (UTV's) are prohibited.

A current driver's license, valid vehicle registration, insurance and license plates are required for all vehicles.

Proceed with due caution and consideration for other beach users. Pedestrians always have the right of way.

Drive slowly and be alert for people lying, standing or walking on the beach.

Use of a Four Wheel Drive (4WD) vehicle to drive on the beach is highly recommended and lower the pressure on all tires, generally 15-25 lbs.

When possible, drive on the portion of the beach located just below the high tide mark. Avoid getting too close to the water. 

Drive at a slow and steady speed. Speed limited on park beaches is 15 mph, unless otherwise posted. If the tires start to spin, back up in your tire tracks for several car lengths and accelerate slowly as you move forward. Additional tire deflation may be necessary.
View our Full Guide to Beach Driving on the OBX. 
5. Night Skies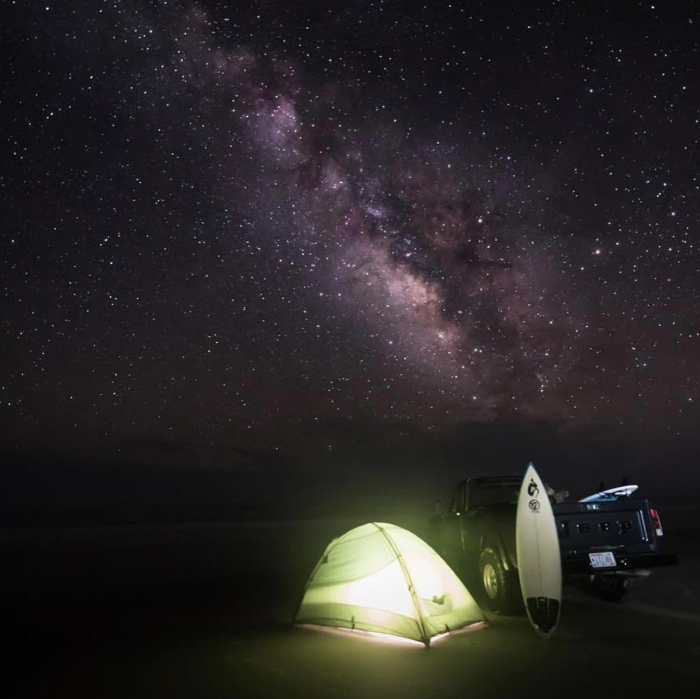 Humans love change and there is no transformation more beautiful than the colors of the Outer Banks in the fall months. While the reds and yellow remain during sunrises and sunsets, blues and whites blanket the night sky. Unrefined, intensely clear nights create a pristine environment for stargazing. Many folks will not get to experience this starry sky beauty anywhere else other than the Outer Banks. Later in the year, up to seven planets are visible along with many constellations. Research the best apps to help you find the names and locations of each. 
Ghost crab hunting, night lighthouse climbing, or evening beach fires are the perfect pregame to a night of star gazing. Grab a flashlight, blanket, and celebrate the dark skies and tapestry of the Milky Way unblemished by big city lights.