Migrating birds were the Outer Banks' original tourists. Located along the Atlantic Flyway, the barrier islands represent an ideal environment for migrating waterfowl, shorebirds, and songbirds. You don't need to be an experienced birder to enjoy these visiting feathered friends. From Duck to Buxton, miles of opportunities exist for winter birding experiences. You may also spot some unexpected wildlife!
Boardwalk Stroll
Ease into spotting waterfowl directly from Town Park and Duck Boardwalk. Over 11 acres of trails wind through the maritime forest adjacent to the Currituck Sound. The 1-mile boardwalk is a great way to experience the charming town of Duck. We spotted Bufflehead Ducks, Canadian Geese, and Great Blue Herons on our winter walk.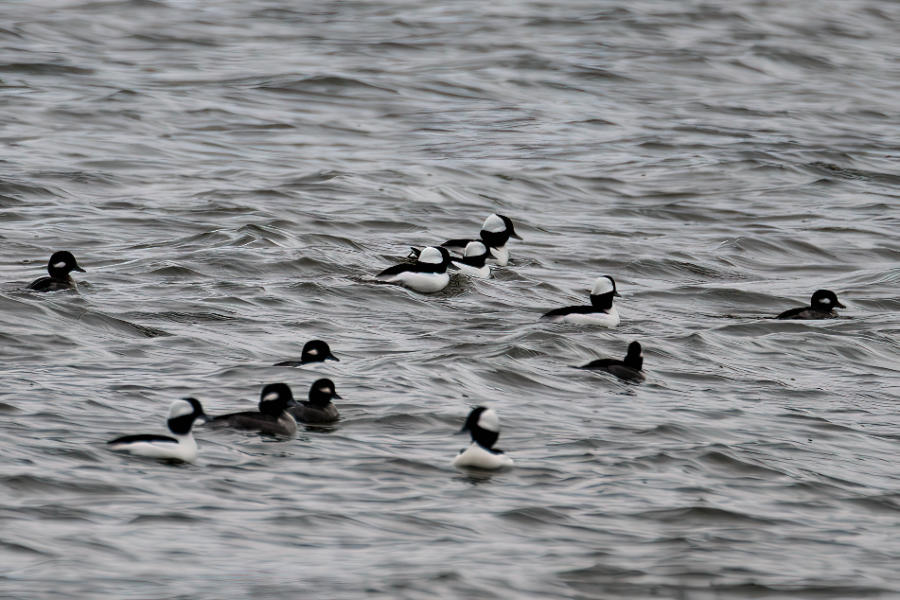 Another fun boardwalk feature is the local shops and restaurants. We discovered one-of-a-kind art featuring beach scenes, wildlife photos, and more at SeaDragon & Yellowhouse Gallery. The owner and artist, Eve Turek, is more than happy to share her Outer Banks knowledge.
For more OBX history, stop into Duck's Cottage Coffee and Books to peruse fiction and non-fiction books on the region's lore. We topped off the visit with a warm hot chocolate. As we sipped our cocoa in the courtyard outside, songbirds flittered around. The Carolina wrens were quite used to coffee house visitors as they hopped towards us for a snack.
Pea Island National Wildlife Refuge
No wintertime trip would be complete without a stop at Pea Island National Wildlife Refuge. During one day, we spotted over 36 species. Bird watching here requires little effort as many birds feed near the roadside. Our pre-dawn drive down Route 12 yielded Snow Geese, Northern Pintails, and Gadwall Ducks basking in the morning light. Tundra Swans and White Pelicans landed in the distance.
Be sure to stop at the Visitor Center for educational exhibits and chat with knowledgeable volunteers. In addition, the center has spotting scopes ideal for taking a closer look. We were lucky and spotted the Eurasian Widgeon, which usually winters on the West Coast.
Several grassy trails run from the Visitor Center. The North Pond Wildlife Trail, which also is wheelchair accessible, leads to an elevated observation deck overlooking the untamed beauty. A Peregrine Falcon graced us with his presence as we made our way to the back of the pond.
Alligator River National Wildlife Refuge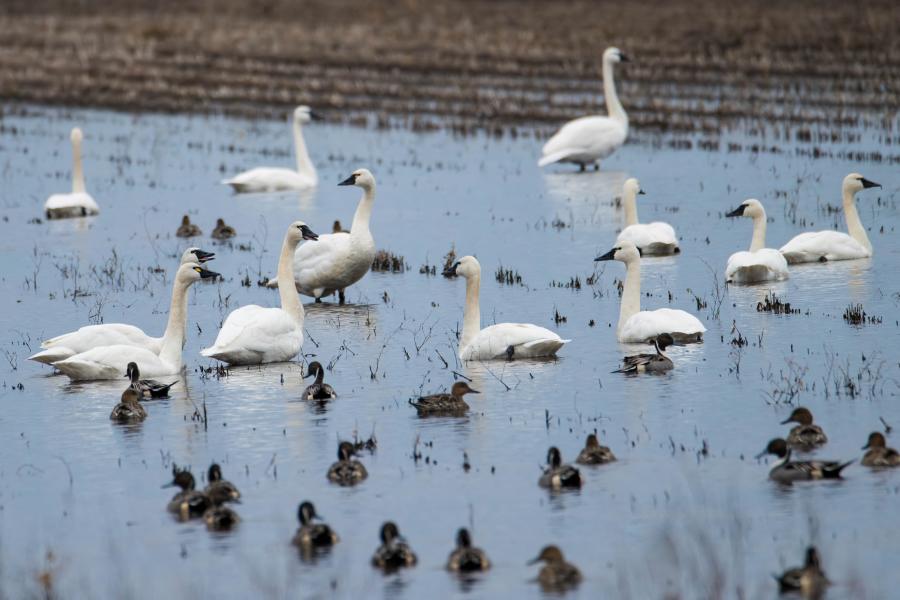 Just a ten-minute drive from Nags Head, Alligator River National Wildlife Refuge provides habitat and protection for endangered species such as red wolves, Red-cockaded Woodpeckers, and American alligators. You can see alligators here, but we were looking for black bears.
We got up early and headed to Wildlife Drive with our guide, Mark Buckler. Be prepared to get a little muddy on the refuge dirt roads. Mark explained that North Carolina black bears do not hibernate due to abundant food resources. However, the bears become less active in the winter. We noticed two bears grazing as we pulled up next to a cornfield. I was amused as one bear plopped down onto his belly to eat. Mark said he has seen as many as 37 bears at one time in these fields.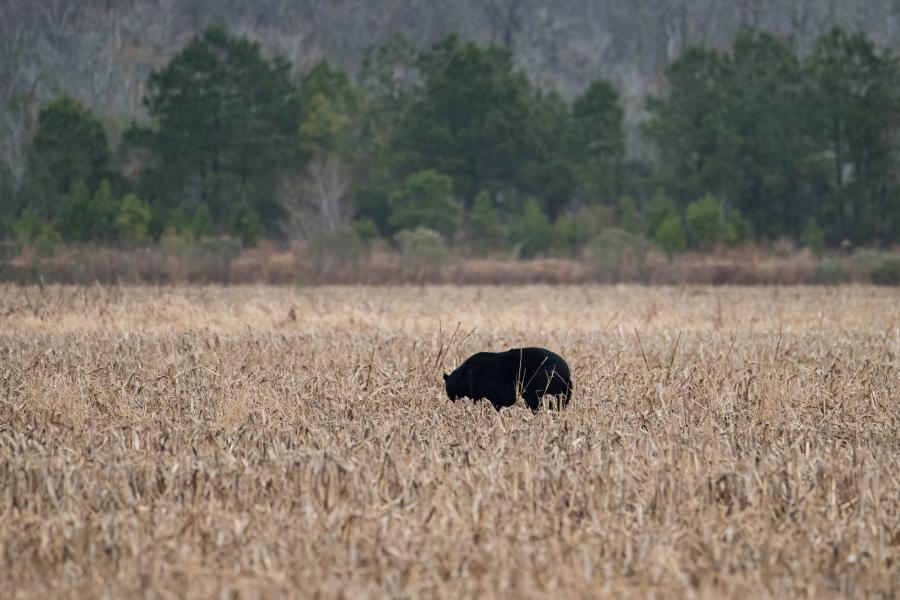 A few of the fields are flooded in winter for migrating birds. We enjoyed Tundra Swans causing a ruckus while Northern Pintail Ducks paddled around. Redwing Blackbirds and an American Orchestral floated in and out of the fields. A Red-tail Hawk tucked in a tree secretly eyed the area. You can also see other birds of prey, such as owls and eagles.
Untamed Nature
The Southern-most portions of Cape Hatteras Island feel like the original Outer Banks where unspoiled nature abounds. We sampled the wilderness on a ¾-mile self-guided trail in Buxton Woods. The trailhead is nearby Cape Hatteras Lighthouse, which has its unique history.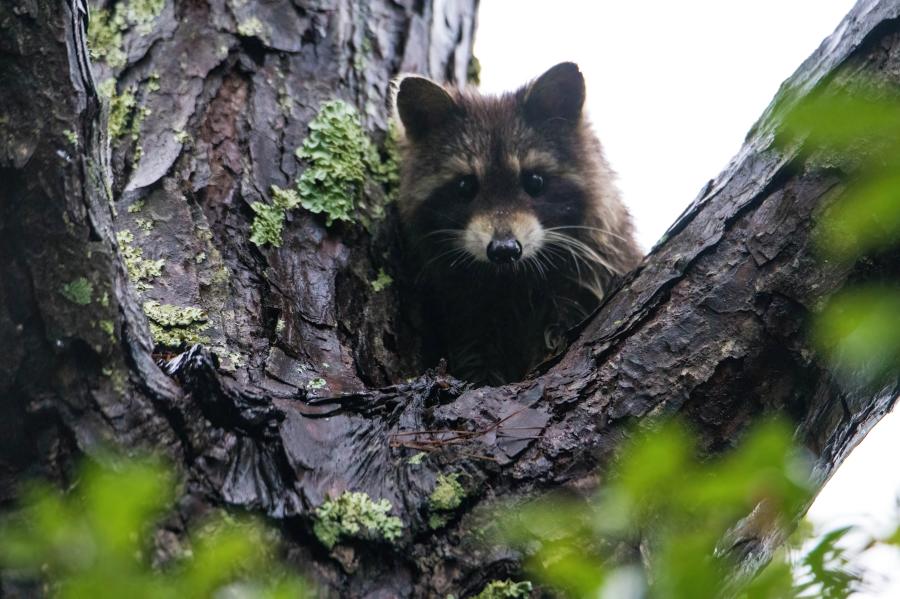 A woodsy canopy covers the winding trail. There is a mix of plant life, marshes, and ponds. While we didn't spot significant birds, we did have the pleasure of a staring contest with a young raccoon. Deer, river otters, and red tail foxes are also known to frequent this maritime forest.
Bird Inspiration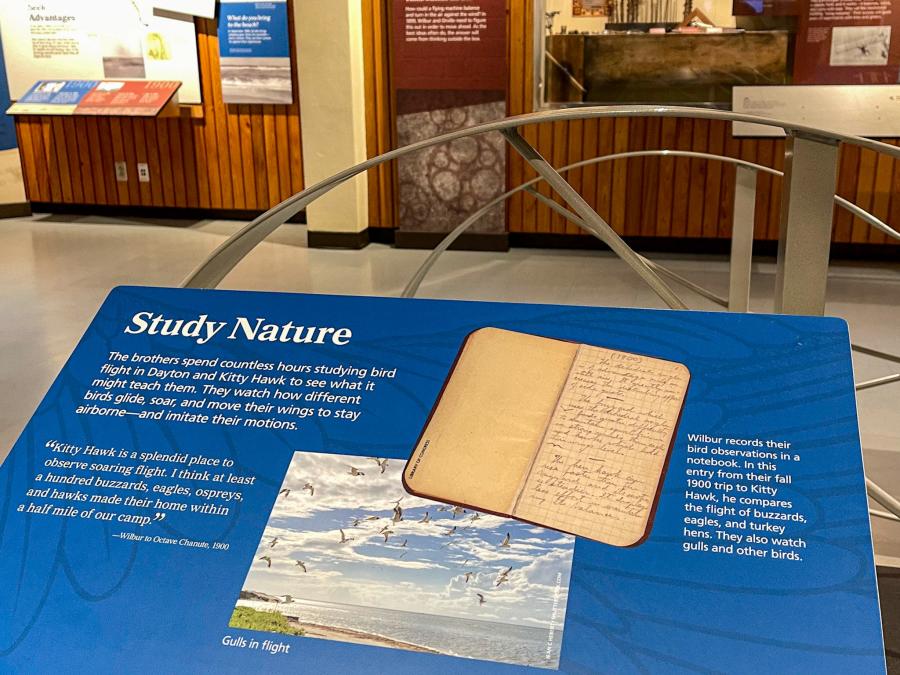 Did you know that Wright Brothers' wing-warping design was based on birds? The Wright Brothers chose Kitty Hawk for their first flight thanks to abundant wind and sand for soft landings. For a complete informative flight experience, a visit to the Wright Brothers National Memorial is necessary.
Bring home wildlife memories with wooden shorebirds and decoys. The Bird Store and Seaside Art Gallery are Outer Banks treasures. In addition to a gallery of antique decoys, the Bird Store boasts a fun collection of wildlife prints, carved waterfowl, and decorative tiles.
The Seaside Art Gallery celebrated sixty years of award-winning art in 2021. The Society of Animal Artists has recognized a number of the artists featured here. Melanie Smith, a second-generation owner, will happily show you her magnificent collection of watercolors, etchings, and miniature wildlife art.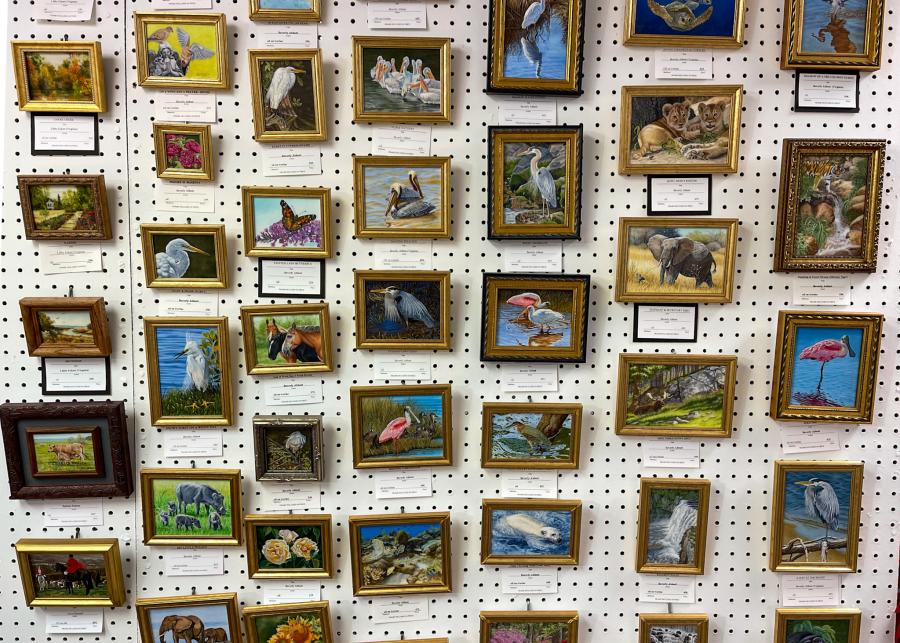 Ocean Birding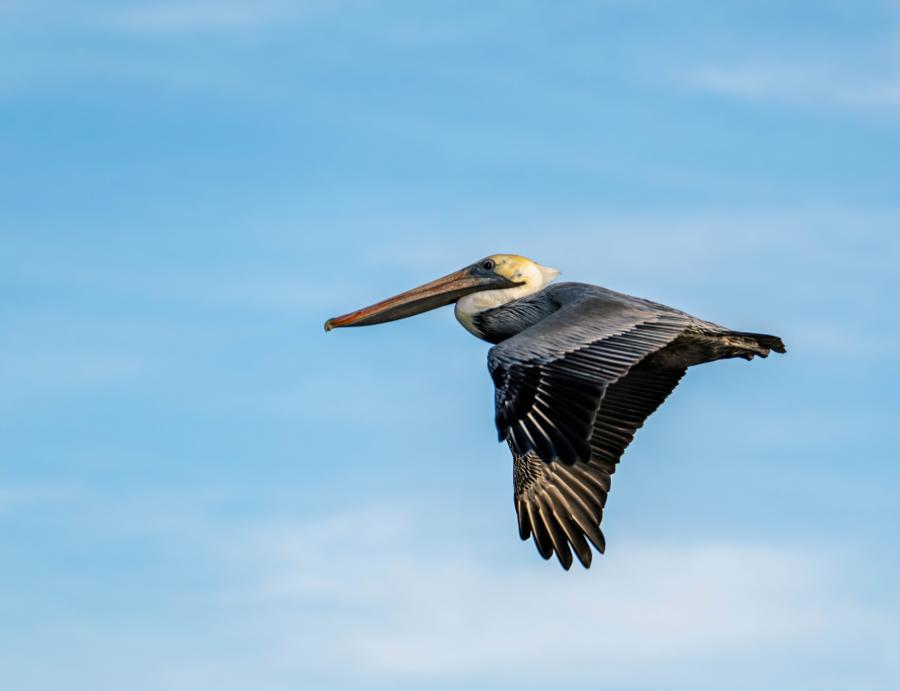 And let's not forget we're at the beach. Migrating shorebirds love the Outer Banks' majestic dunes. The Oregon Inlet Life-Saving Station is located amongst the dunes. The station was a functional part of the coast guard until 1988. It's a great place to access the dunes and oceanfront. Bonner Bridge Pier is also nearby, where you'll spot brown pelicans and thousands of cormorants.
The OBX piers are also fun for ocean birding. Jennette's Pier stretches out into the Atlantic Ocean for a unique fishing and birding experience. Towards sunset, birds begin to gather near the pier. Northern Gannets and Black Ccoters were floating about on the ocean waves. We watched Red-throated Loons dive below the surface. Brown Pelicans and multiple species of gulls rode the air currents.
Winter Wildlife in Days
Although the Outer Banks covers over 100 miles of shoreline, it is ideal for a birding and wildlife trip of any duration. You can enjoy the beach atmosphere, sample local beer and wine, and experience fine dining along the way. It's easy to explore on your own. However, expert guide services are available. Check out Jonathan Cooley at Native Birding Tours for guided tours or photography adventures with Mark Buckler at Mark Buckler Photography.