The fishing experience on Jennette's Pier in Nags Head is more than just about catching a fish. It's about learning about local marine life and the conservation efforts of the North Carolina Aquarium. And who better than to share their love of the ocean than the veterans who live here and volunteer their time to help others have an unforgettable fishing experience?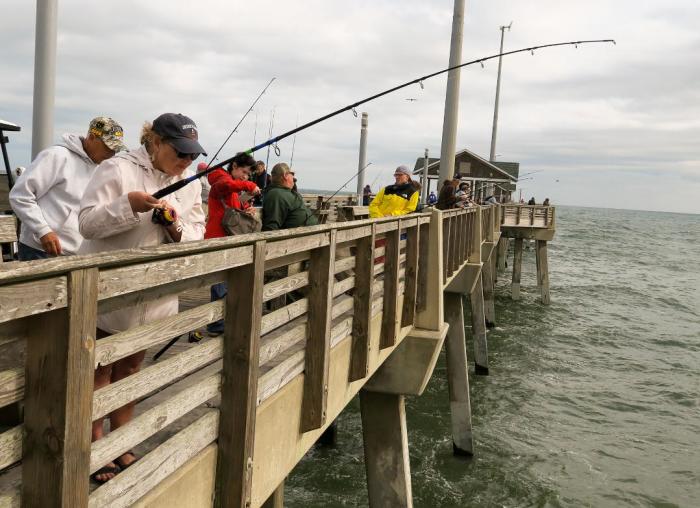 Jennette's Pier, an iconic symbol of the Outer Banks is the longest pier in the OBX extending 1,000 feet over the Atlantic. Though it has sustained hurricane damage and suffered wear and tear over the years, it has always been rebuilt since its initial construction by businessman Warren Jennette in 1939. On an autumn visit to the Outer Banks, I and my travel colleagues were able to get in great some morning fishing time. Anglers can purchase a daily fishing pass for $14 ($7 per child) or merely choose to do a walk-on for $2. Didn't happen to pack a fishing pole in your suitcase? No problem, as rods and reels can be rented for $12 and this is where the education and the fun begins (prices may differ from my visit, so call ahead for exact numbers). A dry erase board in the aquarium lists the fish recently caught off the pier. Depending on the time of year, this can include black drum, bluefish, cobia, croaker, dolphin (mahi mahi), flounder, king mackerel, red drum, and more.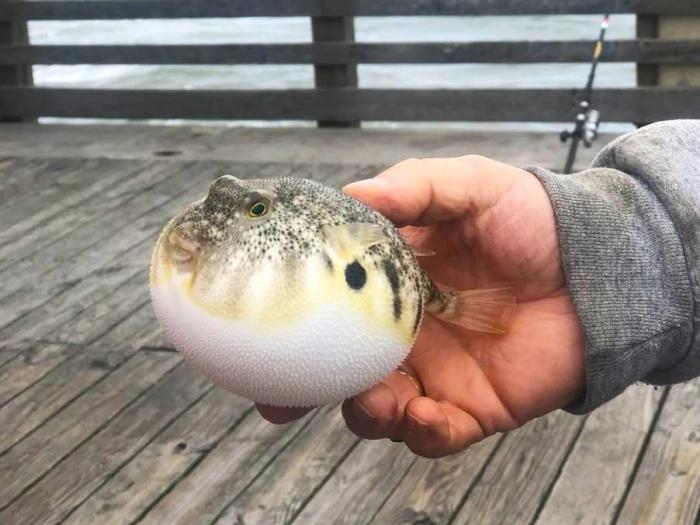 Each of us were fitted with the appropriate fishing pole and given some instruction on casting and reeling by Daryl Law, Associate Director and Communications Manager of Jennette's Pier, along with two veteran volunteers. Depending on your comfort level and fishing experience, these gentlemen will do everything from setting your bait to casting your line over the side of the pier. But even before we cast our first line, an angler on the pier caught a puffer fish. In order to evade predators, veteran volunteer Rick Probst explained that these fish can inflate into a large spiky ball blowing themselves up to several times their normal size. While fun to catch, they are inedible, as they are toxic to humans. So back in the ocean he went!
Rick spent 20 years in the Army serving two tours in Korea, one in Germany, and with the Multinational Forces. When his wife wanted to move to the beach, they selected the Outer Banks because as Rick said "I loved fishing on the pier here." He was also impressed with the involvement of the military community in the area that actively participating in many local events including holiday parades. Probst is also the current commander of the American Legion- VFW membership. After retiring for a second time as a former fishing instructor, Rick jointed the Jennette's Pier volunteer roster after another veteran, Marine Corps retiree Ken Partlow got him into the fishing program. The third volunteer is a recent addition to the team but no stranger to the sea – retired Navy veteran, Tony Imperiale.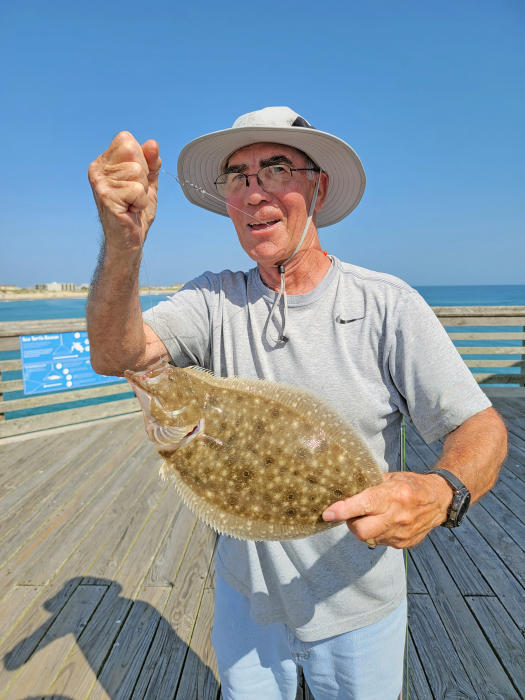 It's hard to describe the excitement from our group of journalists when the first of us reeled in the initial catch. Even the second and third catches were met with squeals of laughter and delight. And our volunteer instructors got into the celebration with big smiles on their faces. Though not all of us landed a fish that day, the experience, amazing ocean views from the pier, along with the education we received about local marine life was worth every second we spent there.
When asked what Rick and Tony loved best about their volunteer jobs, they said "It's so great working with the kids and socializing with the visitors on the pier. Our volunteer team just loves teaching the kids and others about fishing and the ways we can protect our marine life and the environment." American producer, director, and musician Adrian Grenier once said "What is important is family, friends, giving back to your community and finding meaning in life." There's no doubt that after spending the morning on Jennette's Pier with Daryl, Rick and Tony that they along with Ken truly live this philosophy. Their love of fishing and working with locals and visitors alike is quite apparent.