By Charles McCool in partnership with the Outer Banks Visitors Bureau
The OBX quickly becomes part of your household lingo if you make a move to the mid-Atlantic or grow up on the East Coast. When we moved to metro DC area—specifically Fairfax County, Northern Virginia—25 years ago, we sought beach destinations for our first summer vacation. Several coworkers suggested Outer Banks (commonly called OBX now). Well, we decided to check out OBX and absolutely loved the area so much we booked more than a dozen OBX vacation rentals houses and are happy to share thoughts to help future visitors and guests have more enjoyable vacation experiences.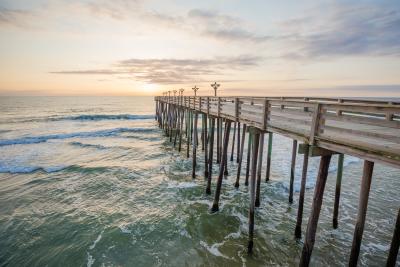 A lot of people we come in contact with share memories of renting a house on the beach, and we have met folks from all over the US who enjoy the Outer Banks this way. The countless convenient and exciting OBX rental houses are ideal for Outer Banks activities like amazing beaches and soft adventure activities, incredible local seafood and creative coastal cuisine, and interesting history (like Blackbeard, Wright Brothers, wild horses, and Lost Colony). In fact, vacation rentals are the normal travel protocol here and it is definitely a travel option you should consider and explore.
For detailed tips about renting OBX houses please see the How To Rent A Vacation Home guide to help narrow your choices at OuterBanks.org!
A travel paradigm we experienced and learned many times and supported by so many friends and fellow travel writers is that OBX is an ideal vacation destination for groups—whether you have a large family, several families, more than one couple, multi-generational vacation, reunion, wedding, or other group gathering. During our OBX trips, we have created memorable vacations with our children and their friends, our grandparents (their grandparents), cousins from other states, girlfriend getaways, and even some "only us" (a married couple) trips. There are so many options and pricing tiers, you can opt in a big house without having to have a lot of people to pitch in.
OBX vacation rentals are luxurious, convenient, and cost effective. The oversized decks, porches, and screen rooms, private pool areas, multiple master suites, large common spaces with expansive kitchens and living areas, and many other features of OBX houses support more fun and engaged travel experiences.
Several companies manage the OBX vacation rental market. Here is a complete list of Outer Banks vacation rental companies. You'll also notice that the airbnb and vrbo market is very active here. OBX vacation rental properties range in size from one bedroom (appropriate for two people) to 28 bedrooms (50+ people). The average property size is four to six bedrooms. Whatever the size of your group, the average per person cost for Outer Banks vacation homes is usually less than that for hotels, but they have different reservations and planning cycles. Now is the time to start looking at who you want to travel with and when you want to come in order to get the best bungalow for your buck.
When to Go to OBX / When to Book OBX Rental Homes
Tip: January and February are the most active reservation months for booking spring and summer vacation rentals.
Tip: OBX rental house rates are especially attractive in the off season (months other than May-August) and prices can be more than 75% less than the peak summer season the farther you scale away from peak summer. Supply in the past has been plentiful in the offseason traditionally, but we recommend not sitting on the fence too long as people are beginning to discover the values to be had for fall, spring and winter on the OBX.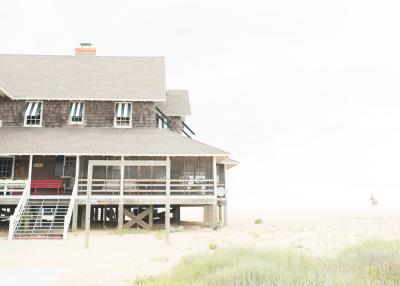 Tip: Fall rates are generally less expensive than spring. Both seasons, however, are substantially cheaper than summer. Also rates vary during the peak summer season. For our OBX family vacations, we typically rented a house in mid-June, which was much cheaper than in July and August.
Tip: While the rental company websites are set up for weekly rentals, ask if you want a place for a long weekend. The traditional model is a seven-day rental, Saturday to Saturday or Sunday to Sunday, with some Friday to Friday homes showing up. Partial week stays typically become available on short notice for the savvy shopper, but more companies are beginning to offer them on the market.
Other OBX Rental Home Tips
Tip: Our most recent OBX rental (a three-bedroom oceanfront condo) had keyless entry so we did not have to pick up keys. That was super convenient and a nice change during the pandemic.
Tip: If you are not tied to a specific location and looking for overall lower rates, explore houses in Kitty Hawk, Kill Devil Hills, Nags Head, and points south. Duck and Southern Shores tend to lean a little more premium priced than equivalent homes on Hatteras Island. It's important to point out that while there are about 100 miles of shoreline in Dare County's Outer Banks, each village offers its own identity and community charm that appeals to different couple's tastes, which makes it a fun one-stop destination that checks off a lot of boxes. Here's a link to the town descriptions to help you make your best choice.
Tip: If you can work remotely and are looking for an inspiring destination to spur your creativity, consider renting a house or condo in the Outer Banks for several weeks. The oceanfront scene makes a perfect Zoom backdrop, believe me! More guests are inquiring about extended stays/multi-week rentals. Many call to check on the ability to work remotely or remote learning at the home and want to make sure the WiFi can handle the requirements.