Newly Relocated? A Couple's Guide To Vacationing The Outer Banks
As many of you know, we moved to Charlotte earlier this year but before we could set on to explore the beauty of North Carolina, the pandemic hit pushing our travel plans off the table. Well now, with summer in full swing  and restrictions starting to get a bit relaxed we were really hoping to snap out of the quarantine fatigue and just in time we were invited by TheOuterBanksNC to explore the Outer Banks (also known as the OBX). The thought of pristine beaches and Atlantic Ocean views was enough to lift our spirits up but I found out there's so much more to OBX.
So read on to know our favorite things to do in the Outer Banks. We were here for an extended weekend trip but surely plan to return to explore more of it soon!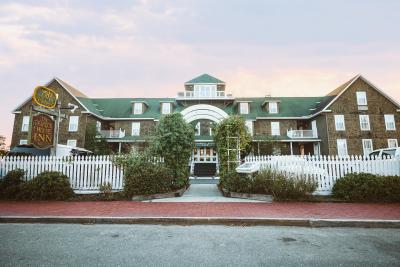 WHERE TO STAY
The Outer Banks are a 100 mile string of barrier islands spanning most of the North Carolina coastline located just south of Virginia. We stayed in Manteo, a charming and quaint town on Roanoke Island. During our stay, we learnt that this area is also referred to as The Lost Colony because of its history of being one of America's first settlements.
Tranquil House Inn - This beautiful waterfront resort in Manteo hosted us for a relaxing work-from-'obx'cation (let's make it a thing *wink*). The sprawling views of the Shallowbag Bay on one side and the quaint Manteo downtown on the other made this 19th century styled inn a perfect escape from our high rise city apartment. I can totally see why Richard Gere and Diane Lane chose to stay at this inn during their shoot for the 2008 Romantic film 'Nights in Rodanthe'.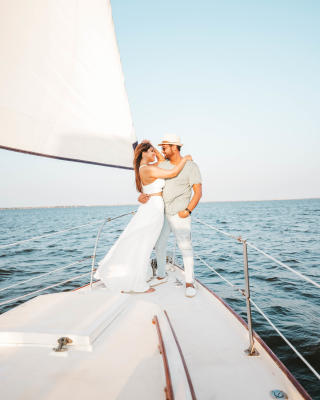 THINGS YOU DON'T WANT TO MISS
There are so many unique things to experience in OBX but here are a few that we were able to enjoy on our first trip.
Sunset Sail, Manteo - One thing that was on our bucket list and we have tried to do multiple times in various parts of the world was to set sail for a private romantic evening. It somehow didn't happen earlier but I'm so glad it did in OBX. Our sail with Sail Outer Banks was literally steps away from our room. Our captain Dan is an expert sailor and made sure we had an absolutely memorable experience. Its a perfect way to have an amazing time while socially distancing yourself. 
Jockey's Ridge State Park, Nags Head - This was one of the things that got us really excited for our trip. To have such a unique landscape here in OBX was totally unexpected. This state park has the tallest sand dunes (standing at 80-100 feet) on the east coast. It's hard to miss these towering sand dunes even when passing along the beach bypass road. At sunset, we saw crowds pouring in (its huge so you can maintain a safe distance) to hike, sand board, fly kites which you can get at Kitty Hawk Kites by the way before heading to the dunes. Trust me definitely stop over to soak in the sunset here. Issa Vibe!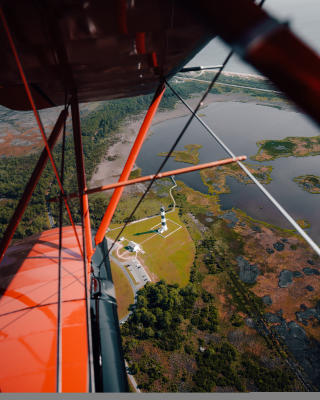 Biplane ride, Manteo - If the idea of sitting in a small open air cockpit with winds passing you by at 130 MPH scares you, trust me I was petrified. But it's just for the initial few minutes and then you get swept by the amazing views of the lighthouses, marshy plains, pristine beaches and the mighty Atlantic. I was amazed at how affordable this adventurous ride in OBX is and definitely recommend you check out OBX Airplanes in Manteo.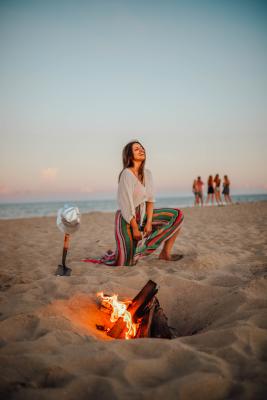 Beach bonfire, Cape Hatteras - There is nothing more romantic and relaxing than sitting around a bonfire on the beach and enjoying the sky turning from blue to pinkish orange hues. Although you do need a permit for beach fires and only a few of the OBX beaches allow them. You can grab the logs, lighter and tumbleweeds fire starters from a near by Hardware or 7-Eleven store. And I'd say, please be responsible and read up on the rules and regulations for starting and putting out a bonfire.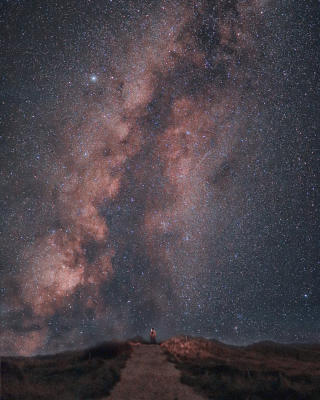 Stargazing, Cape Hatteras - There are only a few places in the world that offer ideal stargazing conditions. Outer Banks is most certainly one of them. After enjoying our bonfire at the Cape Hatteras beach early that evening, we decided to grab some food and head back to our resort only to stop midway coz I popped my head out and screamed at Akhil to stop the car. It was not just a sky full of stars but the whole of Milky Way! Ahh we could have easily missed this celestial view...what a blunder that would've been!!! 
So don't do the mistake we did, grab your food and head back to the beach and just lay there until it gets a bit dark and take in the scenic views of our galaxy!
Sunrise at Jennette's Pier  - I bet there isn't a better way to start your morning than taking a stroll on a beach in OBX. We were spoiled for choice with over a 100 miles of coastline but decided to head over to Jennette's pier coz its both beautiful and near by from our resort ;) We got to experience beautiful candy skies, people fishing by the pier and a mild breeze just as we like it.
OTHER THINGS TO CONSIDER
Here are some of the things we missed during this trip but would definitely try on our next visit:
Wild Horse Tours- The iconic wild horses of Corolla have dazzled the visitors for a long time. So you can take an open jeep tour or drive your own 4x4 on the beaches to spot them, but please keep a safe distance.
Wrights brother memorial- We can thank the Wright brothers for making the world smaller. Check out the memorial in Kill Devil Hills to see where it all began for aviation.
Fishing piers are one of the best features of a costal area and OBX has a number of them to choose from. So grab your fishing gear and give it a go.
There is abundant wildlife on these islands ranging from turtles, dolphins, alligators, black bears and the more elusive red wolves and bobcats. So take a hike in Pea Island or Alligator river wildlife refuge areas and you may spot one of these critters.
You can take a guided horseback riding tour at the beach. Checkout Equine adventures in Cape Hatteras.
The Elizabethan Gardens in Manteo with seasonal flower displays and antique sculptures make for a delightful stroll.
WHERE TO EAT
Being vegetarians, we couldn't indulge in the sea food fare but had plenty of options for delicious veg food at restaurants like Avenue Waterfront Grille, located steps away from our resort in Manteo. We recommend trying the Crispy Tofu Tacos and the Hippie Burger to go along with waterfront views.
There are plenty of breakfast options in Manteo as well like the Front porch cafe, their spinach and cheese turnovers were so good. Another place to grab some bagels and Iced mocha latte is the charming Charis cafe which had a prayer wall (you make a wish or prayer and pin it here).
If you're visiting Cape Hatteras and craving for some pizza, look no further than Angelo's Pizza. One of the best we have ever had!
And if like me, you like to end your evenings with something warm and sweet, I'd recommend you head over to Duck Donuts. Fried on the spot with your choice of toppings and glazes.it sure is heavenly. Also, I'd definitely recommend grabbing an ice cream during the day to beat the summer heat! 
THINGS TO KNOW
Its a 5-6 hour drive from Charlotte with major cities like Raleigh and Durham on the way for that perfect stopover and even closer from Virginia.
I'd recommend you stay in one of the small towns here in OBX like Manteo or Hatteras. You'll find fewer crowds and a quaint waterfront town in Manteo or beautiful empty beaches along the Cape Hatteras Seashore.
Take advantage of the free things to do here like visiting the sand dunes, beach bonfire or a drive on the beach in your own 4X4.
It gets really hot in summer, so I'd say pack loose and comfortable clothing.
Also, don't forget to pack your beach essentials and sunscreen. Enjoy!