Windows down, sun-kissed and sandy, you're cruising the Outer Banks looking for your next adventure. Surfing? Beach time? Catch the view from the top of a lighthouse? Follow Highway 12 and you'll find all of the above and more. Along every mile from Duck to Hatteras Village, Highway 12 rolls by the places that make the Outer Banks an iconic North Carolina getaway. Hugging the highway which threads the Outer Banks National Scenic Byway are lighthouses, the first National Seashore in the U.S. the very spot where the Wright brothers took that famous first flight, wooden fishing piers so weathered and perfect you can't help but cast a line, even fresh donuts you'll dream about long after you're home. So come along and discover 12 of the best things Highway 12 has to offer.
1. Duck Town Boardwalk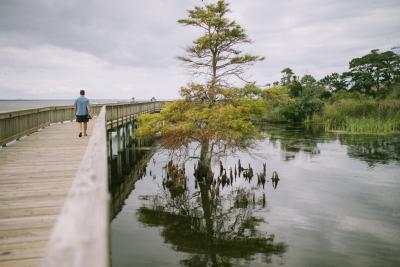 Duck, the northernmost town in Dare County, is fabulously friendly to pedestrians, and the Duck Town Boardwalk makes an ideal place to take a stroll. The boardwalk stretches for nearly a mile along the Currituck Sound and passes by a collection of shops, galleries, and lauded restaurants along the way. At sunset, the view of the reddening sky over the Sound is nothing short of stunning, but don't forget to visit in the morning, when the herons and egrets hunt at the edge of the marsh and the original location of Duck Donuts, one of the fastest-growing donut franchises in the U.S., is cranking out piping hot donuts as fast as you can eat them. Donuts are made to order and served topped with a creative array of toppings (there are more than 20 to choose from), and after you have your half-dozen in hand, remember, there's no better breakfast spot than a park bench overlooking Currituck Sound. 
2. Wright Brothers National Memorial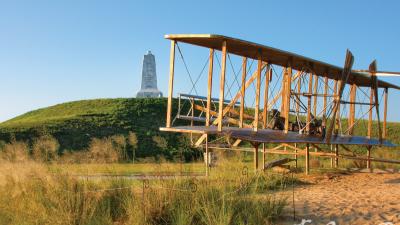 On a blustery December day in 1903, the Wright brothers changed the world in just 12 seconds when they took flight in a field just off Highway 12. Swing by the Wright Brothers National Memorial for a look at a recreation of their plane, the Wright Flier, and to walk the paths of their first successful powered flights. In the museum and visitors center, you'll get a peek at the story of how and why they came to the Outer Banks, see their impact on our world, and come to know some of the players in their story. Head up to the hill where a 60' memorial dedicated to their memory, legacy and genius lets you feel the wind on your face and gives you some perspective on their flightpath. Before you go, pose for a few pictures at the life-sized statue of the Wright brothers and their assistants, looking on in awe as the Wright Flier takes off.
3. Nags Head Woods Preserve
On the Outer Banks, maritime forests help hold our barrier islands in place and give birds, deer, and other animals a place to rest for the night. Hiking through the Nags Head Woods Preserve you'll find yourself in the middle of a deciduous forest – a surprising place to be on a beach getaway – and complex ecosystem that includes marshland, sand dunes (though the dunes look more like hills to the untrained eye), even freshwater ponds, a few of them large enough to fish in. Six self-guided trails (don't worry, there are trail maps at the visitors center) lead you through stands of tall hardwoods as you make your way through the 1,100-acre nature preserve, giving you a glimpse of the makeup of the Outer Banks before the first beach house sprang up on our shores. Trail runners can get in their miles by looping several trails together, and with an ADA-compliant trail and fishing pond, plenty of room for kids and on-leash pets, and even a trail that leads to a tiny hidden beach on the Albemarle Sound, it's more than a place to stretch your legs, it's a place to lose yourself for a little while.
4. Jockey's Ridge State Park
Towering above the rest of the Outer Banks, the sand dunes of Jockey's Ridge State Park provide you with a view once reserved for lighthouse keepers and sea gulls: the ocean and sound and our thin strip of island in between. From the top of the tallest dune – which is about 100' high, depending on the wind – you'll get this view but you'll also see plenty of kite fliers, more than a few folks pretending its winter as they slide down dune faces on sleds or snowboards, and maybe even a hang glider or two. Kitty Hawk Kites, the big, colorful, kite- and flag-festooned yellow shop across from Jockey's Ridge sells kites and sand sledding discs and souvenirs in their retail location fronting NC12, but they also give hang gliding lessons on-site in the state park at their hang gliding school. Under an instructor's eye, you'll launch yourself skyward for a brief but thrilling flight. Not ready to soar? Then explore. A few trails – marked with reflective posts – lead through the dunes back to the sound. But Jockey's Ridge holds one more secret. It's rumored to be the birthplace of the name "Nags Head" as scallywags and scoundrels would tie a lantern around a horse's neck and lead that horse along the dunes. The movement of the light would tempt passing ships in closer to shore where they'd wreck on the shoals or shore, making their cargo easy to plunder. True? Maybe, but who let the truth get in the way of a good story?
5. Jennette's Pier
Longtime Outer Banks visitors might remember Jennette's Pier looking a little more rustic than the 1,000-foot long concrete pier looks today. Built in 1939 and standing proud until Hurricane Isabel knocked off more than 500 feet of the original wooden pier, Jennette's Pier was redesigned, rebuilt and finally reborn in 2011 as a LEED Platinum, wind-powered (thanks to a trio of wind turbines), concrete pier that's now part of the North Carolina Aquarium system. Inside, displays detail the history of the pier and several saltwater aquariums offer a glimpse of the types of creatures found below the waves. Aquarium staff give talks and hands-on lessons on ecology and the environment, but plenty of visitors come to fish or simply take a long walk to the end of the pier for a view of the Outer Banks you can't find anywhere else.
6. Bodie Island Lighthouse
As you head south on Highway 12, just as you leave Nags Head you'll start noticing signs for the Outer Banks National Scenic Byway! You are now road tripping through a nationally celebrated natural landscape with tiny villages whose historical context and cameos in the American story four centuries in the making are bigger than themselves. Be sure to be on the lookout for stops along the way. Cruising south a few miles into Cape Hatteras National Seashore, not too far from Jennette's Pier, you'll see the black crown of the Bodie Island Lighthouse peeking over the tall pines. Climbing to the top of this 170-foot, black-banded beauty will give you a sense of what lighthouse keepers did on a daily (well, nightly) basis and reveal more than a few of the sandbars and shoals hidden offshore. Step out of the car and admire the bold black and white horizontal stripes on the lighthouse (distinct paint patterns like this make lighthouses easy to identify for passing ships), then pay a visit to the museum in the former lighthouse keeper's cottage and get your ticket to climb. But before you start up the spiral stairs, let's clear one thing up: many of you are mispronouncing the name of this proud lighthouse. Bodie isn't pronounced like Bodhi, Patrick Swayze's character from Point Break, but like body, as in a body of water. Now that we're clear on that, while you're here you can climb the lighthouse, visit the little museum, do a little wildlife watching and get a good angle for a picture from the overlook and pond on the north side of the lighthouse, even go fishing in the network of marsh creeks and in nearby Roanoke Sound. Oh, and a picnic lunch in the shadow of the lighthouse is never a bad idea.
7. Chicamacomico Life-Saving Station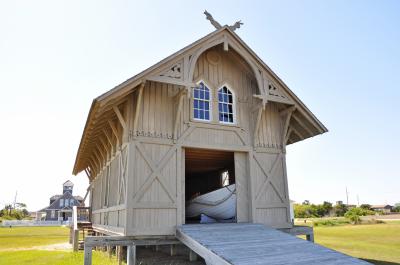 The Chicamacomico Life-Saving Station in Rodanthe was where the U.S. Coast Guard got its first foothold in North Carolina. From this base, and from others like it up and down the Outer Banks, crews would keep watch for ships in distress and rush to the rescue. Visitors to the Life-Saving Station will find costumed reenactors practicing the Breeches Buoy Drill (a fascinating antique rescue device), and be able to tour the museum, see a life-saving service rescue boat, and historic outbuildings. These buildings – dating from 1874-1911 – represent two periods of building design and contain features you'll see repeated in architecture across the Outer Banks. The best example of a modern take on the Life-Saving Station architecture is in Kill Devil Hills at the Outer Banks Brewing Station, the world's first wind-powered brew pub and a fine place to grab a pint and a bit of fresh seafood.
8. Hang Ten – Or More
Surfers flock to the Outer Banks to ride waves every month of the year. You'll see them on every break from Duck to Hatteras Village, but the empty beaches and consistent swells of Hatteras Island make for an ideal spot to drop in for a session. Or a lesson. REAL Watersports, Kitty Hawk Kites, and about a dozen other folks give lessons to surf novices and help experienced surfers polish their techniques, but there's more than one way to hang 10 on the Outer Banks. Standup paddleboarding or even standup paddle-surfing gets you out on the Sound or even in the Atlantic for another way to experience the water, but there are even bigger thrills to be had. Soundside all along Hatteras Island, kiteboarders strap their feet into a little board (like a wakeboard) and clip themselves into a harness attached to a giant kite, then they let the wind do the work as they skim, leap, spin and ride the wind and waves. At REAL Watersports they'll show you the ropes and have you soaring in no time flat.
9. Piers of Yesteryear
Here on the Outer Banks you can fish just about any way you like – inshore, offshore, freshwater, saltwater, surfcasting, or even spearfishing while SCUBA or freediving – and there are two yesteryear-perfect piers where you can wet a line. The Rodanthe Fishing Pier and Avon Fishing pier – in the Hatteras Island villages of Rodanthe and Avon – are part of Outer Banks history as some of the last wooden piers remaining in North Carolina. Kitty Hawk Pier, Avalon Pier in Kill Devil Hills, Nags Head Fishing Pier and Outer Banks Fishing Pier of south Nags Head round out the historic wooden family of original piers. Jutting hundreds of feet out into the ocean, the thick planks and heavy pilings of these piers put anglers in perfect position to catch a keeper. You won't need a fishing license to fish off one of these piers like you would if surf fishing from the beach, you'll need to pony up a small fee to fish (there's an even smaller fee to walk on and check these places out), but when you're ready, you can catch fish to your heart's content. What you catch will change with the season, but expect to reel in flounder, wahoo, Spanish mackerel, bluefish, sea bass, cobia, sting rays, and even sharks.
10. Explore by Horseback
A century ago, Highway 12 was just a dream and here on the Outer Banks there were few official roads and even fewer automobiles, making horseback the preferred mode of travel. Today you can ride through the dunes and along the Cape Hatteras National Seashore with Equine Adventures, Buxton Stables, Hatteras Island Horseback Riding and others. They'll have you in the saddle in no time and you'll be trotting along the hardpacked sand, splashing hoof-deep in the surf, and galloping after gulls. Experienced riders will find a dose of adrenaline in a hoof-pounding race along the shore, but novice riders will find themselves falling in love with a new and novel way to experience the Outer Banks.
11. Cape Hatteras Lighthouse
The black and white spiral of Cape Hatteras Lighthouse has been a landmark for generations of Outer Banks families, visitors and sailors, and a pilgrimage to the tallest brick lighthouse in the nation is a must. But this isn't the first lighthouse to warn mariners of the Diamond Shoals, a compelling name for the navigational hazards and ill fate waiting for unwary sailors traversing fourteen plus miles of shoals extending just beneath the surface from Cape Hatteras. The lighthouse we know today was built in 1870 to replace a smaller lighthouse dating back to 1803. From the catwalk at the top of this 198' tower you can imagine where the original once stood, now wave washed just outside the breakers. Even this lighthouse was in danger of falling into the sea until, in 1999, it was moved a half mile to its present location. Climb to the top, take in the view (and a few pictures that'll make your friends say, "We're going to the Outer Banks next year too!"), spend some time in the keeper's cottages turned museum, and don't forget to check out the Junior Ranger's Program and get your National Parks Passport stamped while you're here.
12. Graveyard of the Atlantic Museum
The Outer Banks is known by a fearsome nickname: The Graveyard of the Atlantic. Shoals and sandbars lurking just below the waves have sunk hundreds of ships over the centuries and the Cape Hatteras and Bodie Island Lighthouses help sailors avoid adding to that grim tally. Stories of these shipwrecks, of German U-Boats prowling the waters in World War II, of pirates and plunder, of fishing families and Civil War battles are told in full at the Graveyard of the Atlantic Museum in Hatteras Village. Artifacts from wrecks, photographs and tintypes, firsthand accounts and stories that have grown into legend inhabit this museum. While you're inside, you're only a short walk from the ocean, and after you visit, take a walk along the beach, keeping an eye out for shells, sea glass, driftwood, or the rare treasure dragged up from some shipwreck and deposited on the shore.
By Jason Frye in partnership with the Outer Banks Visitors Bureau.