The Outer Banks of North Carolina is often overlooked as a place for great hiking. While we do not have mountains to climb, we have some of the tallest sand dunes on the east coast and some of the best hidden hiking trails too.
1. Heading to the southern Outer Banks, just past the Cape Hatteras Lighthouse, you'll find Buxton Woods. This is a 1,007 acre expanse of maritime forest perfect for nature lovers and hikers of all ages. Many white-tailed deer call this area home, don't be surprised if you see them in broad daylight while hiking the trails. For a change of scenery, scale the steps of Cape Hatteras Lighthouse while you're there or drive a bit farther down Hatteras Island and follow the Sea Breeze Trail through the Hatteras Village Park. This is a good one for young kids who can't walk long distances, and the elevated boardwalk provides a good perspective on waterfront canal living.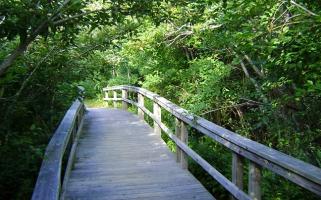 2. Jockey's Ridge State Park  is known for having the tallest sand dunes on the east coast. What most folks don't know is that this state park also has hiking trails. These paths lead through the dunes, opening up to the sound, with markers and info panels along the way describing the unique ecosystem. The trails have spectacular views along the way, making you feel like you are on top of the world! Only a short drive south is the beautiful Bodie Island Lighthouse with a boardwalk and surrounding walkable land. It's also located across from Coquina Beach Access, a National Park Service beach and perfect stop to refresh and fill up those water bottles.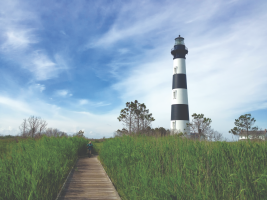 3. Some of the best hiking can be found at Nags Head Woods Ecological Preserve. Hiking trails are open from dawn to dusk year-round and offer great views of sand dunes, ponds, marshes and history. The Roanoke Trail, is a local favorite, consisting of a short 1.5 mile round trip. This trail leads you through the woods, past the old Tillett homestead, to the sound. Just before arriving there, you'll find a wooden walkway with benches...a convenient resting place to sit and watch wildlife or the afternoon sunset over the reeds. This trail is dog and kid friendly too.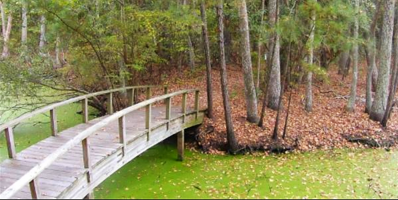 4. Find your way over to Run Hill in Kill Devil Hills, for a walk thru sand dunes that mirror Jockey's Ridge State Park. These dunes are on the northern border of Nags Head Woods Ecological Preserve and can be accessed behind First Flight Elementary School. At the top of these natural dunes you'll find gorgeous views of the sound to the east and the Wright Brothers National Memorial to the North. Don't be fooled though, the water is farther than it seems. There's no trail to follow here, just let your feet be your guide as you discover untouched sand dunes, much like the way Big Kill Devil Hill looked when the Wright Brothers first learned to fly.
5. To the north along Bay Drive in Kill Devil Hills, you can find numerous public boardwalks, gazebos and newly constructed pedestrian sidewalks. Keep heading north to set foot on the popular Duck Boardwalk, spanning nearly a mile with 11 acres of soundfront views.
6. Head towards the Roanoke Island mainland, where the Coastal Studies Institute holds the starting line to a ~3 mile trail beginning in their parking lot in Skyco, NC, continuing through trails and local residential roads and ending at the Dare County Center in Manteo, NC.
7. Hiking along the beach is a fan favorite, as well. Our multitude of beach accesses makes this just as enjoyable for expert hikers and novices alike. Just find an access and start walking. Choose your pace, choose your distance, but always be on the lookout for seashells and beach glass.