From fall through winter and spring, Canadians are on the move in search of sunshine, warmer temperatures, and experiences away from ice and snow. In many cases it's the whole family on the move—and that includes the family dog. Keeping the pooch happy and comfortable goes a long way toward creating a stellar vacation for all.
Finding the balance between "human needs" and "doggy needs" takes a little planning and some attention to detail. For us, North Carolina's Outer Banks checks all the boxes as an excellent, dog-friendly destination: it's a reasonable drive from our home base in Ontario; it's filled with superb outdoor activities and lots of opportunities for long walks with Dinah, our one-year-old Labrador retriever; and the range of places to stay include fantastic campgrounds, private cottage rentals, and traditional hotel stays.
The Outer Banks—nicknamed OBX—is a narrow sweep of barrier islands that jut into the Atlantic. The long stretches of sand are constantly shifting, thanks to the pounding of ocean waves and winds; and because of its environmentally-sensitive nature, much of the 130-mile stretch has been protected as Cape Hatteras National Seashore. Protected lands like this mean some pointers to observe when visiting with your dog.   
Safety first
When the temperature plummets in Canada, ticks are not much of a concern. But when we travel south to the snow-free temperatures of OBX, we make sure to begin regular flea and tick protection for our pet. You also want to make sure other vaccinations—rabies, Bordetella—are up to date. Make sure you clip a vaccination tag onto your dog's collar as it can help if you lose track of each other. Watch for prickly sandspurs that can become painfully caught in a paw. Always, always pick up and dispose of your pet waste.
Finally, keep an eye on the weather and don't leave your pet in an overheating car. The inside of a vehicle parked in 70-degree weather can reach 100 degrees in just 20 minutes, causing heatstroke. With a little planning you should be able to pick and choose activities that are dog friendly, that you can all enjoy safely. 
Dogs on the beach? Know how to do it right.
The long stretches of stunning beach are a major Outer Banks draw, but there's a definite "beach etiquette" to follow when traveling with your dog.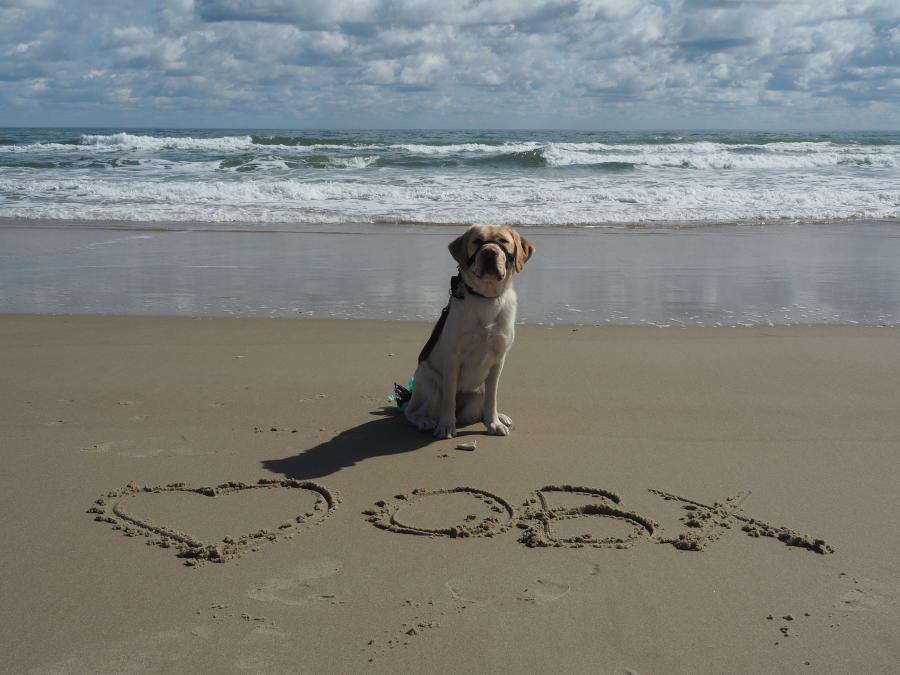 First, know that dogs are allowed on OBX beaches but must be on a six-foot lead. The dunes and beach are home to nesting turtles and many species of birds that would be disturbed by a rambunctious pup. Cape Hatteras National Seashore is on the Atlantic Flyway—the north-to-south "highway" for birds migrating with the seasons. The region is well-known for spotting birds passing through as well as those overwintering in warmer climes. Owners of an off-leash dog may find themselves with a hefty fine from the National Park Service or town officials.
It's also important to stay on marked pathways and boardwalks as they help to keep walking traffic from damaging the delicate dunes. Yes, that includes two-legged and four-legged walkers!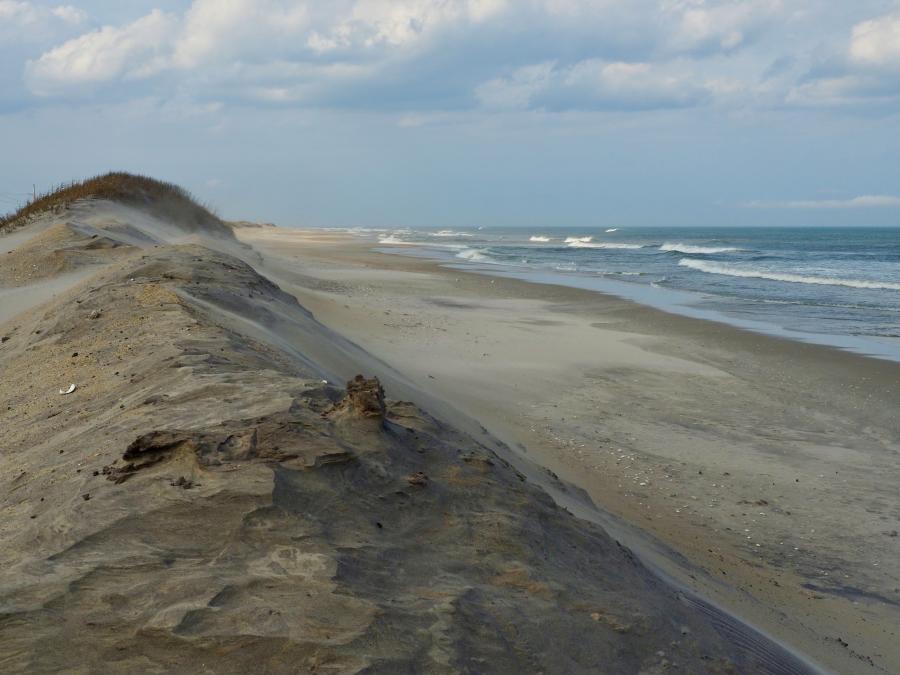 But walking a dog—on lead—on this beautiful stretch of beach? Sublime.
Dog-friendly activities
There's no shortage of Outer Banks' activities and attractions to enjoy with your four-legged friend.
The visitor center at the impressive Wright Brothers National Memorial in Kitty Hawk may be off limits but there are hours of pathways to follow around the grounds. It's a short stroll to the First Flight Boulder and Flight Line, the stone markers indicating the distances traveled in the four flights achieved by Wilbur and Orville on that blustery December day in 1903. Needing a bit more of a workout, we clipped the leash onto Dinah and walked the trail to the towering Wright Brothers Monument, the spot atop historic Kill Devil Hill, where the brothers undertook their gliding experiments. Here are some tips for visiting the memorial site.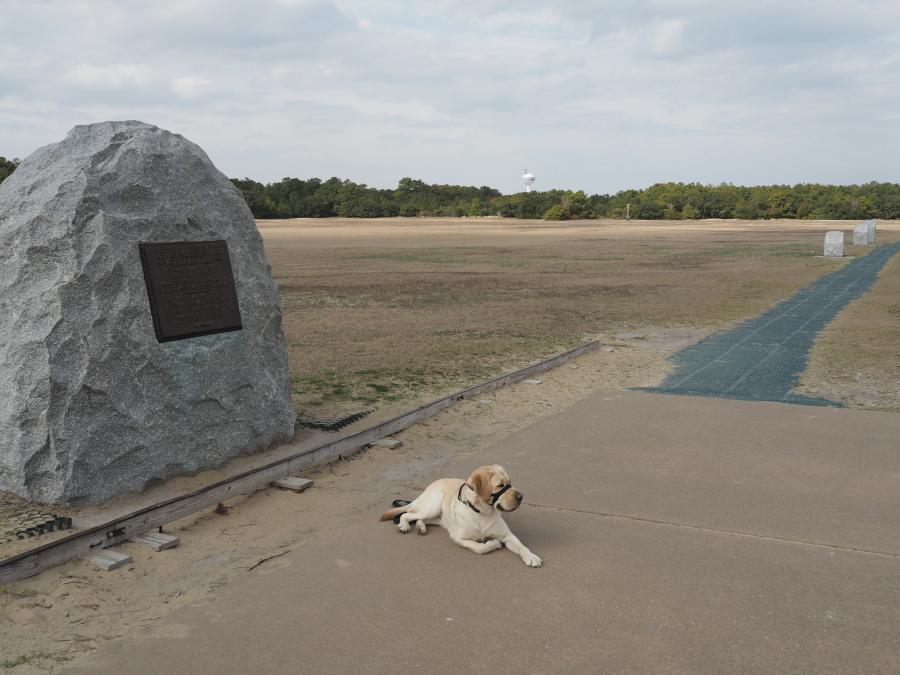 Dogs and lighthouses seem like a great match—and it's so very true in the Outer Banks! The towering lighthouses were built to protect vessels passing through the most treacherous waters of the Outer Banks—a region nicknamed the Graveyard of the Atlantic due to its 2,000-plus shipwrecks. Our favorites are the postcard-perfect black-and-white Bodie Island Lighthouse and the candy-striped Cape Hatteras Lighthouse, the tallest brick lighthouse in the nation. While dogs are not allowed to climb the corkscrew-like stairs inside the light stations, on-leash they are welcomed on the grounds.
A short drive inland from the famous beaches is Alligator River National Wildlife Refuge, a quiet area known for wildlife and excellent birding. The refuge was established to protect sensitive wetlands and provide habitat for black bears and the endangered red wolves. There's an excellent Wildlife Drive and several trails where dogs on leash are allowed. Maps are available at the kiosk at Creef Cut Wildlife Trail and at the access entrance on Milltail Road.
On-leash, dogs are welcomed to the sand dunes of Jockey's Ridge State Park at Nags Head. Jockey's Ridge is home to the highest sand dunes on the East Coast, with peaks taller than a 12-storey building and views over the Atlantic Ocean and Roanoke Sound.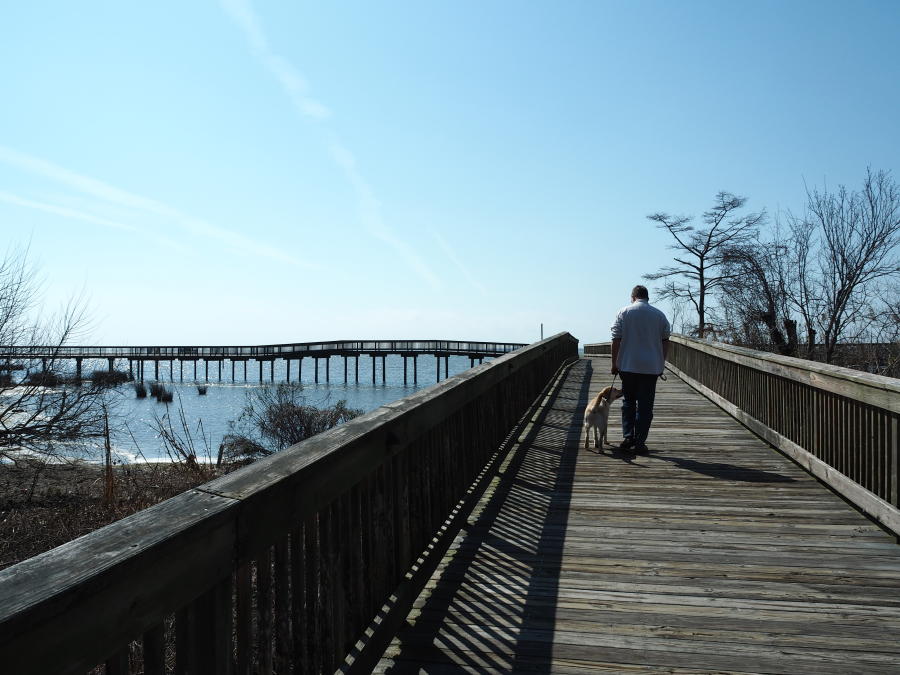 In all the small villages—Manteo, Nags Head, Avon, Hatteras, Duck—we could always find a dog-friendly path or boardwalk to explore. The mile-long Duck Boardwalk winds along the soundside of the barrier island and even includes doggy water fountains in the adjoining park.
With a little planning and a relaxed mindset, a dog-friendly visit to the Outer Banks will soon have everyone asking, "When can we go again?"