North Carolina, and the Outer Banks specifically, are recognized for their achievements in flight. But North Carolina has also earned its reputation as The Great Trails State after the approval of the NC Trail Systems Act of 1973. The legislation commenced trail network development for "the appreciation of natural areas and for the conservation and enjoyment of the significant scenic, historic, natural, ecological, geological or cultural qualities." Fifty years later, 2023 has been named North Carolina's "Year of the Trail" to celebrate the state's 2,000+ trails.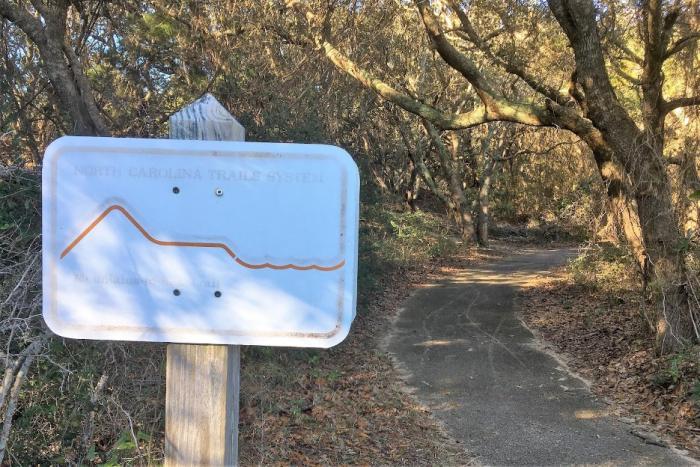 Coinciding with NC's "Year of the Trail" is the development of Jockey's Trail, a new 50-mile hiking route. The recommended four day trek begins at Jockey's Ridge State Park and weaves north through Nags Head Woods Preserve, Wright Brothers Memorial, Duck Boardwalk, Historic Corolla Park, and Currituck National Wildlife Refuge. The end of the trail is marked in Carova, south of False Cape, with a monument to the 1728 state line expedition where wild horses may also be seen exploring.
Jockey's Trail was designed by The OBX Way, a nonprofit based in Kill Devil Hills, to be accessible, safe, and educational. The route connects existing community paths over a variety of terrain, including: maritime forest, sidewalk, boardwalk, greenway, and ocean beach. Intense thru-hike training and heavy packs are not necessary for the 14, 13, 10, and 13-mile stages. Hotels are available at the end of each stage, or hikers may shuttle to a rental home. Shoulder-season months (March-May and September-November) are recommended for climate and convenience.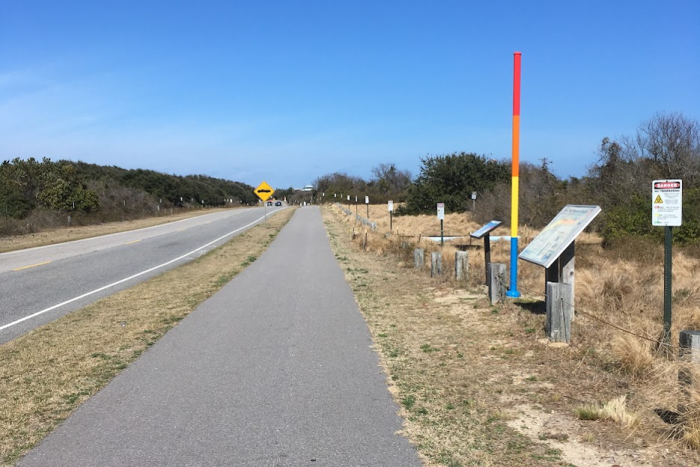 Leave No Trace - Adapted Principles
In the spirit of The Trails Systems Act, The OBX Way has adapted the Leave No Trace principles to Jockey's Trail. The guidelines help protect fragile ecosystems, strengthen local relationships, and provide extra safety:
"Harm me not." -  This is the Prayer of the Woods. Do not damage, mark, or alter your surroundings.
Remove Litter - Trash and recycling receptacles are available throughout the trail at comfort stations.
Observe Artifacts - Take all the photos you like, but do not remove artifacts. Let others find them too.
Plan Ahead -  Anticipate shifts in weather, daylight, and tides for clothing, shuttle, and lodging needs.
Stay on Trail - This new route is designed to safely use public paths without permits or encroachment.
Be Considerate - Defer to private property, local ordinances, and hikers seeking personal time on trail.
Respect Wildlife - Horses can only physically eat a specialized diet of native vegetation. Do Not Feed!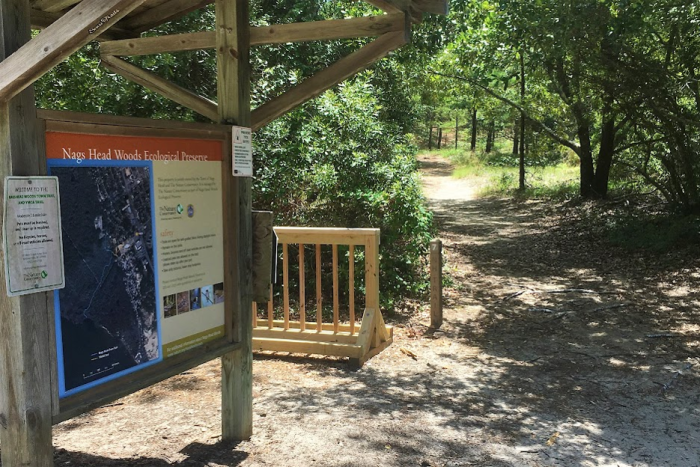 Welcome to The Trail
The OBX Way officially invites you to celebrate North Carolina's Year of the Trail with the launch of Jockey's Trail. Inclusion is a priority. Come as you are, bring your friends, or coordinate a group for a hypnotic yet memorable experience. Happy trails to you!
Hiking is excellent exercise that is both mentally therapeutic and inexpensive. Jockey's Trail is rated EASY by hiker standards but will immerse you in inspiring landscapes that require only basic outfitting. The Trail reveals hidden gems of the Outer Banks that can only be found on foot. Adventurous visitors, hiking enthusiasts, and local explorers will appreciate the rewarding experience of the route. Enjoy!
obxway.org:  Editorials, Influences, Resources; Hike, Bike, and Kayak Details; 501(c)(3) Support.
Route Map:  Markers for Restrooms, Water, Shelters, History, Viewpoints, Hotels, and Healthcare.
Flyover Video:  Preview the highlighted route with Landmarks, Daily Stages, Terrain, and Cautions.
Hiiker App:  Android and iOS versions, Free online GPS, Subscription offline GPS and stage detail.
Voluntourism:  Learn about nonprofit organizations based in the OBX and the critical work they do.
DonorBox:  Make a donation to The OBX Way. Contributions are tax-deductible, EIN 88-3753150.