Are you new to the Tidewater area, but have never crossed the border to the Outer Banks (OBX) in North Carolina? Or maybe you're planning a vacation and trying to decide between Virginia Beach and OBX. Let me be the first to say that these two coastal regions are close in distance, but worlds apart in experience.
Hampton Roads vs the Outer Banks Shoreline
You may find that Tidewater beaches, including Virginia Beach, can get quite crowded in the summer months. That's because, in addition to the 1.7 million metro area locals, over 19 million people visit Virginia Beach each year, and nearly 9 million of those are day visitors (often coming to the beach). Most people seeking sun, sand, swimming, or surfing are focused on about 26 miles (42 km) miles of shoreline on the Atlantic Ocean and Chesapeake Bay.
In contrast, the stretch of barrier islands known as the Outer Banks offers 100 miles (160 km) of sandy ocean beaches plus about the same amount of shoreline on the calmer Sound (west) side of the islands. This wide expanse of coastline accommodates about 35,000 year-round residents that gives the entire island chain a very small town charm and feel, even though it's a popular place for vacationing and day-tripping down from Virginia . That's quite a difference in people-per-mile of coastline, so you're sure to find plenty of room to spread out and enjoy your corner of the beach. Depending on how you like to relax, the Outer Banks or "OBX" as its affectionately known, might just become your new favorite weekend escape.
What Else Makes OBX Different from Tidewater?
But what if you're not a person who likes to lounge on the beach? Why should you travel two hours south to visit this region of North Carolina?
Here are just a few of the unique things to do and reasons to check out the Outer Banks (OBX) if you live in Hampton Roads.
"We don't inherit the earth from our ancestors,
we borrow it from our children."
Native American proverb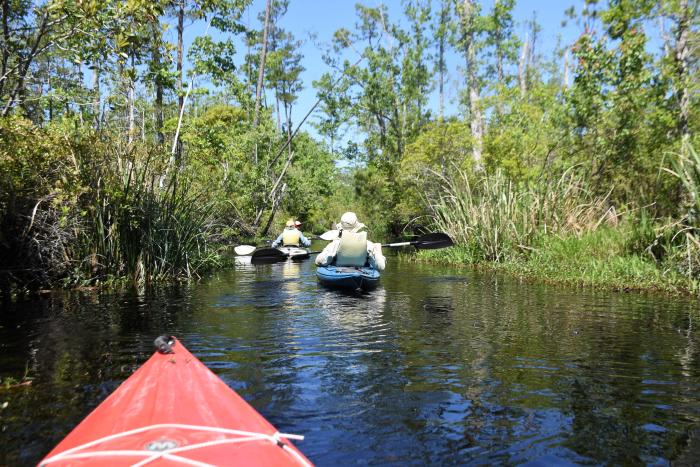 Kitty Hawk Kites' Guided Kayaking Tour at Alligator River NWR
Nature and Wildlife
The distinct beauty of the natural world is a gift to cherish for every generation. When you visit the Outer Banks, it envelops you in the quiet stillness of its rivers, the majesty of its diverse wildlife and the wildness of its winds and waves.
Tidewater's southern neighbor on North Carolina's barrier islands boast over 300 square miles (777 sq. km) of uninhabited nature preservation areas. These include three national wildlife refuges, the first national seashore in America, an ecological preserve, and a unique state park.
Recreation activities at the OBX nature and wildlife areas are commonly referred to as the "Big 6," - fishing, wildlife viewing, photography, environmental education, hunting, and interpretation. It's easy to explore the protected lands on your own on the walking or paddling trails or stroll on miles of pristine beaches. Enjoy nature from the comfort of your own vehicle on the Wildlife Drives. You can also take advantage of guided tours by canoe, kayak, van or open-air tram. While you explore, look for animals of all sizes, including Black Bear, Red Wolf, White-tail Deer, sea and land turtles, alligators, birds and so much more.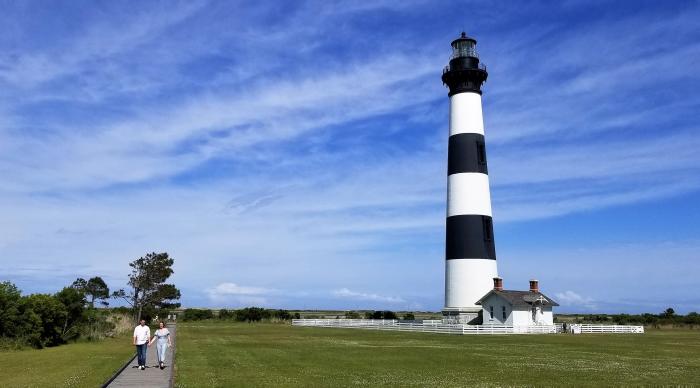 Bodie Island Light Station
Lighthouses
If you're a fan of lighthouses, you'll enjoy checking off some of the most iconic American lighthouses from your Bucket List in OBX. The familiar black and white spiral design on Cape Hatteras Light Station adorns the tallest brick lighthouse in the United States, standing at 193.2 feet (59 m). It and its predecessors have served as a warning to sailors in one of the most dangerous stretches of the Atlantic coastline since 1803.
As you drive toward Bodie Island Light Station (pronounced like "body) you'll notice that the road is lined with tall pine trees. The boardwalk on the property leads out to freshwater marshland, not the ocean. This isn't a typical setting for a light station, but still is in a much-needed location to protect ships from the "Graveyard of the Atlantic" where over 2000 shipwrecks have occurred.
These two light stations are managed by the National Park Service as part of the Cape Hatteras National Seashore. Visitor Centers are open onsite, and visitors can climb the 200+ steps for gorgeous views from the top of each one in warmer months. Daytime and sometimes full moon evening climbs are available. Getting tickets is a different process for each lighthouse, so check their websites for current instructions.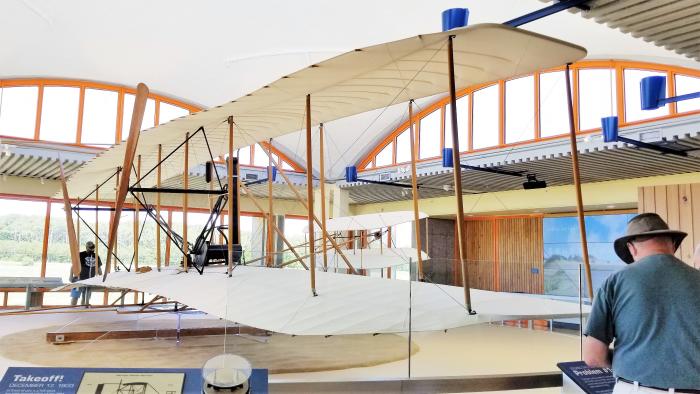 Full Size Replica of First in Flight Plane at Wright Brothers National Monument
History
Are you a history lover? Then you won't want to miss the site where two Ohio brothers completed the first-ever flight in a powered airplane. The Wright Brothers National Memorial in Kill Devil Hills will answer all your questions about why they chose the Outer Banks, how long it took them to find success and what their planes and processes looked like. You'll see the path of their test flights and get an up-close view of a life-size replica of the airplane that accomplished the feat.
When you visit Fort Raleigh National Historic Site near Manteo you can learn about England's first New World settlements from 1584 to 1590, the first English child born in North America, and the Lost Colony of settlers that disappeared from Roanoke Island. This site also explores the cultural heritage of the Native Americans, European Americans and African Americans who lived on the Island. Did you know that the Outer Banks served as a stop for enslaved people seeking freedom through the Underground Railroad and a Freedmen's Colony during the Civil War?
Check out the Graveyard of the Atlantic Museum in Hatteras to learn about maritime history, including the perils of this dangerous stretch of the Atlantic Coast, the business of piracy, and how wars impacted the seas off the coast of the Outer Banks.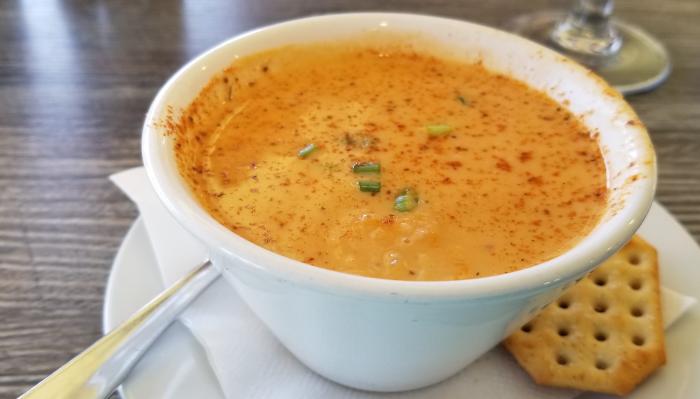 Blue Crab & Smoked Tomato Bisque from Avenue Waterfront Grille
Exceptional Culinary Treats
North Carolina's southern cuisine is plentiful in the Outer Banks. Look for Carolina favorites like authentic BBQ, shrimp and grits, pimento cheese and fried green tomatoes.
Fresh seafood like Yellowfin tuna, mahi or flounder caught that morning fills the slate on local menus.  Oysters harvested mere steps from the restaurant can't be beat and crunchy soft-shell crab is a special treat from May to September.
On a chilly evening warm up with one of OBX seafood soups local to the area. Look for creamy she-crab soup made with blue crab, a local creation - Hatteras Clam Chowder with a clear broth and a touch of bacon, oyster bisque or other unique innovations. If you find yourself in Manteo, be sure to try Avenue Waterfront Grille's Blue Crab & Smoked Tomato Bisque. It's loaded with crab, spiked with bourbon & finished with Harvey's Bristol Cream Sherry.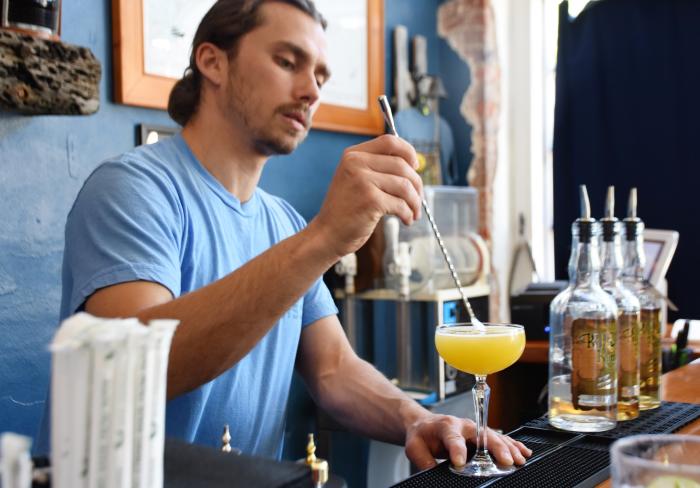 Outer Banks Distilling's Beverage Director, Matt Joyner mixes up a Mango Snapper
Outer Banks Beverage Creators
Hampton Roads may boast local breweries and distilleries, but only in the Outer Banks will you find the first wind-powered brewery in the United States, at Outer Banks Brewing Station in Kill Devil Hills. The over-21 crowd will love the infamous "warts & all" Brewery Tour which includes samples of their craft brews, of course. Youngsters will love their homemade root beer, ginger beer & Orange Vanilla Creamsicle Soda.
Outer Banks Distilling is just a short walk from downtown Manteo. It's the only craft distillery in the region focusing solely on rum. Drop in for a tour and an afternoon libation invented by one of the talented mixologists. Plan to take home a bottle of one of their award-winning flagship or limited-edition rums and a bag of their delightful rum-soaked candied pecans. The owners, Scott, Matt, Adam and Kelly have created a casual, friendly and welcoming atmosphere where you'll feel like a local.
Do you long to sip your favorite beverage from the deck of your vacation spot with salty breezes and a view of the surf or watch the sun set over the sound? You'll have a much better chance of booking a hotel or vacation home with a water view in OBX instead of Hampton Roads because of the abundant coastline on the barrier islands. So, pack your suitcase with your favorite casual wardrobe and hop in the car for a day, a weekend or a month in the Outer Banks. You'll return more relaxed and refreshed than you ever thought possible.