We know the beach and all the great food deserve their spotlight, but did you know there are some awesome trails to explore along the Outer Banks? And if you brought the whole family along for the trip, that's even better because many of these paths are perfect for kids, too!
And if you think you're too far from some of these hikes, we've got you covered with trails within a short drive of just about every Outer Banks town. If you're itching to get out there, let's get to it and walk through seven of our favorite kid-friendly hikes, from North to South.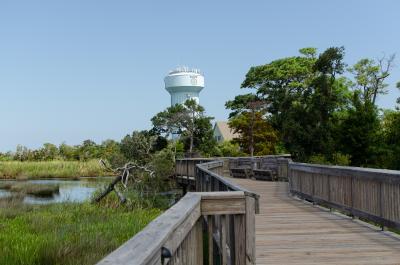 Duck Town Park Boardwalk
The Duck Town Park Boardwalk runs along with the sound side, is nearly a mile long, and does a wonderful job of connecting most of the town. You can spend your time strolling along the path, but you'll be drawn to views of the Currituck Sound. This accessible trail allows easy access to many of the local shops in Duck, giving you plenty of time to think about your next move.
Nags Head Woods Ecological Preserve
Nags Head Woods is one of the largest maritime forests on the East Coast. During its time as a preserve, more than 150 species of birds, 550 varieties of plants, and 20 mammals have been recorded here. Among the easy trails here, the accessible half-mile loop trail is perfect for kids and offers beautiful viewpoints along the way.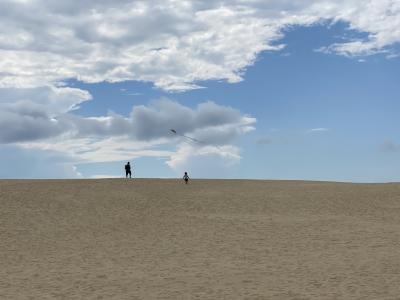 Jockey's Ridge State Park
Many folks come to Jockey's Ridge for hang gliding, sandboarding, and kite flying, but Jockey's Ridge has some of the best kid-friendly hiking in the Outer Banks. It's the eastern terminus of the Mountains-to-Sea Trail and children can run through the sand or explore the Soundside Nature Trail, which is a mile loop.
If you (and your kids) are looking for more of a challenge, the Tracks in the Sand Nature Trail is a 1.5-mile trek over the sand dunes to the Roanoke Sound. This one also starts at the Visitor Center.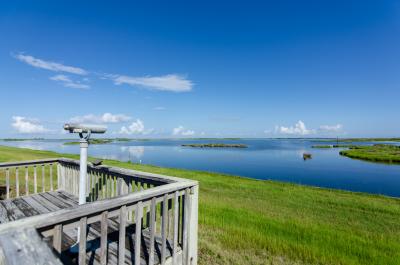 Pea Island National Wildlife Refuge
Pea Island draws birders from around the world but did you know there are a couple of kid-friendly trails here? The half-mile North Pond Wildlife Trail leads to lovely views of the Pamlico Sound and shorter Salt Flats Wildlife Trail offers looks at the North Pond. And because this is a birder's paradise, don't forget the binoculars and bird identification guide at home. Your kids will have fun and it will be educational, too!
Buxton Woods
Buxton Woods on Hatteras Island is the largest forest on the Outer Banks and its trails are some of the most overlooked. There's a kid-friendly trail that begins at a small picnic area near Hatteras Lighthouse. This 3/4-mile loop will take you through Hatteras Island's highest points and you and the kids will enjoy listening to the busy sounds of the migrating birds.
Sea Breeze Trail Through the Hatteras Village Park
One of the easiest kid-friendly hikes is the Sea Breeze Trail through Hatteras Village Park. It's a very short path, but well-maintained and offering educational markers along the way. You'll walk over maritime forest and salt marsh, with much of the trail accessible.  
 Hammock Hills Nature Trail
Hammock Hills Nature Trail on Ocracoke is a 3/4-mile loop that will expose you and the kids to various seaside vegetation. You'll also walk along some of the highest points on the island, and the best view of Pamlico Sound awaits halfway along the trail. Like many of the other hikes we shared, this one is also great for birding, so keep those binoculars handy!
Which Kid-Friendly Hikes are You Doing First?
We hope you're able to get out there, even though the wonderful beaches, towns, and restaurants will keep you busy. But when you do make your way to these trails, which ones do you plan on exploring first? And if you already know a few of these, which ones are your favorites?