If you're part of the LGBT+ community and thinking of visiting the Outer Banks of North Carolina, you probably want to know if you'll feel welcome and accepted here. As a queer traveler myself, I know how important it is for places I visit to be LGBT-friendly. I grew up on the Outer Banks and have lived in places with bustling LGBT+ communities, such as Washington D.C. I often visit big cities around the country with large LGBT+ communities, but I always return to the little barrier islands known as the Outer Banks.
The Outer Banks is a unique vacation destination with much to offer, no matter who you are. If you're looking for explicitly LGBT+ offerings, I might first point to the annual OBX Pridefest that is going on its thirteenth year. But what I love most about the Outer Banks is the laidback vibe, the natural beauty, and its feeling of remoteness. These things combined are what draw a diversity of people from around the world, and with that diversity comes a very welcoming atmosphere.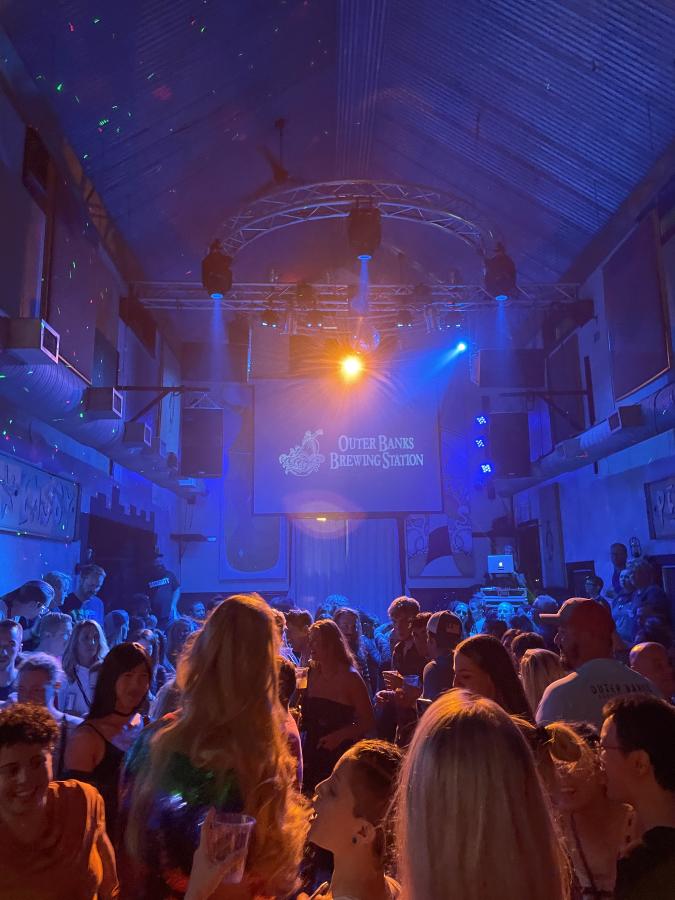 A melting pot of people.
Many visitors come from Washington D.C., Maryland, Virginia, Pennsylvania, and other Northeastern states, but the Outer Banks is truly a world-famous location. Particularly in the summer months, there are visitors and seasonal workers who travel from all over the world to stay here. My family has personally hosted seasonal workers in years past, which allowed me to make friends from Thailand, China, Taiwan, Jamaica, Macedonia, Ukraine, Turkey, and elsewhere. You'll find a diversity of people working at hotels and restaurants or vacationing on the beach just like you.
You'll also find numerous immigrant-owned businesses, as well as POC-owned, woman-owned, and LGBT-owned businesses. And similar to myself, many locals have lived in other places and travel often, especially in the off-season. All of this makes for a surprisingly cosmopolitan environment that feels welcoming to everyone. There's also just something about being at the beach that makes people warmer and friendlier in general. The vibe here is laidback and mellow.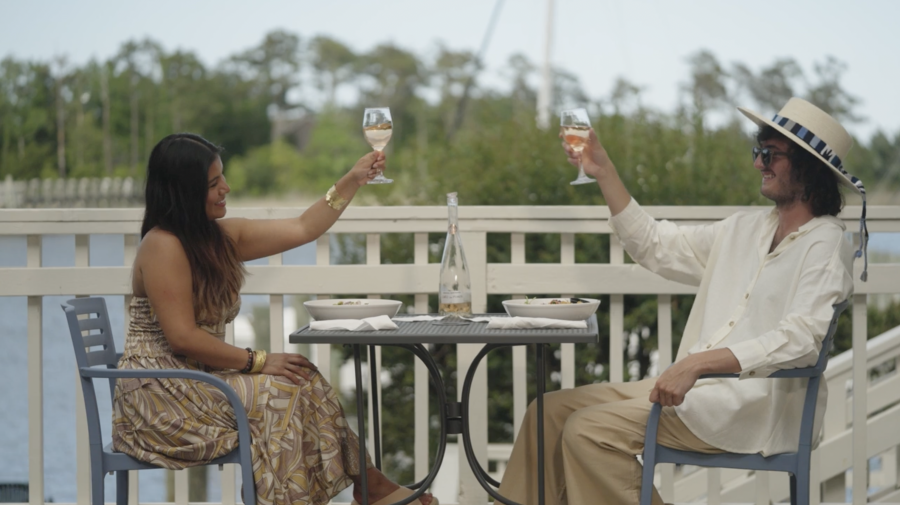 A league of its own.
Maybe there's even an element of Southern Hospitality at play, though I really don't think the Outer Banks is all that "Southern." With the Outer Banks being geographically disconnected from the mainland, it has its own unique culture that can't be judged based on the rest of the state. When I tell people I'm from North Carolina, they're often surprised I don't have a Southern accent. Many people here don't. Once you cross the bridge, it's truly a different place. Regardless, you'll certainly find hospitality here and some very nice southern folk too.
It's also difficult to compare one town on the Outer Banks to another when the entire Outer Banks stretches for over 150 miles. I'm most familiar with the Northern beaches, which are roughly from Nags Head and Manteo up to Duck. The Southern beaches which include Cape Hatteras National Seashore and all of Hatteras Island may have a totally different feeling, but they are absolutely worth visiting as well. There you'll find even more natural beauty and a greater sense of remoteness.
Politics at play.
Of course, if you're not from the South you might have some hesitancy visiting a Southern state, especially the more remote areas. The South is often associated with anti-LGBT+ sentiment and discriminatory policies. I must also acknowledge that LGBT+ issues are inherently political, and the vast majority of LGBT+ people are liberal leaning. North Carolina has certainly had some bumps in the road with LGBT+ equality, but I'd argue the state is one of the least southern in this regard.
North Carolina is considered a swing state as opposed to most other southern states that are conservative strongholds. We've had a democratic governor for the past six years who has enacted policies to protect LGBT+ people. And just recently, both of North Carolina's republican senators supported the Respect for Marriage Act that was signed into law in December 2022. They were two of only twelve republicans in the US Senate to do so.
And again, the Outer Banks is its own place. It is more liberal than most parts of the state, but not quite as liberal as the cities; the Outer Banks does tend to lean conservative in general. Despite this, Dare County and local towns of the Outer Banks have a record of taking liberal stances when it comes to LGBT-specific issues. For example, when North Carolina passed the nationally embarrassing HB2 "bathroom bill" in 2016, local towns such as Duck and Nags Head went on record opposing it. HB2 is now dead and gone.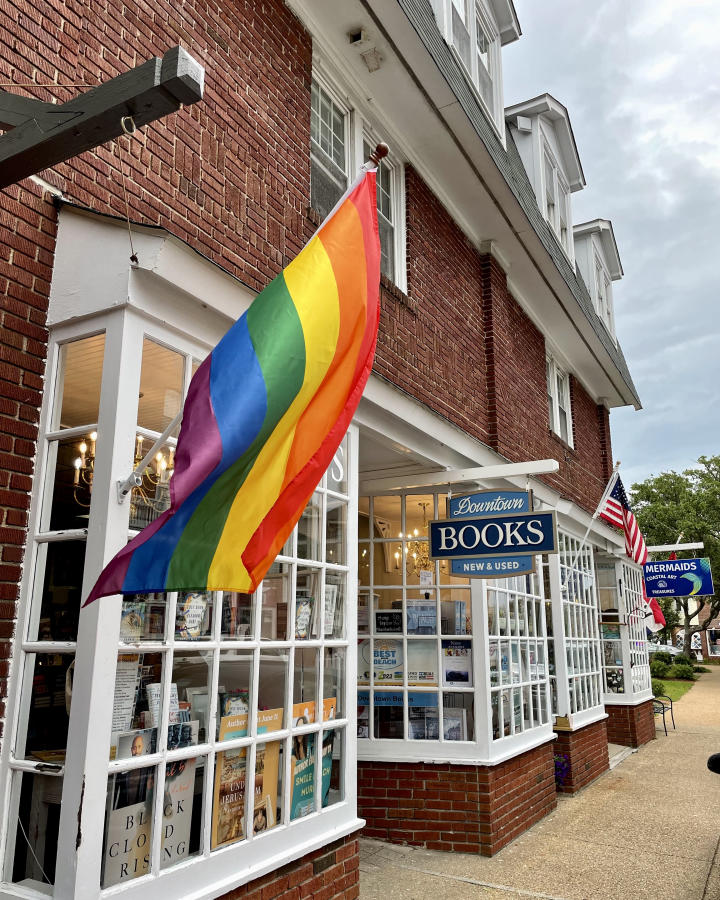 Progress over the years.
As someone who grew up on the Outer Banks, I've personally experienced it become an even more welcoming and accepting place for LGBT+ people. There seem to be more and more LGBT+ living here and visiting, I see more Pride flags flown all the time (especially in the summer months), and we have a handful of LGBT+ events throughout the year. Much of this did not exist when I first came out in 2007. I was only aware of one gay person at the time, but now I sense much more of an LGBT+ presence. Of course, you can't always tell when someone is LGBT+, and LGBT+ people have always been here. But it seems that more people are visibly out and proud these days.
As I sit in a coffee shop writing this, I see a woman walk in with a rainbow Pride flag patch on her jacket. In the same coffee shop I just ran into a gay neighbor who introduced me to his boyfriend visiting from out of town. The bathroom here (pictured below) has a gender-neutral sign that conveys an inclusive attitude. Elsewhere this week I ran into another gay friend who introduced me to his friend, and I met two more LGBT+ people after complimenting one on their Lady Gaga shirt. When I worked at a restaurant on the Duck boardwalk over the summer, I'd often see same-sex couples dining out and holding hands. I've personally held hands with a previous partner while walking on the beach and felt perfectly comfortable doing so.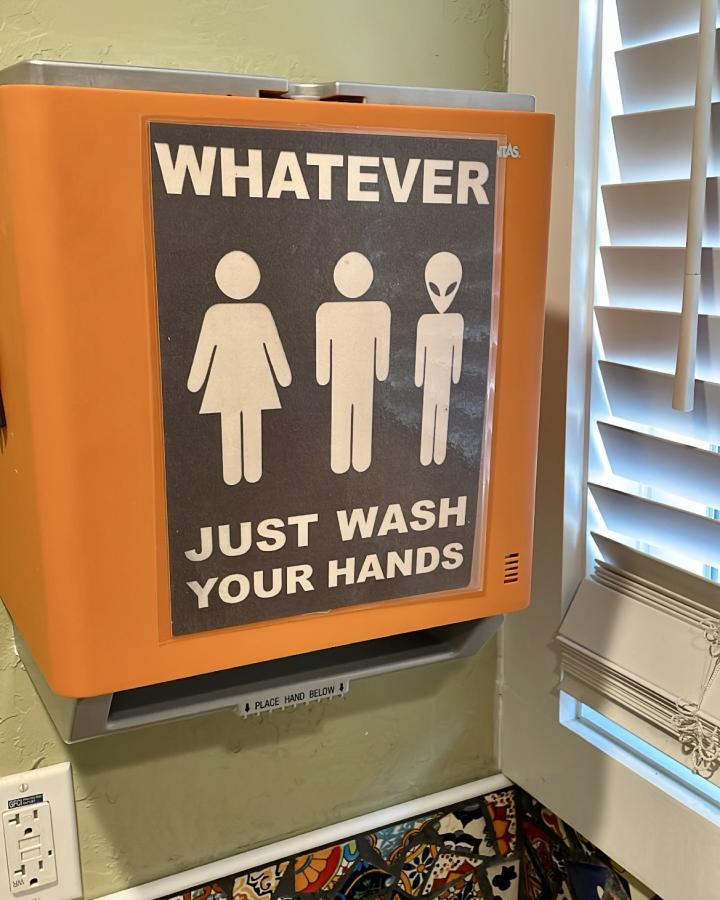 So is the Outer Banks LGBT-friendly?
The diversity, laidback vibe, unique culture, and LGBT+ offerings found on the Outer Banks make for an environment that feels very LGBT-friendly. While the LGBT+ community is extremely diverse and I'm writing from my own perspective as a queer local, many locals and visitors I've discussed this with feel similarly.
I especially appreciate the Outer Banks Visitors Bureau's commitment to promoting diversity and inclusion. Hiring minority voices such as myself to create content like this is just one way they demonstrate their seriousness about welcoming LGBT+ people, and all people, to the Outer Banks. Overall, the Outer Banks is a beautiful and unique location that can't be compared to anywhere else, and LGBT+ people should absolutely feel welcome to "come out on the Outer Banks" to experience it.