Just over a week ago, I received a text message that read: "Do you want to fish next week's tournament with the Sandbar Anglers? The dates are October 4 – 6. We fish Thursday and Friday." Without hesitation, I replied, "I'd love to!" Since my last surf fishing tournament in May – where our team the Stormy Gales came in Third Place Women's, in the 38th Annual Ocracoke Invitational – I had hoped for an opening on any Nags Head Surf Fishing Club (NHSFC) team. Turns out that this wasn't just any opening; I'd be riding (and fishing) alongside the president of the NHSFC, Dave Masters, who is also the captain of the Sandbar Anglers. The text message had arrived from his wife Paula, the Tournament Coordinator, who I'd be substituting for; she was also one of my teammates in Ocracoke. The stars were aligning nicely.
The Nags Head Surf Fishing Club has been hosting 80 six-member teams since the 1970's. But it was in 1951 that the NHSFC began to take shape when three eight-member teams gathered to compete over a two-day period. The local team was captained by Ed Fike. Claude Rodgers headed a Virginia Beach team. A third New Jersey team, the Margate City Anglers, captained by H. W. Shaner, rounded out the field . . . and issued the challenge to match fishing skills.
By 1957, three teams grew to 30, each angling for serious bragging rights. Participating teams continued to grow, making the NHSFC Invitational the largest sanctioned surf fishing tournament on the East Coast, according to the Association of Surf Angling Clubs. The club added winning categories for Women's and Mixed Teams. It's an evolving club to this day, as feedback is being sought from captains regarding a possible change to the fish scoring system.
Let the Games Begin
The first order of business was the team registration and station drawing on Wednesday afternoon, at the Jennette's Pier banquet hall. Indeed, that's where the excitement begins, with team captains and judges meeting to cover what will unfold over the next two days and answer any questions.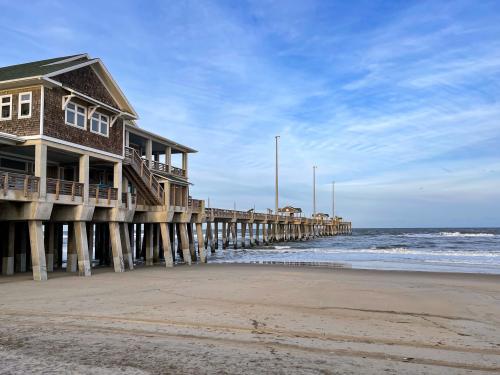 Jennette's Pier, NHSFC Tournament Headquarters
I'm just a fly on the wall, though I did get to draw a station card for the team. I dug deep into the bucket. What emerged was a card showing station numbers and sessions we'll fish. It was just what the captain had hoped for. What a relief! We fish on Thursday afternoon (1:00 p.m. to 4:00 p.m.) and Friday morning (7:30 a.m. to 10:30 a.m.). With Dave pulling double duty to ensure smooth sailing at headquarters, time slots matter. Whether or not hungry fish are at our stations remains to be seen.
While Paula and fellow volunteers worked feverishly to organize and display T-shirts and raffle tickets and prizes, I chatted with fellow lady anglers, including women from Blackbeard's Babes and Frail Quails. What's astonishing is the history of decades-old women's teams that are passed down. While the topic of women's surf fishing is an article unto itself, suffice it to say there is passion for this sport – which will be on full display in the coming days.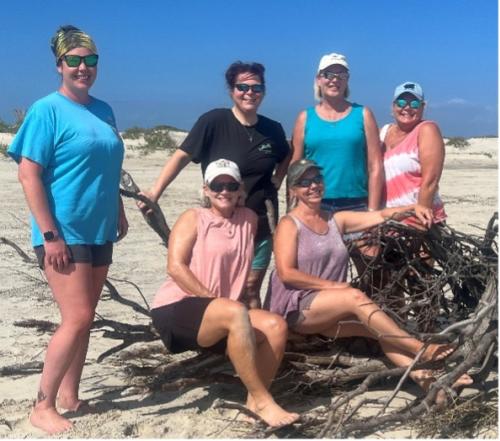 Blackbeard's Babes
 L-R: Autumn Caswell, Dee Burritt, Amy Brooks Beth Penner, Bonnie Dickson, Dorinda Franklin (Captain)
Mother Nature at Work
Due to weather factors that impacted beach access/width and related safety concerns, the tournament was moved south, to Oregon Inlet. Park Ranger Jill Paxton with the National Park Service briefed everyone on the do's and don'ts on Cape Hatteras National Seashore.
Do air down (to at least 20 psi); drive 15mph, 5mph near pedestrians or wildlife; display your ORV (off-road vehicle) permit; have your fishing and driving license accessible; last but not least, be respectful of others. Don't drink and drive, drive on the dunes, or park on vegetation or litter….
After chatting with fellow anglers, we got to work setting up our station. I then rigged four rods, each for a different application. Bluefish, red drum, trout, mackerel, sea mullet are the intended target; skate, flounder, stargazers, and more are out there, but won't score any points. Knowing the species that will score, I rigged one rod with a fireball double drop rig for blues, an artificial grub with a Got-Cha jig head for drum, and two rods with large (size 2/0) and small (size 4) hooks, for drum, mullet or bluefish. For bait, I typically use fresh shrimp with a Fishbite (artificial bloodworm), but the conditions called for a more durable fare - chunks of finger mullet. I chose 5- and 6-ounce weights and had a Sputnik on hand as well.
With pole holders well embedded in sand and rods in hand, it's off to the races at 1:00 p.m. sharp. Strong current and punishing waves did not deter my fellow teammates as they battled the swells to reach the sandbar. With impressive casting skills, it wasn't long before bluefish were being hauled to shore, along with a sizeable gray trout caught by Sammy.  Judges were right at hand.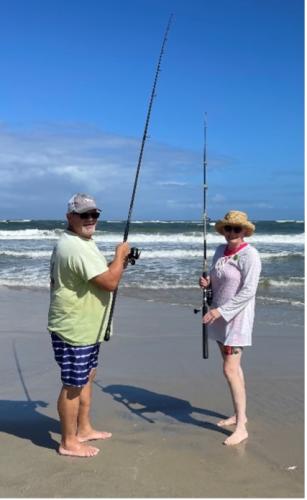 Dave Masters and Denine Phillips (author) at Oregon Inlet, ready to roll
The captain of each team is tasked with ensuring proper scoring of fish. All "legal" fish – those that meet minimum size requirements and species type – are measured from snout (mouth closed) to tip of tail. I also learned that the tail can be swept across the measuring (bump) board, which can extend the fish's length ever so slightly, and possibly add another point. After the three-hour session, 20 fish were caught, for 52 points. My small spot did not count. Neither did Ruth's pompano. But those 20 fish had us in good standing – First Place for Mixed Team (out of 12 teams), and Fourth Place overall (out of 80 teams). While there are many chances to place, including Session winners, everyone is in the race for the top three spots. (See end of article for Teams and Individual Awards.)
Day Two, Combat Fishing
Our 7:30 a.m. start coincided with a 7:18 a.m. low tide. You would never know it. The rolling surf and waves crashing off the sandbar looked even more menacing than yesterday. On the plus side, there was a slough that extended our entire station, which could hold puppy drum and mullet. Stations north and south of us had shallow waters that extended right to the edge of the bar, making casting into deep water far easier.
For our team to have any chance to catch fish meant traversing the slough, with rods held high. Again, I marveled at how that process unfolded, though not without the occasional takedown. Referred to as combat fishing by a fellow teammate, it's not without risk.
Despite the challenging conditions, six fish were caught. My flounder, which I prayed was a puppy drum, was "illegal to possess." No points. But the session ended with nine points gained, for a team total of 26 fish and 61 points. Where would that land us on the scoreboard? We'll learn soon enough.
Banquet Bash
By 6:00 p.m., my husband and I were at Jennette's Pier.  Our first stop was the vestibule, with floor-to-ceiling scoreboards. The Sandbar Anglers held onto First Place for Mixed Team, and Sixth Place overall. And Greg Irwin, our teammate who worked the waters like nobody's business, won the Most Fish category. I'm thinking it's going to be a fun night.
When we entered the banquet, it was packed with people, wall to wall. Thankfully, we had a reserved table, so I could keep an eye on all the action.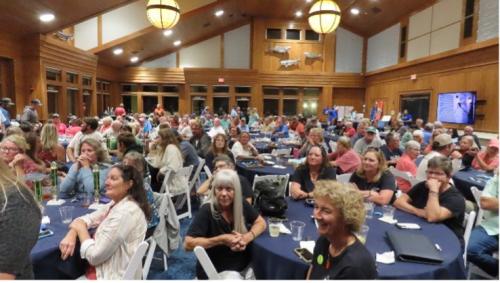 NHSFC Awards Party
The ceremony was presided over by Rob Crawford, tournament director, and Dave Masters, NHSFC president. There was a moment of silence for club members who had passed. With 71 years of history, many anglers have come and gone. To pay our respects was only fitting. Rob also recognized all those who worked tirelessly to make this event a success, including a small army of volunteers (board members, judges, coordinators, scorekeepers, secretary/treasurer, and caterers), the Town of Nags Head, and the National Park Service, as well as generous sponsors, raffle donors, advertisers and tackle manufacturers. Head Judge Bobby Halstead then recognized the tournament judges, with a special thanks to Gary Strickland for stepping in when assistant head judge Lee Barrett was called away.
During the distribution of raffle prizes, Dave stopped to recognize nine-year-old Luke Jones and present him with a special gift for participating in his first tournament. He received a rod, reel, and tackle. Talk about history . . . Luke's father is a team captain, and his grandfather and great-grandfather participated in this same tournament for many years.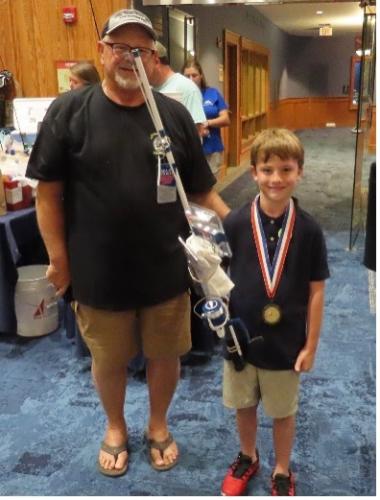 Dave Masters and Luke Jones, proud young angler
Angler awards were then presented by Rob and distributed by Pat Preston. A quick photo and the teams were back in their seats. After all trophies, plaques, and silver platters were in hand, it was "fishing Christmas," just like Ocracoke. Winners took home a bounty of fishing gear – rods and reels, coolers, pole holders, tackle boxes….
It was another tournament for the record books, with 326 fish caught on Thursday, 374 Friday, 700 total, an impressive number when compared to 364 total fish in 2022.
Most fish, if not all, were returned to the sea. Tournaments aren't about catching dinner. They're about camaraderie, hustling as a team, enjoying nature, perhaps defending a title, and possibly bringing home a trophy. This 71th Annual Invitational, expertly executed by the Nags Head Surf Fishing Club, should be very proud of its storied history on the Outer Banks of North Carolina. Without question, fun was had by all!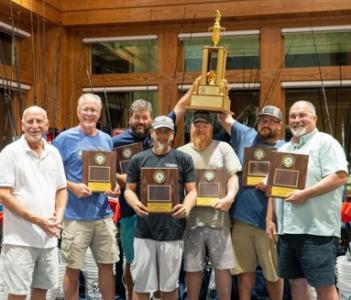 First Place Team - Island Life Realty Fishing Team (defending 2022 first-place winner)
L-R: Pat Preston (presenter). Gale Johnson (Captain), Kyle Berry, Andy Martz, Chris Tenbusch, Travis Kemp, Tom Manley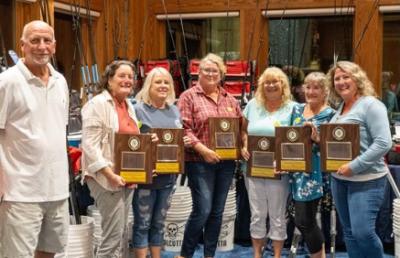 First Place Women's Team - Hatteraskals
L-R: Pat Preston (presenter), Bonnie Koehler, Angelia Jackson, Roberta Midgett (Captain), Rossie Jackson, Sue Garrett, Tonya Midgett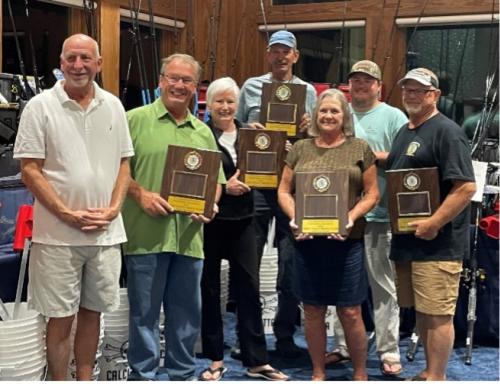 First Place Mixed Team - Sandbar Anglers
L-R: Pat Preston (presenter), Greg Irwin, Denine Phillips, Sammy
Thornton, Ruth Thornton, Troy Moore, Dave Masters (Captain)
2023 NHSFC Team Awards
First Place Team – Island Life Realty Fishing Team
Second Place Team – Fish Hawks
Third Place Team – Kitty Hawk Surf Fishing Team
First Place Women's Team – Hatteraskals
Second Place Women's Team – Outcasters
Third Place Women's Team – Fishin' Pelicans
First Place Mixed Team – Sandbar Anglers  
2023 NHSFC Individual Awards
Most Scoring Fish
Male Angler – Greg Irwin, Sandbar Anglers (16 fish)
Female Angler – Micki Walsh, Virginia Beach Anglers Club Team B (4 fish)
Largest Scoring Fish
Male Angler – Kevin Jacobs, Kitty Hawk Surf Fishing Team (24" puppy drum)
Female Angler – Rossie Jackson, Hatteraskals (22.25" puppy drum)
Most Points
Male Angler – Kyle Berr, Island Life Realty Team (43 points)
Female Angler – Rossie Jackson, Hatteraskals (27 points)
If you are interested in joining NHSFC, you can learn more by visiting www.nagsheadsurffishingclub.org. Members can enter the club's year-long tournament for the largest fish of all species. Please see the website for rules.  
For those who would like to read about my Hatteras Surf Fishing Tournament adventures, read more here.