The Outer Banks is just about the most relaxing vacation you could choose. The beach vibes, the soothing waves, quiet sunrises, and Jockey's Ridge sunsets all are blissful—but these extra-special services offer even more rest to your recreation.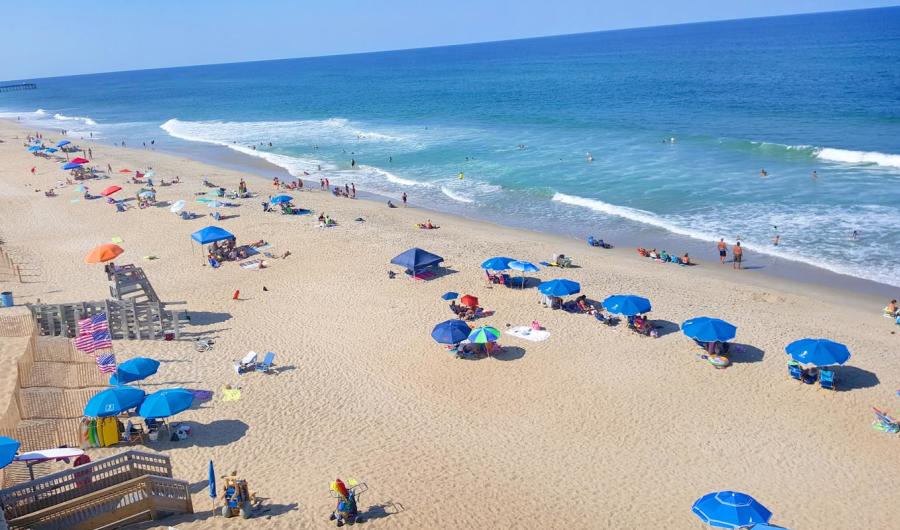 A day at the beach can be amazing, once you lug all your stuff across the sand and wrestle with setting it up. Imagine walking down to the beach and having shade and chairs already set up for you. Beach EZ Rentals does that for you every day of your vacation. "We'll set up at the beach access that's closest to your rental house," says owner Chad Walker. "You get the setup for six days, starting the day after you arrive in the Outer Banks. The first day, we'll text you the location of the beach access, and your setup will be at that same spot every day."
The basic setup, starting at $907 per week, includes six chairs, a canopy, a Yeti cooler with 30 pounds of ice, and a battery-operated blender that gets recharged every night. Oh, and corn-hole boards are included. Available extras include additional chairs for $32 each per week, and (for parents or grandparents) a baby pool set up and filled with fresh water every morning.
"Once they do it one time, they're repeat customers, especially after seeing everyone else lugging their stuff onto the beach every day," Walker says. "It works out especially well when there are three or four families renting one house—that's a lot of stuff to haul in and out each day by yourself. We set up before 9 a.m. each day, and the first setup gets broken down at 5 p.m." Setup rentals are available from Corolla to South Nags Head.
If you want to do more than just chill surfside, Walker can help with that, as well: "We own a 28-foot Sea Fox boat, and we take guests out to a sandbar on the Sound. We have the same beach setups there, along with kayaks, paddleboards, JetSkis, and fishing equipment. For four and a half hours, they can do whatever they want and relax, without having to pick up any of that stuff afterward."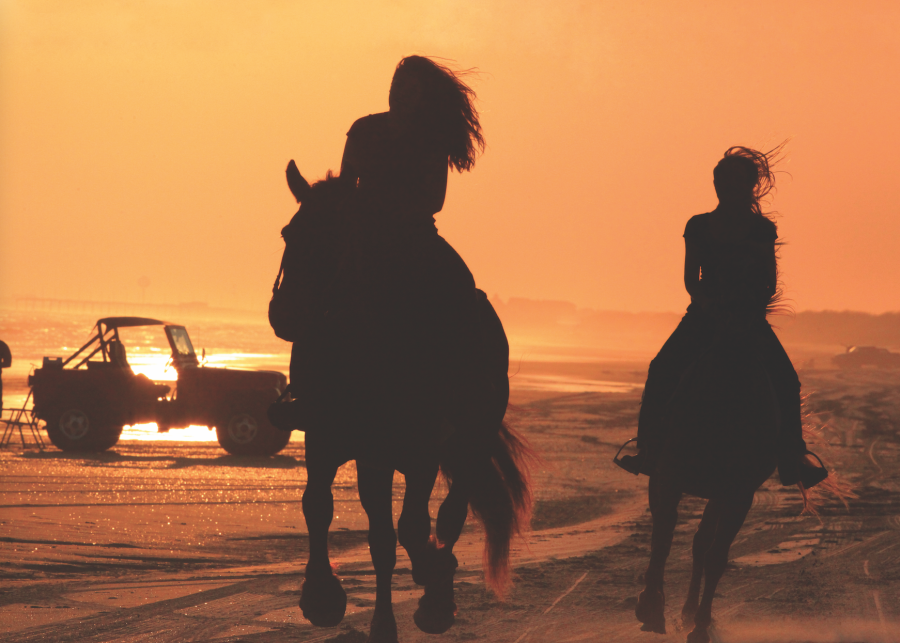 One of the coolest things about the Outer Banks is the ability to drive on the beach. If you're looking longingly at the sand from your two-wheel-drive compact car, Outer Banks Jeep Rentals has the answer.
With 19 Jeep Wranglers in their fleet, the company offers daily or weekly rentals, along with the necessary permits to allow drivers to cruise along the shore. The soft-top convertible vehicles are all "lifted," with beach-ready tires; some are wide open with no doors or tops for a real surfer-dude experience. The rental company, owned by John and Maureen Montgomery, is based in Kill Devil Hills.
"People can rent our Jeeps and go visit shipwrecks or to see the wild horses, or they can just hang out for the day," John Montgomery explains. And when you rent a Jeep to spend the day at the beach, it's difficult to leave anything behind. "The Jeep is the ultimate beach cart," Montgomery laughs. Outer Banks Jeep Rentals rents more than just a basic beach ride, too. "We can outfit a Jeep with a fridge, awnings, a fire pit, chairs," Montgomery says. "We even have a camper Jeep with a rooftop tent, so our guests can camp at campsites along the Outer Banks."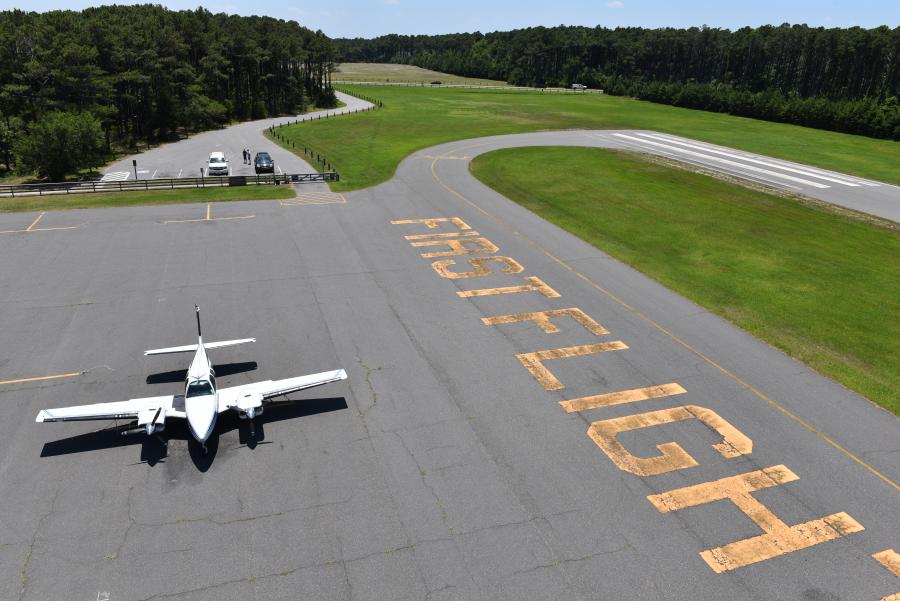 "Our reputation is only as good as your last experience with us." - Charlie Snow, Founder, and Director of Operations, Outer Banks Air Charters is the turn-key way to get to the Outer Banks from places like New York, D.C., Pennsylvania, South Carolina, and Georgia, right into Manteo, Kitty Hawk, Cape Hatteras, or Ocracoke. All you need to do is call and schedule a flight, and you could have your toes in the sand within a couple of hours. You don't even need to drive to the airport.
"People call our dispatch, and we can send a ride from their door to the airport, and have a car take them to their rental house," says Chief Operations Officer Sam Long. "The only thing we don't do is pack their suitcase for them at their house." The convenience is outweighed only by its affordability, Long says.
"It's a premium experience at a price point that's attainable," he explains. "It's for people who want to spend the most amount of time at the beach. For example, it's a two-hour flight from New York to Manteo: That would be eight hours of driving." Permanent residents appreciate Outer Banks Air Charters as much as visitors do. "In the off-season, we are the link for locals who want to go on their own vacations," Long assures.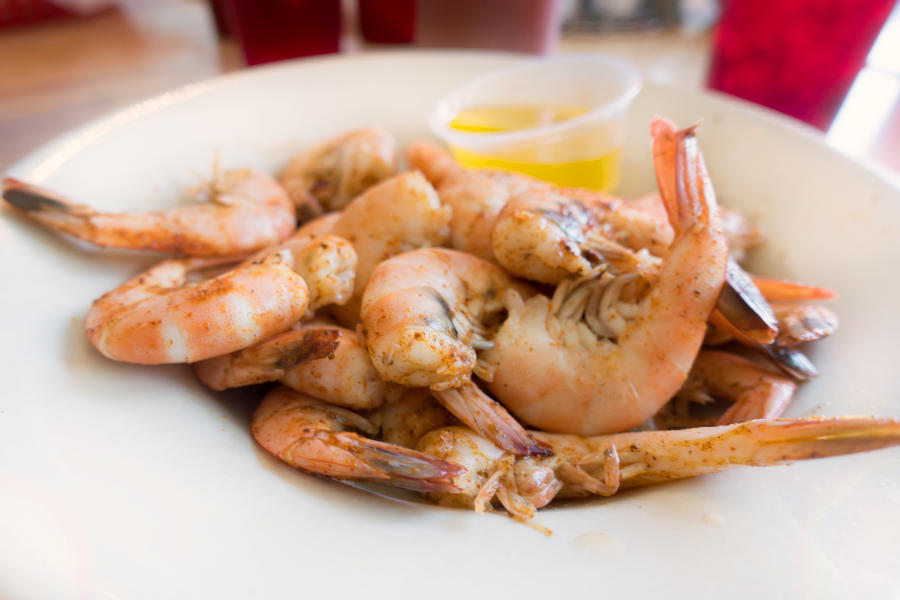 So you've spent the day on the beach. You're hot, tired, ready for a shower….Oh, wait, you've got to plan dinner. Well, why not have someone else plan it—and cook it, serve it, and clean up afterward? Private Chef Dawn Williams of Dawn's Kitchen is only too happy to provide that service and more. With an ethos of "locally acquired and globally inspired," Williams can whip up hot, buffet-ready dinners to go, or onsite catering at your home. "I arrive an hour early, cook, clean up, and leave," Williams says. "I offer five courses: hors d'oeuvres, appetizers, soup/salad, duo entree, sides, and dessert." Although she does cater for milestones like birthdays and weddings, her customers often don't need a special occasion to enjoy her meals.
"We've catered almost every day since June 2020," she says. "When people didn't have a restaurant to go to, they hired us to come to them. Especially if they were large families on vacation—12, or 20, or even 30 people—restaurants couldn't accommodate them, but they wanted to eat together as a family." Dawn's Kitchen can accommodate vegan/vegetarian palates and can cook gluten-free meals, too. "My favorite part of my job is the look on their faces when they put my food in their mouth - that look of joy. This is like going to a restaurant and having a server bring you food, like going to a five-star restaurant but you're not leaving the house."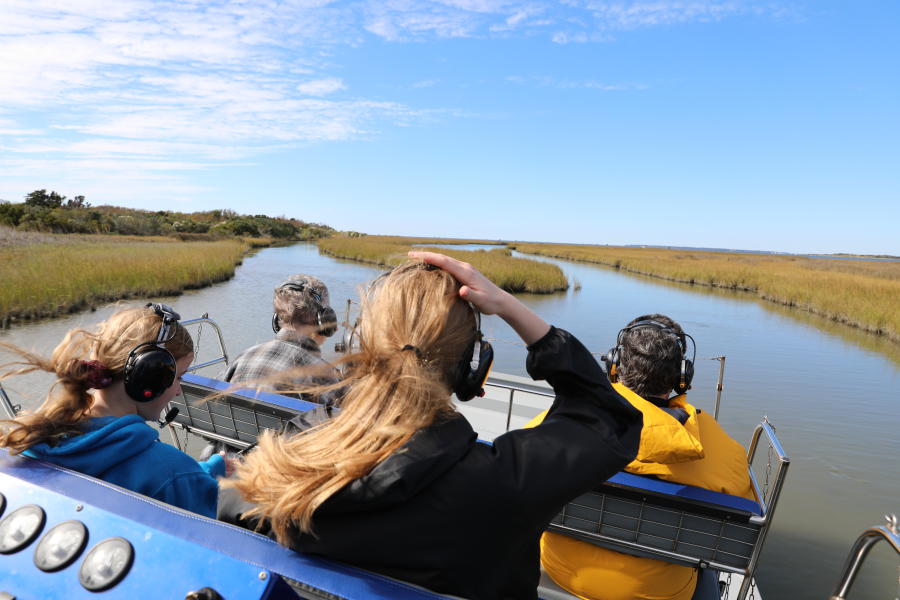 Sure, it's fun to kick back and just soak in the sun and the salty air. But if you're ready for some fun activities, Outer Banks Adventures is at your service. What sets this outfitter apart is that while you're paddleboarding or riding an airboat, you're sure to gain knowledge and a new respect for the environment at the same time. Skim across the surface of the Sound on an airboat, and learn about the ecosystem that's gliding past. Jaime Moore, who owns Outer Banks Adventures with wife Shannon, is a state-certified environmental educator, so a tour includes more than just fun in the sun.
The OBX is situated in the Albemarle-Pamlico estuarine system, the second-largest estuary in the United States. Yet the average water depth is about four feet. "That's what makes it work so well for airboats here," Moore says. That ecosystem is also rich with wildlife, and Moore makes sure to point that out on his tours. "The ride's fun, but we also explain what you're seeing and the importance of the environment you're riding through."
Each airboat can accommodate about 10 guests, and tours vary from one-hour jaunts to two hours long and more. If you like paddleboarding, Shannon —a stand-up paddleboard guide for the past nine years—can lead you and six friends on a guided tour of the Sound.
If you'd rather not be on the water, Outer Banks Adventures this year introduced the Magic Bus. The former school bus has been renovated and outfitted like a luxury RV, and is trimmed with wood from an Outer Banks pier. A large-screen TV shows guests a video preview of the Alligator River before Jaime or another environmental educator leads an overland wildlife tour. Up to 20 guests can enjoy the luxury safari-like excursion, where you may spot red foxes, alligators, and many types of birds. Whatever mode of transport you choose, Outer Banks Adventures will make it memorable. "I have a few general-interest things I talk about, and I expand on whatever interests our guests have—geology, history, photography...I tailor each tour to their particular interests," Moore says.