The Dementia Task Force, is a partnership with Healthy Carolinians of the Outer Banks in Dare County. We are helping hands for caregivers going through the struggles while caring for loved ones with diagnosed memory loss, dementia/Alzheimer's.
Our goals are to reach the public through educational outreach programs, annual caregiver's conference, and individual small group training. Secondly, we wish to provide support through mentoring programs and monthly caregiver support group. Lastly, we are connecting the public to services and resources of various agency services, Area Agency on Aging, and Social Services.
Venturing outside a comfort zone can be challenging for caregivers and people living with dementia. Because of that, often both parties opt to stay in familiar surroundings and can become isolated. Dementia friendly training works to educate businesses, restaurants, employees and managers about those challenges as well as appropriate responses. This can alleviate much of the anxiety about venturing out in the community.
The purple seahorse has been selected as our local symbol for dementia. Seahorse is a noun translated from the Latin word hippocampus, which is a portion of the brain that plays a major role in memory. Look for the purple seahorse logo at participating partners to indicate their dementia friendly status.
Dementia Friendly Restaurants
For many people living with dementia and their caregivers, eating out can be stressful. Restaurants who undergo the dementia friendly training are equipped with skills to help alleviate some of the stress and ensure a better dining experience. When searching outerbanks.org for Dementia Friendly Restaurants, you can limit search results from the "Amenities" dropdown and selecting "Dementia Friendly" or you can find a full list here.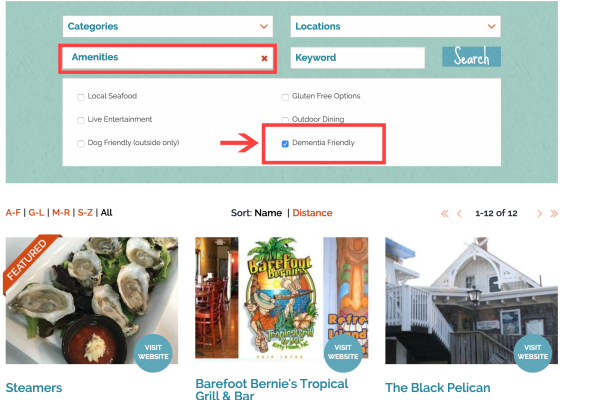 Dementia Friendly Businesses
Banking, transportation, shopping and many other activities can pose much greater challenges when living with dementia. Dementia Friendly businesses have undergone training to recognize and adapt in order to provide better experiences for caregivers and those living with dementia. The Outer Banks Visitors Bureau's four Welcome Centers located in Manteo, Whalebone Junction, Kitty Hawk, and Hatteras Island are all Dementia Friendly. Dare County Department of Social Services, Dare County Transportation, Seaside Vacation Rentals, Southern Bank KDH, and Outer Banks Hospital are participating OBX businesses also. The hospital has 8 trained volunteers that are on call 365 days a year to respond to calls and sit with patients that have Dementia. This assists care givers so they can leave and get a meal or just take a rest for themselves. It also assists those that come in without a care giver and need a little more supervision.
Dementia Friendly Training
Training is available for any business or organization who would like to participate. It's FREE of charge and can have lasting and positive outcomes for your customers, employees and community.