With over 100 miles of beach, you will find many paths, avenues, boardwalks, and roads to explore by bike. Starting in our northernmost town Duck, reaching south to the villages on Hatteras Island, and sliding west towards Roanoke Island, the perfect Outer Banks cycling route is waiting for you. Appropriate for any level of rider, the OBX hosts bridges, wide flat shoulders, and rolling paved paths beside dunes and rich salt marshes. Most of the tracks are level, making an ideal leisure stroll for families or long stretches for serious cyclists trying to test their bike's speed. Beach cruisers, roadies, or fat-tire bikes are all welcomed on this stretch of island.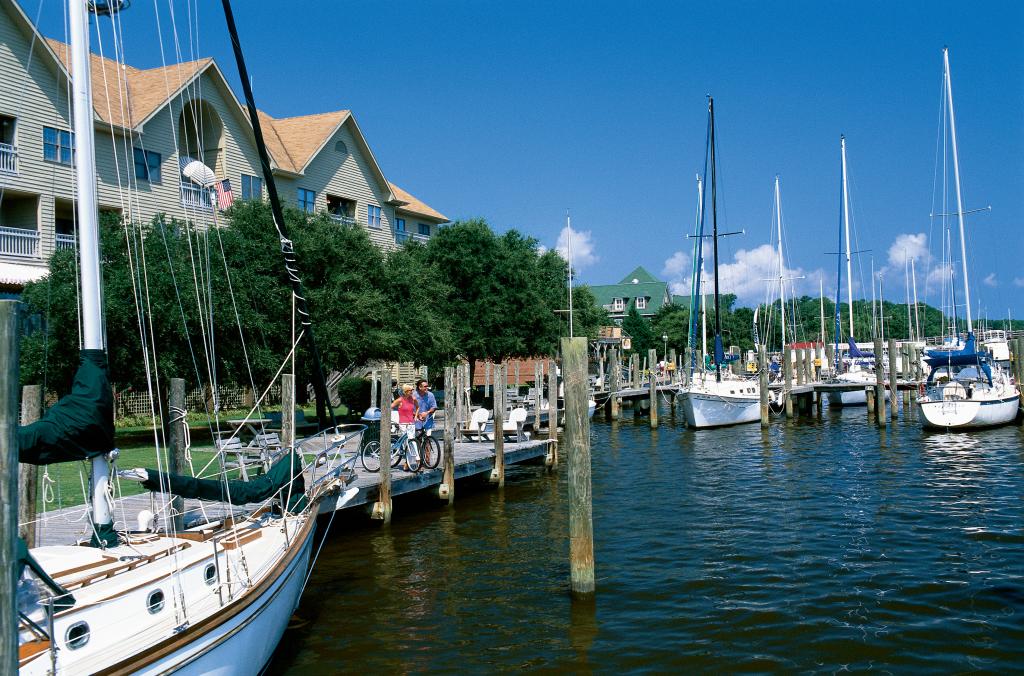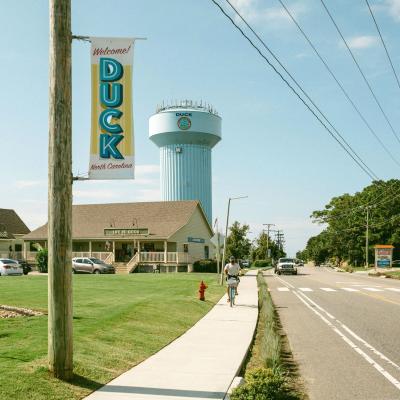 Throughout Dare County you may notice yellow "Share the Road" signs that mark NCDOT official bicycle routes along NC 12, US 158 and 64. Multi-use paths are available in most of the towns and villages for family or leisure riding. These consist mostly of paved separate routes that are parallel to highways and can run through wooded areas to connect each town without having to ride close to heavily trafficked roadways. If you journey towards the mainland, you can find miles of wildlife preserves or farming countryside with little traffic to stroll through on two wheels. No matter the direction you choose to ride, you'll almost always have a sea or sound breeze blowing in your face to keep you cool.
Wide, paved shoulders provide a separation between cyclists and highway traffic for the more experienced riders looking to pedal longer distances. Please use caution, wear appropriate protective gear and visible clothing. If riding along the road be sure to ride on the right, not left and use caution when using multi-purpose paths because of the high usage of other slower bicycles, children, and walkers/joggers.
Northern Beaches
Duck/Southern Shores – You'll find 10 miles of paved multi-use paths connecting Duck and Southern Shores. Experience the easy access to shops, eateries and be shaded by live oak trees.
Kitty Hawk/Kill Devil Hills – Near Woods Road along the Kitty Hawk Woods NC Coastal Reserve you'll get to bike through Kitty Hawk. Make your way south from Kitty Hawk Road to Moore Shore Road to see a monument on your right that marks where the Wright Brothers stayed while here on the Outer Banks. Lovers of bikes themselves, the Wright Brothers National Memorial is a sight to behold. Be sure to use the paved roads and not pedestrian walkways if visiting by bicycle.
Nags Head – In Nags Head you will find another stretch of paved walkways parallel to the highway, connecting over 11 miles of neighborhoods and businesses. The gravel road portions of Nags Head Woods are a great way to get lost in nature, surrounded by trees and forgetting you are right beside the expansive ocean.
Roanoke Island & Dare Mainland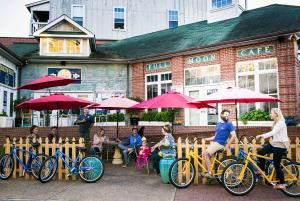 Downtown Manteo is the ideal town for an easy, enjoyable bike ride. View the Roanoke Marshes Lighthouse along the boardwalk, take in the local culture by visiting historic homes lined with crepe myrtles. Here's a list of our other Can't Miss Manteo Things To Do. Pedal over to Fort Raleigh or Elizabethan Gardens using the 7-mile multi-use path or stop in at the skate park. Alligator River National Wildlife Refuge is home to many trails, best suited for the adventurous type.
Hatteras Island
More advanced cyclists tackle Pea Island, a long stretch of flat but busy highway road with access to bathrooms and water at the Pea Island Welcome Center and passing over the Basnight Bridge across Oregon inlet. Heading south, explore the tri-villages and beyond using the paved apron that borders Hwy 12 through Rodanthe, Waves, Salvo and Avon. Buxton and Frisco Woods also have small trails to meander and get views of the sound heading towards Hatteras Village.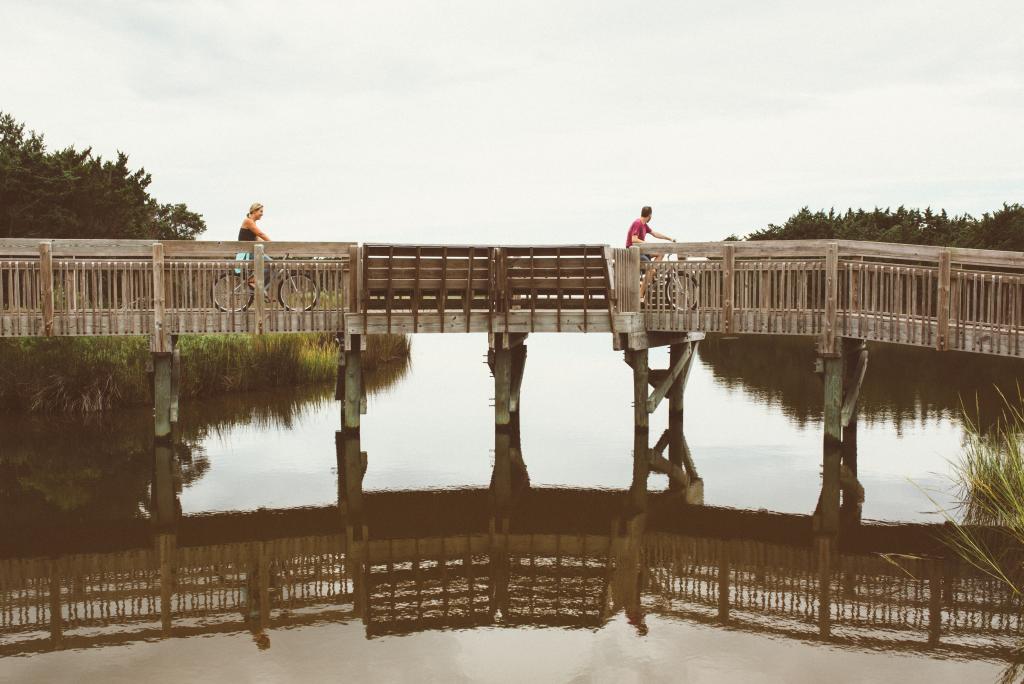 Bike Rentals & Repairs
You will find most shops are locally owned and run here on the beach.
In our Northern Beaches, you can rent or find bike gear at these locations: Duck Cycle, Duck Village Outfitters and Kitty Hawk Kites  (both have multiple locations on each island), Tri OBX Sports, Outer Banks Bicycle, Moneysworth Kitty Hawk.
Staying in Roanoke Island and Dare Mainland? Go to Manteo Cyclery for bike services, repairs and rentals for all types of bicycles. This shop is well stocked with high quality, basic components, tires and accessories.
On Hatteras Island, Ocean Atlantic Rentals (multiple locations) and Kitty Hawk Surf Company offer many options to make your cycling adventure smooth during vacation.
Biking Events
Outer Banks Sporting E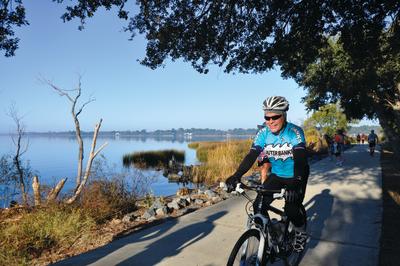 vents hosts the annual OBX Triathlon in September. Stayed tuned for more information regarding the 2021 event. Stillwaters Baptist Church hosts their annual Lighthouse to Lighthouse ride normally in late April or early May who's proceeds benefit their child summer camp.
Please follow all safety rules, wear your helmet, walk your bike across crosswalks, be aware of traffic and respectful of other multi-use path users.