The Outer Banks is home to some of the best beaches in the United States, so it's no surprise that the area is a longtime favorite for families and solo travelers everywhere. What many people don't realize is that the Outer Banks offers ample things to do in any season, especially for those looking to break free from their comfort zones.
Whether you're a local or an out-of-towner looking for the ultimate fall getaway, you'll find that the Outer Banks is teeming with thrilling activities. In this adventurer's guide to OBX in the fall, we're sharing our favorite ideas for things to do to satisfy your intrepid spirit. From hang gliding to deep-sea fishing, there's something here for everyone. Here are our top picks for exciting things to do in the Outer Banks this fall:
1. First Flight Adventure Park
Located in Nags Head with a picturesque view of the Sound, First Flight Adventure Park is an outdoor amusement facility designed for thrill seekers of all ages. With 14 ziplines and 50 obstacles, there's plenty to keep you occupied for hours on end. The team behind the park replaces or reimagines seven obstacles each season, so there's always something new to be discovered by returning guests. As of 2021, First Flight Adventure Park offers night climbing for adrenaline junkies seeking a more extreme adventure.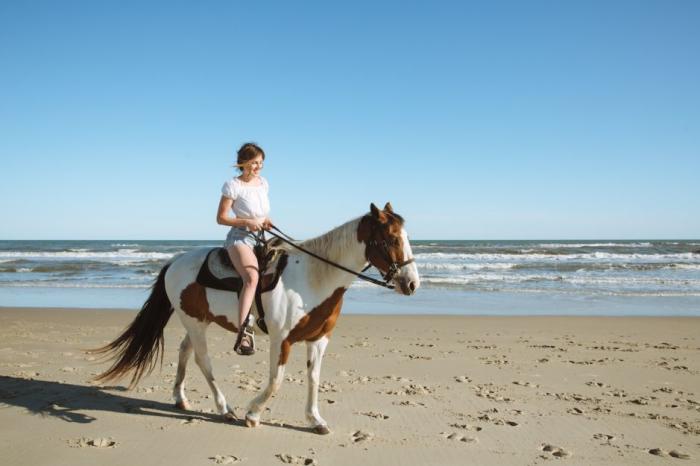 2. Horseback Riding
While you can't take a ride on the wild horses found in the Outer Banks, there are several tour operators that offer a safer (but equally as exciting) adventure for novice riders and experienced equestrians alike. Explore the showstopping beauty of the Atlantic coastline in a whole new way by embarking on an OBX horseback riding tour. For a truly unforgettable experience, book your excursion at sunrise or sunset – there's nothing like a beach ride with the glowing hues of the autumnal sun as a backdrop.
3. Deep-Sea Fishing
Surf fishing is a great pastime for anyone wanting to sit back and relax, but what about those of us looking for an excursion with a bit more oomph? A deep-sea fishing charter in the Outer Banks offers stunning views, a diverse array of potential catches, and a thrilling hunt that you won't find from the shore. Athletic fish like tuna, marlin, and wahoo can be found in the depths of the Atlantic Ocean and are known to put up quite a fight, making for an energizing adventure at sea that can yield delicious rewards.
4. Alligator River National Wildlife Refuge
Located just outside the Outer Banks, Alligator River National Wildlife Refuge boasts 154,000 acres of wetland habitats. A scenic hike or bike ride through the grounds can easily lead to a once-in-a-lifetime sighting of some of nature's most elusive creatures, like the black bear and red wolf. Bear sightings are so common here that it's practically become a sport for the locals! Nearly half of the Refuge is open for hunting as well for visitors hoping to bring home a white-tailed deer, rabbit, or quail for dinner.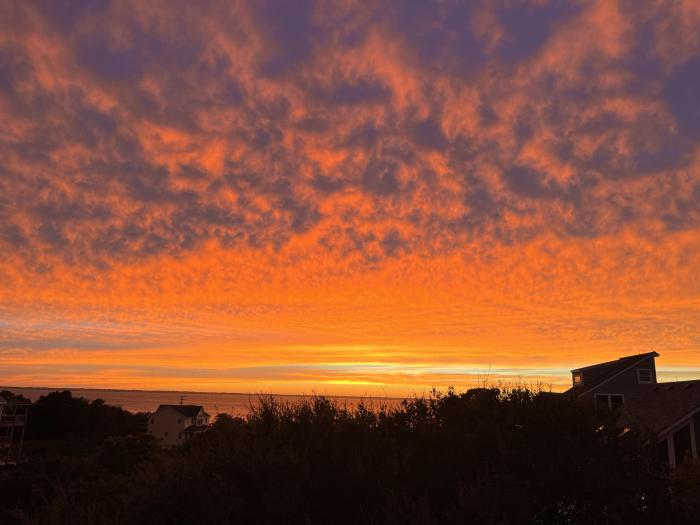 5. Sunset Cruise
If you're hoping to wind down after a long day of exhaustive activities, there are few better ways to do it than from a boat. The Outer Banks is known for having some of the most dramatic sunsets in the US, with majestic hues painting the sky each night in varying shades of purple, pink, and orange. There are plenty of OBX tour operators that will take you and your loved ones to cruise around on the Pamlico Sound as you watch dolphins splash and play with an awe-inspiring backdrop and a few cold ones.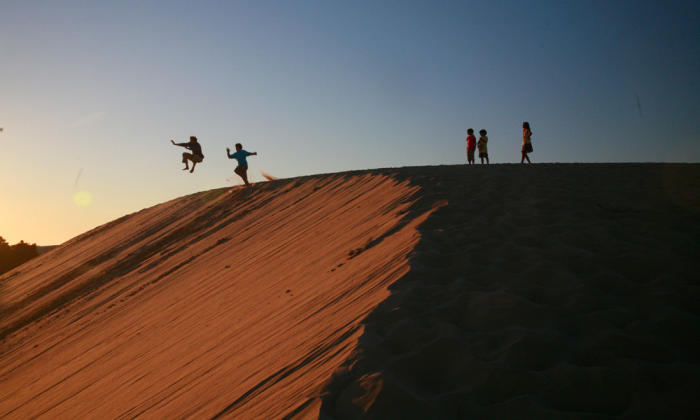 6. Jockey's Ridge State Park
Home to the tallest living sand dune system on the East Coast, Jockey's Ridge State Park is a popular landmark for locals and tourists alike. The 420-acre park offers ample activities for adrenaline junkies looking to get their next thrill, from windsurfing and hiking to sandboarding and hang gliding. In fact, Jockey's Ridge has served as a hang-gliding playground for adventurers of all ages and skill levels for over 50 years. After all, you're never too old to learn how to fly.
7. Helicopter or Airplane Ride
If you want to make the most of your next trip to the Outer Banks, a helicopter or plane ride is a stellar way to enjoy a breathtaking bird's-eye view of the barrier islands. As you soar over the coastline, you'll fly past famous lighthouses, sunken ships, extraordinary wildlife, and golden beaches. There are several local air tours to choose from depending on the sights you want to see during the excursion.

8. Cape Hatteras Lighthouse
Built over 200 years ago, Cape Hatteras Lighthouse is easily one of the most iconic structures in the Outer Banks. In addition to being the tallest brick lighthouse in North America, it's also one of the most distinguishable with its swirling black and white pattern. The historic lighthouse serves as one of the area's most popular tourist attractions, thanks to the sweeping views of Hatteras Island that serve as a reward for adventurers who make the exhaustive 257-step climb to the top.
9. Sky Diving
For the insatiable adrenaline junkie, there are few more fulfilling activities to experience during the fall season than sky diving in the Outer Banks. If you have ever thought about jumping out of a plane, this is the place to do it. Between the thrill of the jump and the awe-inspiring barrier island scenery below, spending an afternoon with Skydive OBX promises to leave you with memories you'll cherish for years to come.
Plan a visit to the Outer Banks in the fall for an adventure-filled getaway – you won't be disappointed.