When I'm choosing a new destination, diversity is always top of mind. As a Puerto Rican female, I want to feel safe and welcomed by my surroundings. Prior to my
Outer Banks trip
, I had a great experience in Durham, North Carolina, and was optimistic about a return to the state.
I was pleasantly surprised to find that OBX doesn't just embrace
diversity
now because it's trending; they have a centuries-long history of coming together as a community despite perceived differences. Confronted with storms, pirates, and supply shortages, residents were always united by a common enemy.
Today, that shared history is honored, recognizing the varied voices that make up the fabric of this community. Here are 5 surprising ways, old and new, that the Outer Banks celebrates diversity.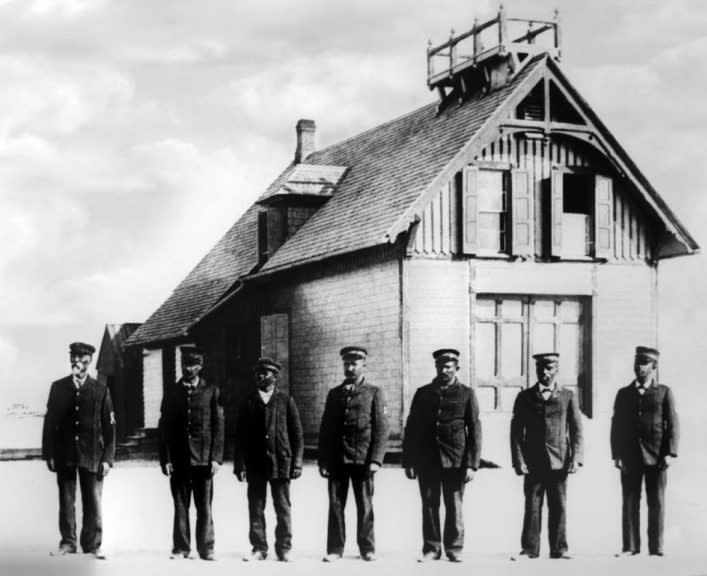 The Pea Island Life-Saving Station with Capt. Richard Etheridge, left, and his crew in 1896. Photo: US Coast Guard
Only all-Black lifesaving station in the country
In the 1800's, the Outer Banks was notorious for shipwrecks. The ever-changing landscape coupled with the occasional malevolent pirate gave rise to the need for 18 lifesaving stations to be built along the coastline.
One station was unlike the others, however, and made history. Commanded by Captain Richard Etheridge, the Pea Island Lifesaving Station became the first lifesaving station in the country to have an all-Black crew.
Commander Etheridge's station was one of the best in the country, overseen with the strictest standards. He knew they had no room for mistakes, not just because of the nature of their work but because there was a more rigorous scrutiny placed on an all-Black crew.
Lifesaving stations would later evolve into what we know today as the U.S. Coast Guard. In 1996, Etheridge and 6 surfmen under his command were awarded the Gold Lifesaving Medal by the U.S. Coast Guard posthumously. Read more stories about 
African American Heritage on the Outer Banks.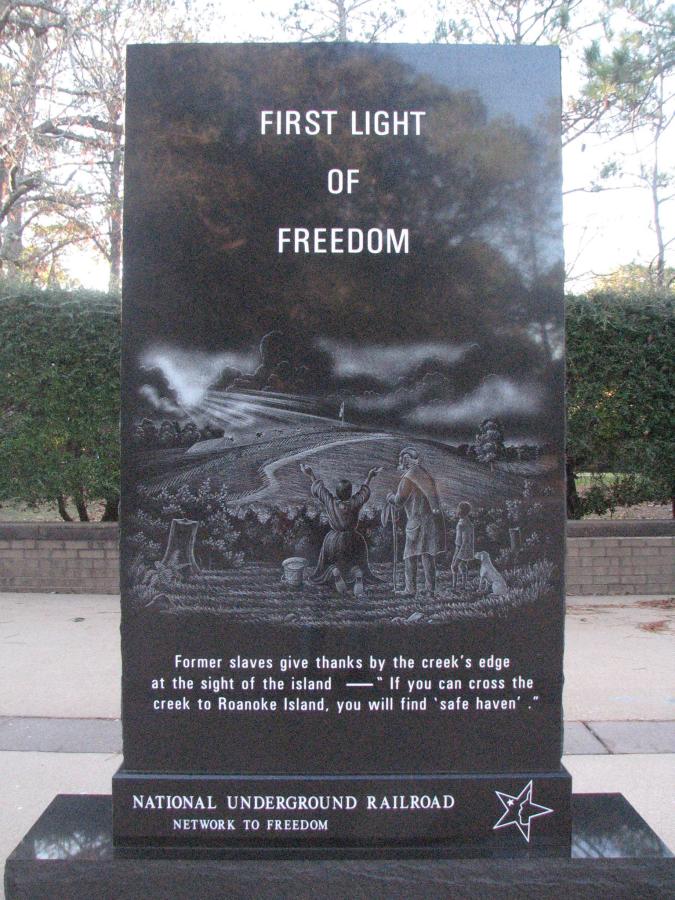 The Underground Railroad
The Outer Banks played a crucial part in the U.S. Civil War. Ships that were held up in the water couldn't deliver products to Europe and stock up on ammunition for their return. When the Union soldiers took over Roanoke Island and Hatteras Island in a strategic move, thousands of escaped slaves fled to join them.
North Carolina became home to the first Freedman's Colony and was the first stop along the Underground Railroad that signified liberty for those making the journey. Led by the Light of Freedom, men, women, and children alike all found new hope in the Outer Banks.

Minority and women-owned businesses
While OBX boasts a diverse history, it has an equally rich present. I was impressed by the many small businesses I saw run by women or minorities. On my flight with
OBX Airplanes,
LLC, for instance, our pilot Jenny Hawk was not only co-owner of the company, she also took us up in the air while 7 months pregnant. Seeing her navigate the skies in a biplane with ease felt reminiscent of Rosie the Riveter.
Another place I saw an example of women excelling in a traditionally male dominated field was at OBX on the Fly, a fly fishing shop in
Manteo
. I was able to observe a woman in the process of fly tying, masterfully making artificial bait that would be used to lure in the big game.
I had an early schedule most days and went to
Fresh Fit Cafe
for breakfast since they open at 8am. Each time, I saw someone who looked to be not just creating healthy meals in the kitchen but also managing the business itself. I later learned it was Tungaa Gawlinski, originally from Mongolia and co-owner of the café. She wanted to create a dining concept featuring locally sourced, non-processed ingredients, much like the food she grew up with. It was my favorite breakfast spot, with meals to cater to my partner's dietary restrictions.
Speaking of delicious foods, I'd be remiss if I forgot to mention
El Shaddai Chicken
, the first Mexican Peruvian
restaurant
in the Outer Banks. They're open for lunch and dinner and make classics like arroz chaufa and ceviche.
Outer Banks Pride Fest
I always look for rainbow flags in a new city as a sign the area is welcoming rather than suspicious or aggressive towards people who are different. I was impressed, then, to learn of Outer Banks Pridefest, an annual festival held in September to celebrate the LGBTQ community and allies.
It's a 3-day event with a drag show, parade, sunset booze cruise, vendors, and live entertainment. Pridefest has been going strong since 2011 and is held on the Manteo waterfront. This year's official pride festival will be held Saturday, September 9th, 2023, from 1-7 PM at Roanoke Island Festival Park. While Pridefest is not a ticketed event, it is free and family-friendly, there are ticketed events happening during pride week. View a full list of events and details on their website at 
https://www.obxpridefest.com/
.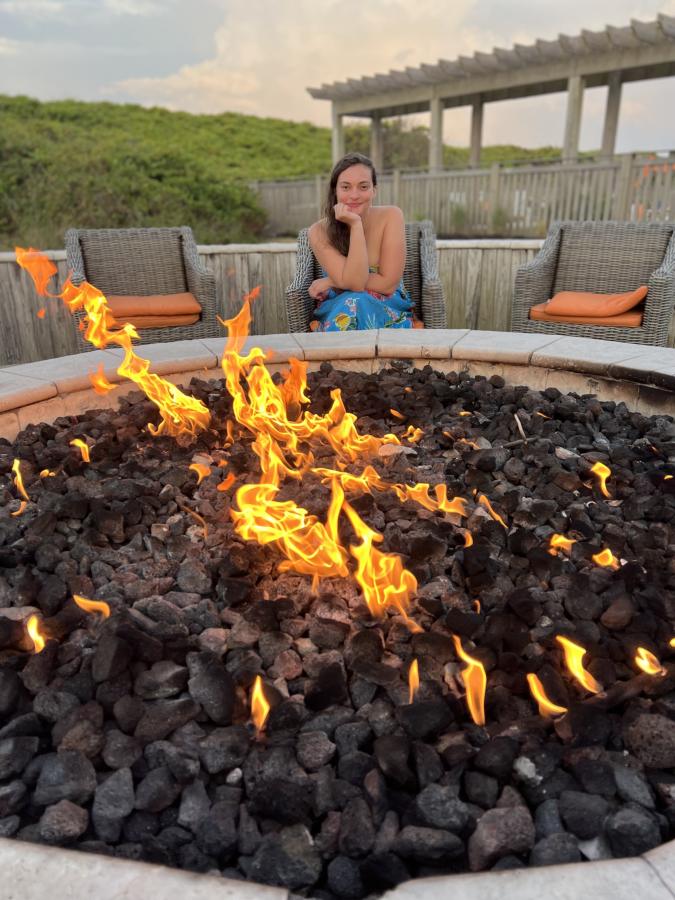 Seasonal employees from around the world
At the
Sanderling Resort
, our doorman was Jamaican. At the
Blue Point restaurant
, our waitress was from Armenia. The last place I expected to find a melting pot of cultures and languages was North Carolina, but OBX is a
summer vacation
destination that draws in talent from around the world for seasonal work.
The sound of varying accents and a full range of skin tones made me feel right at home. I enjoyed talking to the staff, learning about how they arrived at the Outer Banks and why they returned year after year.
If diversity is the spice of life, then I found the Outer Banks to be surprisingly well-seasoned.