The Outer Banks - or OBX as it is affectionately known - offers a unique combination of mind-expanding historic tales to mind-rejuvenating vacation relaxation that very few other destinations come even close to. And that's probably the reason you are either considering booking your summer vacation to the OBX, or have already done so.
But what about the kids and food? Where will you eat? Are you banished from the delicious seafood and culinary experiences the island offers just because you are traveling as a family? And will your excursions inevitably end up in various corporate-fast-casual-chain-restaurants, leaving you and your family in dire gastronomic straits during your trip?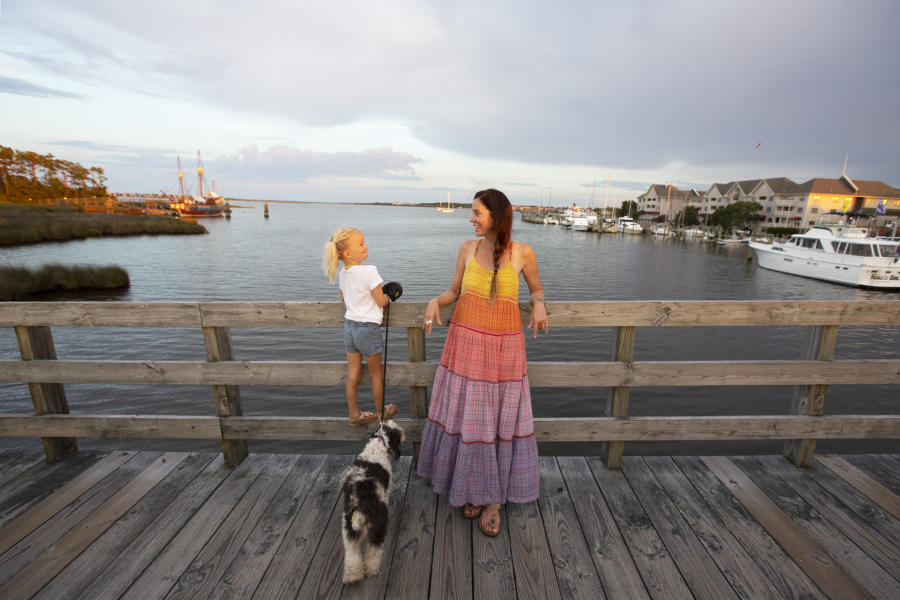 Fear not dear foodie family, because the Outer Banks has got you covered. From cool beach cafes and unassuming burger shacks, to ambitious delis and oceanside seafood restaurants - the OBX has something new, exciting, fun and family-friendly to offer every day, and for every meal. And those pesky corporate-fast-casual-chain-restaurants? Well, they pretty much don't exist here, so you will be exploring family-owned and -operated restaurants that all have two things in common: they're great with kids, and the food is tasty. What more can you ask for, really? Okay, let's get this vacation started!
The Buxton Munch says they are a "groovy little place with a whole lotta taste," and we are inclined to agree. This funky little beach dive has been serving locals and tourists alike for over 20 years, and they are well known for their excellent fish tacos, shrimp tacos, wraps and quesadillas. Enjoy the quirky interior while your food is prepared to order, and remember their "House Rules": Be Nice. Be Happy. Be Patient. Be Mellow. Sounds easy enough doesn't it?
47359 Highway 12 Osprey Shopping Center, Buxton, NC 27920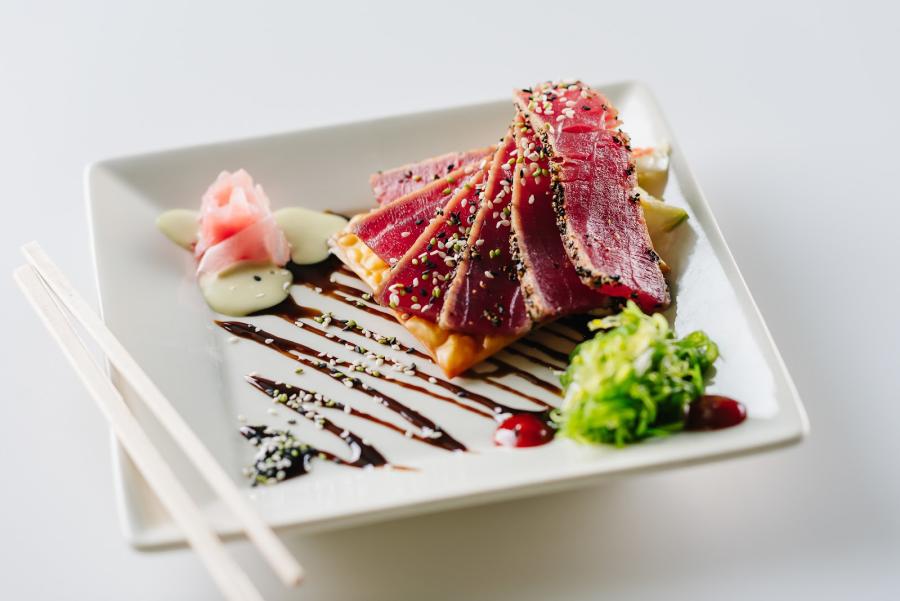 Seared tuna from Goombay's Grille and Raw Bar
At Goombays Grille & Raw Bar in Downtown Kill Devil Hills, the tropical vibe comes both in the food and the interior. Whimsical cocktails for both big kids (adults) and little ones infuse a flair of the Caribbean, and the food moves comfortably from Southwestern flavors through BBQ and all the way to Greek-inspired salads. But at the core, the food is fresh, vibrant and as pretty to look at as it is good to eat. A great way to add a little color to your vacation! Oh, and did we mention that the kids cocktails come with a surprise toy - as if there weren't enough reasons to make your reservation already.
1608 N Virginia Dare Trail, Kill Devil Hills, NC 27948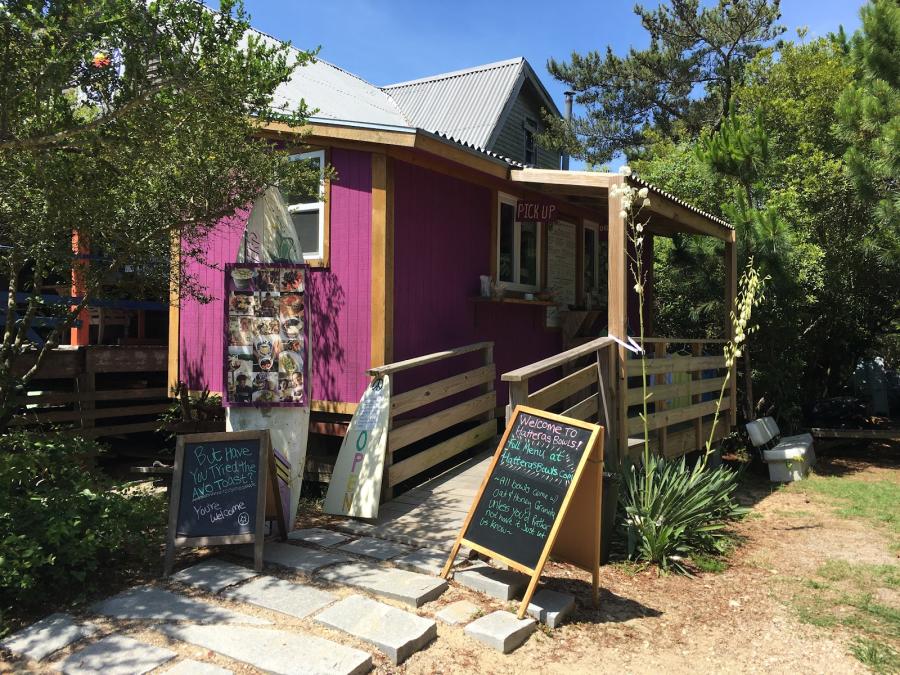 Get your day started right at Hatteras Bowls
As the name suggests, this place is located on Hatteras Island and it serves bowls. So far, no surprises. But the reason this humble shack is such a gem, is that this is pretty much the perfect breakfast joint for anyone who is looking for an equally healthy and delicious start to the day. Both you and your kids will love their perfect smoothies, creative peanut butter sandwiches and fresh acai bowls that you can build yourself or pick from the menu board. They also serve up delicious vegan ice cream and locally-brewed coffee all day, so this will easily and quickly become a family favorite.
25410 NC-12, Waves, NC 27982
This is another family favorite, and another festive, colorful and inviting restaurant where the vacation vibes are dialed up to 100. This awesome tiki bar and grill in Kill Devil Hills has been a local not-so-secret-secret for more than 15 years, and they serve up fantastic Pacific flavors - always with a big smile. From pepper-seared ahi tuna to cellophane noodles with ginger and shrimp, from Hawaiian pork plate to jerk chicken soft tacos - the food is always fresh, vibrant and lively. Also don't miss out on their creative cocktail list (it is a tiki bar after all!) which features fun tropical flavors and daring combinations.
1701 S Croatan Hwy, Kill Devil Hills, NC 27948
While there are many restaurants and cafes in the OBX, Poor Richard's Sandwich Shop is most certainly one of the most iconic ones. This pub-slash-deli has been delivering on the promise of delicious sandwiches for over 35 years, and guests keep coming back for their famous Reuben time and time again. Served with a dill pickle? Of course! And it is accompanied by a great view of the Shallowbag Bay and the Manteo town Marina.
305 Queen Elizabeth Street, Manteo, NC 27954
Sam and Omie's restaurant in Nags Head is an Outer Banks institution. Originally opened as a breakfast spot for commercial fishermen over 70 years ago, the restaurant today serves up food for everyone, all day, and with a laid-back atmosphere and fresh ingredients. Check out the steam-bar menu items and feast on crab legs or spiced shrimp, or try one of the sandwiches "from the sea", like the clam dog, shrimp burger or fried flounder sandwich. Whatever you choose, you can not go wrong in this old-school beach cafe, and you'll feel immersed in local history as you dine.
7228 S Virginia Dare Trail, Nags Head, NC 27959
This classic seaside restaurant sits on the edge of the Roanoke sound, and has been serving up wonderful vistas and delicious food for over 40 years. Run by the Bibey family since the start, the restaurant is a beloved staple on the OBX food scene. Families will love the broad selection of local seafood that is offered either fried, broiled or steamed to perfection. From snow crab legs and coconut shrimp, to calamari and flounder - it covers pretty much everything good in the sea that surrounds the restaurant, and if for some reason your little ones aren't into seafood, you'll find plenty of land-based foods that will keep you filled up and happy as you watch the sunset from the patio.
7575 S Virginia Dare Trail, Nags Head, NC 27959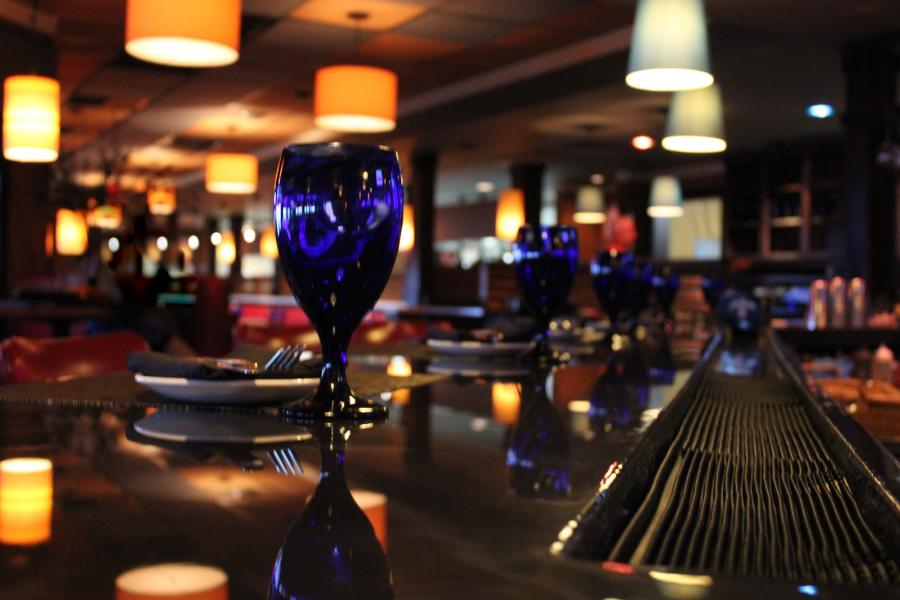 Enjoy the vibe at The Blue Point in Duck
Now, we know your kids are well-behaved little foodies, so why not treat them to a fancier dining experience while you are visiting the OBX? Yes, The Blue Point is a little pricier than most other restaurants in the area, but when you combine the warm Southern Hospitality, the lovely atmosphere and the creative, delicious fare served up every night (think hoisin glazed pork ribs or seared jumbo sea scallops with curried ginger farro) - you'll definitely walk away feeling that the money was more than well spent. Also make sure to check out the back bar for a combination of a lively scene, live music and a perfect view of the sunset.
1240 Duck Road, Duck, NC 27949
Sugar Creek Soundfront Restaurant
With one of the best views on the OBX, Sugar Creek Soundfront Restaurant in Nags Head is surrounded by nature. Watch for the resident osprey family nesting on site, or have the kids honk at the Canadian Geese that gather under the overlook. And if you can take your eyes off the natural wonders that surround the restaurant, you'll be inspired by a lovely menu filled with classic fried, broiled and steamed seafood. Try the crab bisque, loaded with local lump crab meat to start, then get the fried seafood platter that features the catch of the day, scallops, shrimp and clam strips. Or go Southern with their award-winning shrimp and grits, made with andouille sausage, Sriracha butter and Pepper Jack cheese.
Also check out the next door
Sugar Shack
- which is a seafood market, restaurant and oyster bar that sell take-home steamer buckets of clams, crab claws, mussels and shrimp.
7340 S Virginia Dare Trail, Nags Head, NC 27959
This is a casual waterfront restaurant that offers an attractive combination of friendly atmosphere, gorgeous views, good food and a nice lawn for the kids to run around on. Mom and Dad will find an impressive selection of international craft beers and fun wines on the menu, and the kids can choose between a large number of handheld sandwiches and burgers that are all delicious. And as an extra feature, The Village Table and Tavern hosts musicians and artists almost daily - performing against the backdrop of Currituck Sound in their downstairs Sound Lounge.
1314 Duck Rd, Duck, NC 27949
Now that you have gotten your family-friendly deliciousness all planned out, don't forget to check out the many sights across the OBX. From excursions to iconic places like the Cape Hatteras Lighthouse, to the vast beaches that are freely accessible to all visitors and explorers. From tales of famous pirates that met their demise in the Graveyard of the Atlantic - the treacherous stretch of water on the Atlantic side of the Outer Banks - to the mysterious story of the disappearance of America's first colony in Roanoke, known today as "The Lost Colony." Or the inspiring historical moment when the Wright Brothers took flight for the first time on a windy Thursday morning in December of 1903, a few miles outside of Kitty Hawk. Clearly, on the OBX, there's more than enough to keep both mind, body and belly stimulated.