The Outer Banks of North Carolina knows how to make a first impression. Centuries ago, this is where English colonists first tried to make a home in the New World. In the early 20th century, two brothers took to the skies here in the first-ever human-powered flight. And in 1953, 70 miles of the 100-mile-long Outer Banks were set aside as the country's first national seashore.
Today, "America's First Beach" is pretty much the ideal spot for a family vacation. Towering sand dunes, vintage lighthouses, pleasant seaside towns, wildlife-packed shores, and pristine mid-Atlantic maritime forest set the stage for some serious fun. Whether or not the experiences below represent a "first" for your family, they're guaranteed to make memories that last a lifetime.
1. Catch that first spectacular ocean sunrise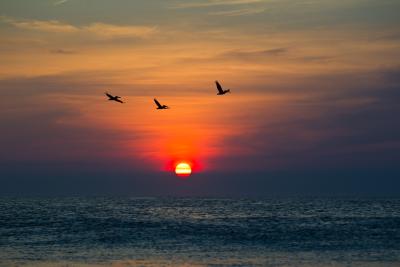 If your little ones regularly start running around at the crack of dawn, pack 'em up for a morning they won't forget. Thanks to the protection of Cape Hatteras National Seashore, the Outer Banks have no high-rise condos or other overly disruptive development, so you can easily find a quiet strip of beach and watch night give way to day all by yourselves.
This is the easternmost point in the state, so be prepared for sunlight a bit earlier than you're used to. As the sky lightens, it'll also get louder — the area is home to some 400 species of birds. They don't seem to mind the chilly winds of dawn, but you might want to pack sweatshirts and a few blankets (or better yet, bring one big blanket and huddle under it together).
After the sun's risen well above the water's edge, fuel up for the day at one of several iconic OBX breakfast spots. Duck Donuts serves up hot doughnuts made to order and Stack 'Em High Pancakes lives up to its name with piles of flapjacks so tall they'll remind you of the Cape Hatteras Lighthouse.
2. Enjoy the beach by surf, wind, and sky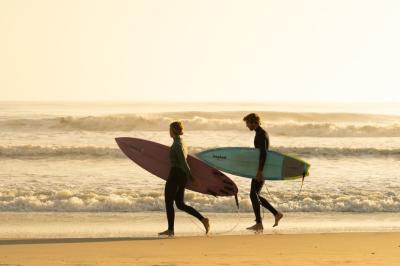 Photo: Outer Banks Visitors Bureau
Choose your stretch of the national seashore — it covers 70 of the Outer Banks' 100 miles, remember — and set up camp for a day by the sea. If your kids are younger, bring toys to dig holes and build sandcastles, or have them look skyward as you wrangle a flying contraption you picked up at one of the 15+ locations of Kitty Hawk Kites. Older kids may want to try surfing, boogie boarding, or skimboarding with Hatteras Island Surf & Sail. Or, for a true family first, there's hang gliding at Jockey's Ridge State Park.
If you can, stay past sunset or come back after dinner, as the beaches offer new experiences at night. From May to October, sea turtles come ashore after dark to lay their eggs — starting in July, the hatchlings emerge from their nests by moonlight and crawl back out to sea. Ghost crabs also scurry around the sand after dark in the summertime. You'll just want to make sure to give any wildlife you encounter plenty of space and follow all local recommendations and regulations for observing the animals safely, especially sea turtles.
Even if you don't catch sight of these elusive creatures, a night spent on the beach looking up at the stars is something your family won't forget anytime soon. If you plan to stay for several hours or camp out all night, consider nabbing a beach bonfire permit and making some unique memories along with your hot dogs and s'mores.
3. Catch lunch from the sea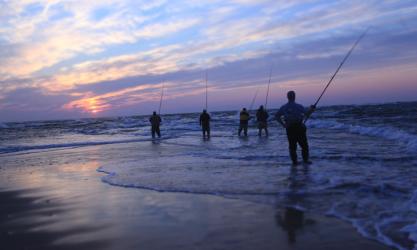 Fishing along the Outer Banks runs the gamut from offshore charter opportunities to surf and pier fishing. If you're new to the activity or are traveling with young children, opt for the latter and head to Jennette's Pier in Nags Head. Not only does the historic, 1,000-foot pier offer plenty of real estate for casting a line, but there are also interactive educational exhibits and a full tackle shop to equip you with everything your family needs to hook that first catch.
Several restaurants on the Outer Banks offer "hook and cook" service, where you bring the fish and they prepare it to your liking — a great option for those who don't want to do dishes on vacation! So once you've landed a few edible fish, take your bounty to a spot like Blue Water Grill & Raw Bar and leave the rest to the chef. The Nags Head Fishing Pier and its convenient onsite Pier House Restaurant also provide this dining option during the summer season.
4. Climb to the top of a lighthouse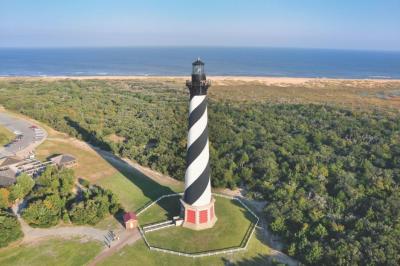 Before modern navigational equipment, the low-lying islands of the Outer Banks created hazards for ships at sea, leading to the construction of tall lighthouses along the coast to warn mariners of dangerous shoals and shorelines. Although most vessels today navigate electronically, these iconic structures remain in operation and continue to serve as significant directional beacons — and, for the rest of us, excellent spots for sunny views and interactive history lessons.
During the warmer months, both the Cape Hatteras Lighthouse — the tallest brick lighthouse on the continent — and the Bodie Island Lighthouse are open to anyone willing to make the spiral climb. The Cape Hatteras Lighthouse will be under construction and not open for climbing the 2022 season, however, the grounds are open for visiting. For those who prefer staying closer to sea level, the Roanoke Marshes Lighthouse rises just a few dozen feet above the water in Manteo.
Tip: Tickets for the big lighthouses are available on a first-come, first-served basis each day, so get there early to reserve your time.
5. Ride horses on the seashore
Unlike the teacups, this is one ride the kids will never forget. Hatteras Island Horseback Riding and Lighthouse Horse Rides take riders of all ages and skill levels (read: no experience is fine) out on calm, beginner-friendly, tame steeds for easy rides in the surf. You won't get too wet, but your feet might get splashed — consider going barefoot. 
Tip: To see the Outer Banks' famous wild horses, take NC-12 north to the 4x4 beach in Corolla and keep your eyes peeled.
First time staying on The OBX? We've got you covered.
Families often enjoy the convenience of renting a vacation house, townhouse, or condo, so the whole gang has plenty of space to spread out and get comfortable. But you'll also find cozy bed & breakfasts, inns for a romantic step back in time, campgrounds and RV parks to spend more of your days outside, and traditional hotels and motels. If you're going with a larger group, consider renting out a cottage court, with several houses surrounding a shared courtyard.
Renting a vacation home is straightforward once you've found your spot. Lock in your accommodations and you'll be one step closer to adventure — and to memories that last for generations.