As seen on Wicked Tuna: Outer Banks
Wicked Tuna: Outer Banks Season 8 was one of the most dangerous and thrilling season of Wicked Tuna yet. For the first time in show history the entire fleet was made up of Southern boats. Fan-favorites Captain Greg Mayer of the Fishing Frenzy and Nick Gowitzka of the Little Shell were ready to make their mark without facing any competition from the North, while underdog Captain Zack Shackleton of the Rasta Rocket set out to prove that though his boat is the smallest, it's the mightiest.
Captain Bobby Earl was back with an all-new Reel E' Bugging after a devastating fire over the winter decimated his previous vessel, initially making a return this season questionable. The revivals of Captain Adam Price of the Offshore Outlaw and Captain Britton Shackelford of the Doghouse after both captains took a brief hiatus was sure to up the ante. Rounding out the fleet was newcomer Captain Jimmie Horning of the Hog Wild who, at just 22 years old, is the youngest captain in the group. But don't be fooled by his age—Horning has been captaining his own vessel for more than five years and isn't one to be scared off by a few veteran fishermen.
Will there be a Season 9 of Wicked Tuna Outer Banks?
Yes, Wicked Tuna has been renewed for a season 9 on National Geographic Channel. Stay tuned for a release date and more information.
Meet the Captains & Crew
The Fishin' Frenzy has a reputation as North Carolina's top-earning boat, led by four-time champion Captain Greg Mayer, who had his work cut out for him last season as he competed against the best of the best. Now, the Frenzy crew must compete against their fellow Southerners—and a global pandemic—to come out on top once again.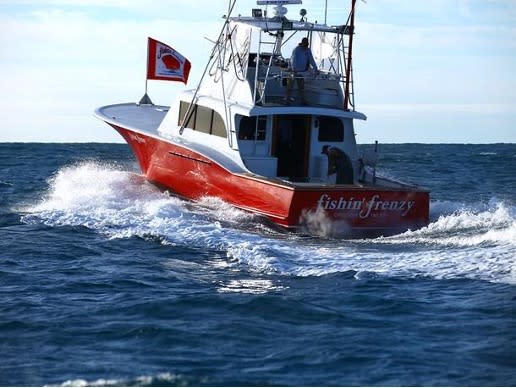 The competition this year won't be easy for Mayer, as all of his fellow boats know the lay of the land in the South, and many have grown up fishing these waters. Captain Mayer and his crew must use their extensive knowledge of the Atlantic seaboard if they want to get a leg up on the competition.
Greg Mayer, Captain
Greg Mayer has fished for nearly 30 years up and down the Atlantic seaboard, from Maine all the way down to Mexico and the Bahamas, catching everything from fluke to the highly-prized bluefin tuna. Originally from New Jersey, Mayer moved to the Outer Banks in 1991 and became captain of the Fishin' Frenzy in 1999. He has worked his entire life in pursuit of his dream of owning his own boat and becoming a full-time fisherman.
Fishing serves as his only source of income, so Mayer is constantly feeling the pressure to succeed. Despite his Northern roots, Mayer considers himself a Southerner, and he has earned a reputation as one of the top boats in the fleet. Mayer holds a Bachelor of Science in biology from Bates College, and when he's not fishing commercially, he runs a successful charter business out of Oregon Inlet.
Billon Hollingsworth, First Mate
Billon Hollingsworth was born and raised in Wanchese, North Carolina. Fishing and boats are in his blood—Hollingsworth's ancestors originally arrived and settled in Wanchese after a shipwreck there hundreds of years ago. He got his first commercial fishing job right out of high school, and one trip was all it took—he was hooked and has been fishing for a living ever since.
Jason Futch, Mate
Jason Futch was raised in Florida but has lived in the Outer Banks for more than 25 years. He grew up fishing alongside his dad and started commercial fishing shortly after moving to the Outer Banks. Futch and Mayer have known each other for almost 20 years, with Futch serving as a mate during bluefin season and helping Mayer run charters in the offseason. Futch is a family man, with a wife and teenage son. When he's not fishing, Futch runs a successful landscaping and carpentry business.
The Doghouse is run by Captain Britton Shackelford, who has operated the business with his wife since 1999. The current Doghouse is the third such vessel and has been voyaging the Outer Banks since 2004. Coming in at 61', the custom-made Carolina boat was a labor of love that Shackelford and his wife built together.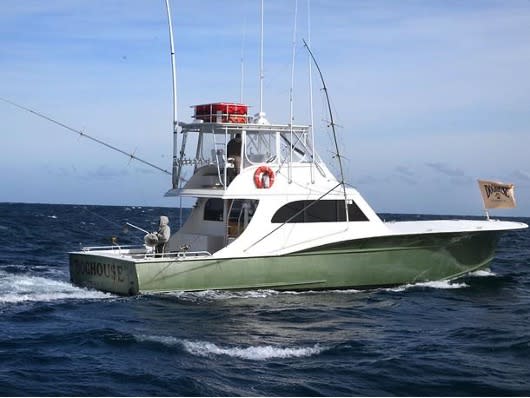 After a brief hiatus, Shackelford is ready to return to the tuna industry and prove that he can still fish with the Southern titans, even after time off the water.
Britton Shackelford, Captain
Captain Britton "Shack" Shackelford comes from a long line of fishermen. His family has been in the commercial fishing business since 1670, so it's common belief among the locals that Shackelford has salt water running through his veins. Born and raised in Gloucester, Virginia, he is a proud Southerner who puts faith and family first—values that have made him one of the most dedicated fishermen in the Outer Banks. When he's not fishing for bluefin, Shackelford runs a charter business out of Wanchese, North Carolina, where he takes pride in helping others connect with their love of fishing. An avid outdoorsman, Shackelford also operates a duck hunting charter business.
Lewis "Bo" Everett Davenport III, Mate
Bo Davenport is a North Carolina native born in Edenton, NC and currently lives in Manteo, NC. When he's not fishing, Bo enjoys deer hunting, hanging out with his dog Hoot, and making "random things." As a teen, he started crabbing in the summer and has worked in construction to make a living. Last summer, he charter-fished with Britton and made a good impression, leading to his first season full-time bluefin fishing.
Catlin Peele, Mate
Born and raised in Hatteras Island on the Outer Banks, Catlin has been fishing for as long as he can remember and says it's his "true passion." But there was a time when Catlin had other career aspirations, and he enrolled in culinary school for a year before returning to fishing. In his spare time, he and his wife enjoy traveling and spending time with their three labs, two cats and two horses. Catlin is also an avid surfer and hunter.
At first glance, it would be easy to dismiss the Rasta Rocket, a 28' 2000 Contender, as a tin can run by a group of kids. Most would say the boat looks barely seaworthy, and 20-something Captain Zack Shackleton and his mates are among the youngest fishermen in the fleet. But don't underestimate this scrappy threesome—they have a serious track record when it comes to catching bluefin tuna and there's no quit in this crew.
While the rest of the fleet laughs, the Rasta Rocket's underdog crew easily keep pace with boats twice their speed and size, landing in the middle of the pack last year. This year, the dangers of the Atlantic are at their worst though, and Shackleton may have to make some tough decisions to protect his smaller vessel and his crew.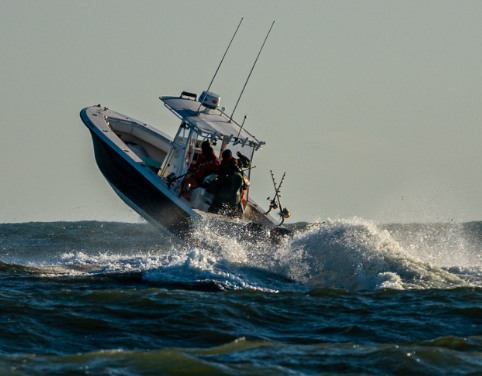 Zack Shackleton, Captain
Zack Shackleton is one of the quirkiest guys in the Outer Banks. He started fishing when he was 13 and got his captain's license on his 18th birthday. Shackleton and first mate Daniel Blanks have been fishing together for bluefin for the past four years. It has always been Shackleton's dream to own a boat, and he and Blanks took out a loan and purchased the Rasta Rocket. A full-time fisherman, Shackleton will fish year-round on the Rasta Rocket, even sleeping on the deck in bean-bag chairs when an overnighter is required.
Daniel Blanks, First Mate
Daniel Blanks is Shackleton's best friend and co-owner of the Rasta Rocket. Even though they met only six years ago, the two are like brothers, sharing control of the boat. Blanks has been commercial fishing since he was 20 years old and prefers that work to running charters, which he considers himself too socially awkward for. And while Blanks is excited to compete against the bigger boats in the fleet, he also has a young baby to care for at home and needs to make sure he brings home a paycheck to support his family.
Shane Britt, Deck Hand
Known as "The Muscle," Shane Britt physically pulls in big tuna when the boat's scrawny co-owners struggle to get fish on the deck. Britt is equal parts mate and mother aboard the Rasta Rocket, as he is there to help Shackleton and Blanks with anything and everything while they are fishing. Hailing from a multigenerational fishing family, Britt is a tried-and-true fisherman who runs charters on his own boat in the offseason. With a wife and three young kids to support, he will do whatever needs doing in order to help his team find success.
Captain Bobby Earl's big, boisterous personality may not stand out in his native New York, but he makes plenty of noise in North Carolina. When Reel E Bugging is on the water, everyone knows, because Earl is not shy about trash-talking, bragging or fishing hard. His former career on Wall Street was the perfect training ground for the high-stress stakes of fishing for a living. Earl may be a long way from the mean streets of Queens, but he feels right at home in the Outer Banks.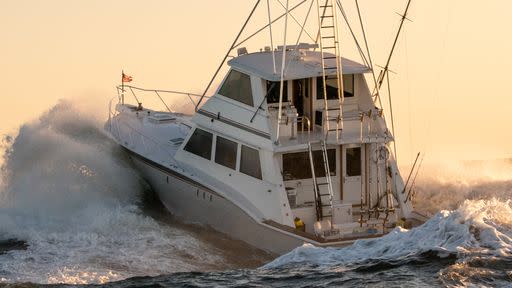 Tragically, the original Reel E Bugging erupted into flames during the winter off-season, and Earl and his partner had to abandon ship, leaving the vessel to burn. But now, Earl is back with a new boat that is bigger and better than before, and he and his crew are ready to hit the ground running and get the season off to a good start after a disappointing finish last year.
Robert "Bobby" Earl, Captain
Bobby Earl grew up in Queens, New York, and had a stable career on Wall Street before the market crashed in 2008. After a brief stint as an exterminator, "Bobby Bedbugs" decided to take his love of fishing and turn it into a career. Despite his roots, Earl has plenty of experience—he fished recreationally for more than 20 years, commercially for 12 years, and has fished in the Outer Banks every winter for the past nine years. He enjoys the challenge of rod and reel fishing, and unlike many of his Southern counterparts, he does not use a greenstick to catch bluefin.
Drew Cooper, First Mate
Drew Cooper was born in Philadelphia and has been commercial fishing for bluefin for the past six years, the last four with Earl. A fun-loving guy, Cooper fishes in the winter for bluefin, and the rest of the year, he runs a business that repairs scoreboards for college and professional sports teams. Cooper's engineering skills can come in handy while at sea; his ability to fix anything allows the team to keep fishing when other boats would need to come inshore for repairs. 
Brian Olszyk, Mate
Brian Olszyk has been fishing since he was 3 years old. After high school, he joined the Coast Guard for four years, and has been fishing for bluefin since 2006. On the Reel E Bugging, he is the young muscle, responsible for pulling big catches onto the deck. Back at home, Olszyk has his wife of 15 years, along with a daughter and son.
The Little Shell is a 42' Provincial commercial vessel, helmed by captain Nick Gowitzka, who previously served as the first mate on Captain Greg Mayer's legendary boat, the Fishin' Frenzy. After fishing alongside Mayer, Gowitzka knows firsthand what it takes to be the top boat in the fleet, and he's determined to land on top of the leaderboard this season.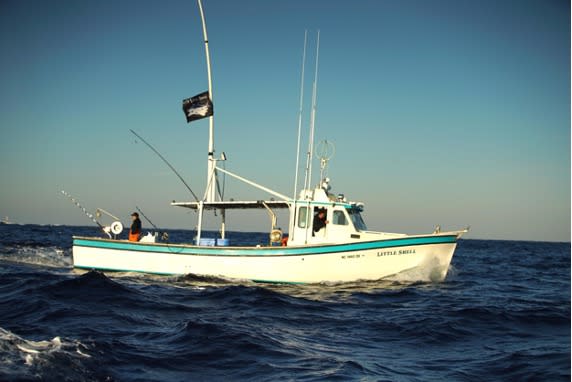 The Little Shell is neither the biggest nor the smallest boat in the fleet, but it has the most motivated crew—Gowitzka and his mates all have young families to support and they are determined to bring home some big paychecks. 
Nick Gowitzka, Captain
Nick Gowitzka is a true Southern boy with a big personality. Born and raised in North Carolina and known for being rowdy and energetic, Gowitzka is the wild child of the Outer Banks. He grew up in a fishing family and went directly from the halls of high school to the harbor docks, where he started working as a deckhand on commercial fishing boats. His work ethic and positive attitude quickly saw him graduating to the first mate position, and as the captain of his own vessel, he's out to make a name for himself. When he isn't out fishing, Gowitzka enjoys spending time with his daughter and hunting local game.
Cliff Spencer, First Mate
Cliff Spencer is a childhood friend of Gowitzka; the two have been fishing together since they were 5 years old. Both Spencer's and Gowitzka's fathers fished together, and Gowitzka credits Spencer's family with getting him interested in offshore fishing. Spencer has been a full-time fisherman his entire career, and when he's not fishing, Spencer enjoys spending time outdoors with his wife and three sons.
Brandan Brickhouse, Mate
Brandan Brickhouse grew up just outside the Outer Banks, and first met Gowitzka after high school. While Brickhouse is still relatively new to commercial bluefin tuna fishing, he is a skilled mechanic who knows the Little Shell inside and out. He also helms the boat in the offseason, when he fishes for groundfish. Brickhouse works as a full-time fisherman to help support his daughter.