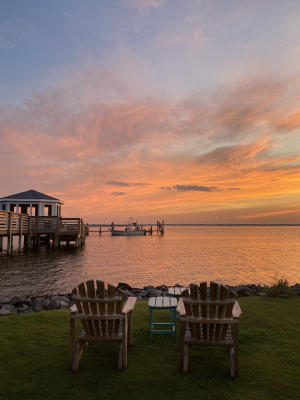 Best Place to Eat Outside with a View
We head to the Outer Banks for one shared purpose: to be surrounded by the ocean's breeze and views from all sides. Our barrier island is an escape from landlocked life with plenty of options for social distanced relaxation. A visit here inspires our minds and hearts with every return. Local chefs and restaurant owners are just as inspired. They creatively bring cuisine to visitors and locals alike all year round. Restaurants dot the island from north to south, each one offering a special spin on Outer Banks produce, seafood, and more. A handful not only can fulfill your cravings for flavor but also your craving for a view of the waters.
Keep reading for a list of restaurants that offer scenery with their scrumptious menus. We've arranged the list from north to south.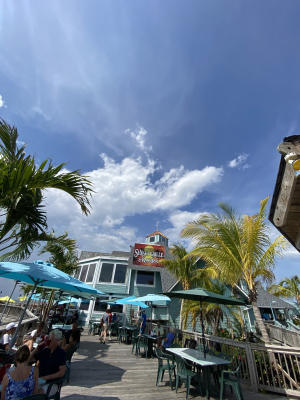 Duck
It's hard to miss Sunset Grill when you head north to Corolla from Duck. After Sunset, it glows green. Other days, the colorful flags around the building wiggle in the breeze. The restaurant has a large deck that wraps around the restaurant as well as a second-floor dining room. Both offer views of the Currituck Sound, which is where you'll want to turn your gaze to discover the finest sunset here. The bartender can whip up any cocktail you like, including the popular Painkiller topped with nutmeg.
This Tex-Mex spot frequently hosts live music and other events on its large deck overlooking the sound. Order up classics like tacos or try something new like the Crab or Duck Pizzadillas packed with gourmet toppings. Frose, margaritas, and super sangria are there to help you wash it all down.
This waterfront restaurant offers a fresh and eclectic, chef-driven menu with items like Tuna Patron. The dish features seared rare tuna atop avocado, orange and Patron laced salsa, corn tortilla match sticks, fresh cilantro and a spicy aioli. You can catch a view from its multiple level outdoor patio or inside from its large windows.
Sanderling Resort
This resort offers several options for dining. For starters, the outdoor deck of the Life Saving Station restaurant. The restaurant is located in the original Caffey's Inlet Life Saving Station No. 5. The menu is southern-inspired but has all the coastal cuisine you hope for in a restaurant on the ocean. Across the street is another concept, Kimball's Kitchen. Its floor-to-ceiling windows are made for enjoying the sunset on the Currituck Sound. Start at the bar for some custom cocktails like a smoked Manhattan. The more casual Sandbar Restaurant  has fire pits for sunset smores, and serves up casual bites like hot dogs, burgers and smoothies.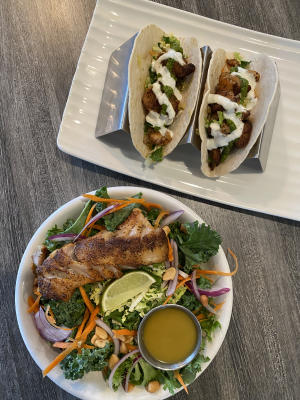 The Blue Point
This farm-to-table restaurant is elegant and welcoming. Enjoy outdoor dining at the popular "Back Bar," which has views of the Duck soundfront. Start your meal with a spicy margarita. Order up always changing seafood specials like pan seared flounder with a butternut squash puree, wilted kale onions, bacon, apples and cider butter sauce. The espresso martini is well made and makes for an elevated dessert option.
Aqua is co-located with a spa. The serene vibes and elevated atmosphere are shared with the restaurant. Its Currituck Sound view is epic from any of its outdoor seating areas. Lobster mac & cheese, duck breast, and mussels are just a few items that line the menu. The wine selection is extensive and inclusive.
Kill Devil Hills
Salt Box isn't on the ocean or sound, but its porch hangs over a hidden waterway in Colington. All you can hear is the sound of the frogs on the water when take a seat outside. Brunch is really well done here. Bloody Mary's, Crabby Benedict, Crab Scramble, fresh fruit and coffee are all perfectly portioned and flavored.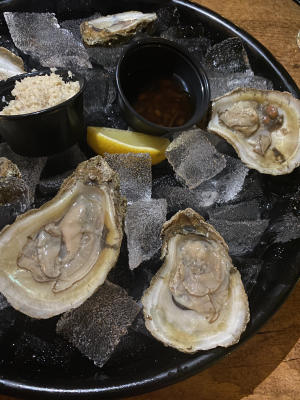 Manteo:
Manteo is a special area with many progressive and refreshing businesses to shop and play. Blue Water is one of them. The restaurant offers twists on classics like oyster shooters, smoked chicken wings and Sicilian Clam chowder. The menu is always changing, though. You can get a great view of the waters and the boats rolling by from inside.
After some local shopping, head onto Avenue's outdoor patio or grab a seat inside by a big window to soak up a view of the marina. The menu features chef-prepared dishes that feature local seafood and meats. There are plenty more options for vegetarians, vegans and gluten-free diners.
The classics never fail. Poor Richards has been an Outer Banks Icon since 1984. Enter the pub-style restaurant as you may the interior of a ship's cabin. Climb the sloping ramp and walk down a narrow, wood-paneled hall where you'll find the counter to order. There are booths to enjoy your Rueben's and burgers inside or you can head to the open-air back porch for a view.
Ortega'z serves up dishes with a kick. The southwestern spot has items like Wasabi Shrimp tacos on its lineup. For drinks, visit the wine bar in the center of the restaurant. Outdoor seating allows you to soak up the characters and sights of historic downtown Manteo.
The sunset here is breathtaking. There are a variety of outdoor setting options  on multiple levels. There's a good view of the sound even from inside. The popular restaurant serves up many of its dishes with a rich and southern twist. Think BBQ Shrimp, Buttermilk Fried Chicken, and Fish & Grits. There's also a dedicated vegetarian fare menu. Upstairs is a more casual restaurant called The Waterfront Bar & Grill that offers more casual bites and apps on a first-come first serve basis.
Many locals will talk about and recommend Tale of the Whale. The gorgeous family owned restaurant overlooks the Roanoke Sound.  While you wait for dinner, head out to the gazebo to be surrounded by water on all sides.  Decadent takes on seafood classics include She Crab Soup, Blackened Halibut, and Fish Tacos. The orange crushes are crowd pleasers for cocktails.
Nags Head has a few great watering holes. This is one of them. Fish Heads is located on the Outer Banks Fishing Pier. Serious and amateur fishermen circulate through here with their catches. Fish Heads has an extensive and well curated craft beer selection. Enjoy your drinks with local seafood under cover of the main open-air restaurant or choose one of the tables that line the pier and head out over the ocean. You can see and often feel the ocean water here.
This is a burger joint and raw bar where you can find locals gathering on the regular. It's a great place to meet new people and let loose. From the upper deck, you can see Jockey's Ridge State Park and the Atlantic Ocean. The bar upstairs serves up a variety of cocktail specials with a view. There are always new food specials on the menu, which you can check for online ahead of time.
This high-end family style restaurant only serves up locally sourced seafood and non-seafood favorites. When you sit outside, you'll have a view of the Roanoke Sound. The seafood served on the menu is caught in local waters and brought to the restaurant's docks daily by local fishermen. It's all cleaned and prepared right here. You can't only see the waters, but you can taste them, too.
Waves:
Watermen's Bar & Grill Restaurant at REAL Watersports
The Pamlico Sound is always full of activity here. REAL is where the athletes and adventurers go for their lessons, gear, competitions, and community. Watermen's overlooks the sound filled with kiteboards, kayaks, jet skis, and more. Order up smoothies, wraps, and grilled seafood. For drinks, the exclusive RUM BAR features rums and rum drinks from around the world. Be sure to check the live music schedule to see who's coming through to play tunes next.
Buxton
Enjoy Pamlico Sound views over brunch, lunch and dinner here. While the extensive and creative cocktail menu is worth drooling over, the inclusive concept also offers a variety of mocktails for guests who don't want the booze. Not only can you eat here, but you can stay at the Inn on Pamlico Sound with rooms overlooking the sound with private decks.
More foodie Inspiration
Not all of the OBX restaurants are on the water. This article features a curated collection of a variety of places to eat and drink from Duck to Buxton.