Attention, OBX lovers: There's a new ride in town, but you'd better be quick.
You only have until July 16 to check out the first electric, self-driving transit shuttle in a U.S. national park. How appropriate that this "autonomous" vehicle is being tested at the
Wright Brothers National Memorial
, site of another transportation first.
We hopped aboard CASSI - which stands for Connected Autonomous Shuttle Supporting Innovation – just days after her premiere. While she is self-driving, a human operator on board can manually stop the 12 mile-per-hour ride on a one-mile fixed route from the visitor's center to the backside of Kill Devil Hill, which is topped by the 1932, iconic 60-foot granite monument to flight. CASSI stops at the roadway below the hill but does not go to the top.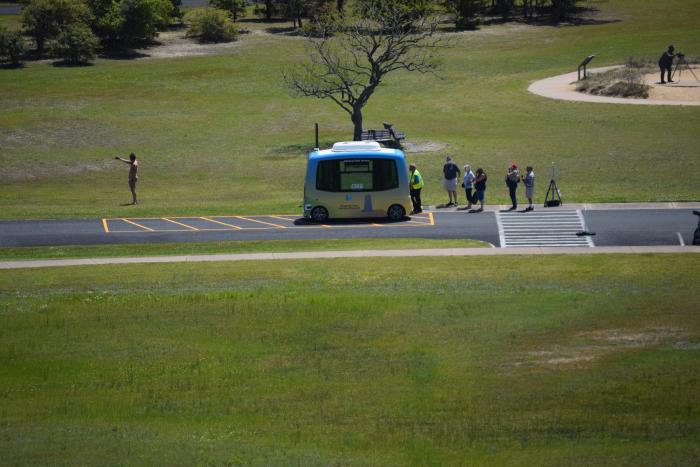 From this stop, passengers can hop off to access the 2003 centennial memorial sculpture featuring a full-scale bronze representation of the Wright Brothers' plane and the seven people witnessing the Dec. 7, 1903 historic moment. It's NC Sculptor Steven H. Smith's recreation of the exact moment the world-famous photo of first flight was snapped. The installation was erected in honor of the 100th celebration, which drew a crowd of 120,000-plus.
Each leg of CASSI's route lasts about seven minutes, but only six seats are on board, so as nice weather draws more visitors, expect waits in order to experience this National Park Service (NPS) first. CASSI's almost three-month test run will check for safety while gauging the public's reaction, plus gather scientific data. 
CASSI comes from the company EasyMile based in Toulouse, France, which builds shuttles for transporting both people and goods. Here, her $50,000 per month operating cost is covered by a partnership between the NPS and the NC Department of Transportation.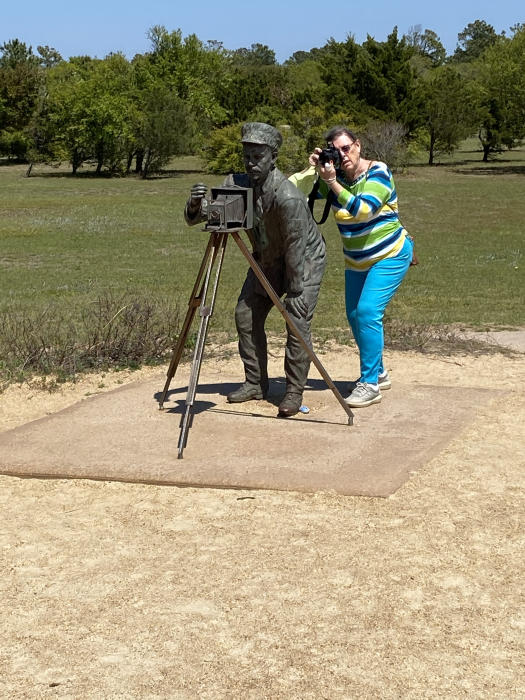 Our "stand-by" driver came from New Orleans with 40 years of experience training others to become bus and street care operators. He said with a laugh, "So when I got here into an autonomous vehicle, I said, 'what happened to the bus?' I've been having a ball ever since."
He explained CASSI employs two 48-volt lithium batteries for GPS and electronics plus uses a 12-volt car battery. Her route was first mapped out by GPS. Info from 20-or-more satellites is used in real time. A locational LiDAR (Light-Detection and Ranging) system, the heart of self-driving, acts as an eye, providing a 360-degree view of the surroundings. The continuously rotating LiDAR system sends thousands of laser pulses every second. These pulses collide with the surrounding objects and reflect back. CASSI cannot only detect a car or a person crossing her path but even a bird flying by. Orville and Wilbur's experiment changed the world. CASSI is following their flight path.