On a map, The Outer Banks (OBX) resembles two connecting magical coral wands extending into the waters of the Atlantic, casting a spell over every visitor to these sandswept beaches and charming towns.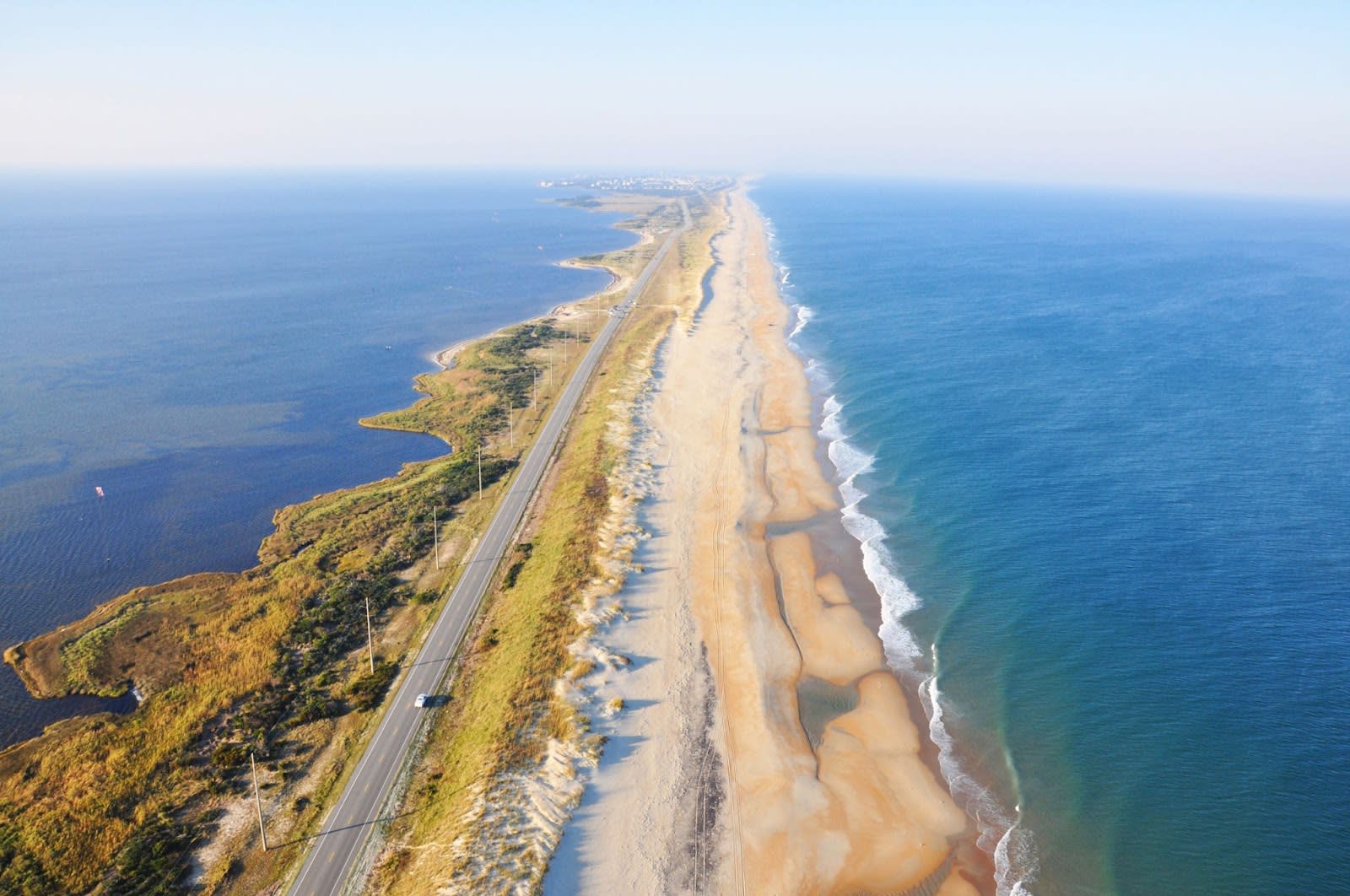 There's no shortage of world-class seafood on the east coast. From Maine lobster rolls to Cape Cod oysters to Maryland crab, the list goes on. But North Carolina holds its own. With its rich colonial history and warm southern hospitality, the razor-thin barrier islands offer a myriad of unique locally-sourced dishes. You'll find the highest quality sustainable seafood here, making OBX a special place for your next seafood excursion.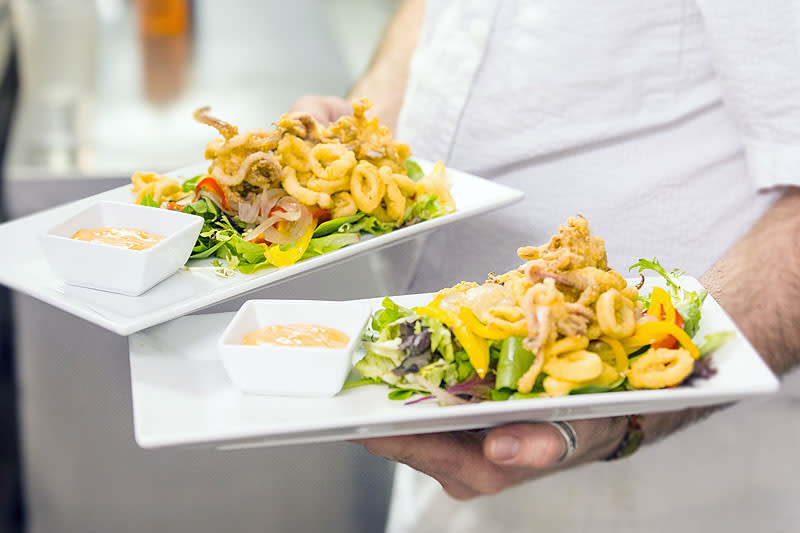 Crispy fried calamari served at Blue Water Grill in Manteo
We know choosing the right places to eat when you're on vacation can be overwhelming, so we've assembled this guide to the best OBX seafood restaurants. Whether you enjoy fried soft crab, award-winning clam chowder, freshly grilled grouper, or Outer Banks-style sushi, OBX brings an abundant bounty straight from local waters to your plate.
Aqua Restaurant in Duck
Whether you're celebrating a special occasion or enjoying a casual meal outside, Aqua Restaurant provides the perfect environment for both. The town of Duck is known for its pristine beaches, and the busy restaurant overlooks the water showing off stunning views. Chef Cory Bryant serves local-caught fish with sustainably farmed ingredients, and masterfully creates eye-popping dishes paired with top-notch craft cocktails.
1174 Duck Rd Downstairs, Duck, NC 27949
(252) 261-9700
Basnight's Lone Cedar in Nags Head is a classic establishment that opened in 1996. Each day fishermen provide freshly caught fish, which is then prepared to perfection and served with vegetables grown on-site. And to top it all off, you can enjoy your meal while taking in the beautiful view overlooking the Sound. Tip: If you've never had she-crab soup before, order it here for a delectable blue crab treat.
7623 S Virginia Dare Trail, Nags Head, NC 27959
(252) 441-5405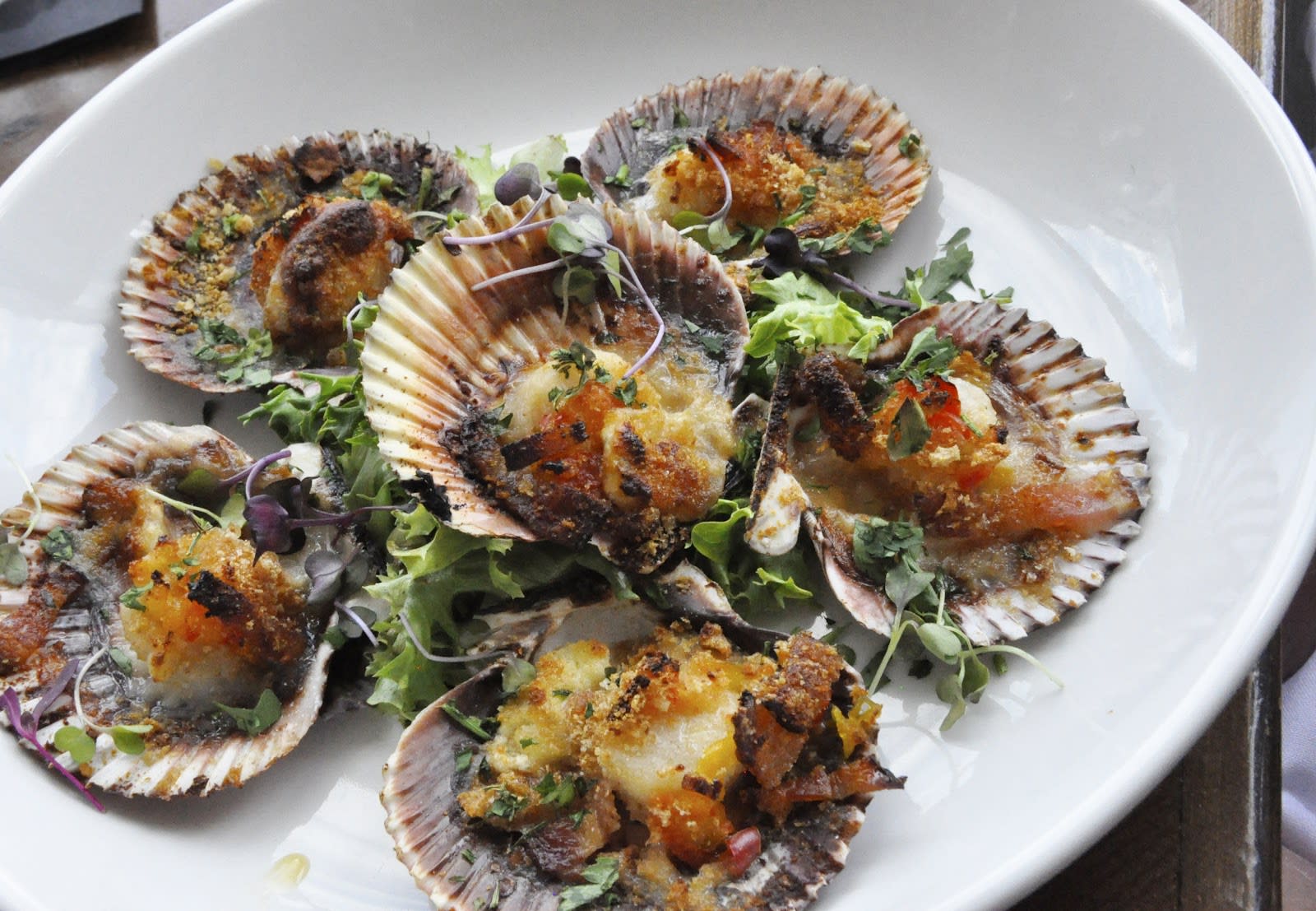 Blue Water Grill & Raw Bar in Manteo
The charming waterfront town of Manteo is home to one of the country's most captivating mysteries: The Lost Colony. Not to mention, it's the birthplace of English colonization, which provides a wonderful opportunity to explore the deep Outer Banks history. After exploring boutiques, gift shops, antique stores and more, hit Blue Water Grill & Raw Bar. Dive into a delightful meal featuring a variety of Manteo's best seafood. Overlooking Pirate's Cove, you can watch fishermen in the marina bringing fresh fish back from sea. With that in mind, the raw bar has a variety of options and during happy hour, oysters are $1 each. So order as many as you want—sharing isn't necessary.
2000 Sailfish Dr, Manteo, NC 27954
(252) 473-1955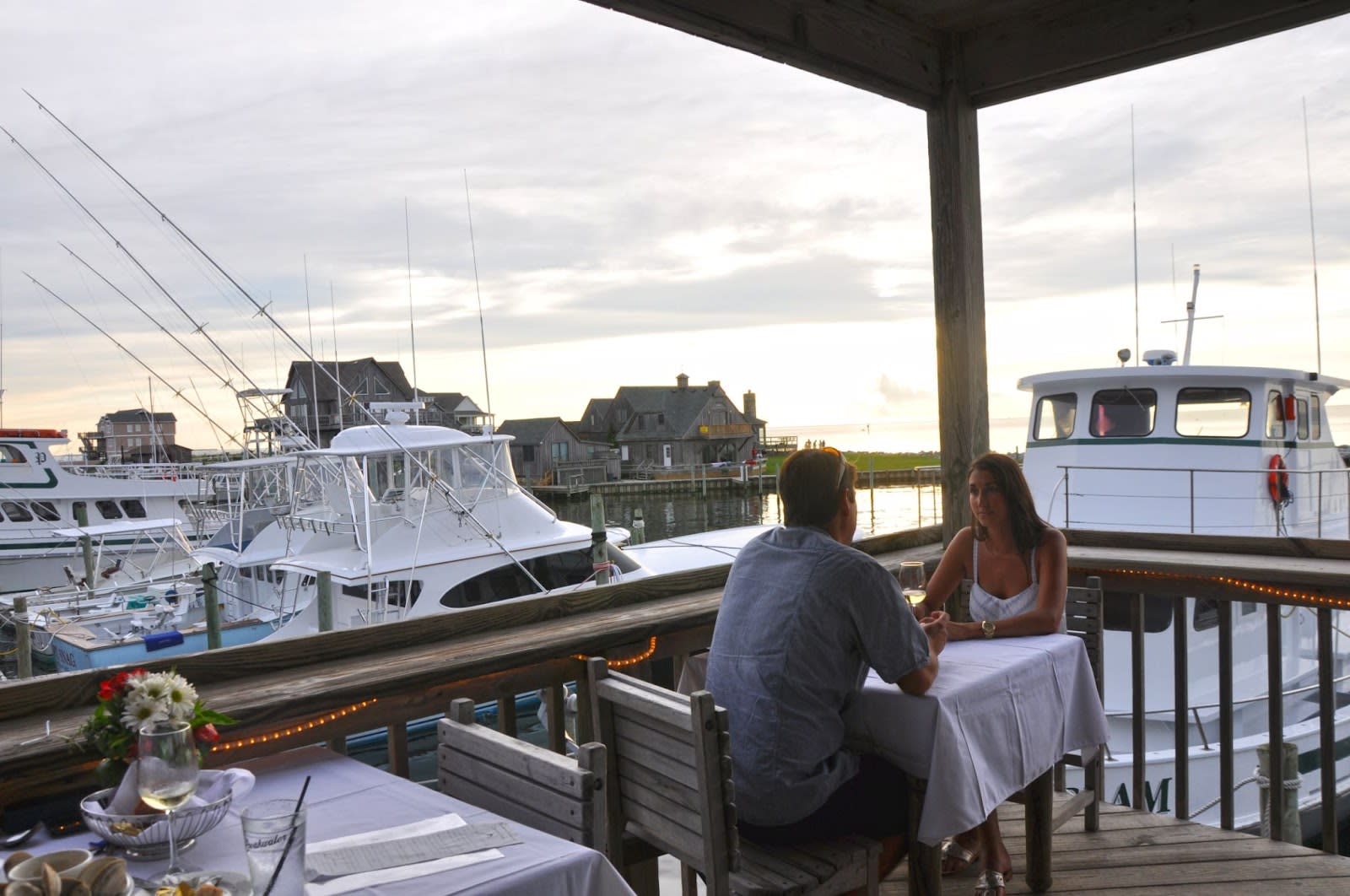 The deck at Breakwater Restaurant in Hatteras is overlooking the Pamlico Sound
Take a break from kiteboarding, parasailing or any of the other countless adventures in Hatteras and head over to Breakwater Restaurant for coastal classics. Try to arrive near sunset and ask for a table on the deck to watch the colorful hues along the Pamlico Sound. Then enjoy a delicious cocktail accompanied by live music. The hardest part of the evening is deciding what seafood to order, from crab-stuffed flounder to fried North Carolina shrimp. Tip: Breakwater Restaurant doesn't take reservations, so plan accordingly.
57878 NC-12, Hatteras, NC 27943
(252) 986-2733
If you're visiting the quaint town of Buxton, Diamond Shoals Restaurant is a must. Connected to a seafood market, you'll enter a warm and inviting diner-style spot, with a variety of purchasable tchotchkes as you walk in. Sit at one of the booths for award-winning hearty clam chowder and your choice of blackened, broiled, fried, or grilled fish freshly caught daily. Sushi lovers, look forward to a sushi bar with an array of deliciously crafted rolls, made with the freshest caught seafood in town.
46843 NC-12, Hatteras, NC 27953
(252) 995-5217
While vacationing in Nags Head, consider Fish Heads Bar & Grill. Located on the Outer Banks Fishing Pier, you'll want to get there early as it fills up fast. As the cool ocean breeze hits your face, sit down and get ready for some tasty seafood. Beer aficionados, this place is for you with 40 beers on tap. In addition, happy hour includes 15 cent steamed local shrimp from 4 p.m. to 6 p.m. daily (you must order in increments of 20). If you think it'll be too busy, make a stop at Nags Head Brew Thru on the way, where Brew Thru car tenders help stock your cooler with alcohol and snacks in this one-stop-shop drive-thru experience. Then, grab takeout from Fish Heads Bar & Grill and find a nice sunny spot on the beach and you're all set—you're in paradise.
8901 S Old Oregon Inlet Rd, Nags Head, NC 27959
(252) 441-5740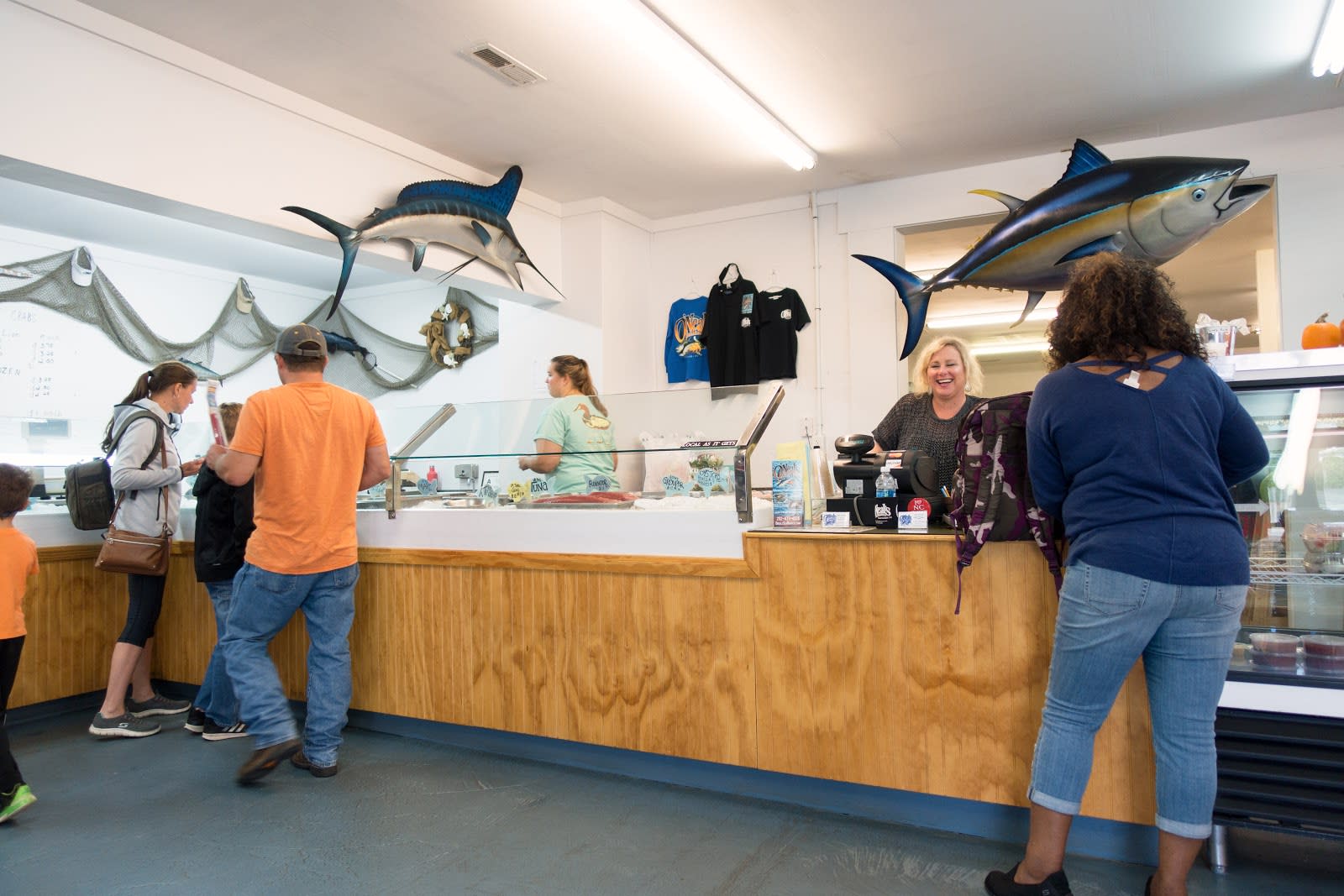 The seafood market at O'Neals Sea Harvest in Wanchese
At the southernmost end of Roanoke Island is a fishing village called Wanchese. And off the beaten path, you'll find plenty of locals at O'Neal's Sea Harvest. Enjoy lunch at O'Neal's first, before picking up an array of seafood ingredients for dinner at their market. The line can get long and the menu isn't expansive, but don't worry, the fried soft crab BLT won't disappoint.                                              
618 Harbor Rd, Wanchese, NC 27981                                                                                             
(252) 473-4535