It was the trip we needed. A break from school and the normal routine. A promise of new sights and experiences. The chance to put our feet on new ground. Although a short stay, Nags Head in the Outer Banks of North Carolina turned out to be a slice of perfection.
Summer break was off to a fantastic start. This was our first time visiting North Carolina's Outer Banks. The fun we created on this girls' getaway was unmatched. As mom and daughters, we enjoy many of the same activities. This made it easy to plan a full itinerary and really get a feel of the area. We were intrigued by the hype surrounding Nags Head's main attractions and other things to do nearby.

Our collective curiosity led us to:
- Bodie Island Lighthouse
- Wright's Brothers National Memorial
- Roanoke Island Festival Park
- Jockey's Ridge State Park
- Historic Manteo Walking Tour

Over the course of a weekend, we explored each of these places with a few food stops in between. Each attraction was time and money well spent! One of my favorite aspects was watching core memories created as my daughters stood in historical locations they'd previously read about.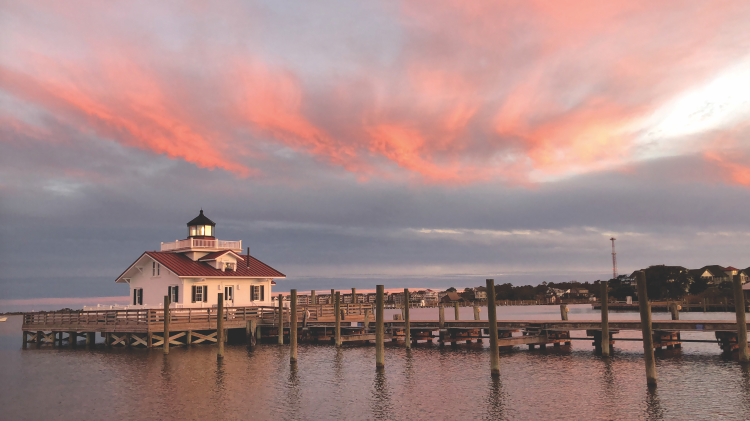 We were astonished by the depth of history throughout the Outer Banks. Each attraction gives visitors a timeline and story of its origin. Yet, the amount of information shared with us during the Manteo tour surprised us most. What we learned there helped us best understand the area's significance in history. Destinations offering educational as well as fun experiences are always on our agenda.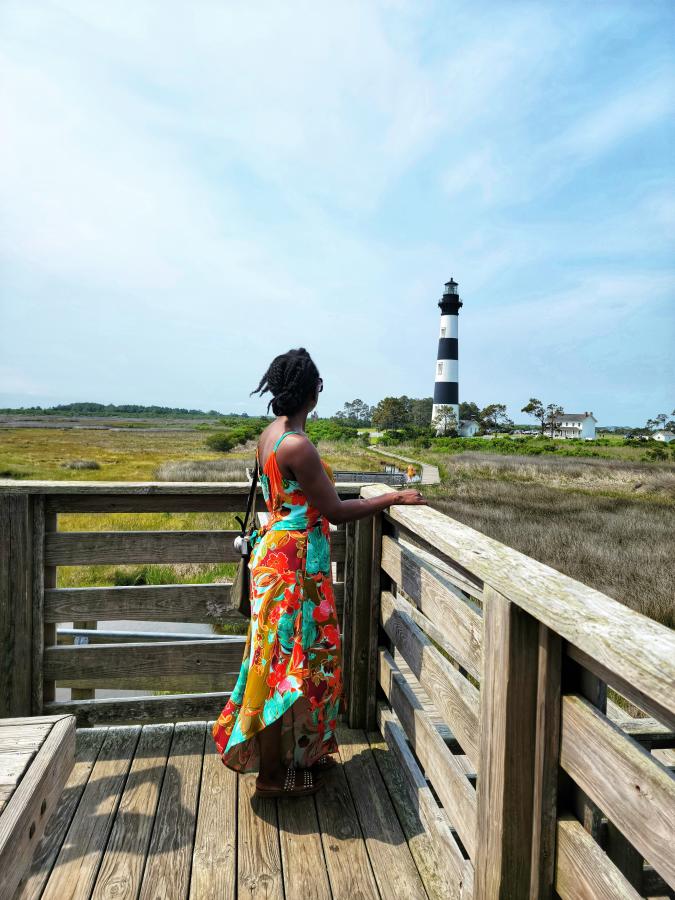 A girls' getaway, however, also requires relaxation. For that, we turned to the pool and the ocean. Our hotel, Holiday Inn Express Nags Head Oceanfront, provided us with the best of both worlds. A heated indoor pool that stayed open until 10pm. And private beach access ensuring less crowds and more space to spread out. My daughters were able to play freely while I relaxed on the sand.
After full days of activity, our comfortable beds welcomed us like familiar opened arms. Whether sleep was imminent or we chose to watch something entertaining on tv, it was time spent together that made it all feel extra special. I'm now convinced that was the point of making our way to Nags Head. We didn't know it at the time, but reminiscing on our trip makes it clear. Sure...my family showed up looking for an escape and a good time doing touristy things.
What our first Outer Banks trip gave us, however, was the realization of extra special moments. For instance, when we simultaneously gasped while looking into the seemingly endless stairwell of Bodie Island Lighthouse. The rush of adrenaline we shared when huge, vividly colored kites flew over the massive sand dunes of Jockey's Ridge State Park. The ocean breeze that wrapped itself around us in such a reassuring way, we knew it was okay to exhale.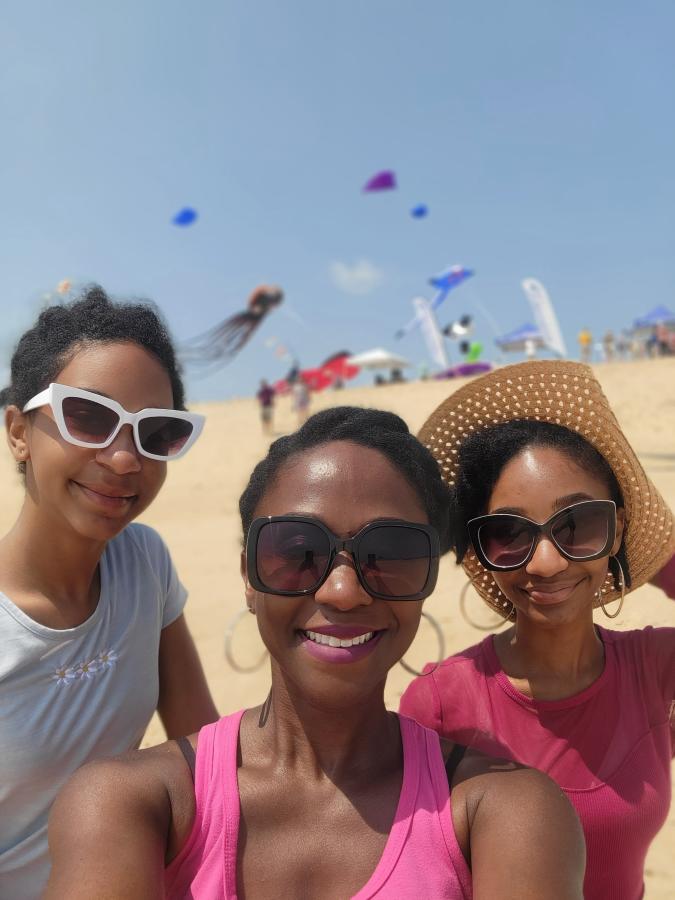 Those are the kind of extra special moments we experienced and will always remember. They are also the kind of moments I'll encourage people to create for themselves by visiting Nags Head. My family can't wait to return and after one visit, I'm almost certain anyone else will feel the same.