It might not be immediately clear what the Outer Banks has to offer a visiting LGBT+ person. As a queer local who grew up on these little barrier islands, I can tell you there are indeed LGBT+ people living here and more visiting all the time. The Outer Banks has much to offer everyone — including LGBT+ people. It is a unique and beautiful vacation destination that is surprisingly diverse and welcoming to all people. There are LGBT+ events throughout the year, a gay beach, and LGBT-owned and LGBT-friendly businesses. There are also the numerous attractions that draw visitors from around the world every year, three National Parks, a mini desert known as Jockey's Ridge, and a wealth of history.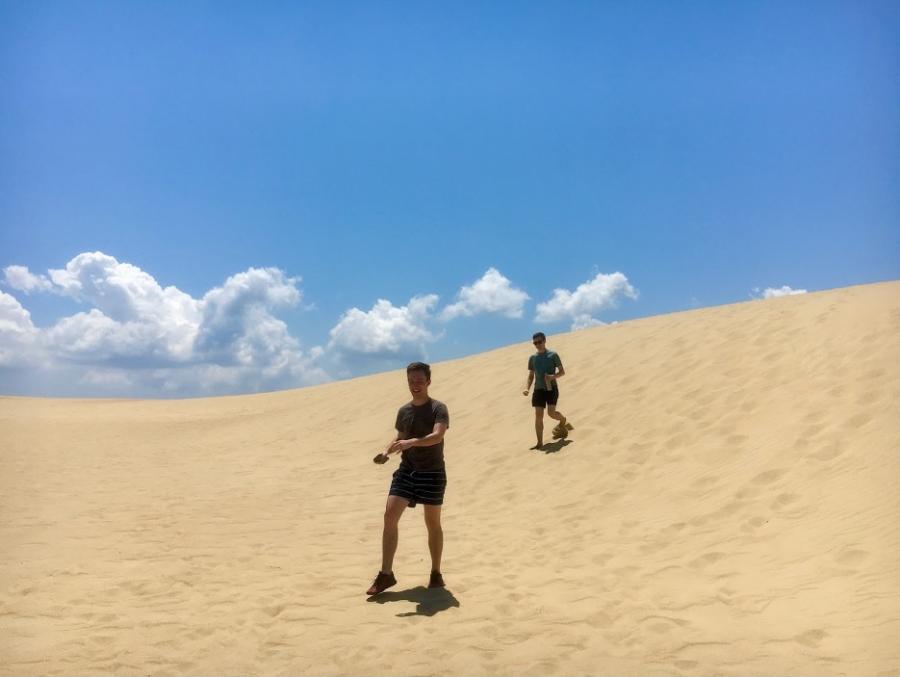 The Outer Banks is particularly known for its long stretches of clean, public beaches that provide an escape from the hustle and bustle of cities and other overrun beaches. It feels remote while still being within driving distance from many major cities. Here you'll find 150+ miles of uncrowded shoreline, charming seaside villages, an abundance of natural beauty, and yes — LGBT+ offerings as well. It's the perfect place to bring a group of friends or your family to enjoy the laidback atmosphere.
LGBT+ Events and Spaces
The local LGBT+ community exists as small pocket communities up and down the long chain of islands, so there isn't one central place where everyone gathers. You'll find that LGBT+ people mingle amongst everyone else.
However, the Outer Banks does have some LGBT+ events each year that bring the community together. In the past there have been drag shows, drag brunches, and LGBT+ dance nights. Looking ahead, there is already a month-long LGBT+ art event planned for June as well as the annual Outer Banks Pridefest that is going on its thirteenth year.
If you're looking for nightlife, you won't find gay bars or any nightclubs in general. Most of the fun happens outdoors and on the beach here. That's just part of what separates the Outer Banks from other popular beaches. But if drinking is your thing there are low-key bars and breweries, and you can certainly drink on the beach!
Outer Banks Pridefest
Outer Banks Pridefest is the largest and most consistent LGBT+ event on the Outer Banks, which takes places every year in September. It was founded in 2011 by David Miller, who sought to bring LGBT+ events to the Outer Banks akin to what he experienced living in Key West and other locations.
Outer Banks Pridefest takes place over an entire weekend and typically features events such as drag shows, a drag brunch, dance night, sunset booze cruise, and the main festival with food, vendors, and all-day entertainment. When I attended in 2022, the weekend kicked off with a tea dance party on the South Nags Head Fishing Pier, which was an incredible setting.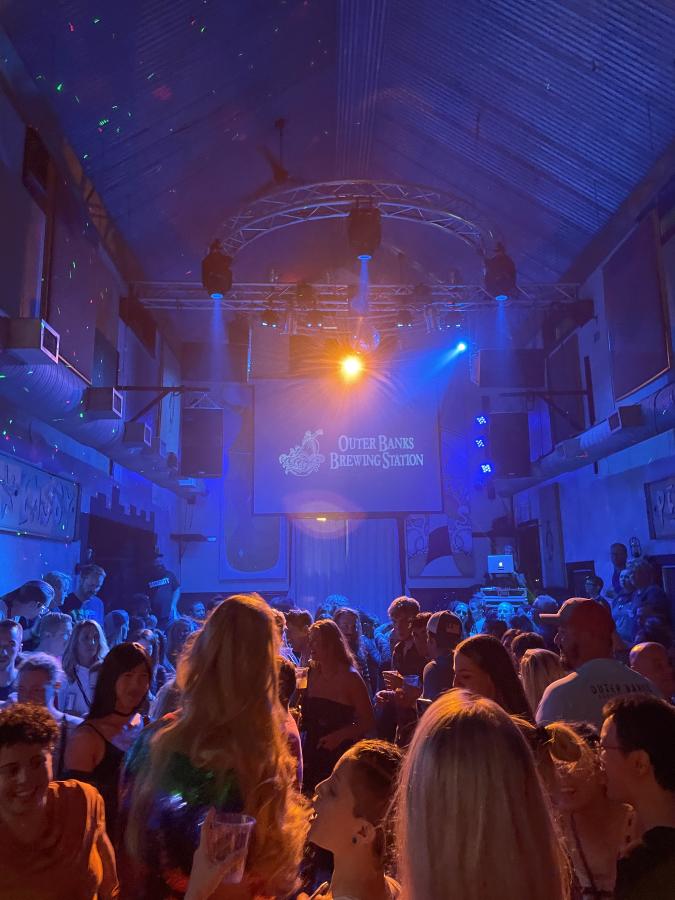 Outer Banks Pridefest attracts visitors from all over North Carolina, Virginia, Maryland, Washington D.C., and beyond. Talented drag performers are usually brought in from the Hampton Roads area in Virginia or elsewhere in North Carolina. Outer Banks Pridefest has even featured non-local queens, such as Lady Bunny. Harpy Daniels, the U.S. Navy's first official drag queen, was the headliner for 2022.
The main festival is held at Roanoke Island Festival Park in downtown Manteo, which is a quaint historic waterfront area with shops, restaurants, art galleries, and more. The Outer Banks truly makes a stunning backdrop for Pride festivities.
Dare Arts Pride Month
Dare Arts Pride Month is a brand-new LGBT+ event that will be taking place in 2023 for the entirety of June. It will kick-off on June 2nd with a First Friday event in downtown Manteo. First Fridays happen monthly from April through October with shops, restaurants, and galleries staying open late. The sidewalks pulse with people, live music, and vendors. First Friday features an Art Walk hosted by Dare Arts.
Dare Arts will feature an exhibition titled Outside Straight Lines in their gallery from June 2nd-June 30th. This month-long visual arts exhibition will highlight local and regional LGBT+ community artists. Plans are currently in the works to incorporate a variety of events and entertainment related to the LGBT+ art exhibition on First Friday and throughout Pride month.
Gay Beach
There is a decades-long history of LGBT+ people congregating on Outer Banks beaches. The gay beach was originally at Coquina Beach on Bodie Island starting in the 1970s, where actors from The Lost Colony would spend their days off work. LGBT+ locals joined them and formed a group that eventually had around 150 LGBT+ people gathering every Sunday during the summer.
The group's gay beach days fizzled out in the early 2000s when some key members left the Outer Banks, but the tradition was revived years later. Now a growing group of local gays and visitors get together in the summer at a beach on Roanoke Island. It's a small secluded spot on the sound by The Lost Colony theatre, and some days they move the party to the ocean in Nags Head.
You can join their Facebook group OBX Gay Daze and follow me on Instagram (@OutontheOBX) for more specifics on when and where to meet.
LGBT-owned and LGBT-friendly Businesses
I know of several LGBT-owned businesses on the Outer Banks, and businesses are LGBT-friendly in general. A couple of my favorite restaurants are The Blue Point and Eventide, which are partially LGBT-owned with Jamie Raskin as co-owner (pictured below). The Blue Point is a fine dining establishment that has long been known as one of the best restaurants on the Outer Banks, and Eventide is a smaller and lesser known spot that serves wine, beer, cheese boards, and sandwiches. Both are on the beautiful Duck boardwalk.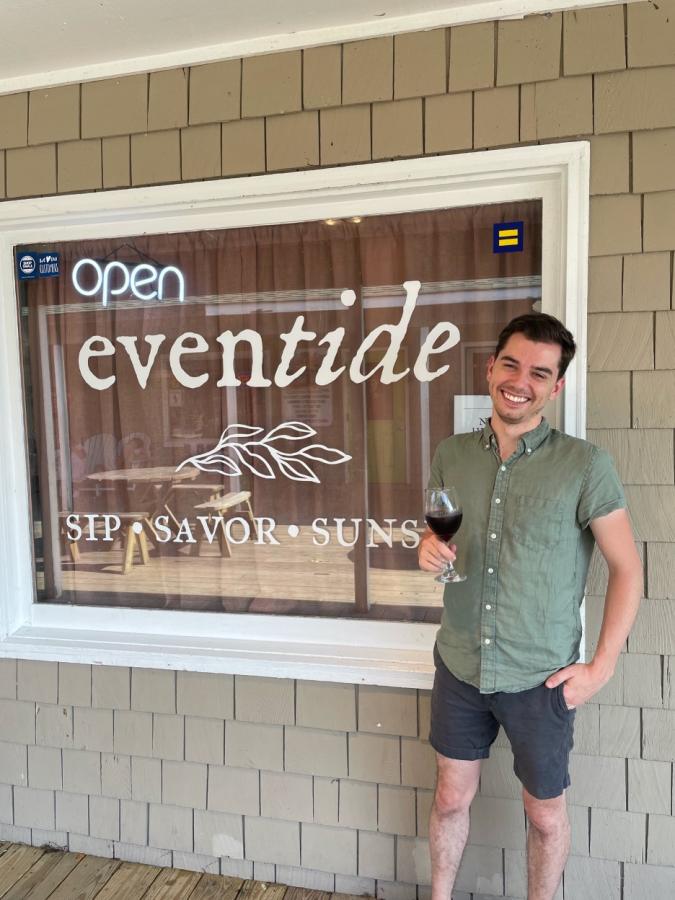 I've also featured other LGBT-owned businesses on my Instagram, such as Ascension Studio in Kill Devil Hills, which offers yoga and meditation classes, reiki, tarot card readings, and more. It is part of the "OBX Compound," which has a crystal shop, co-op, and juice bar. 
Outer Banks Brewing Station is one business that is very LGBT-friendly as it usually hosts events for Outer Banks Pridefest. It is the most club-like venue the Outer Banks has at the moment, with a variety of entertainment that differs from night to night. My friends and I also like going out to Jack Brown's and Swells'a, which are both very welcoming businesses with a hip vibe. Another cool and LGBT-friendly place I frequent is Ashley's Espresso Parlour for my daily iced coffee.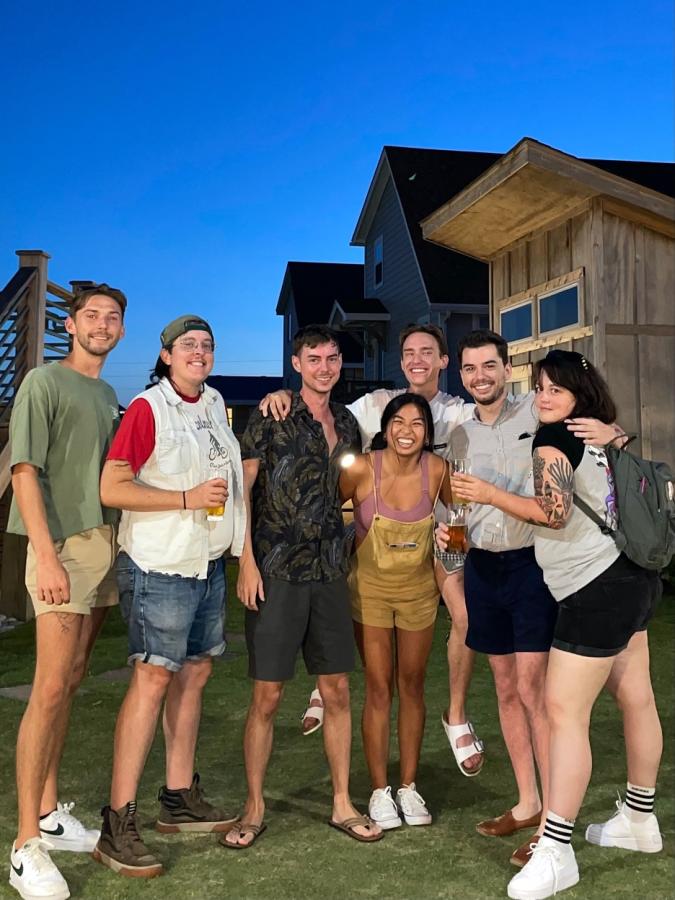 When to Visit and Where to Stay
I'd say September is the best month to visit for LGBT+ people, when Outer Banks Pridefest happens. The beaches are even less crowded in September, rental prices are lower, and the ocean is as warm as it gets. June through August is great, especially for families, but plan on booking months in advance and paying more.
I recommend staying in Kill Devil Hills or Nags Head for close proximity to major attractions, businesses, and the gay beach. However, every town on the Outer Banks has a unique feeling and it depends what you're looking for. For a greater sense of remoteness and big beach houses, try Duck. If you're wanting an adventure, drive down the Highway 12 scenic byway and take the ferry to Ocracoke Island for the day. There you'll find a village with a small artist community and lots of interesting pirate history.
Anywhere on the Outer Banks is a great place to be, and I'm excited to see more LGBT+ people finding out about it. If you're looking for a laidback vacation destination with lots of natural beauty, this is definitely the place to visit. The Outer Banks welcomes everyone!