Graveyard of the Atlantic, Kill Devil Hills, Ghosts of The Lost Colony...these names alone make the OBX a spooky destination. The Outer Banks is hauntingly full of history that's still celebrated today with great events and sights to beware. Gather your family of ghouls & goblins and check out things to do on the OBX this Halloween.
1. The Town of "Kill Devil Hills" 
One of the most popular questions visitors ask is how the name Kill Devil Hills came about. Several versions of the story circulate within the Outer Banks. One legend suggests the pirates who once called these shores home are to blame. Apparently, one night while taking a "shore leave", a surly lot of buccaneers were sitting amongst the sand dunes that towered over the landscape, drinking moonshine that was "strong enough to kill the devil." Another version holds that in the 1700s, William Byrd of Virginia, who was apparently no admirer of the Carolinas, wrote that "most of the rum they get in the country comes from New England, and is so bad and unwholesome that it is not improperly called "Kill Devil." Other lore suggests the town received its moniker from an old brand of rum that washed ashore at the dunes here, the only surviving cargo from a nameless shipwreck.
2. The Black Pelican Restaurant in Kitty Hawk
Assigned #6 Station of seven lifesaving stations along the coast,
The Black Pelican Restaurant
assisted in rescuing mariners lost at sea or sailors stranded on the shoals. In July of 1884, the #6 Station's leader, Captain James Hobbs, was said to have a short temper. When he could no longer stand the insults of his surfman, T.L. Daniels, the Captain shot him. T.L. was supposedly buried at sea with no witnesses and Captain Hobbs was never tried for murder. To this day, T.L. can be seen roaming the restaurant.
3. The Seven Sisters of Nags Head
The Seven Sisters is known today as an area located in Manteo near milepost 14. The area got its name during the end of the Civil War when a slaveowner released his seven slaves to return to their homeland. These seven slaves, all sisters, disappeared the next day after their release when a large storm bombarded the region...leaving seven large sand dunes in its wake. 
4. Manteo's Roanoke Island Inn and Pioneer Theatre
The Roanoke Island Inn is owned by descendants of the original family from 1860. Former Roanoke Island Inn owner and Manteo Postmaster, Roscoe Jones, was said to be extremely distressed when he was fired as Postmaster. In the months following, Roscoe isolated himself within the Roanoke Inn and passed away a short time later. Stories reveal that a man in postal uniform can be seen coming and going from the Inn. Guests report window blinds moving, radios turning on and off, and hearing footsteps along creaky floorboards.
Just down the street, Pioneer Theatre is a single-screen family theater, with inexpensive tickets and snacks. Folks say the former owner demanded movie-goers be respectful of each other by silencing cell phones. There are numerous reports of a "force" or "spirit" knocking cell phones from visitors' hands while using them within the theatre.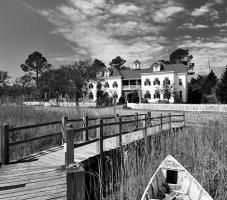 5. The Lost Colony's White Doe
Home to America's first unsolved mystery, the first attempted English settlement in the New World completely vanished on Roanoke Island. Virginia Dare, the firstborn English child in the new colony disappeared by the year 1590. Some believe Virginia came to live amongst the natives where a witch doctor fell in love and wished to marry her. After her refusal, he put her under a spell turning her into a ghostly white doe that can still be seen today. Downtown Manteo's
White Doe Inn
 Bed & Breakfast holds true to the lore.
6. Lighthouse Hauntings
Bodie Island Lighthouse (pronounced Body), was abandoned twelve years after its original build in 1847 due to a poor foundation. The lighthouse was rebuilt in 1859 but was blown up in 1861 by retreating Confederate troops who feared the Union would use it to their advantage for navigation. The gate keeper's cottage, a white building located on the lighthouse grounds, is said to be haunted by a lingering spirit. Every day at 4:00 PM on the dot you can hear a loud knock from behind its large brick fireplace. No one knows what or who lies behind it.
Gray Ghost haunts the shoreline during an impending severe storm or hurricane. The mysterious "gray" man was killed in the 1900s when an abrupt storm hit the beach during summer. He appears as a misty apparition and can oftentimes be caught on pier cams or seen silently walking the coast or roaming the lighthouses. 
Cape Hatteras Lighthouse is home to the Ghost Cat. All stories agree that the cat is black and white and weighs just over 15 pounds. The Ghost Cat will rub against visitors' legs and allow you to pet him. Heed the warning, if you reach to pick him up he will magically vanish. 

SPOOKTACULAR EVENTS that can't be missed

The Outer Banks Halloween Parade is a free, family-friendly costume event for all ages, featuring a short walking parade and costume contest. This year featured over 100 registered participants and hundreds more who came to watch, in addition to 10 local nonprofit organizations and eight business sponsors who provided the trick or treat tables during the pre-parade party.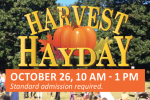 The Elizabethan Gardens love family traditions, and Harvest HAYday is one of their fall favorites! Whether it is the hayride or hay bale maze, they have families that look forward to this event all year. In addition to these activities, Harvest Hayday at The Gardens will also feature: a fall piñata, make and take crafts, games, cupcake walk, scarecrow stuffing, bake sale, apple roll, educational stations, a bonfire, and concessions. Also in Manteo will be Pumpkin Patch Saturdays, taking place every Saturday in October. Head to Island Farm, take a hayride to the farm's pumpkin patch and find your perfect pumpkin to take home. The scare continues with OBX Ghost Tours. You'll be entertained as a guide leads you through downtown Manteo by lantern telling the spooky stories that make the Outer Banks one of the most haunted beaches in America!

Join the Brewing Station crew for a Halloween themed Margarita Monster Mile. Zombies, witches, ghouls and maybe even a naughty vampire nurse serving your drinks. Chronotrack Live, chip timed, unique Trucker Hat included. This is an Adult 21 & over only social run. Awards will go to the fastest male and female overall. Wear your Halloween finest, costume contest judging for scariest and most creative.

If the thought of running isn't scary enough, join runners and walkers at The 3rd Annual Dare to Scare 5K & Sweet Treat Fun Run held at the Dare County Center on Saturday, October 26, 2019. The 5K leads runners and walkers from Coastal Studies Institute (CSI) in Wanchese along the Marshall and Gussie Collins Walkway to the Dare County Center in Manteo. The course runs through meandering scenic woodlands and along the marsh on Roanoke Island. Participants are encouraged to dress in their Halloween best for a chance to win a prize. Right down the road from the Dare County Center, you will find another local haunted trail that is sure to frighten. Wanchese Woods is comprised of the Slaughter Swamp, a self-guided walk through the woods and Mr. Jingles Playhouse, a blacked-out maze. Monsters await around every corner to deliver a surprisingly good scare.