Meet Suzanne Loving, a Virginia native, who doesn't mind pushing the culinary envelope in any kitchen she commands. From opening a successful pie shop in Nashville to becoming the executive chef at Kitty Hawk's Trio Restaurant & Market in the Outer Banks, Suzanne constantly thinks outside the box as an active player in evolving the culinary landscape of the islands she now calls home.
Here, she discusses why she believes Trio continues to grow, the importance of teamwork, the joy of being good at what she does, and the satisfaction of proving a female can compete successfully in a male-dominated industry. (Quotes have been edited for clarity.)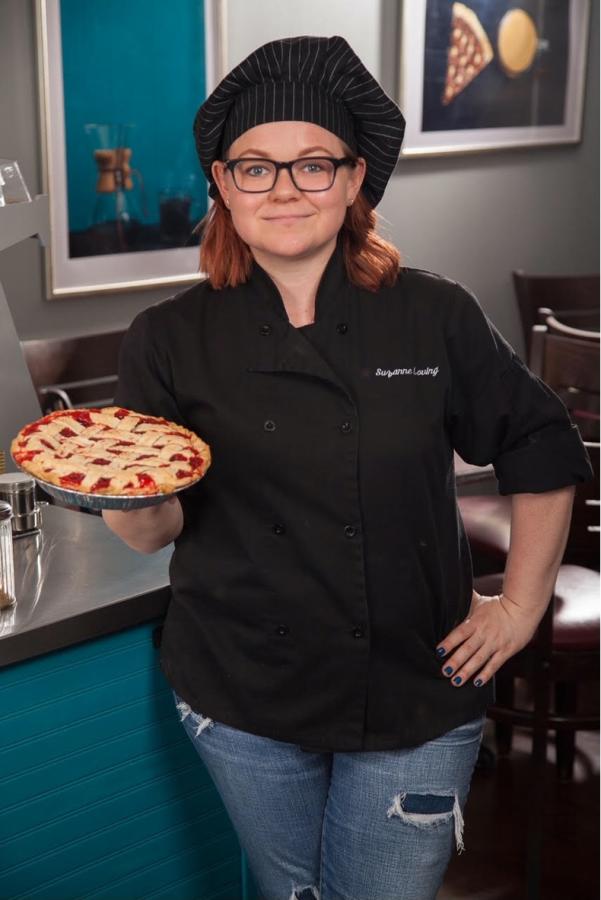 Tell me a little bit about yourself?
I moved to Nashville, Tennessee almost fifteen years ago and that's where I began my culinary career. I went to culinary school there, worked in different restaurants, and eventually opened my own successful restaurant. During that period, I began to reevaluate where I was and decided I wanted to be closer to my family. So, I moved to The Outer Banks and I built a house out here. That was two years ago.
What made you choose Trio?
I wanted some place that was gender blind. Often, a female chef is typecast to pastry roles, or anything that's not an executive chef. I uprooted my whole life and I wanted to enjoy what I was doing and I didn't want to be pigeonholed into what others wanted. Trio offered me that opportunity.
Trio had a female kitchen manager. So, they were kinda softened to the idea of a female chef, which worked in my favor. It's hard to connect with other female chefs. It would be great if there was a network but those women are probably busy running every aspect of the kitchen.
How's it going at Trio?
Trio is such a great space and it has great potential. It's been open for 10 years. But in the two years I've been here, the kitchen has been remodeled and expanded two to three times. Now we're working on another expansion, because we've just outgrown the space. Before the pandemic, our sales essentially were about 40% food and 60% alcohol and that's kind of standard, but since we reopened in June of 2020, it's been the opposite. It's about 60% food to 40% alcohol. We are just crushing the food game. There's not one day that we're not getting our butts kicked in the kitchen.
What dishes have you added to the menu and what changes did you make as the new executive chef?
I started working here just as a cook. And I knew that this is where I was supposed to be, like it felt right. The management, leadership, and owners just made so much sense. And I knew that I wanted to be here to see what we could do with Trio and how we could grow. There was so much more that we could be doing with the menu being this close to the ocean. So, since I started, we've been using as much local seafood as possible.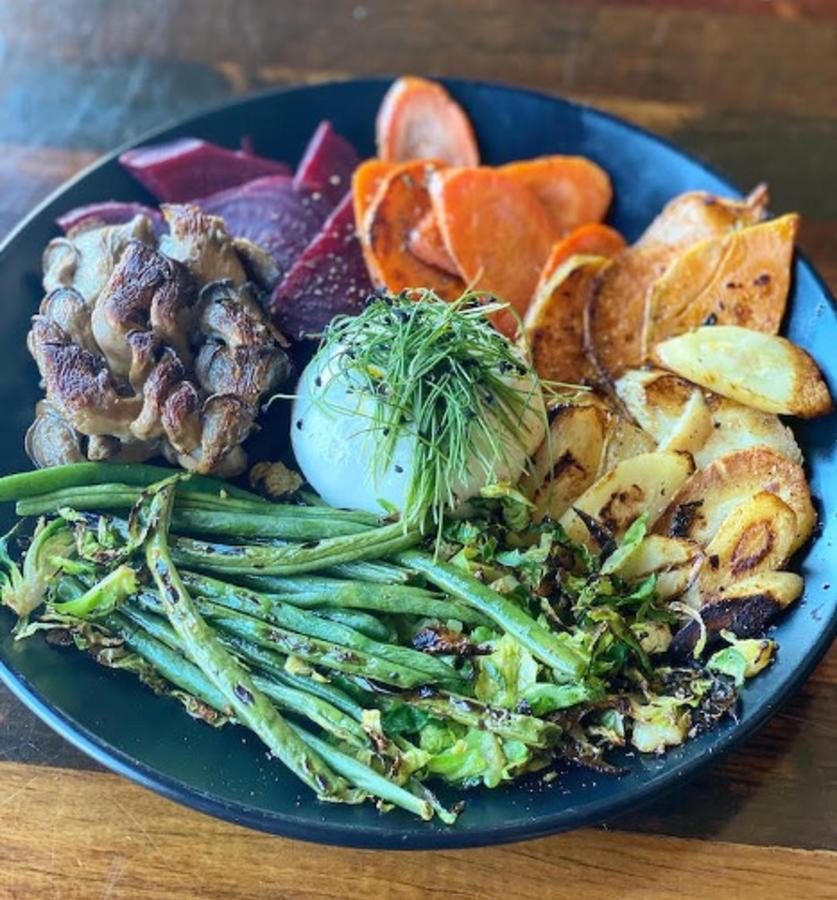 Is there a specific Outer Banks ingredient that you enjoy using?
Just the fact that we have such great access to local food is incredible. And here, everyone pretty much loves seafood. If you don't, we have other options, which is nice.We try to use as much local produce as possible with local farms and artisanal vendors . And I think that it's important to support other people in the community. There's room for everybody. None of the restaurants around Trio are the same. We all have different specialties and I think that's really cool.
Let's talk about how you've helped Trio to thrive during a challenging first couple years.
When I started here, I was just a cook, but about six months later, I was offered an opportunity to run the kitchen. That's when I asked to be the executive chef. Then, two weeks later we shut down because of the pandemic. We were closed for about three months, but during that time, I met almost daily with one of our owners, our retail manager, and our general manager to figure out what was next.
Trio is not just a restaurant, it's also a marketplace where we sell thousands of wines, hundreds of beers, and many cheeses from all over the world. So we kind of pivoted our focus and our owner Kenny designed $100 cases of wine for curbside pickup. We started doing big family meals, so people could place their orders, grab some wine and they could heat up their food in the oven when they got home. We also did a mystery cheese bag that we continue selling to this day. You get almost a quarter pound of different cheeses and a little mini baguette for 20 bucks.
Kitty Hawk is very much a town whose businesses thrive on people visiting from all over, but we got a lot of support from our locals who felt safe during the pandemic because we had strict protocols in place and we were diligent about enforcing them.
Are there any upcoming events that locals and tourists alike can enjoy?
We are doing an Oktoberfest this October and hopefully our fall menu change will be up and running by then. Even at half capacity, we are breaking sales records that we had at full capacity. Last year, with everyone working from home or working remotely, everyone went to the beach. I mean, I would want to come to the beach, if I worked remotely. The volume just stayed, it just stayed the course.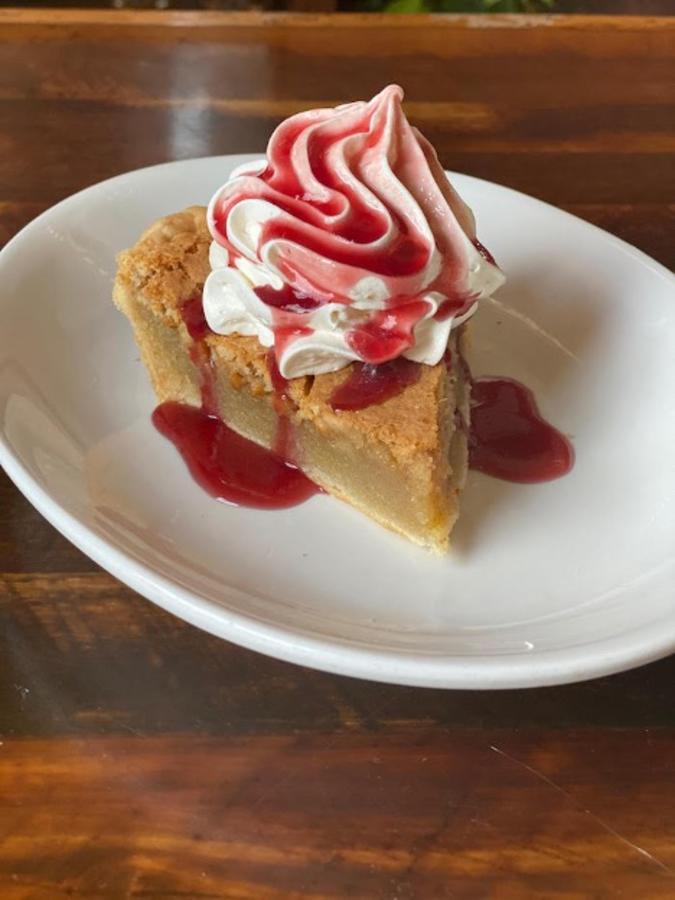 I know you owned a pie shop in Nashville, so are you doing pies here?
We will have some new pies on the menu now that it's pie season. I've done a few exclusive Trio pies. We've had a peanut butter and jelly pie and we turned this blackberry cider that we have in house into a reduction and it's like grown up PB&J.
What makes a restaurant successful in your opinion?
I think that if you're having a good time with what you're doing, it's going to show and people will appreciate it. And then they will tell other people about it and they will bring them by, as well. I think that's the definition of success for a restaurant.
What does your ideal Outer Banks day off look like?
I mean, there are a couple restaurants that I love. The one in particular is called Green Tails. It's a little seafood market not far from my neighborhood. They go down to the docks every couple of days and get whatever they can. The owners make really unique specials with fish that restaurants aren't necessarily going to put on the menu.
Do you have any advice for people in hospitality starting out?
Be willing to learn from a female leader and be willing to be coached. At my old pie shop, I had college kids come work for me, and once they bought into what we were doing, they stayed and learned so much. Everybody working towards the same goal and supporting each other is the most important part of the kitchen. It's never going to be me versus them. It has to be a team effort and here it absolutely is. The kitchen is so small, so everyone does everything. Usually, it's two of us doing three hundred covers a night, and if we can do that, we can do anything.
Find a full list of Restaurants, filtered by location or cuisine. You can also follow along our OBX Beer, Wine, & Spirits Trail.